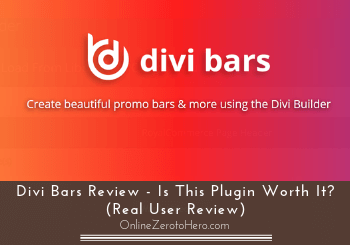 Divi Bars supposedly lets you create slide-in promo bars, notification bars, opt-in bars, and more by using the power of the Divi Builder.
I am a user of Divi myself and needed notification bars so I decided to give Divi Bars a go.
In this Divi Bars review, I will share my experiences with you and show you exactly what you get and if it will be worth it.
I will show you both the pros and the cons (as it has both) so you can easily find out if it has what you are looking for or if you should find another solution instead.
Disclosure: Some of the links on this website are affiliate links. This means at no cost to you, I may receive an affiliate commission if you purchase something through one of these links.

User-friendliness

Features

Value for money
Summary
The Divi Bars plugin is probably one of the most flexible solutions for notification bars, promo bars, etc. if you are using the Divi Theme or Extra Theme.
It has a lot of great features and some great templates that make it easy to create some great designs. But compared to more simple solutions, it has a bit of a learning curve so you just need to be prepared to spend a bit of time getting to know how to use it.
It has great support but it can be quite slow and can take some patience if you have bigger problems they need to help you with.
But overall it is a flexible solution that gives good value for money.
What is Divi Bars and what can you do with it?
Divi Bars is created by Divi Life which is an independently owned site operated by Tim Strifler.
So it is not an official part of the Divi theme but it aims to provide Divi specific tutorials and products to give you even more options with the Divi Builder.
This also means it is only relevant to you if you have the Divi theme or the Extra Theme which is also made by Elegant themes and is using the Divi Builder. You can only use the Divi Bars plugin if you use one of these themes.
Personally, I am using Divi for OnlineZeroToHero.com and was looking for quite a while for a good notification bar.
As Divi Bars is made specifically for Divi, I ended up choosing this. Let me just reveal right away that it has some really good options but it has also not been without frustrations I have started using this plugin.
I hope this review can help you get a full understanding of what to expect and how to avoid wasting as much time as I did if you decide Divi Bars is right for you.
So let's start by going over what you can do with the Divi Bars plugin.
Feature 1 – Create notification bars, promo bars, and more
The main reason to get Divi Bars is if you are looking for notification bars, promo bars, etc. for your website.
These can be very handy and can be a great way to promote special offers, content, etc.
Here on this website you can, for example, see I use a bar at the top of the screen to promote a piece of content where I explain how I make a living online.
There are many plugins for purposes like this but if you have Divi, the Divi Bars plugin is probably the most flexible solution you can find. It uses the flexibility of the Divi Builder and you can create notification bars, etc. more or less like you want to.
You can basically create the exact bars you want to which is pretty great, in my opinion. However, this also means there is a bit of a learning curve compared to more simple plugins but more about how to use Divi Bars later.
In addition to being able to customize the look and function, you can also customize a lot of settings.
You can, for example, trigger exactly when and where your Divi Bars will be shown (page load, timed delay, scroll delay, or exit intent).
You can place it at the top or bottom of the screen, hide it on certain devices, adjust the look of it according to the device, set cookie time, decide if you want a close button to be shown, and more.
So overall it definitely is one of the most flexible notification bar plugins I have seen.
But this does not mean it necessarily is the right solution for you as it also has its shortcomings as I will get to later.
Feature 2 – Divi Bars templates
I must admit that when I first started using Divi Bars, I was a bit confused about how to get started and how to get a bar to look like the examples I had seen.
Luckily, Divi Bars has several templates you can use. You can import them and get started easily this way and then adjust the bars.
These Divi Bars templates are free once you have the plugin. However, be aware that they are not automatically available inside WordPress once you have activated the plugin.
You have to first download each template on the Divi Life website inside the members area and then upload it to WP.
They have a tutorial video showing where to find these templates but it has been changed since and I spend quite some time figuring out where to find them.
So let me just quickly explain where you find the templates so you do not have to waste time figuring that out yourself.
Once you are logged into your Divi Life account, you first have to click the "purchase history button".
In my opinion, this is not really a logical place to have to go to find the templates but once you know it is easy to do. I just spend quite some time figuring that out as I did not really think that would be the place to find them:-)
Anyway, once you are there, you can see an overview of your purchase history. There also is a bar with several options.
Here you have to click "Plugin Layout Templates".
Here you can then find all the templates.
When you click one of the templates, you will download it as a zip file you can then upload to WP according to the tutorial inside the platform (more about this tutorial later).
Once you know where to find them it is pretty easy.
The only thing is that you cannot see an example of the template before you download them. You just see a name.
You can see a demo of the different templates on the Divi Life website (the image I showed earlier) but you will not know for sure what the name of each template is.
This is not the most user-friendly. But luckily you can get an idea about what the templates are by looking at the names but you might have to try a few times to find the exact one you are looking for.
Feature 3 – Email integration
Divi has a built-in email opt-in module that Divi Bars also uses.
These means you can automatically integrate your Divi Bars with around 20 of the most famous email platforms.
This can definitely be handy if you want to use a notification bar for opt-ins.
Below you can see the official video from Divi Life about Divi Bars so you can see more about how they describe the options it has themselves.

How to use Divi Bars?
As already mentioned, Divi Bars has quite a lot of options but this also means it has a learning curve.
But if you are used to using the Divi Builder the look and setup is very similar.
However, there are some things about the different settings and about uploading the templates that might not be so intuitive (at least it wasn't for me).
Therefore, I would encourage you to watch the official Divi Bars tutorial that will give you a guided tour about how to get started.
It is only around 16 minutes long and it will give you a good idea about how to get started and how to use it.
Just be aware that the tutorial is not completely updated – for example, it does not show you the correct place to find the templates but I have described this above.
But if you are used to using Divi and watch the tutorial, you will likely be able to figure out how to adjust it further yourself. It is not as simple as some other notification bars but it also has a lot more options and settings.
You can watch the tutorial inside the members area or you can watch it below.

==>Click to Check Out Divi Bars for Yourself
Divi Bars pricing
An important aspect is, of course, also to know what the price is.
Divi Bars has several pricing options depending on your needs.
You can get a license just for one site, for 3 sites, or for unlimited sites.
These licenses are prices for 1 year.
But as you can see in the image above, you can also choose to get a lifetime license which is a one-time fee.
Alternatively, you can also get an all-access membership for Divi Life. This will give you unlimited access to all Divi plugins Div Life has created.
This includes Divi Overlays, Divi Bars, Divi Mega Pro, and more and it also gives access to several Divi child themes.
The price for this is $129 for an annual membership and $329 for a lifetime membership.
So if you like some of the other products Divi Life offers, this can be a good option. But if you just need Divi Bars, it is quite cheap to get it.
$15 for a year if you just have one site is actually very good value for money, in my opinion. Just be aware that there is no refund policy.
Can you get support?
Being able to get support is important for any plugin and theme you buy.
Personally, I needed help from Divi Bars support more or less right away as there was an error when I tried to use it on my site. It took my email opt-in I was using elsewhere on the website and pulled it into the bar which looked very strange.
It turned out it was an error that happened after a Divi Theme update but luckily the support managed to fix it. The support was actually quite helpful and after I had made them aware they ended up finding and fixing the error.
The only issue I have with the support is the response time. It says on their website it can take up to 48 hours to get an answer. In my experience, it usually takes around this time.
The problem was just that I had to write with them several times, and the response time was the same for every message. And they do not respond during weekends.
So it ended up being quite a long process to get this fixed.
But overall the support is quite good and helpful but if you have issues that will take more messages back and forth it can take quite some patience.
Final verdict
If you have the Divi Theme or Extra Theme and need a notification bar, Divi Bars is definitely one of the most flexible options.
But it is not without its shortcomings either, in my opinion.
So let's finish this review by summing up the pros and cons so you can get a better overview before making your final decision.

Pros:
Good value for money
Helpful support
Very flexible options
Great templates available

Cons:
Slow support
Tutorial not completely updated
Has a learning curve
I think Divi Bars has some really great options and settings compared to other notification bars I have tested.
It has a bit of a learning curve because of all these options but if you watch their tutorial (even though it is not completely updated) and by using the premade templates, you will fairly easily get started if you are used to using the Divi Builder.
The biggest downfall is, in my opinion, that the support at times can be quite slow but it is helpful though.
Overall, you definitely get good value for money and a lot of options.
I hope this review has given you a good overview of what exactly you get with Divi Bars so you now know if it is the right option for you or not.
If you have any comments, questions, or have any experiences with Divi Bars yourself, I would love to hear from you in a comment below.