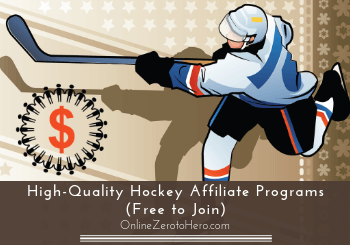 Do you have a website or blog about hockey and want to make money on it?
Then a great way to do this is through affiliate marketing. However, it is important that you find the right programs to join to get the most out of it.
In this article, I will show you 9 high-quality hockey affiliate programs that will give you some great opportunities to monetize your website traffic.
All the programs are of course free to join.
Is hockey a good affiliate niche?
Let's start by looking into the opportunities within hockey as an affiliate niche.
I can tell you right away from my research that it has quite a lot of opportunities. But let me show you some examples, so you can see for yourself.
It is a niche where you can take it in many different directions depending on your specific interests and audience.
You can, for example, promote hockey equipment, fan gear, memorabilia, hockey tickets, and much more. Later I will show you some great affiliate programs no matter which of these topics you want to promote.
Let's now look into some data to back up the potential of this niche by using Google trends.
The above image shows the online interest for the term "ice hockey equipment" during the past year.
Not surprisingly there are some seasonal differences. But overall, you can see there is quite a high interest which means it is something people are looking for a lot online – this gives a lot of opportunities for you if you work with monetization through affiliate marketing.
Let's try a more specific term. I also checked out the interest for hockey memorabilia.
As you can see, this term does not have quite as high interest throughout the year. But within this term, there are also a lot of more specific terms that could be researched, and it is very likely that most people do not search for the overall term.
Anyway, the interest is still decent and shows potential. And especially towards the end of the year, there is higher interest. I am assuming this is because many people are looking for hockey memorabilia for Christmas gifts.
This can be quite useful info to take into consideration with your promotions.
So no doubt a lot of people are searching for hockey-related terms online. And the above are just a few examples.
But let's also look at the competition and how likely it is to get good results if you want to rank in the search engines to get organic traffic and sales this way.
Niche competition insights
If you want to get organic traffic to your website and make sales this way, you might wonder if it is even possible within a niche like hockey.
From my years of experience with search engine optimization, I can tell you that it is possible to rank within almost any niche. Of course, it takes work and you need to be willing to create quality content.
Also, it is important to go for the right keywords. By going for less competitive keywords, you will rank faster.
I have therefore used my keyword research tool Jaaxy to do a bit of research to give you a few ideas for potential content you can write about if you want to rank for hockey-related terms.
I first did a search for NHL Hockey jerseys to see what would come up here, as I assumed this would be a popular thing to look for online.
The above image shows the stats that came up. The avg is the average monthly searches – this should preferably be above 80-100 to get decent traffic if you end up ranking.
In addition to this, it is also very important to look at the competition to see how good chances you have of ranking. That is the column called "QSR" (quoted search results). This should preferably be below 100 if your website is fairly new.
So the term "NHL hockey jersey" itself does live up to the criteria. You should, however, always also just check out the search results. If the whole first page for a specific keyword is full of websites with high authority like for example Amazon or similar it will be difficult to outrank them.
But the great thing about having a good keyword tool is that it will also give you other ideas for potential content and keywords when you do research.
The above image shows just a few of the other suggestions that the keyword tool I use came up with. In fact, it came up with around 50 more suggestions just for that one search.
You can then start digging deeper and finding more great keyword ideas. And you can start exploring each of the suggestions that come up and for example combine them with terms like "for men", "for women", "for kids", etc.
Then you will quickly have a long list of ideas for potential keywords and content.
But let's also look at one more example to get a few more ideas and inspiration. This time I did a search for "hockey sticks".
As you can see in the image above, the term itself has a lot of search volume. But it also has too high a competition. But a lot of other great suggestions came up.
For example, the terms "kids hockey sticks", "hockey stick bags", and "custom hockey sticks" would be terms worth considering writing content about.
The above are just a few examples of what I found with a bit of research. This clearly shows that there is a lot of interest for hockey out there, and thereby a lot of potentials to monetize a website or blog about hockey.
9 best hockey affiliate programs
The hockey niche clearly has a lot of potentials.
To get the most out of it, it is, however, important to find the right affiliate programs.
Below I have made a list of some high-quality affiliate programs related to hockey. I have included programs for many different topics within the hockey niche, so you can find good programs no matter your specific angle and interest.
The list is not in a prioritized order, as the best opportunity depends on your specific website/audience. So go through the list and find the programs that are the most relevant for you.
---
NHL affiliate program

Products:
The official NHL webshop has an affiliate program, and if you are in the hockey niche, this is definitely a program worth checking out. Here you can earn commissions by promoting jerseys, hats, collectibles, hockey office equipment, and a lot of other fan gear.
Just be aware that the NHL affiliate program is quite selective with whom they approve for the program. So when you apply, make sure to give them as much info as possible.
Commission:
6 %
7 day cookie time
How to join:
You can read more about how to join on NHL's affiliate page.
---
Skates Guru

Products:
Skates Guru is specialized in skates, which obviously is an important part of hockey. You can find all kinds of skates here and not only for hockey.
In addition to skates, you can also find protective equipment here you can earn commissions by promoting.
Commission:
10 %
120 days cookie time
How to join:
Skate Guru offers its affiliate program through the affiliate network ShareASale. So this is where you can find more info and apply to join.
---
SeatsForEveryone.com

Products:
If your audience is hockey fans, there is a great chance they are also interested in watching hockey games. Through Seats For Everyone you can earn commissions by promoting hockey tickets.
You can promote tickets to all NHL games. The website also offers tickets for all kinds of other events. As a member of the affiliate program, you will sometimes get access to coupons or discounts you can offer your audience.
Commission:
$6 per sale
90 day cookie time
How to join:
You can read more about how to join on SeatsForEveryone's affiliate page.
---
SportsMemorabilia.com

Products:
Many hockey fans love hockey memorabilia. So if you are in this niche, why not offer memorabilia to your audience and earn commissions by doing this.
This is possible through the affiliate program of SportsMemorabilia.com. They for example offer memorabilia like signed photos, signed pucks, signed jerseys, and trading cards.
Commission:
12 %
30 day cookie time
How to join:
This affiliate program is another program offered through ShareASale. So you have to join and apply through this network.
---
HockeyShot

Products:
HockeyShot offers products that can help people become a better hockey player as well as all kind of equipment. It is, for example, slideboards, skate-able tiles, flooring tiles, passing kits, sticks, targets, and much more.
It has websites for countries over most of the world, so you can earn commissions for visitors from most of the world which gives big opportunities.
Commission:
7 %
90 day cookie time
How to join:
You can read more details and apply to join on HockeyShot's affiliate page.
---
TicketHot

Products:
TicketHot is another website that sells NHL hockey tickets and where you can join their affiliate program to earn commissions by promoting their service.
As a part of their affiliate program, you will occasionally receive special promotions and codes you can adapt and use in your promotions.
Commission:
10 %
45 day cookie time
How to join:
You can read more details and apply to join on TicketHot's affiliate page.
---
Perani's Hockey World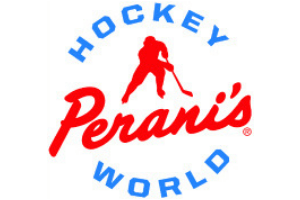 Products:
Perani's Hockey World is a website that offers a wide range of hockey products. You can find almost any kind of equipment here and earn commissions by promoting it.
The website, for example, offers helmets, pants, skates, goalie protective gear, gear for referees and coaches, and much more. As part of their affiliate program, you will at times get access to special promotion offers.
Commission:
5% + performance incentive
45 day cookie time
How to join:
You can read more about how to apply on Perani's affiliate page.
---
HockeyTraining.com

Products:
If your audience is hockey players, then it can be great to be able to offer them training programs. HockeyTraining.com offers a lot of online hockey training programs you can promote.
You can for example find speed training, strength training, goalie training, youth training, and more. Since it is online training, you can promote to people no matter where they live.
Commission:
5%
How to join:
You can apply to join on HockeyTraining's affiliate page.
---
Pure Hockey

Products:
Pure Hockey is a website that sells hockey equipment. It has a very big selection, so almost no matter what kind of hockey equipment you want to promote, you can find it here.
You can for example earn commissions on sticks, protective equipment, skates, mouth guards, games, bags, memorabilia, and NHL fan gear.
Commission:
8%
45 day cookie time
How to join:
You can apply to join on Pure Hockey's affiliate page.
---
Final thoughts
Hockey is clearly an affiliate niche with a lot of potential.
I hope this article has given you a few ideas about the potential of the niche, how to go about getting organic traffic if that is the traffic source you are going for, and got some ideas for some great hockey related products you can earn commissions by promoting on your website or blog.
If you have any comments, questions, or know of a great hockey affiliate program you thinks belongs on this list, I would love to hear from you in a comment below.