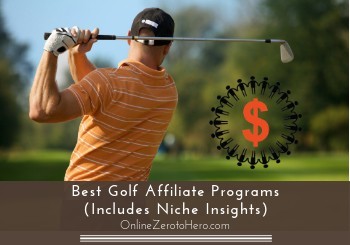 Do you have a website about golf and want to make money on it?
Or are you considering starting a golf affiliate website?
Then you need to have access to good affiliate programs to optimize your chances of earning.
In this article I will show you the potential of golf as a niche, and show you the best golf affiliate programs, so you can start monetizing your website easily.
Is golf a good affiliate marketing niche?
Just by using pure logic, it is possible to figure out that golf is a very popular topic, and many people look for info about golf online.
But when working with affiliate marketing and building an online business, it is also good to look at data, so you have numbers to take into consideration as well when making decisions.
So let us look at how much people look for golf online. To get a good overview, I am using Google Trends, which is a great way to see how big an interest there is online for a specific topic during a year.
The graph above shows the worldwide interest for the term "golf equipment" over the course of a year. There is of course some seasonal differences, but as you can market towards the whole world with a website, it will not mean too much for this niche. As you can see, this term has a very high interest throughout the year.
And this is just for the term golf equipment. You can look into the trends for related terms as well. Overall, there will be some seasonal differences, but if you do not just market to one particular country, golf has a very big potential as an affiliate niche all year round.
Niche competition insights
One thing is of course to know a niche has a big potential. It is also good to look into how the competition is, and what keywords you could potentially go for.
Obviously there are many websites about golf, so in that sense the competition is high. But you can say that about almost any niche. You should however not let this scare you. If you do proper search engine optimization, and are willing to work hard, you can make it in almost any niche.
It is however also important to find the right words to try to rank for to succeed. So let's look into some options to give you some inspiration. I have used my favorite keyword research tool Jaaxy for this.
Below I have searched for data about "best golf equipment" as a keyword phrase.
On the image above you can see the average monthly searches, and the QSR (quoted search results) is also important to look at, as this tells you how many sites your are in competition with for this specific term. If your site is new, it is good to go for QSR below 100.
Luckily there are many suggestions that comes up that has low QSR. Also, remember that the monthly average searches does not necessarily have to be huge for you to get a lot of relevant traffic. You will naturally rank for a lot of related terms as well, so if the monthly average searches are above 50-100, it can definitely be worth going for.
The above is just an example suggestions I got with a quick search, and there are already here ideas for several golf related articles/topics to try to rank for.
Let me show you a few more keyword stats for inspiration.
Above I searched for "cheap golf equipment". Some really great ideas came up here as well, and there are some good ideas for specific niches or for articles within a golf related website.
I hope this has showed you that even though there are many golf related websites, there are still a lot of good keywords to go for that are definitely realistic to rank with. Remember this is just a few examples. I found hundreds of more ideas in my research. You can check out my article about how to get content ideas to see more about the methods I use for this, if you want some more ideas.
Recommended: Click to read about my recommended platform for learning proper affiliate marketing
9 best golf affiliate programs
Now you know there are plenty of opportunities within the golf niche. To make money on golf as a niche with affiliate marketing, you do of course need access to some good affiliate programs.
Below I have therefore made a list of some awesome golf affiliate programs. They are not in a prioritized order, as the best programs for you depends on your specific angle. So take a look at the overview and join the programs that fit your needs the best.
Nike Golf affiliate program

Products:Nike does not need much of an introduction, as it is one of the most famous brands in the world. The official webshop has an affiliate program, where you can earn commissions to promote any of the products there.
Nike has a big selection of golf shoes, gloves, clothes, and more for both men and women. Be aware that this particular affiliate program is only for the US. Some other countries have their own local Nike affiliate program, if you do not promote towards the US.
Commission:
1-3%
How to join:
You can join Nike's affiliate program through the affiliate network CJ.
---
Footjoy

Products:
Footjoy has a webshop with a lot of golf products. It for example has shoes, gloves, clothes, bags, belts, umbrellas, and more. It has for both amateurs and professionals, so no matter what you target group is, you should find some products that are relevant.
The affiliate program is at the moment only available in the US.
Commission:
5%
30 day cookie time
How to join:
Footjoy is another golf program you can get access to through the network CJ.
---
Proozy

Products:
Proozy is for most people not as known as some other brands on this list. It is a webshop that among other things sells golf products.
It has many products, and the great thing is that it offers many brands like for example Oakley, Adidas, Reebok, Puma, brands, and more. This way you are able to promote many brands from one affiliate program.
Commission:
6.75%
7 day cookie time
How to join:
You can read more about the program on Proozy's affiliate page.
---
Rain or Shine Golf

Products:
Rain or Shine Golf is a great affiliate program to join, if you want to promote golf training products. It offers a wide range of products and brands within golf simulator packages, nets, mats, laser & GPS rangefinders, swing analyzers, putting greens, and more.
Commission:
Starting from 7%
30 day cookie time
How to join:
You can join through Rain or Shine's affiliate page.
---
Evo Swing Golf

Products:
Evo Swing Golf is created by Geoff Greig. He sells videos to help people improve their swings under the brand Sweet Spot Shots.
I am not a golf expert myself, so cannot say how good his videos are to teach people this, but something to look into, if you are in the golf niche, as it is digital products and can therefore be sold all over the world and they give high commissions.
Commission:
75%
How to join:
You can see more info and how to join Sweet Spot Shots' affiliate page.
---
Protee UK

Products:
Protee UK is a distributor of golf simulator products in the UK and Ireland. If you have these countries as you target group, it can be worth looking into this affiliate program to be able to earn money by promoting golf simulator products like for example hardware, software, flooring, simulator packs, and more.
Commission:
5%
How to join:
You can join through Protee UK's affiliate page.
---
Callaway Golf

Products:
Callaway is one of the big brands within golf. By joining their affiliate program, you can earn commissions by promoting the products sold on the official Callaway Golf webshop.
These products include golf clubs, golf balls, and accessories like bags, headwear, gloves, shoes, etc.
Commission:
2%
How to join:
You can join the Callaway affiliate program through the network CJ.
---
Austad's Golf
Products:
Austad's Golf is a golf retailer that has existed since 1963. If you want access to promote many golf products, this might be an affiliate program to consider. You can earn commissions by promoting any product in their webshop.
The products include shoes, clothes, bags, balls, nets, mats, putting greens, sunglasses, headcovers, and more. They also have many of the famous brands, so by joining, you will be able to promote the top brands within one program.
Commission:
7.5%-9%
60 day cookie time
How to join:
You can join on Austad's Golf's affiliate page.
---
Swing Man Golf

Products:
Swing Man Golf produces and sells golf products that will help people improve their swing and hit further than before. It offers a number of programs and products. In addition to online programs, they also sell golf speed radars, bodylastics, and DVDs.
The commission can vary from program to program, but in general you can earn really high commissions on their digital products.
Commission:
50%
How to join:
You can join on the Swing Man Golf affiliate page.
---
Final thoughts
As you can see, there are plenty of good ways to earn commissions in the golf affiliate niche.
The niche itself has a big potential, there are some great keywords it is possible to rank for, and there are also many great golf affiliate programs no matter if you want to promote clubs, balls, clothes, simulators, headwear, and something else golf related.
If you have experience with any of these affiliate programs or know of any golf affiliate programs that belongs on this list, I would love to hear from you below. Also, feel free to leave a comment, if you have any questions.