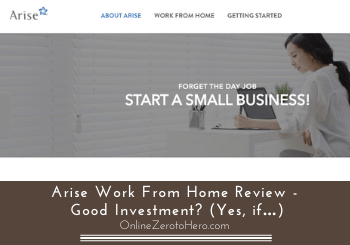 There are different types of online jobs you can do depending on your past work experience and your skills.
There are so many options today that it's important to find one that matches your skill and needs and that can live up to your expectations.
One option if you're from the customer service industry, is to do calls and technical support at the comfort of your home. This allows you to save time and money from your daily commute while possibly earning the same you do in your full-time job.
One customer service platform you will find being recommended online is Arise Work From Home.
But is Arise a scam? Or is it a legit online opportunity that will help you earn?
This Arise Work From Home review will give you all the details so you can find out exactly what to expect and if should join or not.
So let's go into the details.
Arise Work From Home at a Glance
Tools

Usability

Income Potential
Summary
Arise Work From Home is a platform that connects clients to service partners who want to provide customer, sales, and technical services. 
The platform only deals with registered companies so you have to register yourself as a small business owner. This is an online opportunity that's legit but you have to shell out some money during the application process including money for a background check, equipment, certification training, and business registration. It's not for those looking for some quick extra cash.
This is best for those looking for a long-term opportunity and has the money to spend on all the application requirements.
If you are just beginning your online career and looking for opportunities where you can start from scratch without any required fees, I suggest you look for other opportunities instead.
What is Arise Work From Home and what does it offer?
Arise Work From Home is also known as Arise Virtual Solutions and started way back in 1994 to connect brands and companies with service partners who want to provide customer, sales, and technical services.
In 1997, the Arise platform was launched to provide inbound call center resources to small businesses. It has then grown to offer its services to different clients.
The company is based in Florida and has provided customer service and support to companies such as AT&T, Disney, and Intuit.
So it is working which some big clients which shows you it is a legit company.
As an Arise agent, you will be spending your day (or night) answering phones, providing customer support, or responding to clients via email and chat. If you've worked at a call center, then this won't be new to you.
To get an overview of what Arise does, you can watch the video below:

Since Arise acts like a middleman between client and service professionals, you can either apply as a client or as a professional on the website. If you're applying as a client, you are then looking for manpower for your support tasks.
If you're a professional looking for some online work, then the work you do depends on the company's customer service needs.
While the type of available work varies, you can expect mostly phone and email or chat support since the platform acts as a virtual call center hub.
This review focuses on what you can expect as a service professional and if this is a legit online way of earning.
But before we go into how much you can earn, you first need to know how you can join and if it is even possible for you. So let's discuss that next.
How do you join?
Before you can sign up at Arise, you have to be living in the US, Canada, or the UK. However, their website mentions they cannot accept people residing in California, Connecticut, Maryland, Massachusetts, New York, Oregon, or Wisconsin.
So if you're from any of those states or other countries, you can check out other online opportunities from other sites such as Upwork or Fiverr.
If you do live in places where you are allowed to apply, then there are two ways you can become part of Arise but take note that this is not your typical application process where you submit a resume and then just wait for a response.
Arise offers more of a home business opportunity in their setup rather than your typical home-based work.
The platform doesn't deal with individuals directly but rather with companies. So the process may require you to register yourself as a business owner, submit a company you're already working for, or sign up as an agent in one of the registered Arise companies.
So when you go to the website, you have to choose between being a business owner or an agent.
If you're registering as an agent, you first have to choose a company that's looking for agents.
Don't worry as Arise has a list of companies you can choose. These companies are owned by individuals so make sure you do your research first before choosing just to make sure you find the one that fits you.
You then have to submit their Federal Employer Identification Number (FEIN). To access the client opportunities, you have to sign a non-disclosure agreement.
Once you've chosen your company, you proceed at choosing a client program. This will determine your pay when you start working.
After you've created your profile, you can then proceed with the other requirements.
If you are applying as your own business owner (or what they call mini call center), the process is similar but you have to register yourself as a business since they only allow contracts with what they call incorporated entities. You also have to pay for the registration yourself.
Another fee you will need to pay is for a background check. This is another requirement you need to submit upon your application. Also, you must have a dedicated phone line for the calls you will be making. Home phones are not allowed.
After you've completed these requirements, and your background check is ok, then you have to enroll in the training program specifically for the client you chose in your application.
The training takes around seven days or several weeks depending on the client's needs. Note that you will not be paid for this training but rather you have to pay the training fee in order to be certified.
So in total, your application will take around one to two weeks, excluding the business registration and background check. The length of training also varies.
Here is a breakdown of the fees as you get started:
Background Check Fee ($12 to $30 depending on state/country)
Incorporation (approx $100)
High-Speed Internet Access (approx $50 per month)
Phone Equipment ($40 to $100)
Dedicated Phone Line (approx $100)
Basic Certification Program ($99 to $250)
As you can see, you are likely to spend at least $500 just to be able to start working unless you already have some of the requirements such as high-speed internet and phone equipment.
There are also some additional recurring fees you need to know including $39.95 Arise monthly fee for all their independent business owner employees. This monthly fee pays for your access to the clients registered on the platform and the software and support.
Make sure you consider the length and fees of the application process. If you're looking for immediate extra cash, then I suggest you check out other online opportunities while you apply here.
So given all these fees, the next question will be how much will you earn so you are sure the fees will be worth paying.
How much can you earn?
Since you will be working for different companies, your pay will depend on the client. Some feedback says you can earn between $10 to $20 per hour depending on the client and the performance incentives and bonuses.
The good thing is that you can choose your clients and Arise appears to have a solid and reputable list of companies from different companies including Fortune 500 companies. You can choose between telecommunications, hospitality, retail, insurance, and banking.
So your "mini call center" earnings will depend on which clients you are servicing and the number of hours you spend working.
Since you submitted yourself as a business owner, you also have to create and submit your own corporate bank account where your clients can pay you. You are paid twice a month via direct deposit to the said corporate bank account.
While your schedule is quite flexible, Arise requires you to put in a minimum of 15 hours of work each week.
Recommended: Click to Learn My #1 Recommended Way to Make Money Online
Is it worth it?
With all the fees to be paid, you might be asking yourself if working at Arise is worth it.
The pay is not the highest in the industry and there is also no guarantee that you will always have work available.
Some might even think that having to pay these fees upfront makes Arise a scam since most scams acting as opportunities require a fee upon joining.
But one thing you have to remember is that this is more of a business opportunity than your usual employment. Arise is like your account manager making sure you get clients.
So while having to pay fees before working sounds like a scam, it's definitely not the case for Arise.
Think of it as investing in your start-up call center.
Therefore, I personally think Arise can be a decent online opportunity if you're looking for something long-term.
This means it's not best for you if you just want to earn a couple of extra dollars during your free time. Given that you have to invest more than $500 in this opportunity it means should be working at this for the long haul.
You also have the monthly recurring fee that will be charged once you have clients.
In my opinion, a monthly fee may be too heavy if you aren't making any money. Therefore, for you to make the most out of this opportunity, you have to continuously work for clients listed by Arise.
You really have to treat this as your own call center business rather than online work during your free time.
If you feel you can't commit long-term or only have a few hours per week, then I suggest you check out other online opportunities that allow you the flexibility to work completely on your own terms.
Final Verdict
While Arise requires you to pay fees before you start, it is a legit opportunity and not a scam. Just because you have to shell out some fees to get started doesn't automatically mean it's a scam.
For Arise, you invest in your training and equipment to be able to get started.
But it is not a good option for all.
So to help you further in your decision whether you should join Arise or not, I have summarized the pros and cons discussed throughout this review.
Pros:


Solid list of clients for you to work with
Certification and training available
Acts like your own online business
Cons:


You pay to get started
There are monthly maintenance fees
Only available in the US, Canada, and the UK
Limited earning potential and limited flexibility
Overall, Arise Work From Home is a legit online opportunity for those with a background in customer support or the call center industry.
If you can accept the fees needed to set up your account and are willing to put in continuous work when the clients need it, then this might be the right option for you.
Just go into this with the expectation and know that you have to work quite a lot of hours to get back your initial investment before you earn a profit.
If you are just beginning your online career and looking for opportunities where you can start from scratch without any required fees, then there are luckily also ways to do this.
If you do your research and have the willingness to learn, there is a right opportunity for you no matter your background and experience.
How I make money online
I also wanted to make an income online so I did my research and checked out and tested many options.
Now, I have been able to create a full-time online income that allows me to work completely on my own terms.
It takes some effort but it is totally worth it.
If you want to follow my footsteps and create your own online income, then check out my FREE guide where I explain how this is possible step-by-step. Don't worry, you can start as a complete beginner!
If you have any comments, questions, or have any experiences with Arise Work From Home as an agent yourself, I would love to hear from you in a comment below.