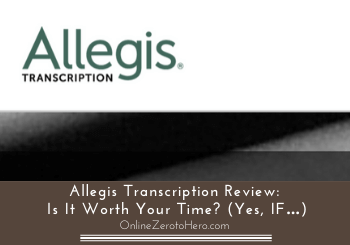 There are many transcription jobs in the market today because it's a job you don't necessarily need much experience when starting.
If you have a personal computer, a decent typing speed, good listening skills, and time to work then becoming a transcriptionist might be appealing to you. You can work from home and earn some extra dollars.
There are quite a lot of transcription companies you can join to find these types of jobs. One of these is Allegis Transcription.
But is Allegis legit or one of the scam sites to stay away from?
Let me just reveal right away that it is a legit company that can potentially offer good transcription jobs – if you do it with the right expectations. Because it is not a good option for all.
This Allegis Transcription review will look into all the details so you can easily see if you should be hitting the register button or not.
Allegis Transcription at a Glance
Training

Tools

Usability

Income Potential
Summary
Allegis Transcription has been in the industry of transcription services for more than 20 years now. You will be transcribing for mostly for the insurance and legal industries, including some of the largest P&G companies if you decide to join.
Most job postings you can apply for require transcription experience and skill. Therefore, if you are an entry-level transcriptionist this might not exactly be for you but you can still try as long as you pass the application process.
Allegis Transcription may be worth your time if you're looking for flexibility in your remote work. However, the pay is not the best for its industry and there is a weekly quota for you to stay keep your contract with them.
If you're an experienced transcriptionist looking to add some more workload in your schedule, then Allegis Transcription might work for you.
What is Allegis Transcription?
Allegis Transcription is a platform that has been around for quite a while which shows it is legit.
It was founded by Joel Gendelman back in 1996.
Its clients are mostly from the insurance and legal industries and it even has some of the largest P&C insurance providers as clients.
Its headquarter is in Renton, Washington. But since you do not have to be physically present at their office to work, you can work remotely (more about who can join later).
Their services include recorded statement transcription, content reports, and digital recordings.
Companies hire Allegis Transcription to have their recordings, like recorded audio interviews, transcribed into documents – this is where you come into the picture.
Since Allegis has been in the industry for more than 20 years, you can expect a consistent flow of work if you decide to become a transcriptionist for them.
How Do You Become a Transcriptionist for Allegis?
First of all, you have to be living in the US to be eligible to apply for Allegis' Transcription jobs.
Second, you should have experience or have trained as a transcriptionist.
While it is indicated on their site that entry-level applicants can register, if you check out the job listings most require a certain level of experience.
So if you a brand new and want to get started as a transcriptionist, it is better to first make sure to get some training and experience.
In addition to having some experience, there is also certain equipment you need.
Allegis Transcription has a list of their technical requirements on the site which includes a Windows-based PC desktop or laptop, foot pedal, the full version of Microsoft Word, and up-to-date anti-virus software.
This means their TMS (transcription management system) is not compatible if you're a Mac or Linux user.
There are several steps you need to do before you can start getting clients as a transcriptionist.
First, you have to register an Allegis Transcription account. Once you're logged in, you are required to enter your background details and upload your resume.
You, for example, need to answer questions about your experience, availability, and technical resources.
Once you're done with filling out the details and the questionnaire, you will need to pass their grammar test.
It's a multiple-choice quiz. You have to pass this to move forward with your application. If you fail, you will have one more attempt – so make sure to take your time and do a proper job and pay attention to all details.
If you pass the grammar quiz, the last step is the transcription test.
You must submit a sample of your transcription work. It will be uploaded for review since Allegis Transcription boasts of its high-quality transcriptionists.
If you meet all the requirements and pass all the tests, then you will be interviewed.
The steps may seem overwhelming but it's good to filter the applicants this way.
If you have experience in transcribing then the tests won't be much of a problem for you. If you're new in the industry, then it's a good way to test if it's something you can do in the long run.
If you end up becoming a part of Allegis, you are considered an independent contractor rather than an employee.
So you will not get company benefits etc. as if you had a permanent position.
Below you can see a short video where some Allegis transcriptionist tell a bit about how it is to work for the company:
How Much Can You Earn on Allegis?
The company does verbatim transcriptions which means you would include the pauses, the uhms and ahs from their recordings.
There are platforms who will pay you on your final word count rather than the whole transcription. But Allegis clients pay per page transcribed.
There is no exact rate published per page but according to the company's blog, you can expect to earn around $13 to $17 per hour if you translate their per-page rate to per hour.
That's a decent rate but there are other transcription companies where you can potentially earn above $20 per hour.
You have to bear in mind that even if you have a fast typing speed, you cannot expect to finish a lot of pages per hour.
There are some audio files that would be harder to transcribe because of background noise or unclear speech. There would also accents that you have to make out. This is really common in any transcription work.
There is a quota of 100 pages per week so you can remain in contract with them.
Then you get paid every Friday of the week. Getting paid weekly is a good indication of a legit company. You can always adjust your income per week based on how much work you put in that week.
Recommended: Learn My Top Recommended Way to Make Money Online
Is Allegis Transcription Worth the Time?
Now you know a bit more about what you can potentially earn so let's also look more into if it will then actually be worth the effort.
First, you need to know, that if you do become an Allegis transcriptionist, you should be able to train for 2-3 hours daily in your first 2-3 weeks. Ideally, they prefer you to do the training between 7:30 am to 3:30 pm PST.
There is no information if the training is paid since the website and reviews only mention your potential income.
I personally prefer it if these are paid trainings because these are still hours you put in for the job. But usually, that is not how it is on transcription platforms so you need to take this into consideration.
While the job postings in Allegis Transcription require a certain level of experience as a transcriptionist, it's good that the company provides specific training for new members. Why? Because you have to understand that not all TMS is the same.
So even if you have experience in other companies, it's still important that there is available training for those who want to join the Allegis community.
Allegis Complaints
Allegis Transcription has a 4.0-star rating at Glassdoor.com with most complimenting the company's work availability and support. Some of the reviews also mention how they are loving the flexibility of the work.
Since you will be a contractor, you will take in jobs based on your preferred schedule and load. If you have a couple of hours per day to do some transcription work, then this would work for you.
While there are overall positive reviews for the company, you will still find some complaints – mostly about the pay and audio file quality.
Having a poor audio quality can be problematic for verbatim transcriptions since you have to include every word from the file.
I think this is why most work from Allegis Transcription requires experienced transcriptionists.
It takes a lot of transcribing and a certain level of listening skill if you will have to transcribe every word from an audio file – especially if the quality of it is not very good.
Now while there are negative reviews found about Allegis, I noticed that all these reviews are replied by an Allegis Transcription representative.
This shows they do take the time to read the feedback about their company and respond to give their side. Not all companies do this whenever someone gives negative feedback to them.
It shows they take it seriously and this is definitely a good sign. There will always be complaints no matter the company but how a company deals with them tells a lot, in my experience.
Overall, transcriptionists seem to be happy with how the company treats them as contractors.
There are still points for improvement which is common for any company you would work with. What is important is to know both the pros and the cons so you know what you are getting into and what to expect before starting.
Final Verdict
Allegis Transcription has been serving big clients in the insurance and legal industries for years now so it's definitely a legit company.
However, it's definitely not for everyone – especially if your goal is to have a stable and high income from online work.
What Allegis Transcription really promote to their contractors is the flexibility of the job and weekly payout. So don't expect the same benefits of consistent income other online work can offer. You also have to keep track of your 100-page weekly quota to stay in contact with them.
But let's finish by summing up the pros and cons to give you a better overview before deciding if it is for you or not.

Pros:
Consistent available jobs for transcription
Good training and support
Payout every Friday

Cons:
Only for US-based freelancers
No regular salary increase
You have to fulfill a weekly quota
Allegis Transcription is definitely not a scam but a legit company connecting companies to transcriptionists.
You get to work at the comfort of your home, choose your own workload, and receive pay weekly.
Just remember it's just not for everyone especially if you want both flexibility and good income. We all only have 24 hours per day and you would want to put in the work to get the most out of those hours.
And if you are brand new to transcription work, it is not the best place to start. Then it is better to first learn transcriptionist skills before you apply not to waste your time applying.
If you want flexibility and earn income that can provide you more options, then let me also share with you my preferred way of making money online – it takes time to learn but with the right effort the long-term potential is huge.
I have made a FREE guide you can check out if you want to learn more about the approach I use to make a full-time income online.
If you have any comments, questions, or have any experiences as an Allegis Transcriptionist yourself, I would love to hear from you in a comment below.