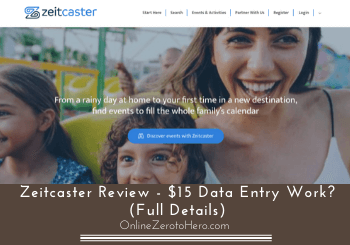 If you're thinking of earning some extra cash during your free time, then there are a lot of options online today.
There are so many options that it can be hard to determine which ones are worth your time. Therefore, it's important you find one that fits your needs.
If you're thinking of what options you have around you, what if you can go around your community and earn just by listing local events online?
Zeitcaster is a unique crowdsourced platform that publishes community and event information to help people discover and participate in different events around them.
But can you earn with Zeitcaster data entry jobs? Or is it a scam that you should avoid?
Let me tell you upfront that it offers legit work but that does not necessarily mean it will be worth your time.
In this Zeitcaster review, you will get all the details you need to know before joining so you go into it with the right expectations if you decide to join.
Tools

Usability

Income Potential
Summary
Zeitcaster is a crowdsourcing platform where businesses can post their events and data entry workers can earn $15 per hour inputting event and location details. While the pay is high compared to other data entry work, there are certain limitations on this platform.
Only those who live in the Berkshires and New York City can apply for work here since these are the only places the company currently covers. Since this is a data entry job, you cannot expect that work will always be available.
So if you join, you just need to do it with the right expectations and be aware that it is probably a good idea to have other income sources also and not only rely on Zeitcaster.
What is Zeitcaster and what does it offer?
Zeitcaster is owned by Zeitbyte Digital Media, which is a New York city-based live event webcasting company. With Zeitcaster, they offer a web-based local event discovery service to help people find events happening in their area on selected dates.
Zeitcaster was founded back in March 2006 by Gary Kahn.
You can consider Zeitcaster as a crowdsourced platform. The term crowdsourcing was originally coined by Jeff Howe in a 2006 article to describe the growing practice of connecting people to work on a common goal.
Crowdsourcing is now an important aspect of businesses around the world as they leverage tasks including data collection and other micro-tasks.
For Zeitcaster, the crowdsourcing happens for events and activities in a specific area. It is their mission to help people connect to the events and communities surrounding them.
Currently, the platform covers events and activities in the following fields:
Art, Dance & Culture
Children's activities, classes, workshops, & talk
Fairs & Festivals
Farmers Markets
Film
Games
Health & Fitness
Literary & Book Clubs
Music
Nature & Outdoor
Religion and Spirituality
Sports
Theater
Take note that they do not cover retails and restaurants & bars events. They are planning to soon add benefits and fundraisers, and other business events.
Now, there are three ways you can become part of the Zeitcaster platform and benefit from it.
You can be a consumer who uses the Zeitcaster app to help you find the events happening around you.
You can be a business owner or an event coordinator who wants to partner with Zeitcaster to spread the news about your organization or activity.
Or you can be what they call a Zeditor, a freelancer who does part-time work for the website.
This Zeitcaster review focuses on becoming a Zeditor and if you can really earn with this part-time, online opportunity.
How can you become a part of Zeitcaster?
For data entry work, you usually don't need any prior experience.
This is also the case for Zeitcaster. You simply go to their site and click on "We're Hiring". You are then directed to the page where you can apply as a Zeditor.
There are no specific requirements listed on the website but they describe their Zeditors as people "who want to work from home with flexible hours". The basic description of your work is curating and entering data for the events around your community.
One important detail that I did find that is not usually mentioned is that Zeitcaster currently only serves The Berkshires and part of New York City. So if you're not from that area, you can skip applying at their website.
Now if you are from those areas, you can check out their page to see if there's work in your local community. Since Zeitcaster is about posting local events, their openings are usually location-based but your data entry work is done online.
To apply, you will submit your name, email, available hours per week, and available start date. You also need to include your resume and cover letter during the application.
There is no information about how long it will take before you get approved or if you will receive an email whether you're approved or not.
So take this into consideration when applying to the site. You can submit your application on the website and then check out other online opportunities while waiting for a confirmation for your application.
Now whether you should actually then apply to be part of Zeitcaster or not will depend on how much you can actually earn working as a Zeditor on the site.
After all, you want your time and effort to be put into earning a good income online. So let's go over how the earning opportunities are.
Recommended: Click to Learn My #1 Recommended Way to Make Money Online
Can you really earn with Zeitcaster?
While there is little information found on what exactly you need to do as a Zeditor, there is a published rate on the hiring page of Zeitcaster.
The mentioned pay is $15 per hour which is a decent rate as a data entry job. I just could not find any information on how you will receive your payment.
Normally, data entry jobs are paid by the task and through PayPal. I just think they should have been more transparent on this since it's important for any online worker to know how they will get paid.
The data entry tasks require around 5-20 hours per week but you get to choose which hours you prefer to work. During these hours, you will be organizing event details such as event title, location, time, category, and description.
Zeitcaster calls its location details "points of interest". You can also get to work on entering details for their points of interest about the place including the address, phone number, website, operating hours, and social media account such as Facebook.
So you definitely can earn with Zeitcaster but it will not be as easy as it might sound like at first. So let's go a bit more into if it will really be worth it and what you can expect.
Is it worth it?
Browsing through reviews and online job lists, Zeitcaster seems to be posted as a recommended data entry job but there is very little information published except that it pays $15 per hour.
I think it's recommended mainly for the rate but there are no online reviews on any Zeditor testifying that they are indeed paid that amount.
Personally, I prefer working for a platform that has received positive reviews from previous workers to guarantee that it is legit online work. While Zeitcaster appears to be a legit company and not a scam, it still doesn't mean that it can be recommended as online work.
The pay rate is high compared to other online jobs such as some transcription jobs I've reviewed like Quicktate that pays only $5-$7 per hour.
However, you must consider that this kind of work is not always available so you can't really control how many hours you can do in a week.
Imagine if there are no events happening in your area or no activity to be posted, then you won't be able to put in the hours to get paid.
There are also only limited potential points of interest you can collect in a specific area. So what happens if almost all points of interest are listed and there are no new upcoming events in your area?
So look at Zeitcaster as just an add-on to whatever you're doing right now. If there's some work to be done, then you get some extra dollars.
Just don't expect you will be regularly be spending 20 hours per week working on this platform.
Final Verdict
While there is not much information you can gather about the company, Zeitcaster is still a legit platform for events and activities. Businesses can maximize this to help promote their happenings while you can apply as a freelancer as data entry clerk and earn some extra cash.
Below, I have summarized the pros and cons discussed in this review below to give you a better overview to help you decide if you should be joining the Zeitcaster community as one of their Zeditors or not.
Pros:


No experience required
High pay for basic data entry work
Cons:


Website contains little information regarding work
Work is location and event-dependent
Limited to the Berkshires and New York city only
Overall, Zeitcaster can be an option for you if you have a lot of events happening in your area. I personally think it's not a source of solid income online since your income will depend on the events in your area and there is no guarantee you will also be able to get work.
So if you join, you just need to do it with the right expectations and be aware that it is probably a good idea to have other income sources also and not only rely on Zeitcaster – that would be too risky, in my opinion.
If you're looking for other online opportunities that offer flexibility and good pay, then there are luckily a lot of opportunities online today that require little to no experience. As long as you're willing to learn, you can find and earn from the right online opportunity no matter your background and experience.
How I make money online
I have personally been able to create on full-time online income that now allows me to work when and where I want completely on my own terms. I definitely did not start as an expert to get that income.
It takes some effort and time but it is totally worth it.
If you want to follow my footsteps and create your own online income, then check out my FREE guide where I explain how this is possible step-by-step.
You can even get started with these steps as a complete beginner.
If you have any questions, comments, or have any experience with Zeitcaster yourself, I would love to hear from you in a comment below.