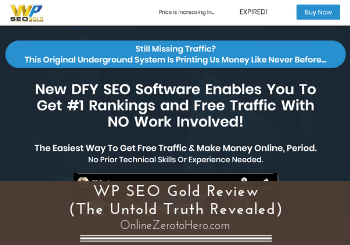 Traffic is one of the biggest challenges for most online marketers and website owners.
WP SEO Gold claims to be a software that can easily help you overcome this challenge.
But is it really a great option or is it a scam?
I am myself working a lot with SEO and WordPress and I am teaching courses in both of these topics as well. Therefore, I, of course, wanted to check out a plugin that claims to help with SEO traffic for WP sites.
Let me reveal right away that the plugin has some potential, BUT there are also a lot of things you are not told.
In this WP SEO Gold review, I will give you all the details, so you can easily see if it will really be worth investing in for you or not.
WP SEO Gold at a Glance
User-friendliness

Funtionalities

Value for money
Summary
WP SEO Gold is legit since it will give you a software that can help you rank in some ways. BUT, in my opinion, it makes a lot of exaggerated claims about how easy it will be to use it to make money, and if you do not know what you are doing, you can potentially end up hurting your chances of ranking instead.
What is WP SEO Gold and what does it offer?
WP SEO Gold is a plugin for WordPress.
It is supposedly a done-for-you SEO solution for your website that will make it easy for you to rank and get free traffic from the search engines.
I work a lot with SEO and WordPress both for myself and clients, and I also teach courses on these topics. I was, therefore, very curious about this plugin and the claims it makes.
Based on my experience, I must, however, say that I right away became a bit suspicious when I saw it claimed it is a complete SEO solution and that it will be easy to rank.
SEO is not quite that simple.
So I took a closer look at all the claims the site makes and took a close look at the demo of the plugin to see exactly what it can do and cannot do for you.
I found some things about the plugin I definitely like, but I also found A LOT of things that I do not like. These are very important for you to know before investing in this plugin.
If you are not aware of this, software like this can potentially end up damaging your chances of free traffic instead of helping them.
I have made a video where I tell you what you need to know about this plugin before getting it. You can also see all the details in writing below the video:

Recommended: See My Top Recommended Way to Learn Proper SEO
Is a SEO plugin a good idea?
Before getting to what I like and do not like about WP SEO Gold, let's first go over if it is even a good idea to use a SEO plugin if you have a WordPress website.
And it is actually a very good idea.
If you use a good SEO plugin, it can help take care of a lot of SEO settings and some technical aspects that can definitely increase your chances of ranking.
I use SEO plugins for all my WP websites and for clients websites as well. So the claim that WP SEO Gold makes that a plugin can help your rankings is definitely true.
Later in this review, I will show exactly which plugins I am using myself.
But one thing that is VERY important to know is that just because a plugin can help you, does NOT mean it will necessarily guarantee any results.
And it does NOT mean that it is enough to just install a plugin to rank (more about this later).
For now, I just wanted to make you aware that using a SEO plugin for your WP website is definitely a great idea and something you should do.
In my opinion, using WP SEO Gold might however not be the best idea. But let me go over what I like and what I do not like about the plugin, so you can see and judge for yourself.
What I liked about the product!
As you can see, using a SEO plugin is a great idea if you have a WordPress website.
WP SEO Gold does have some good features that I want to go over.
#1 – The overall idea
After you install WP SEO Gold, you will see several more options when you add a new page or post.
These settings include meta description, title, and keyword.
Some of these features are very similar to what most SEO plugins offer.
Using meta description and title can be a way to help you get more traffic, and it is therefore great to have these settings.
#2 – The related keyword suggestions
The settings I mentioned above is nothing new and it is something you can get access to with many other tools as well.
One thing I did, however, like about WP SEO Gold that is not included in any other the other SEO plugins I have seen is the related keyword suggestions.
This helps you get some related keyword ideas to include in your content. It can potentially help you rank, as you get around the topic more and writes about it from different angles.
Google and other search engines like thorough content, and this can help you with this.
So I really like that feature. It is by no means perfect, as it is not as simple as just putting a few extra words in your content to rank, but the idea is great.
What I did NOT like about the product!
I have now explained about the features I like about WP SEO Gold.
Unfortunately, there are many more things I do not like, and some of them can even, in my opinion, end up hurting your chances of ranking if you do not know what you are doing.
I, therefore, want to go over these important aspects you are not told about on the sales page and that many other reviews do also not tell you about.
#1 – The hyped income claims
No doubt that good SEO and getting a lot of organic traffic can make you a lot of money.
I do however not like all the hyped tricks the sales page of WP SEO Gold, in my opinion, is using.
You can see a bunch of screenshots of earnings – I think that these earning are real, as it definitely is possible to make this kind of money with a website that gets a lot of traffic.
However, as you can see in the image above, you are told that you can make this kind of income with the touch of a button.
This is just not how internet marketing or SEO work.
You will never become rich just by clicking a few buttons. Any software or program that claims it is this easy to make money online is, in my opinion, something to be careful about.
This does not mean the WP SEO Gold software cannot help you to eventually make good money online. But I do just not like that you are given the impression that you can make this kind of money just by clicking a few buttons.
From what I have seen from the software and the demo of it, it will take a lot more than just clicking a few buttons, which I will show you below.
#2 – The focus on measurements
When you install the WP SEO Gold plugin, you get the chance to get a SEO analysis of your pages/posts.
This will remind you of important things to remember to optimize your content. In the words of the creator himself in the demo video, "it forces you to optimize your post".
The list you get is in many ways a very good reminder. Many of the elements mention are important factors to rank. But the list also has some disadvantages.
The big disadvantage is that it focuses solely on measuring and not on quality or context. In the demo, you are told that you just need to make the SEO score 100% and then you will have a great optimized post.
I disagree very strongly with this.
This is too rigid a way to think about SEO and content.
You can use the list as a reminder, but you also need to know about SEO already and be able to critically assess if each element is relevant for that particular post.
Sometimes it just does not fit in, and you cannot just trick the search engines by living up to a checklist like this.
You, first of all, need to be able to create quality content. Sometimes you will then include all the elements the WP SEO Gold checklist recommends, but sometimes it will not be appropriate for the context.
It is very important to be aware of this. If you just rigidly follow the recommendations without critical thinking and without taking the context into consideration, it can end up making your content poor, and this will make it harder to rank.
Let me give you one very important example of this. In the demo of WP SEO Gold, you can see that you need to have a certain keyword density.