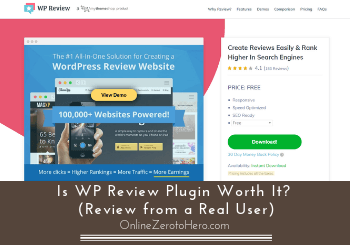 If you have a website where you sometimes post reviews or need users to leave reviews, then getting a plugin with the necessary functions can be very helpful.
One of the plugins that make this possible is the WP Review plugin for WordPress.
But is WP Review plugin worth it or a poor solution?
I have used the plugin for several websites myself, and in this WP Review plugin, I will show you what it can do so you can easily see if it is the right solution for you.
Disclosure: Some of the links on this page are affiliate links. This means at no cost to you, I may receive an affiliate commission if you purchase something through one of these links.
WP Review Plugin at a Glimpse
User-friendliness

Functionalities

Value for money
Summary
The WP Review plugin can really help your website if you post reviews. It can make your website more engaging, it can help you gain more visibility in the search engines, it has a lot of options and features, and it gives very good value for money.
I am using it for several review websites myself (including this website you are on now), and it has benefited my sites a lot. Some of the customizations and adjustments just take a little time to figure out how to use, but luckily their website has many tutorials to help you with this.
What is WP Review Pro Plugin and what can it do?
The WP Review plugin is developed by MyThemeShop which is a recognized company with many plugins and themes.
As the name suggests, it is a plugin for WordPress that can give extra functions for your website if you have a review website.
Here on OnlineZeroToHero.com, I often post reviews of products and services related to internet marketing and making money online (for example this one you are reading now), and that was why I first started looking for a plugin that could give me more functions.
I ended up choosing WP Review Pro and have used it for a few years now, so I know all the pros and cons of it.
It has both a pro and a free version. Later I will go over the difference between these two. First, I will go over the main functions the plugin in general has.
It describes around 26 features on its website itself, and there is no need for me to just repeat these.
Instead, I want to highlight some of the features I find the most beneficial as a website owner and how you can potentially use them to your advantages and what to maybe not do.
So let's go over some of the main features and the options of them so you can see if it has what you are looking for.
Feature 1 – Rich snippets:
Rich snippets are something that can help you with SEO.
Shortly explained, a snippet is what you see when you search on Google (or other search engines) and see a small snippet of several results. These snippets help you find out which result/website you want to visit.
Rich snippets will then show extra information instead of just the normal text snippet.
This can be extremely helpful as it makes your search result stand out and increase the chances of people actually choosing to visit your website over others in the search results.
A plugin can help you get these rich snippets.
Here on OnlineZeroToHero.com, I, for example, use star ratings for my reviews. This is actually the main reason I started using the WP Review Pro plugin as I wanted this function.
Now, when my reviews show up in the search results, small star ratings show up as well. Here is an example of my ShutterStock review in the search results:
You can see how much this makes your results stand out.
Personally, this is a benefit of a review plugin that I think is very important to have for a review website.
I find that the WP Review plugin makes it very easy, as it automatically makes the stars possible once you activate the plugin.
There is no guarantee that the search engines will always show the stars together with the snippets but it makes it possible and very likely.
WP Review Pro supports 14 types of rich snippets for, for example, gaming, books, music, articles, places, products, recipes, restaurants, stores, and more. You can choose your preferred snippet with just a few clicks.
Overall, the rich snippet function is really great, in my opinion.
Feature 2 – Rating templates and systems:
At the top of this review of WP Review Pro plugin, you can see a short overview with ratings and more.
This is created with the WP Review plugin.
You can adjust it to your liking with colors, etc. and it has 16 predefined templates that make it easy to find a great looking option.
Also, you can choose different rating systems depending on what fits your website.
As you can see on this website, I have chosen stars and use ratings 1-5 but you can also choose several other options like thumbs up and down, points, percentages, and more.
You can even upload a customized rating image.
This means you can use the exact rating images that fit your site the best. A pretty cool option, in my opinion, even though I personally have just chosen one of the standard options on this website.
Feature 3 – Make user ratings and comments possible:
If you have a review website, a way to get more engagement and get people to keep coming back is to allow user reviews and ratings.
It makes it possible for users to leave comments on the review, rate features themselves, and mark other's comments as helpful or not helpful.
This can be a great option, but, in my opinion, there are a few things you have to consider before starting to use this feature.
First of all, you need to consider how many visitors you have on your website. If you have very few because your site is still new, it might not make sense.
It is sometimes almost worse to have just one user rating or review here and there than not having the option. It just sends a signal to readers that there is not a lot of activity on your website. Also, just one low or high rating can completely change and distort the average if there are only few user ratings.
In addition to this, it does not fit for all websites to allow user ratings, in my opinion. You have to think about why users look for reviews.
Often they do it to find out if a product or service is worth buying, or they have had a bad experience and want to leave a bad review somewhere.
This means that often the only people that will actually leave a review or rating on your website will be people that have come to share their poor experiences.
The ones that have not yet bought will not leave a review since they do not yet know much about the product. And the ones that have good experiences more or less never go out and look for a place to leave a positive review.
That is why user reviews and ratings sometimes can end up showing one-sided ratings and if that is the case, it does not really help your readers make an informed decision.
It can still make sense to use user ratings and reviews and it can be a great way to keep your website engaging. But it depends on the niche and the context so just think about these things before using this option.
But great that WP Review Pro has this option so you can use it if it is appropriate for you.
Feature 4 – Comparison tables:
When having a review website you might sometimes not only do single product reviews but also comparison reviews where you compare two or more products.
This is a great way to help your readers get an overview and find the best solution for them.
A pretty cool feature WP Review Pro plugin offers for this is a comparison table.
This makes it easy to compare and rate several products in a table and highlight the features of each product.
In my opinion, a great way to make comparison reviews a lot more interesting and engaging.
And also a lot easier than, for example, having to create a graphic with the comparison as it is quite easy to set up with the plugin.
If you are doing a lot of comparison reviews, this feature alone will make it worth getting the WP Review plugin, in my opinion.
Feature 5 – Popup and notification bar:
There is a function in the WP Review plugin that can help you get more traffic to featured reviews.
It is a popup and notification bar function.
The notification bar makes it possible to place a bar, for example, at the top or bottom of your website to highlight an important review you would like people to see.
It can be a great way to get more traffic to a certain review.
Some of the settings are, however, a bit limited, in my opinion. But that depends a lot on your needs. You can, for example, not choose to not have the star ratings shown on the notification bar.
Personally, I would like to use it to guide people to an important article that is not a review so then it does not really make sense to have the stars.
So you cannot really use it as a notification bar for needs like that. But for driving traffic to a certain review, it can work very well.
Another option that can help you to get more traffic to important reviews is an intent popup that you, for example, can set to popup when people try to leave your site.
This popup can be used to highlight several related reviews and can be a way to get people to stay on your site longer and visit more reviews that might be relevant for them.
Overall, some really great features to have. Just make sure to use them with care so you do not end up annoying your visitors with too many popups.
Feature 6 – Manage roles:
If you have other people working on your websites, it can be a good idea to manage the access for different roles.
With the role manager settings in WP Review Pro, you can control the options and features each of your different WordPress users has access to.
This means that you, for example, can say that only admins should have access to the global settings of the WP Review plugin, that editors should have access to the notification bar setting but authors should not, etc.
You can completely control access for the different users.
This is not relevant if you are the only one working on your website. But if you have writers or other people helping with your website, this is a very important feature to have.
Further features:
As mentioned at the beginning of this review, the WP Review plugin is itself mentioning a lot of features on its website.
Above I have explained some of the features I find the most useful as an owner of a review website and how each of the features can be used and what to be aware of.
Your needs, however, might be a bit different than mine, so I just quickly want to list a few of the other features it has in case it might be something you are looking for so you know if it is there or not.
WooCommerce integration
Facebook reviews integration
Yelp reviews integration
Google places reviews integration
Google product review feed support
Thumbnail selection
Add text along with star
Developer friendly
These are all nice features and some of them might be exactly what you are looking for so just wanted to mention them here.
You can then read more about them on the WP Review plugins website.
==>Click to Visit WP Review's website<==
WP Review Plugin price – free vs paid version
As already mentioned, WP Review plugin has both a free version and a pro paid version.
The free version, of course, has fewer functions than the paid version. That is how it is for most WordPress plugins. Of, course, they cannot give everything away for free, as they also need to make a living.
But the free version actually does a pretty good job also, depending on your needs.
If you just want basic reviews and ratings displayed on your site and have the chance to have the rich snippets shown in search results, then the free version is fine.
So for a start, the free version can be good, and it also gives you the option to see what the plugin offers before deciding to upgrade or not.
If you make money on your website already, it can, in my opinion, definitely be worth considering upgrading to the paid version as it gives a lot more options.
Of the features I explained more in-depth above, the ones that are only available in the paid version are: user reviews option, the comparison table, the popup and notification option, and the role manager function.
Below you can see a chart from WP Review Pro's website that shows some of the differences between the versions and the prize.
As you can see, the premium version cost $67 for a year at the moment I took this screenshot. But it had a sale and is usually $77.
This is for the use of the pro version on one website. If you want a license for 5 sites the usual price is $97.
On the chart above, you can also see a membership option. This is $19 per month if you pay yearly but this is not just for WP Review Pro.
It is a membership that gives you access to all MyThemeShop's products. This means access to 150+ WordPress products.
Is WP Review Pro worth it?
If you are making money by having your website, I think it definitely makes sense to get the pro version of the WP Review plugin.
I am happy to pay for good quality products myself if it can help my business and income and WP Review plugin has become an important part of my website so I definitely think it is worth it.
It is actually very good value for money – especially if you have more websites and buy a license for more sites.
What I really like about the pro version is, of course, all the extra features and options. But it also gives you access to 24/7 support.
I have been in contact with their support a few times myself to get help with some technical challenges and they have been very helpful.
But I really like that it also has a free version. I started with the free version and I like when I can try things first before deciding if it is what I am looking for and WP Review plugin offers this option, which I think is great.
So in my opinion, the WP Review Pro plugin is definitely worth the money and I have had a lot of benefits of it myself. But even if you do not have any budget yet, then the free version can definitely also be worth it if you have a website with reviews.
Final thoughts
If you have a website with reviews, having a review plugin can be a great way to make your website more engaging and get some further benefits.
As it is clear from this review, I have personally had a lot of benefits from using the WP Review Pro. This does, however, not mean it will necessarily be the right solution for you.
So let's finish by summing up the pros and cons of the plugin, so you can get a better overview before deciding if it is the right option for you.

Pros:
Has a free version
Pro version gives good value for money
Makes a review website a lot more engaging
Can make your results stand out in the search engines
Many options to adjust
Works with all WP themes
Mobile friendly
Good support

Cons:
Some settings take a little time to figure out how to use
Limited settings for the notification bar
I honestly do not think there are a lot of cons when it comes to the WP Review plugin. Especially not when it comes to the pro version.
Some of the settings can take a bit of time to figure out how to use and could be a bit more intuitive. But luckily there are many good tutorials on the website to help you get started.
But overall the amount of opportunities and what it can do for a website definitely makes it worth it, in my experience.
My website has benefited a lot from it and made my reviews more engaging and has made my websites stand out more in the search results and thereby helped me get more traffic. In addition to this, the support is very helpful.
So now I hope this review has helped you get a good overview of what the WP Review plugin is and what it can be used for and what to be aware of when using it. Now, hopefully, you are ready to decide if it is the right plugin for you or not.
If you have any comments, questions, or have any experiences with the WP Review plugin yourself, I would love to hear from you in a comment below.