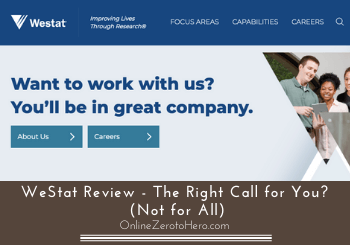 Today, more people are open to the idea of working flexibly anytime in the comfort of their homes. You can skip the stress of the commute and enjoy more time for other things.
When choosing between what tasks to do, there are different options depending on your skills and time available.
One of the options you can consider is to become a telemarketer or a telephone data collector. Of course, you will need a good internet connection and a landline if you are to pursue this opportunity.
For websites that offer telephone data collection, WeStat comes into the picture.
But is WeStat a legit website for you to earn or one of the scams to stay away from?
This WeStat review will give you all the details and look into how the website works and if you can really earn so you know what you can really expect before joining.
So let's get started.
Tools

Usablity

Income Potential
Summary
WeStat is a one of US' leading statistical survey, communications, and research organizations. It has been in the industry for more than 60 years already so they have worked for many well-known institutions including the U.S. Military
One thing that sets WeStat different from other freelance telemarketing platforms is that they offer benefits. There is also a fixed schedule for the work so make sure you are available during those times if you're planning to join WeStat.
This is a good call for you if you're okay with schedule and can handle sensitive information to help in the field of education, health and social work.
If you're looking for an online opportunity that offers more flexibility and a better income, then you can check out other options online.
What is WeStat and what does it offer?
WeStat started in 1961 as a partnership between a professor and two former students from the University of Wyoming. Edward C. Bryant, Ph.D., a tenured professor of statistics and former students James Daley and Donald King officially launched the company in 1963.
Today, WeStat has offices in Bethesda, Maryland; Atlanta; Cambridge, Massachusetts; Raleigh/Durham, North Carolina; Philadelphia; and Houston. It also has international offices located in Beijing, Costa Rica, Ethiopia, India, South Africa, and Thailand.
WeStat has been in the business for almost 60 years. It is recognized as one of the US' leading statistical survey, communications, and research organizations.
In fact, it ranked sixth on the American Marketing Associations Gold Top 50 Report for a number of years already.
The company has completed work for well-known institutions including several branches in the U.S. Military. The other clients they have worked with according to the company itself include:
Toyota
The Verizon Foundation
Teach for America
SiriusXM
ClearWay Minnesota
Center for Disease and Control Prevention
The National Institutes of Health
The John Hopkins University
University of Michigan
Texas Education Agency
As you can see from their clients, most are related to health, education, social policy, transportation, and environment. The company says it aims to improve lives through their research.
Most online telemarketing and data collecting jobs you can find are for lead generation or sales.
However, WeStat is different. You will not be conducting outbound calls to generate sales but to collect information based on questionnaires.
It's noted on their site that as a telemarketer, you will be asking questions of extremely sensitive nature.
These include counseling, social work, disaster relief, suicide prevention, and domestic violence.
So if you're someone who cannot be sensitive in these situations, I suggest you find a different telemarketing job instead.
Looking at their website, you can see that WeStat offers a variety of jobs for office and fieldwork.
This WeStat review, will, however, be looking at their field telephone data collecting jobs even though there are other remote positions available.
How do you join?
Since you will be conducting outbound calls and collecting information, the basic requirements for you as an agent are a computer with high-speed internet, landline phone with a headset, and a quiet workspace.
If you have all of these at home, then you can consider this telephone data collecting job.
To apply, you simply go to their website and choose "Careers". As mentioned, there are a variety of jobs offered by WeStat so you must apply under the Field section where Telephone Data Collector is included.
Some of the information you need to submit during your application are name, address, phone number, email, educational background, and work experience.
You can also add skills to your profile. There is also an option where you can simply upload your CV or resume containing this information.
If you have prior experience in counseling, social work, disaster relief response, domestic violence, triage, and suicide it can be an advantage when applying since you will need to gather information in these fields.
Since there is some sensitive and private information involved in this work, you are required to undergo a fingerprint check and a criminal background check before you will be hired.
You have to pay for these, but you will get reimbursed once you're hired.
Some mention you will receive a call for a short interview before getting hired. Given that you will have to undergo a background check and an interview, you can expect that it will take you a week or more for the whole application process.
However, there is no clear information on how long it really takes to get hired or if you will be informed if you don't get accepted.
So what I suggest if you really want to give WeStat a try is to apply while also checking out other platforms so you have options.
That's actually one of the advantages of working remotely. You can work for different companies all at the same time as long as you have the time to do the jobs properly.
If you get hired, you must be able to commit to working a minimum of 15-40 hours per week at a specified time.
You can either work late evenings at 9pm to 12am ET or on weekends at 10am to 6pm ET (Sat) or 2pm to 9pm ET (Sun). So make sure you are available at these times if you are considering applying at WeStat.
A weekend schedule is a good option if you're someone who has a full-time office job during the weekdays and is looking for some extra cash to earn during the weekends. The night shift can be a challenge if you have an 8-5 job since you might be stretching yourself thin with the long work hours.
But before even considering putting in the hours, you also have to know if you can really earn through this job so the hours will be worth it.
That is what we will look at next.
Recommended: Click to Learn My #1 Recommended Way to Make Money Online
Can you really earn with WeStat?
WeStat is one of the few telemarketing platforms that hire their agents as employees instead of contractors. Usually, if you are a contractor you don't get any benefits but simply receive your pay.
But for WeStat, you can get employee benefits.
Yes, WeStat work from home jobs (including the telemarketing position) offer group insurance, 401k, a staff bonus plan, vacation time, administrative leave, employee ownership, and professional development reimbursements.
Their professional development reimbursements allow you to take educational programs and in-house trainings paid by the company. This reimbursement is not a regular option but if it does become available you can take advantage of it.
But before you get really excited about working at home and receiving benefits other than your basic pay, take note that some mention you must work a minimum number of hours before receiving benefits. Unfortunately, I could not find more details about these benefits and how many hours you need to put in to actually get these benefits.
And since this is technically a freelance position, there is no guarantee of continuous work. So it might take you some time before you actually get the benefits they offer to their employees.
Of course, the next question aside from the benefits is the rate per hour that you will be paid once you start working for WeStat.
There is no published rate on their website for how much you will earn but based on Glassdoor, you will receive around $8.25 per hour when you start. If you speak both English and Spanish, you can earn around $11.60 per hour.
So it is not the highest pay you start with. But if you are willing to work your way up and eventually also get access to the other benefits, it might still be worth it depending on your income goals.
Payments are made weekly on Fridays via either direct deposit or US mail.
Unfortunately, WeStat does not offer a PayPal option unlike most freelance telemarketing platforms today. So, I suggest you choose the direct deposit option so you can get your money faster.
Final Verdict
WeStat is definitely a legit company given the names of the clients it has assisted throughout its 60 years of service.
It has been recognized by American Marketing Association for its continuous growth and service to clients. But just because it's a legit company does not automatically mean it's the right match for you.
To help you more in your decision-making process, I have summarized the pros and cons I have discussed throughout this WeStat review:
Pros:


You can get employee benefits once qualified after a number of tasks
Well-known institutions and government agencies as clients
Recognized as a leading research organization
Cons:
Payment only made through mail or direct deposit
Too little information on their website about application process and tasks
Fixed schedule for work
Work not always available
So is WeStat a good call as an online income opportunity?
It can be the right call for you if you want to help in the field of education, social work, or health.
You just need to make sure you are comfortable with handling sensitive information and situations. And since there is a fixed schedule required, you need to consider if that is ok for you and if the schedule works for you.
If you're also looking for an online opportunity where you can get a chance to get benefits even though you work remotely then this can be a match. Just remember that it can take some time before you actually get the benefits.
However, this might not be the right match for you if you're not comfortable handling sensitive information or you're looking for more flexibility in the schedule since the shift here is fixed.
If that's the case, then I suggest you check out other opportunities online that can give you the income you want and the working schedule you want.
How I make money online
I have personally been able to create on full-time online income that now allows me to work when and where I want completely on my own terms.
It takes some effort and time but it is totally worth it.
If you want to follow my footsteps and create your own online income, then check out my FREE guide where I explain how this is possible step-by-step.
You can even get started with these steps as a complete beginner.
If you have any questions, comments, or have any experience with WeStat yourself, I would love to hear from you in a comment below.