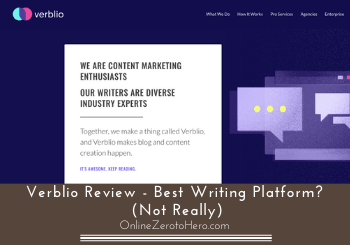 Writing gigs are quite common online. You can find numerous writing platforms where you can earn through writing different types of online content – from blog posts to basic marketing copy to short ebooks.
If you have a way with words, you can find a freelance writing platform where you can earn while writing during your free time.
But with all the writing platforms out there, how do you know which one is legit? It can get very confusing with all the lists of recommendations.
One writing platform you can come across is Verblio. This online content creation company has been in the industry for almost 10 years.
But is Verblio legit? And can you really earn by writing on this platform?
This Verblio review will help you know how the company works and by the end, you should be able to decide if this is the right writing opportunity for you or not.
Tools

Usability

Income Potential
Summary
Verblio (formerly Blogmutt) is a content creation platform that connects freelance writers and clients. It's easy to sign up as long as you provide your basic details and pass the grammar test. You also have to submit a sample to be reviewed by their team.
While the platform is open for beginners, the drawback is you only get paid when clients buy your content. The rates are also fixed based on the number of words. So you can be writing a lot of content and only get paid for a few. You also don't get access to longer content assignments until you move up a level.
There are other writing platforms out there that will pay you for every piece of content you write and with a higher rate. Personally, I would recommend you find other writing platforms or you start writing your own blog that you can monetize.
What is Verblio and what does it offer?
Verblio was formerly known as BlogMutt until its relaunch in October 2018. It is an online content creation company that offers freelance writing gigs.
The company was founded by Scott Yates and Wade Green back in 2010 in a 100-square office in Delaware. Currently, its office is in Boulder, Colorado.
Since Verblio is a content creation platform, it has a wide array of industries where they provide content.
Whether that's a website on pet grooming looking for new blog content or a beauty guru who needs help with her blog reviews, Verblio commits to have a writer for it.
And if you're a writer with a niche subject, then chances are you can find clients given their list of industries.
Remember that Verblio acts like a middleman between writers and clients. So, when you're on the website, you can either sign-up as someone looking for content or someone writing content to get paid.
In this review, we look into being a content writer rather than being a client.
How do you join?
To apply at Verblio, you must be 18 years old and above. You also need to be a U.S. citizen with a valid Social Security Number.
Take note that as long as you are a U.S. citizen even if you are living abroad, you can apply as a writer.
You can go directly to the website and click "Apply Now" and then provide your basic details – name, email, and password.
After you've signed up, you take a short quiz on proofreading and grammar. You have to score at least 7 out of 10 to pass and move on to the next step. You can only take the test twice so make sure you answer carefully.
If you pass the quiz, then you will take the plagiarism test next. Take note that Verblio is quite strict about plagiarism.
You cannot reword any articles and must always apply attribution to quotes. This is important since there are a lot of content platforms out there that simply rewrite articles.
Since this is a writing gig, you have to submit a sample to be reviewed by Verblio's in-house team. If your sample does not pass their standards, then you cannot write for Verblio.
I cannot find information on how long it takes to get feedback from their team and if you will actually receive a notice even if you don't get hired. Therefore, I suggest you also spend time applying to other writing platforms once you've submitted your application at Verblio just to be sure you get a writing job.
Now, if you do pass and become a writer, your submitted sample will be available for sale to any customer. Therefore, you can get paid by your application sample.
But how you get paid in Verblio is different from other writing platforms.
So let's discuss that next and if you can really earn a good income as a Verblio writer.
How does Verblio work and can you really earn?
With all the industries being catered by Verblio, you must imagine how many clients you can actually get when you work on their website.
But to know how you can actually earn as a writer for Verblio, you need to know three important things.
1) You earn points to get to new levels
Once you get accepted as a writer, you will start at Level 1. For you to move up a level, you need to earn points. These points are earned for every article you submit.
So how do you get articles to submit? You do a job search on the site and find clients with their requested blog post or topic. You can then write the requested content and submit it for review.
Clients get to choose between the submitted articles from different writers (more about how this works later).
When they buy your article, you can get points and the clients can also give you star ratings. You get bonus points if you write the first post for a new client's request and if you get a 5-star rating for your work.
Once you get on a higher level, you get access to articles with higher word counts.
Verblio has a fixed pay rate per number of words so you increase your income potential when you get to write longer content. That leads us to the second important detail.
2) You are paid a fixed pay rate per number of words
As mentioned, Verblio has a fixed rate for each word count for their content. You can earn a minimum of $10.50 for a 300-500 word article.
Now that seems a bit low especially if you will spend at least 2 hours writing the content. If you write fast and can finish a 300-word article in less than an hour then you can, of course, get a higher income.
To give you an overview of how much you can actually earn, here is the fixed pay rate per content:
300 words – $10.50
600 words – $21.00
1,000 words – $50
1,500 words – $90
2,000 words – $130
In my opinion, these rates are a bit low unless you write fast so you can earn more based on the number of articles you write.
However, I know that there are other writing platforms that pay more than that and based on the actual word count.
There is also the third factor I want you to know about earning with Verblio.
Recommended: Click to Learn My #1 Recommended Way to Make Money Online
3) You are only paid when your content is bought
Most content creation platforms I now pay their writers after submission of a piece of content.
However, Verblio doesn't work that way. Aside from being paid a fixed rate, you are also paid only if a client buys your submitted work.
Imagine, you can work on a 300-500 word article and not get paid simply because a client chooses someone else's work.
I'm not a fan of this kind of setup since you can end up working for no pay. There is no guarantee your work will be accepted by the client especially if you're just a new writer on the site. It's like you're having a trial work for every client hoping that they accept your submission.
So being paid only after a client buys your content is a major drawback, in my opinion.
If your content gets selected, payment of any amount is sent out via PayPal every Monday.
Weekly pay is good since you can plan how much work you do per week depending on the income you want and you will get the money fast which is always nice.
Given these three important details, you can already assess if this is a good writing platform for you.
In my personal opinion, if you're going to be writing content then you might as well make a living from your own blogging.
Writing platforms are good for some extra cash and for practicing your writing. But I know from personal experience that you can also make your own blog and monetize your content.
Earning from your own blog won't happen overnight but the same goes for writing platforms such as this. You still need the same hard work whether you're creating your own blog or writing for a freelance platform.
So you can start with writing for a platform while building your own blog until it starts earning the income that you want.
But, of course, this depends on your overall goals and if you are looking for money here and now and if you are looking to build a long-term business.
Final Verdict
Verblio started as a blog content service platform that has evolved to providing a wider scope of content creation. It's definitely a legit company catering to different clients. But just because it's legit doesn't mean it's the right writing opportunity for you.
Yes, you can earn if you actually put in the work but there are many things to consider before joining this platform.
So to give you a better overview before deciding if Verblio is a good match or not, I have summarized the pros and cons I have discussed throughout this review below.
Pros:
Open for beginners
Helps build your portfolio
Access to different clients
Flexible schedule
Cons:


For U.S. citizens only
Low fixed rate for each content
Lots of competition with other writers in the platform
Paid only when content is bought by client
Overall, Verblio is a legit platform that can connect you as a writer to clients of different industries.
If you're just starting out your freelance writing career, then this can be a good option since there are a lot of jobs available. But the rate and conditions are definitely a drawback if you want to really earn through your writing skills, in my opinion.
Since you are not being paid by the work you do but rather by the work that is sold, don't expect a full-time income from this platform.
To maximize this platform, you can write a bulk of content to submit and then just wait for it to be sold while you're working on another online opportunity that gives you a consistent income.
If you think your writing skills are not enough or you want an opportunity where all your hard work will be compensated, then there are online opportunities out there where you can earn good money even if you start as a beginner.
How I make money online
If you're looking for other options on how you can earn online with the skills you currently have, then there are definitely possibilities no matter your background.
I personally did my research and tried a lot of different opportunities to find the one that works for me.
Today, I have been able to create a full-time online income myself that allows me to work anywhere in the world and completely on my own terms.
It takes effort, but it is totally worth it.
If you want to follow my footsteps and create your own online income, then check out my FREE guide where I explain how this is possible step-by-step.
If you have any questions, comments, or have any feedback with Verblio yourself, I would love to hear from you in a comment below.