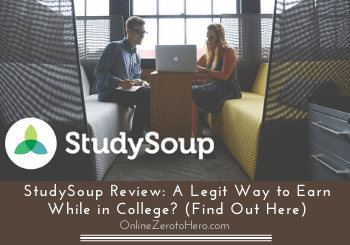 College can be expensive. Beyond the tuition fee per semester, there are a lot of expenses throughout the classes. So most college students would look for a side gig or a part-time job to make things easier.
But what if you can get paid while attending your classes? Sounds great, right?
That is what StudySoup claims to do.

But will StudySoup really give you extra cash or is it just a scam for college students?
I will tell you right now that Studysoup is indeed a legitimate way to earn if you're still studying in college, BUT it's not necessarily the best side gig for everyone.
This StudySoup review will show you all the details so you can easily see how much you can actually earn and if it's even worth your time and effort.
Tools

Support

Value for Time Spent

Income Potential
Summary
StudySoup is a legitimate platform where you can sell your notes and study guides to fellow students while in college.
It has limited income potential because you can only submit notes from large classes and up to 3 classes per semester.
But if you're looking to add an extra source of income while in college, StudySoup can be a viable option – especially if you already have great skills in note-taking.
However, it cannot give you a lot of money or solve your student debt so you need to do it with the right expectations.
What is StudySoup?
StudySoup is a digital peer-to-peer marketplace where you as a college student can sell your notes to other students.
Or you can buy notes from if you need that. However, this review will focus on how you can use StudySoup to earn and what your opportunities for this are.
Sieve Kozinsky was taking up environmental studies at UC Santa Barbara when he founded Studysoup in 2014 with his co-founder Jeff Silverman.
They wanted a platform where students can sell and purchase class notes, study guides, and textbook solution guides.
It has also been featured in Forbes as an innovative way to help college students learn and earn.
So at first, it can seem like a great idea and it is a legit way to earn a bit extra. But you need to know exactly what to expect to find out if it really is the right option for you or not.
Let's, therefore, dig a bit deeper.
How do you become part of StudySoup?
As already mentioned, you can either be a buyer or a seller at StudySoup. You can be a buyer through subscription. Here is the cost when subscribing to StudySoup:
1 Year – ~$11/month, billed $133.87 every 12 months

6 Months (1 semester) – ~$22/month, billed $133.87 every 6 months

1 Month – ~$32/month, billed $32.87 every month
Your subscription will be charged immediately and non-refundable.
If you're looking to earn, then you can become an Elite Notetaker. You can upload your notes and study guides then earn every time someone buys them.
Before becoming an Elite Notetaker, you have to meet the following requirements:
Enrolled in a class with at least 50 students OR Preparing for a grad school entrance exam (LSAT, MCAT, etc)

Class has regular lectures for note-taking opportunity
You would also need to submit your school name, full name, email address and phone number upon application.
Your public profile in StudySoup will feature your picture, a username, a short bio, interests, GPA, major, and your graduation year. These are displayed for you to connect with fellow students and to establish your credibility in the materials that you will be sharing.
StudySoup has its guidelines when submitting your notes and study guides. It might sound overwhelming but they have a few templates for you to download and use. The guidelines are discussed in the next section.
How much can you earn as a notetaker?
So how much can you earn as a notetaker on StudySoup?
This is, of course, something you need to know before joining so you do it with the right expectations if you decide to join.
You can earn per class notes and per study guides that are downloaded by student subscribers. Here are the rates posted in StudySoup:
$25 per course for every set of notes

$50 per study guide uploaded 4 days before exam dates
At the end of every semester, there are also payouts that you can receive including:
$25 for signing your contract and attending a quick training session

$25 for entering all exam dates for your courses

$50 for uploading 8 separate weeks of class notes per course

$50 for uploading and successfully sharing all 3 study guides per course
Therefore, you will not earn only through sales but through incentives, if you did all your work throughout the semester.
You can also earn by inviting friends to join StudySoup. You will get a referral bonus of $5.00 for every friend who signs-up and uploads their materials.
This is, of course, not a way to earn a lot, but it can be a nice way to earn a bit extra if you know a lot of people that could be interested.
Once you log in on StudySoup, there is a dashboard that shows your total available payout.
You have to remember that each uploaded notes or study guides must pass StudySoup's quality assurance process and guidelines.
They have a checklist on how you can ensure your notes will not be rejected by their Quality Assurance process.
It's not indicated how long each note or study guide will be evaluated and approved but if your material is rejected then you have to upload a new file within 24 hours.
There is also a limit for how many notes and study guides you can upload per semester. You can only upload notes from two courses each semester. You can also upload and share a maximum of three study guides per course each semester.
But if you want to earn extra, you can also be a Campus Marketing Coordinator for StudySoup.
You will be promoting StudySoup on your campus. Campus Marketing Coordinators are advertised to make $12-$25 per hour on their website.
Payments are sent via Paypal or direct deposit. The minimum payout is $50.00.
Remember that you are not paid by how many guides or notes you upload but by downloads.
So if nobody downloads your notes then you won't receive any commission. That means there is no guarantee about how much you can earn.
However, if you go through everything in the process you have a potential income of $300-$500 per semester inclusive of end-of-semester bonuses.
That's not bad if you're looking for some extra cash.
But you just need to be aware that this is the potential. This does NOT mean you are guaranteed to make this much.
So overall you should not join it if you need to make a full-time income but only as a bit of side income and if you like the idea of the platform.
Recommended: See How I Make $6+ Online Every Month
Are there any StudySoup complaints?
It is clear by now that StudySoup is a legit platform. But that does not mean it does not have any disadvantages at all.
It is always good to know both the pros and cons of any platform before joining so you know exactly what to expect.
If you look at reviews for StudySoup at Glassdoor.com, it has a 4.0-star rating and 79% referral approval.
So overall, people are very happy about it. But during my research, I also came across some complaints.
I, for example, saw quite a few complaints from people that claimed they have had problems getting paid and not being able to get support about this.
It is, of course worrying to be able to find quite a few reviews like this.
This does, however, not mean it will always happen and that you will not get paid. But it is still something to take into consideration before joining.
But as mentioned, overall, the ratings of StudySoup are mostly positive.
A lot of the users mention how creating notes for StudySoup has not only earned them extra cash but also helped them study more for their classes.
If you think about it, you would really pay attention to the class if you know you're making a study guide to sell at StudySoup. It shifts your learning from passive listening to active listening throughout the class.
Most of the cons mentioned are about the delay in payout after uploading their notes and guides as the complaint I showed above also mentions.
There have also been complaints about not getting their expected pay based on the published rates on their site and below you can see how often these complaints have been mentioned.
Given that StudySoup caters to a lot of universities and colleges, it's not surprising that there will be complaints in payouts and about the platform itself.

This does not mean StudySoup can be called a scam because there are a lot of students who are indeed earning from selling their notes through StudySoup.
Final verdict
As you can see in this review, StudySoup is a way to earn as a notetaker. But it does also have some limitations and is not a good solution for all.
So let's finish this review by summing up the pros and cons so you can get a better overview before making your final decision.
Pros:
Ideal for students who have been consistently taking notes during class

Flexible schedule

Covers broad subjects or courses for major universities

Help other struggling students in their classes
Cons:
Limited income potential

Not applicable to classes with less than 30 students

Changes in payout and the platform can cause problems

Limited course submission per semester
If you would look at StudySoup as a gig where you earn from what you've been doing throughout college, then it can be worth the extra cash.
But don't expect that you can grow your income through this marketplace. The number of courses and size of each class limits your potential income every semester. However, being an Elite Notetaker can actually help you study better.
In the end, it's a matter of maximizing your classes for some extra cash. Once you're done with your classes then you might also be done with StudySoup.
So for a bit of extra cash while studying it can be a good option if you a great at taking notes, but do not expect it to make you a lot of money or save you totally from student debt.
How I make a living online
If you are looking for a way of building an income for yourself, there are luckily many options online today.
Personally, I have been able to create a full-time online income that now allows me to work completely on my own terms.
It takes some effort but it is totally worth it.
If you want to follow my footsteps and create your own online income, then check out my FREE guide where I explain how this is possible step-by-step.
You can even get started with these steps as a complete beginner.
If you have any questions, comments, or have any experience as an Elite Notetaker or Campus Marketing Coordinator at Studysoup, I would love to hear from you in a comment below.