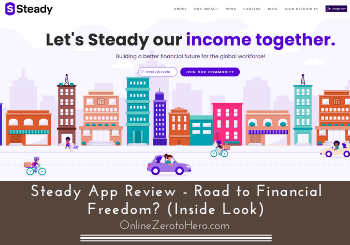 Achieving financial freedom is the main goal of most people. You never have to worry about all your bills and that gives you a lot more time to do things you love.
But in reality, many people are struggling to make ends meet and just barely making it through each month.
That is why many people are looking for more flexible ways to make extra money – an option that claims to help with this is Steady App.
But is Steady App a scam or is it really the road to financial freedom?
With so many scams out there, this is important to know before joining and investing your time.
So let me just reveal right away that it is not a scam as you can earn as a member. But this does not mean it will necessarily be worth your time and the right solution for you.
This Steady App review will give you an inside look and show you exactly what you can expect to earn, how it works, and if it is even worth it, so you will know before signing up.
Tools

User-friendliness

Income potential
Summary
Steady is a legit platform as you can find work that pay there and it is easy to use. But this does not mean it is perfect and it does not mean it is for everyone.
You need to be aware that it works as a portal that gives you access to an overview of side gigs from home or in your local area. Luckily, it only lists legit options so it is safe to use.
If you want to make some extra money by doing some side gigs, Steady can be a great place to find a long list of legit options.
Whether it is then the right option for you or not really depends on your expectations. If you want to create a full-time income from home without being dependent on applying for jobs regularly, this is not for you.
But if you are interested in some side cash by doing all kinds of tasks both from home or in your local area, it is definitely possible to find some good options on Steady with a bit of patience to sort through the hundreds of options listed.
What is Steady App and what does it offer?
Steady is founded by Adam Roseman, Michael Loeb, and Eric Aroesty during the summer of 2017. Actually, it is just called Steady but since it does have an app, it is often referred to as Steady App.
But you can also join it on a desktop computer but I will go more into this later.
Adam got the idea to start Steady when he saw his recently retired father not having enough retirement savings and had to work part-time just to make ends meet.
Adam saw this as an opportunity to help his father find flexible work opportunities that would match his interests and availability.
And there are many people that struggle to make the ends meet and Steady was therefore started to help people find opportunities to find part-time jobs, work-at-home, or even full-time jobs.
It is simply a tunnel or a gateway for you to find potential gigs here and there to earn extra bucks.
It has quite a lot of different opportunities but, of course, the availability will depend on where you live.
But let's also look deeper into what type of work you can find to see if it really is a good solution for you before also getting to how much you can expect to earn.
How to get started and find work on Steady App?
If you think it sounds great with the possibility to find extra work, it is easy to get started with Steady.
You can just go to the Steady website to sign up directly there or download the Steady App through Google Play or the App Store.
It is completely free to sign-up and it only takes a few seconds.
Once you are inside, you will just put in your zip code and then you will see 4 options to find work.
You have Work at home, Anytime Work, Part-time and Full-time work, and Recently added work.
If you are currently doing a full-time job and just simply need a part-time gig to give you extra cash, then you can go with the part-time jobs window.
Obviously, the "work at home" option will be the one to go for if you do not necessarily want to leave your home or live in a rural area where you cannot find many other options.
It is easy to navigate, and even someone who is technologically challenged can find their way around on this platform.
So you just simply choose the option you think sounds the most relevant to your situation, and then you will get a list of opportunities in your area.
The image above shows examples of available jobs and how it looks.
On the right side of your screen, you will see your controls and options to filter what type of jobs that will best fit your needs.
You can filter your work search According to "Date Added", "Work Types", and "Distance". This makes it easier to find the best matches for you.
You can then click on the job and check the details of the job where you can see all about the average salary, how to apply, how long it usually takes to be approved, etc.
So make sure to read the descriptions carefully and choose the ones that sound like the best fit for you.
Once you have found an option you like, you just simply click the "apply" button.
What is important to understand is that Steady is just a portal that connects you with options. So when you click to apply, you will be taken to another website where you have to sign up again.
So just because you see a job inside Steady does not mean you will necessarily qualify for it. You have to be approved on the platform you actually sign up for as well.
But there are many options listed so you will likely find something relevant for you no matter what.
Just be aware that there will definitely also be many options that are not relevant for you. I have seen jobs like food delivering, cleaning, hospitality staff, renting out your room/house, creating online courses, babysitting, and more.
So many options will not be relevant depending on your preferences and skills.
Therefore, you just need to be prepared to spend some time going through the descriptions and also spend a bit of time actually signing up on the platforms Steady refers you to.
How will you get paid?
It is important to understand how you will then get your earnings out as.
Again, it is important to remember that Steady is just a portal with a big collection of gigs you can find. So you do not necessarily get the earnings into your Steady account.
If you sign up for, for example, a platform where you can do transcriptions, you will get paid on that platform itself. And that will be the case with most of the jobs you can find as they are on separate platforms.
So you will be paid according to the job you applied for and on the platform, you signed up for after clicking a link on Steady.
However, Steady App will allow you to track your income from your different gigs. You can connect your different accounts and even your bank account to get a good overview.
Steady will then pull your earning data and put it on your dashboard so you can easily monitor your different income sources.
In my opinion, this can be quite useful to get a good overview and a good way to keep an eye on everything to optimize and have all the data in one place.
You can, of course, do this in other ways as well, but it is integrated in Steady so it can be an easy way to do it with minimal effort.
How much can you earn on Steady App?
Before deciding to join Steady or not, you need to know what you can expect in terms of earnings so you do it with the right expectations.
It is, however, difficult to say exactly how much you can earn as it depends on so many different things. Especially how many of the job opportunities you apply for and how much time you put in.
But it is important to understand that Steady was created based on the ideas of gig economy to give people easy access to flexible extra income through several small jobs.
So it is not meant to be a way to become rich. This can also be seen from the stats they show on their own website.
Here you can see that some members earn $4,000 per year or more.
This is some nice extra money but for most people, this would not be enough to make a living. But remember that it is NOT guaranteed you will make this much – you might make a lot less.
You can now also find full-time work options on Steady, but the focus is still on flexible side gigs to earn an extra income.
But if you take the time to go through the available jobs and find the ones with decent pay, it can definitely be a way to make some nice money.
Also, an extra way to earn is to use the "Booster" section on Steady. This section is described as a way to boost your income and you can find quite a lot of options here.
As you can see in the examples in the image above, some of the rewards you can get for these booster options are quite nice.
But, in my opinion, you should not expect too much from this section.
Yes, you can get some good bonuses, but many of the offers here are where you have to pay to sign up for a certain service to get the bonus. But there are also free options.
If you make sure to read the conditions carefully for each offer in the booster section, it definitely can give some nice bonuses.
You should just not rely on it for stable income – you need to rely on the other job options on Steady App for this and only see the Booster section as a little extra thing.
Recommended: See How I Make $6K+ Online Every Month
What's the catch?
By now, you must be wondering what's in it for Steady? Their services and platform is completely free, so how do they make money on their end?
So just to clarify any doubts, I want to explain how it works.
Steady operates on an affiliate or lead-generation model. Most of the apps and services that are featured on Steady are companies or people that are hungry for business growth and they are willing to pay Steady for referring new users to their own platforms.
But what is great about Steady is that they do not let this cloud their judgment. They only recommend legit options.
When it is done like this, it is a win-win-win business model, in my opinion.
People get easy access to a collection of legit and flexible job options, the companies that offer these get more members, and Steady App makes money as well which is, of course, also necessary to make it run.
So when it is done as honest affiliate marketing it is a great business model that benefits all.
And this is the approach Steady App seems to be using which is something I appreciate as you sometimes see similar platforms promoting whatever pays them without thinking about the quality.
Luckily Steady is not like that but only recommends legit options.
Who can join Steady?
Steady is a platform that currently only offers to match you with jobs in the US.
In addition to this, you have to be at least 18 years old to sign up.
Even though it is often called the Steady App, you do not need to use your phone to use it. You can also just use the website to find jobs so there is no requirements for having a certain phone.
But if you want to use the app, you need an Android or Apple device.
What others say about Steady
It can always be good to see what other people say about a platform as well and in my research and testing, I came acroos some interesting statements and mentions that show a lot about what Steady has to offer to help you decide if it is for you or not.
First of all, Steady has been featured on a number of famous media and networks.
They have, for example, been featured on Forbes, CNBC, Financial Health Network, and more as you can see in the image above.
These are not just fancy logos they have put on the website but they actually link to every single mention on the media as well on the website so you can see it is real they have been featured.
This definitely shows something about the legitimacy of the platform.
Secondly, if you are into NBA, you might be interested in knowing that one of the advocates and advisors of Steady is NBA legend and businessman Shaquille O'neal.
In an interview, Shaq tells he liked the advocacy of Steady and got the chance to sit and talk with different people and their financial standings and is now a big supporter of it.
You can see the full interview below:

But let's also look at what many regular users are saying.
I have looked at both Steady reviews on Google Play and App Store and the ratings are quite similar.
The average rating is around 4 stars out of 5 with close to 1,500 reviews.
This is a pretty good rating.
Of course, there are some users that are not happy as there will always be.
One thing I saw about ratings was, however, that for every single person that had a bad experience and shared it in a review, a support member from Steady reached out and offered to find a solution or gave an explanation.
This is, however, a bit surprising. because I have tried to write their support myself and I never heard back from them. So maybe it is just publicly they respond to look good.
This is a shame and something the really disappointed me about an otherwise promising platform. It does not mean you will not be able to get support. I just never heard back so it might take some patience or that you write them several times.
Final verdict
After reading this review, I think there is no doubt Steady is a legit platform.
But this does not mean it is perfect and it does not mean it is for everyone.
So let's finish by summing up the pros and cons so you can get a better overview before deciding to join or not.

Pros:
Free to join
All opportunities inside are legit
Gives access to many side gig options
Seems to have good support

Cons:
Could benefit from an FAQ section
You have to apply for each gig separately
It can take some time to sort through the opportunities
I never heard back from their support when contacting them
If you want to make some extra money by doing some side gigs, Steady can be a great place to find a long list of legit options.
Overall, I think it is a great and easy-to-use platform despite it not having an FAQ section which could be helpful.
Whether it is the right option for you or not really depends on your expectations. If you want to create a full-time income from home without being dependent on applying for jobs regularly, this is not for you.
But if you are interested in some side cash by doing all kinds of tasks both from home or in your local area, it is definitely possible to find some good options on Steady with a bit of patience to sort through the hundreds of options listed.
And also, be aware that if you run into issues, the support does not always get back to you, in my experience.
I hope this review has helped you get a good overview of exactly what to expect and find out if it is what you are looking for or not.
If you have any comments, questions, or have any experiences with Steady yourself, I would love to hear from you in a comment below.