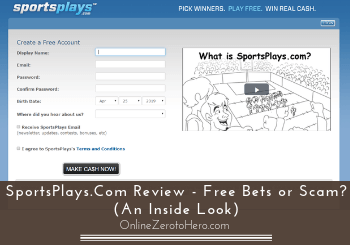 If you like sports, it would be great to be able to win real cash by betting on sports without risking anything, right?
This is what SportsPlays.com claims to offer.
But is SportsPlays.com a scam or does it really give access to free bets?
I have joined and tested the site myself to see what it really offers.
Let me reveal right away that it does have some potentials but there are also a lot of things that might not be clear and you need to know before joining.
In this SportsPlays.com review, I will give you all the details so you know exactly what you are getting into and what you can expect, so it will be easy for you to see if it will be worth your time or not.
SportsPlays.com in a Glimpse
Features

Value for money

Income potential
Summary
SportsPlays.com is a site where you can place free bets on sports games and win real cash. This is actually possible but it has quite a lot of limitations.
First of all, it is very difficult to get started as a free member and takes quite a lot of effort taking offers from the advertisers to get started. Or you can choose to buy a membership with more options.
Either way, there are a lot of rules that might not be so easy to figure out right away that can seriously affect your earnings and you need to be aware of them not to end up getting seriously disappointed.
Overall, SportsPlays can be a way to earn a bit extra, but it is NOT a site I recommend because of the very limited earning potential and the many strict and complicated rules that make it even harder to earn.
Click to See My Top Recommended Way to Make Money Online Instead
What is SportsPlays.com and what does it offer?
From what I have been able to find out, SportsPlays.com has existed since 2011 and it is owned by Recreational Gaming LLC. It now has more than 400,000 members.
It is a site that says it makes it fun to watch sports because you can bet on the games for free. This means you get the excitement from betting on the games but without the risk.
And if you win, you will still win real cash.
The way they make this possible is by having advertisers so it is legit.
However, before getting too excited, there are some things you need to know about how it really works so you go into it with the right expectations if you decide to join.
First of all, you need to know what ways you can earn on SportsPlays as it actually offers a few different ways to earn. So let's go over the earning methods and how good each of them are.
Earning option 1 – Bet on sports games
SportsPlays.com is, first of all, a betting site where you can place bets on sports games. This is what it advertises itself as and it is the big selling point of the site.
If you like betting on sports, you can definitely find a lot of different games to bet on here. So the first step is to choose which sport you want to bet on.
You can choose between NBA, NFL, MLB, NHL, soccer, tennis, fighting, poker, and NASCAR.
There are some details about all the options you have to place the bets but if you are into betting you might already know a lot of this.
If not, then there are several tutorials on SportsPlays.com that shows the details.
But the overall process is quite simple. You choose the game you want to bet on, you then choose the stake, and then confirm.
If you win, you get the money into your SportsPlays account. If you lose, it is not your actual money you are going to lose.
The issue here is that you need some of the play money to even be able to start betting and get a chance to win more. When you first join, you will get $1 into your account right away you can use.
But this is, of course, not a lot.
To then get more money into your account so you have more to bet with, you can use some of the other earning methods SportsPlays.com has.
This is why these other methods are important as well as you cannot really get started betting unless you use some of these to load up your account.
Earning option 2 – Participate in contests
One of the other ways you can potentially earn on SportsPlays.com is by participating in the contests it has.
It has two different kinds of contests: public contests and friend challenges.
The friend challenges are contests you can create yourself if some of your friends are members as well.
The public contests you can sign up for at any time. There are quite a lot to choose from and new ones every day.
It can, for example, be to have a certain streak to win a cash prize.
Just be aware that there usually is a fee to join these contests. It is usually between $0.50-$2.00 per contest. If you are a full member they are, however, free (more about this later).
In that way, the contests do not really help you load up your account when first starting as you also need cash credit to be able to join those.
So it seems like it might not be as easy to get started with betting on SportsPlays.com as it first looks like. But let's go over some of the other options it offers before making any definite conclusions.
Earning option 3 – Invite friends to join
You can earn SportsPlays credit by inviting friends to join.
So if you invite a friend to join, you will earn every day depending on how much your friend uses the platform. But you will only earn when your friend is actively using the platform.
This is, of course, great and is built on the business model of affiliate marketing, where you get paid a commission by recommending something to others. It is great if you like the platform and know people that would like it as well.
The problem, in my opinion, is, however, that it is not transparent exactly what you get. I have looked all over the site and I could not find any exact info about how much you earn and how this is calculated.
You are just told you will earn depending on the activity level of your friend. In my opinion, this is just not good enough. You need to know exactly how it is calculated.
But anyway it does seem like you can earn something by inviting friends to join if you can accept that you have no idea how much you can actually earn.
Earning option 4 – Post in the forum
On the overview page inside SportsPlays.com, you can see you can earn by posting in their forum.
There is not really any more info about how much you need to post, but you can see you can earn $0.02 per day.
So it might be an easy way to earn but it will take a lot of work to earn enough to place any bets.
Earning option 5 – Cash accelerator
SportsPlays.com has what they call a cash accelerator.
It is basically a section with offers from their advertising partners. Since the platform can only run because it has advertisers this is fine and you can actually find some decent ways to load up your SportsPlays account here.
You can watch videos, take different offers from advertisers, and more.
As mentioned you can find some decent options here, but make sure to read the conditions for each offer to make sure you know what you are saying yes to.
Some of them are not that great once you read the conditions but others can give you some decent credits fairly easily.
Earning option 6 – Improve your SportsPlays rank
The more active you are on SportsPlays.com, the higher rank you will get.
Every time you get a higher rank, you will get a cash bonus. You can see the possible rank bonuses below:
You have to be quite active to get these bonuses. To just move to the second level you need to make more than 50 picks.
But if you are actively using SportsPlays and use it regularly, these are nice bonuses to get once in a while.
It is, however, not a way to get started as you need to place a lot of bets to get these bonuses.
Also, be aware that the bonus cash from the ranks are only paid out to you if you have a total balance below $50 and if you have not cashed out yet.
A little strange, in my opinion, but that is the rules.
Recommended: Learn How I make a Realistic Full-time Income Online
Is SportsPlays really free?
Now you know what you get access to as a member of SportsPlays.com.
As you can see, it takes a little bit of effort to get started as you can not just start betting as much as you want right away as you need to first have some cash in your account to bet for.
But it is actually free so that is the good news. However, SportsPlays.com also has a paid membership and they call it a full membership.
This gives some advantages and makes it easier to get started but it also has a cost.
Below you can see a chart that shows the difference between the free and the paid membership.
No doubt the paid membership makes it easier to use the options and get started on SportsPlays as it, for example, gives you access to participate in the contests for free.
A full membership costs $9.99 per month. But you can supposedly get it cheaper if you buy a membership for 3, 6, or 12 months. You can also get a 14-day free trial for the full membership.
Overall, you can use SportsPlays.com for free but no doubt the system is made so it makes it a lot easier to be a paying member.
Before deciding if it is then worth paying for, let's look at how much money you have the possibility to earn.
How much money can you make?
The earning potential is, of course, an important aspect of deciding to join SportsPlays.com or not.
First of all, you need to know that payouts are through PayPal and you need to have earned $200 before you can get paid. It is a pretty high threshold if you ask me but if you can accept this PayPal is a great way to get paid.
However, you need to know that as a free member the earning potential is quite limited. It is difficult to really get started and you have to be lucky and spend quite a bit of time to really make any money.
In addition to this, once you reach the $200, you will only get paid $0.50 per dollar you have earned. So that means when you reach $200 and cash out, you will only get $100.
This is important to know so you do not end up getting disappointed after having worked hard to get to the threshold only to receive a lot less than expected.
As a full access member, you will get the full amount. BUT only if you became a full member 30 days prior to reaching $100 in your account.
In addition to this, full members can maximum get paid $800 per 12 month period. After this, the cash-out ratio will also be 0.5 to 1 for full members.
So there are quite a lot of rules you need to be aware of.
And overall this shows that SportsPlays.com has quite limited earning potential, in my opinion. You can earn some extra cash here but either you have to pay to join or you have to spend a lot of time on it.
Either way, the earning potential is not big compared to making a full-time online by other means which is definitely possible.
Who can join SportsPlays.com?
You can join SportsPlays.com no matter where in the world you live.
But the full access membership is only available in 31 US states + in Argentina, Australia, Brazil, Bulgaria, Canada, Egypt, Finland, France, Germany, India, Mexico, Norway, South Africa, Spain, Sweden, Switzerland, Turkey, and the United Kingdom.
Just be aware that if you live outside the US or Canada there are additional rules that will affect your earnings.
As a limited access member, you will be required to complete Cash Accelerator offers equal to or great than the amount you are cashing out. As a full member you "only" have to earn equal to or greater than any amount over $100.
It will be very difficult to earn this amount on the Cash Accelerator offers so it might be difficult for you to qualify for a payout.
This again shows the rules on SprtsPlays.com are quite complicated and you really need to look carefully so you know exactly what you get.
Final verdict – legit or scam?
SportsPlays.com does give you access to placing sports bets for free and it works with legit advertising partners.
However, there are a lot of details you need to consider to find out if it is really worth your time and I hope this review will help you make an informed decision.
To give you a better overview before deciding, let's finish by summing up the pros and cons

Pros:

Offer a free membership
You can actually earn on the site
Has many games to bet on

Cons:

Difficult to earn as a free member
Complicated rules
Payout conditions are complicated and have many restrictions
Earning potential is very limited
Overall, I would say that SportsPlays.com is legit and you can bet for free there.
But you really need to make sure to read all the conditions and rules as there are many and often they are quite confusing.
If you are not aware what you are getting into, you can end up spending a lot of time only to find out you end up not qualifying for a payout or that you get a lot less than expected.
For these reasons, I think SportsPlays is only a good option as entertainment, but if you are looking for a way to earn money online, it has too many restrictions and complicated rules that make the potential very small, in my opinion.
How I make a full-time income online
Personally, I just think the potential of SportsPlays.com is too limited even though it can earn you a bit of extra cash.
A few years ago, I started looking into making a sustainable full-time income online through other means than small sites without real earning potential.
I have now been able to create a good full-time income online by working for myself and when and where I want to.
It has not happened overnight and it has taken a lot of work but the process I have used works for everyone – no matter your background.
If you want to create your own online income as well, check out my FREE guide about how to create a full-time income online.
It will give you real actionable steps to create a realistic online income for yourself so make sure to check it out through the link above.
If you have any comments, questions, or have any experiences with SportsPlays.com yourself, I would love to hear from you in a comment below.