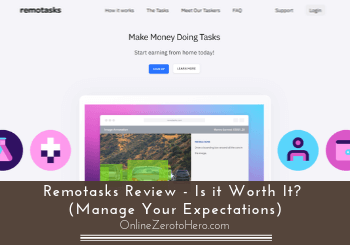 Remotasks is supposedly a platform where you can easily start making money from home.
But is Remotasks legit or a scam site to stay away from?
This is something you need to know before joining any platform – so let me just reveal right away that it is legit, BUT this does not mean it will necessarily be worth it.
Honestly, there are both pros and cons and a couple of things that concern me.
This Remotasks review will give you all the details so you know exactly what to expect and what to consider before joining to find out if it really is the right option for you or not.
Training

Tools

Income potential
Summary
Remotasks is a legit platform that actually pays you for the tasks you do.
If it will then be worth your time depends on your expectations and how much time you have to out in. The average hourly rate is very low and you have to put in a lot of effort to make any real money.
My biggest concern is that you during the sign-up process have to agree to be contacted by phone with other information without being told what this is.
Other than that, Remotasks is easy to join and can be a way to make a bit of extra money online. But if you are looking to make a good full-time income online, you should look for other options instead.
What is Remotasks and what does it offer?
Remotasks is a platform based in the US, but it allows members from most of the world to join (more about who can join later).
As already mentioned, it is a legit platform where you can actually earn by doing tasks from home.
The tasks are provided by different companies that need human insight into text, video, images, and more. This is usually used to improve AI.
However, the big question is if it will actually be worth your time or if there are other better ways for you to spend your time.
To find out, we need to look more into what Remotasks offers and how you can earn there. So let's go over this below.
Option 1 – The tasks
There are quite a lot of different tasks you can do on Remotasks.
In many ways, it is similar to the tasks you can find on Hive Work.
It can, for example, be to draw bounding boxes around various objects to help determine what's where, to transcribe content from an image, transcribe voice recordings, collect data online, and more.
Be aware that you cannot start doing these tasks right after joining. You first have to pass exams for each type of task.
You will not get paid for the exams so before starting to actually get paid, you have to take some exams.
There are different exams and it is not something that takes a long time to do, but you just need to be aware of this.
And during the exams, you need to be accurate to pass and get access to the paying jobs. You have a total of 3 attempts for each type of task exam. If you fail 3 times, you will not be able to get access to that type of tasks.
But there are around 20 different types of tasks so you can then just try some of the other tasks.
I understand they need to make sure people are accurate before getting access to the tasks but with this many types of tasks and exams, it can be a bit time-consuming to get started considering you do not get paid for it.
But that is just the conditions if you want to earn on Remotasks.
Option 2 – Remotasks Bootcamp
If you want better chances of earning, you can spend some time going through the Remotasks Bootcamp (also sometimes called Remotasks university).
It is a 10-day training program to help you become a successful tasker.
You need to dedicate quite a bit of time for this training so I would suggest to first check what Remotasks offers and try to do some of the tasks there to find out if it really is for you before starting the extra training.
Option 3 – Become a reviewer
Remotasks can enable you as a tasker to become what they call a Reviewer or even a Super Reviewer.
To become a Reviewer, you need to have an accuracy score of more than 90% so you need to be thorough when doing tasks to become a reviewer.
The advantage of becoming a Reviewer or even a Super Reviewer is that you will be able to earn more money and get access to more tasks.
Option 4 – Invite people to join
Remotasks also offers a referral program where you can earn a bonus by inviting other people to join the platform.
This means you can potentially earn a $5 bonus per friend you invite.
It sounds great at first but you need to know the details about exactly how it works.
For you to get the $5 bonus, your friend has to earn $10. When that happens, both you and your friend will get a $5 bonus.
The catch is that it has to be within 2 weeks after joining your friend reaches $10 earnings. If not, the referral goes away.
I honestly think this is poor conditions. With the earning opportunities on Remotasks, your friend has to be quite active to reach the $10 within 2 weeks – especially because he/she first has to pass exams.
This makes the referral program on Remotasks quite poor, in my opinion, compared to many other similar programs. But it can still be a way to earn a bit extra if you have a lot of friends you can invite that will be active from the start.
Recommended: Click to See How I Make $6K+ Online Every Month
How to get started?
In one sense it is fairly easy to get started on Remotasks. But there are a few things you need to consider and know about in the sign-up process, in my opinion.
The only way you can join is by joining through Facebook. So you will have to use your Facebook account to sign-up.
This is a fast way to sign up but personally, I prefer also having the choice to sign up just with an email as I do not necessarily like giving websites access to my Facebook account.
But that is, of course, a matter of personal preferences and it is a fast way to sign up.
However, one thing that concerned me is the next step of the sign-up process. Here you have to give your phone number.
It is not unusual for a platform to need to verify your identity and make sure you are a real person before joining and I understand that.
But, first of all, they already have your Facebook details. Secondly, what concerned me was what was written in small letters below where you give your phone number.
In case, you cannot see it in the image above it says:
"By submitting your phone number, you consent to Remotasks contacting you with announcements and other information. Data messaging rates may apply".
So basically you give them the right to contact you with other information but you have no idea what this might be.
It is fair enough to use the phone number to verify an account, but personally, I do not like giving consent to being contacted with other information without knowing exactly what this is.
This is not necessarily an issue and there are many members of Remotasks that are happily using it and I have not seen any complaints about phone numbers being misused.
It is just something I personally thought was a bit strange and I think it important to know before signing up so you know what you agree to.
But other than that, it is quite easy to sign-up and get started on Remotasks.
How do you get paid?
Before joining any platform where you can earn online, it is important to know how you can get your earnings out so you are sure it is a way that is convenient for you.
Remotasks offers a good payment option, in my opinion, since you can get your earnings out through PayPal.
And there is no payout threshold which is also great. You will be paid every Friday as long as you have just updated your Remotasks profile with a valid PayPal account before Monday 12 AM.
The only thing you need to be aware of is that there is a 2% PayPal fee. This will be deducted from your earnings.
It is a fee charged by PayPal, but I know some platforms take care of that fee and I think it would have been nice if Remotasks paid this.
The salary they give is not very high so it would be nice to at least get all your earnings and not having to pay a processing fee.
This is just something to be aware of so you know what to expect. But overall, Remotasks makes it easy for you to get your earnings out.
How much can you earn from Remotasks?
The big question is then how much you can actually earn as a member of Remotasks.
It is difficult to give an exact answer on as it will depend on your accuracy and how many hours you put in. Different tasks also give different rates and they do not mention an average hourly rate on Remotasks itself.
According to an email I got from Remotasks, you can supposedly earn up to $200 per week.
However, notice that it says "up to" which means this is the absolute maximum and NOT an average you can earn.
From feedback from many long-term members, it seems the average rate you can expect is $1-$2 per hour.
So you would need to work a lot of hours to make any real money.
The good thing about Remotasks is that there are plenty of tasks. But it is not easy money and you have to work hard to earn just a bit of extra cash.
Also, you have to calculate into this that you first have to pass exams and you will not get paid for taking these exams.
Recommended: Click to See How I Make $6K+ Online Every Month
Who can join?
When you first go to Remotasks' website, it says the only requirement to join is that you speak fluently English.
But on their Facebook page, I saw someone from India not being able to get access asking about this and Remotasks answered that it is not available there.
When you dig deeper in their FAQ section on the website, you can find a list of countries you can join from.
It is available in quite a lot of countries so I am not going to list them all here. If you are interested in joining after reading this review, it is better to just try to join from your country as there is a good chance it is available.
Just be aware that you can only join through Facebook, so you need a Facebook account to be able to join.
Can you get support?
Being able to get support is important on any platform.
From what I can see, Remotasks provides quite good support which is a great sign.
You can see this by looking at their Facebook page.
When people leave a comment or questions there, they more or less always get an answer. Sometimes the answer is very fast and other times it takes a bit longer.
But overall, you can expect to get help if you should need it. You can contact the support either through their Facebook page or through their website.
Final verdict – worth it?
Remotasks is a legit way to make a bit of extra cash online from home.
But is it really worth it? To help you make this decision let's sum up the pros and cons:

Pros:
Free to join
Plenty of tasks to do
Convenient payout method

Cons:
You have to agree to let them contact you by phone
Only possible to join by connecting Facebook
Low hourly rate
If Remotasks is worth it or not really depends on your expectations and the time you have to put in.
It definitely is a legit way to earn a bit of extra money online. Personally, I, however, think it is too much effort for the money you can get out of it.
But that is a personal choice – if you are OK with the limited earning potential and the conditions when joining, it can be a way to earn a bit extra.
How I make a living online
I have personally been able to create on full-time online income that now allows me to work when and where I want to completely on my own terms.
It takes some effort but it is totally worth it.
If you want to follow my footsteps and create your own online income, then check out my FREE guide where I explain how this is possible step-by-step.
You can even get started with these steps as a complete beginner.
If you have any questions, comments, or have any experience with Remotasks yourself, I would love to hear from you in a comment below.