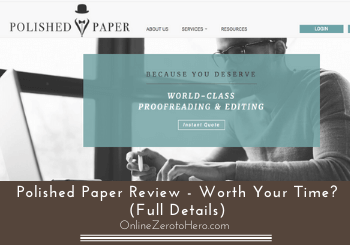 Today, there are many online opportunities in the writing and communications industry. You can be a good writer, communicator, or editor. There are different platforms where you can maximize your skills and earn on top of your current work.
Proofreading and editing jobs are one of the online jobs that are continuously growing. One of the websites that offer editing jobs is Polished Paper.
But is Polished Paper legit and can you really earn as an editor there?
This is something you need to know before going into any online opportunity since there are a lot of scams online pretending to be online jobs.
So, this Polished Paper review will give you all the details so you know exactly what to expect and if it's a good opportunity for you or not.
So let's get started.
Polished Paper at a Glance
Tools

Usability

Income Potential
Summary
Polished Paper is a freelance editing platform that connects clients to editors. However, this is not for beginners. You are required to answer a 35-question editor test and to know different style guides.
It's a legit company and it has offices in the US, United Kingdom, South Africa, and North America so it can be a way to earn some extra cash. Just be aware that your pay will depend on the number of words edited and the turnaround time set by the client.
Polished Paper can be an option for you if you are an experienced editor looking for additional places to put your skills into earning. However, remember that this is still a freelance position where work will not be always available.
If you're not equipped with editing skills or just simply do not want to join Polished Paper, then there are a lot of other opportunities online. 
What is Polished Paper and what does it offer?
Polished Paper is a platform that offers proofreading and editing services. It was founded in 2013 by Former Marine and Critical Skills Operator Steve Bredenkoetter to help students and professionals "safeguard and improve their written reputation".
Its services are offered in different areas including US, Australia, Canada, New Zealand, South Africa, and the United Kingdom.
There are many people who can avail of Polished Paper services. It can be a PhD student working on his journal article, a small business company creating their initial marketing materials, or an investment firm writing different documents and proposals. All of these need a "polished paper" in their field.
There are also other services such as essays, dissertations, business documents, cover letters, resumes, cover letters, screenplays, and even novels. So whatever written document that needs to be "polished" can be done by Polished Paper.
This means that you can get work to help with the services the platform is offering to its clients.
So what does it mean to have a "polished paper"? You get a high-quality document free of grammatical and spelling errors. This can be achieved when a document is checked by an editor and a proofreader.
Now, don't get confused between being a proofreader and an editor. If you go to Polished Paper's website, you will see both proofreading and editing services. Both help to refine a document's quality and effectivity. But the two are two different stages in the writing process.
So let's quickly differentiate the two so you will also know if you have the skills to be a proofreader or an editor if you decide to apply for a job there.
Editors help improve the overall quality of writing including language use and consistency. It removes errors and inconsistencies in thoughts and ideas.
During editing, a paragraph or sentence can be changed or even removed. Unnecessary words are omitted. The overall tone of the document is checked.
As for proofreaders, they mainly correct what you can consider as surface errors such as grammatical, spelling, punctuation, and other language mistakes. You can say that they come into the picture after the editor has checked a document.
For most academic publications, editing is the preferred service as students and writers need to make sure their written work is correct. They may have everything written but will still need a fresh set of eyes to deliver quality material to present to their peers or professors.
Therefore, remember that not all proofreaders are editors but editors can also be proofreaders. Both play a crucial part in creating a polished paper. And this is where you can come in by becoming an editor at Polished Paper.
While Polished Paper can be both a platform for clients looking for someone to help them with their editing needs and for editors looking for work to do and get paid, this review focuses on editors and how good your chances are to earn on the platform if you get hired.
Recommended: Click to Learn My #1 Recommended Way to Make Money Online
How do you join?
If you want to become a Polished Paper editor, you need to register for an account and then upload your resume.
It is mentioned on their site that they are looking for exceptional editors. There is, however, no mention if they require past experience as a professional editor. But since they are looking for exceptional editors, you should probably not apply if you are brand new to editing unless you are extremely talented.
When you apply, you will be directed to a 35-question editor test after you have submitted your resume. This means you need to be familiar with the different formatting guides such as MLA, CSE, APA, and Chicago when taking the test.
Since Polished Paper promises its clients "world-class editing", their editor test is quite comprehensive. Therefore, this might not be the best choice if you're just starting out as an editor and growing your knowledge in the industry.
If you score excellent or above you are then accepted to edit for Polished Paper's clients.
However, even if you're accepted as an editor, you will still undergo a period of supervised editing. This means one of the company's senior editors will review all your work for accuracy before it is submitted to the client.
You will be allowed to "solo" edit a document after that period. This means you will no longer be supervised by a senior editor but rather do all editing on a document yourself.
They do not mention how long this supervised editing period is for new editors or if you will need to complete a certain number of documents before you can solo edit documents for the company.
But you just need to be aware that you have to prove yourself even after being accepted – that can, however, also be an advantage for you as there is a lot to learn from getting the feedback at first so you can become more efficient.
And remember that Polished Paper offers professional and world-class editing so you must be committed to delivering that level if you're going to apply to the website.
Can you really earn with Polished Paper jobs?
There is no published rate on how much each editor earns on Polished Paper.
But in general, as an editor, you can earn between $10 to $45 per hour depending on your skills.
Personally, I think it's better if you get to know how much and how often you will get paid since most jobs are quite transparent.
Unfortunately, this is not the case for Polished Paper. They are transparent on how much their clients will pay but there is no information about how much they pay you as a quality editor.
On the Polished Paper website, you will find a cost calculator for clients. The company offers different turnaround for its clients. The faster the turnaround time, the higher the rate.
Clients can choose between 3 hours to 5 days. So as an editor, expect that there will be different deadlines for the work that you do.
There is also no mention of how you get paid and if you will receive it via PayPal or bank transfer.
With jobs like this, your average rate will, of course, depend on what kind of editing you do and your speed.
For Polished Paper, there are five different fields that you can do work for so if you're familiar with all or most of them then you can earn more.
So whether you do business or corporate, academic or student, personal, manuscript, ebook, script, or ESL editing, you can find work at Polished Paper.
However, I find that there is not much information on how much work is available for each field.
The lack of information is a general issue with the website, in my opinion.
But one thing you need to be aware of is that since this is a freelance position, there is no guarantee for you that you will have continuous work once you're part of Polished Paper.
Final Verdict
Polished Paper has been in the business for less than ten years but it's definitely a legit company. It has expanded to different countries including South Africa and United Kingdom.
Now for the question, if this is a good online opportunity for editors like you, I have summarized the pros and cons discussed in this review below to help you get a better overview before you decide.


Pros:
Lots of free editing guide resources
Different fields of editing jobs available

Cons:
Requires knowledge of different formatting styles
Not much information about pay
Overall, Polished Paper can be an option if you have a specific editing skill offered by the company. They have different types of editing services to clients which means they have those types of jobs waiting for you.
Their free online editing guides are also quite helpful not just as a Polished Paper editor but for any editing job you will apply for on different websites. It's an option you can consider if, and only if, you're looking for a specific editing job.
But in my personal opinion, there are other better websites that offer editing opportunities for you.
I suggest you look for one where you can find their pay rate so you can assess if it's worth your time and effort. You can also apply to different websites since jobs are not always available in these kinds of platforms. There will be times where there will be a lot of clients while there are seasons where you will struggle to find work.
But what if you're not equipped with editing skills or just simply do not want to join Polished Paper?
Then there are a lot of other opportunities online. All you have to do is do your research to find one that matches your time and skills.
There are definitely online jobs that can provide you a living income no matter your skills and background.
How I make money online
If you really want to earn a full-time income working online, this is definitely possible – I know this from personal experience.
I have been able to create a full-time online income myself that allows me to work anywhere in the world and completely on my own terms.
It takes effort, but it is totally worth it.
If you want to follow my footsteps and create your own online income, then check out my FREE guide where I explain how this is possible step-by-step.
If you have any questions, comments, or have any feedback with Polished Paper yourself, I would love to hear from you in a comment below.