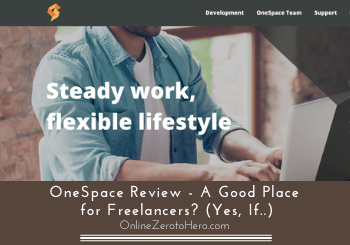 It's easier these days to find online opportunities that can help you earn an income even if you have a full-time office job. There are a lot of websites that offer freelance work you can do from anywhere on your own time.
With just a laptop, a decent internet connection, and some basic skills, you can find an opportunity online.
However, there is the risk of running into a scam or jobs that become a waste of time because of low pay rate. So it's important you do your research before jumping into any opportunity.
If you're looking for crowdsourcing websites that offer different freelance work, then you might have come across OneSpace. So is OneSpace legit? Or is it one of those freelance platforms you should avoid?
This OneSpace review looks into this website to give you all the details to help you decide if this is the platform for you or not. Whether you're just starting out as a freelancer or an experienced one, this can be your guide to OneSpace.
Tools

Usability

Income Potential
Summary
OneSpace, formerly called CrowdSource, is a platform that connects clients looking for a workforce with freelancers looking for tasks to do. It was founded by two e-commerce veterans and was officially launched in 2005.
There are a variety of freelance jobs available, including, writing, translating, editing, transcription, and graphic designing. You need a LinkedIn profile to apply and pass their qualification tests to get access to the jobs available. While this is a decent site for freelancers looking for new clients, you have to manage your expectations and be aware work may not always be available. There can also be a lot of competition with other freelancers on the site.
The good thing about OneSpace is you get your pay within 24-48 hours upon approval. Also, the client's transaction fee is not deducted from your pay so you can earn extra income if you get the right clients.
If you find it difficult getting new jobs on this site, then there are luckily other freelance platforms you can explore to earn online. And no matter what, you should not solely rely on OneSpace as a source of income, in my opinion.
What is OneSpace?
OneSpace, formerly known as Crowdsource, is an online platform that connects companies and freelancers for a variety of jobs, including, writing, translating, editing, transcription, and graphic designing.
This company has been in the freelance industry for more than 10 years and was established back on December 31, 2005, by Stephanie Leffler and Ryan Noble. As of today, Leffler is OneSpace's CEO while Ryan Noble is the President.
Both Noble and Leffler are no newbies to the online world. Prior to OneSpace, they created MonsterCommerce which is an e-commerce solution to online business.
So the company's founders are experienced in e-commerce. This is an advantage to you because they have proven they are able to build online businesses for years and are able to create a workforce where you can come in as a freelancer.
OneSpace's former name, Crowdsource, comes from "crowdsourcing" where different people collectively work on micro-tasks to complete a larger task. This makes the process faster and cheaper.
So OneSpace is made for two kinds of people. The first one being businesses and individuals looking to expand or outsource their workforce for projects and the second are freelancers looking for job opportunities online.
So whether you're looking for a workforce or looking for work, the website connects you to each other.
While you can apply as a client on OneSpace, this OneSpace review will focus on how good your opportunities are as a freelancer looking to earn online so you know exactly what to expect.
How do you apply?
Before you get started with OneSpace, you first need to apply as a freelancer. The application process is simple. You go to their website and click Apply Now.
One important thing you need if you're applying at OneSpace is a LinkedIn account. You must submit your LinkedIn account together with your name, email address, and home address. Afterward, you can choose the position you are applying for.
OneSpace has a wide range of positions for you including image and graphic designer, English and international transcriptionist, small business writer, accounting editor, and others.
After choosing the position, you can select the type of services you provide so your clients will know if you can do the tasks being offered.
The application process also allows you to select the languages you can speak and write fluently.
These languages include Mandarin, Malay, German, Thai, Dutch, Korean, and others. Since OneSpace is open to everyone around the world, knowing multiple languages can be an edge.
As for your payment, OneSpace sends it via PayPal so OpenSpace requires you to link your PayPal account during the application process.
Once you've set everything up, you have to take some qualification tests before you can actually access the jobs available.
Do your best on these tests since you can access more jobs if you pass the tests. It can also give you higher pay. More on OneSpace compensation later.
The good news is you can take the tests up to 3 times so it's okay if you find it really difficult at first.
There are some applications on other sites that do not allow you to repeat a test once you've taken it so this one is better, in my opinion, as it gives you an extra chance to figure out exactly how it works.
Sometimes it takes you one test to familiarize yourself. Also, these tests are timed so make sure you do not take too much time answering each one but also do not rush so you will end up making too many mistakes.
Once you've passed the test, you now have access to the available jobs on the website. As long as you pass the qualification tests, you will right away be able to see if you are eligible to access work at OneSpace. If you are not qualified, there will be a message that says "ineligible".
If you qualify and a project is available for you, you can see a "Start" option.
So let's discuss how much you can actually earn once you start working for OneSpace.
How much can you earn?
Since OneSpace is a freelance platform, do not expect a full-time income from this site unless you are able to get a lot of different clients.
But it can be a good add-on to your current job. Most tasks are short project tasks such as keyword search tasks, transcriptions, article writing, or product descriptions.
There is no published rate on the OneSpace website but some mention a writing rate of $0.02 to $0.035 per word. This naturally depends on the client's project.
Now, when you start at OneSpace you are considered as Level 1 or Beginner. You get access to a limited number of online tasks and you will be reviewed by OneSpace editors based on the specific task instructions.
If your acceptance rate increases, you can earn a promotion to Intermediate.
Freelancers at Intermediate Level or Level II have access to more tasks compared to Beginners.
Your earnings increase once you reach Level III or what they call Advanced Level. The highest level you can get is Level IV or Expert level. Experts have access to exclusive projects which will allow you to earn more per task.
Each level requires a minimum number of completed tasks. Now, take note that your acceptance rate and task count will reset every time you reach a level.
For example, if you've completed 10 tasks as a beginner, you then have to complete a whole new set of tasks when in Level II. Your completed tasks as a beginner no longer apply to this level.
Therefore, it can take quite some time (and tasks) before you actually reach the expert level.
There is no note on the website on how many freelancers are on the expert level as of today. However, there is a mention of Andrew who completed 500,000 tasks on OneSpace. Now that's a lot of tasks!
So this shows it is possible to make some money there – but this example is exceptional so do not expect it will be easy to get that many tasks.
As mentioned earlier, payments are given via your registered PayPal account. The good thing about their payment is you don't have to wait until the end of a week or a month just to withdraw your earnings.
Payments are sent within 24 to 48 hours after completion and submission of your work. Your work goes through the quality control team but once they've approved, you will see your pay in your account within 48 hours.
That's a good payment setup if you're planning to do this on the side and are in need of some quick cash. You can just log in, get a task, then get paid in a matter of days.
Another good thing you need to know about OneSpace is that the client fee does not come out of your payment.
Most freelance platforms I know tend to get the transaction fee from the client's payment to freelancers. This means they get a cut from your final pay. At OneSpace, there is a separate transaction fee between the client and OneSpace. So you don't have to worry about getting less than what you expected from your client.
This is definitely something I appreciate as some freelance platforms have very high fees.
Of course, the pay rate varies from client to client so how much you can really earn depends on the type and number of clients you get on OneSpace.
Recommended: Click to Learn My #1 Recommended Way to Make Money Online
Is it worth it?
Now after knowing how OneSpace works and how much you can potentially earn, you might be asking if it's really worth it.
If you do get to pass all proficiency tests and get accepted on OneSpace, then you can consider it as an extra channel for you to earn online.
Do remember that since you're applying as a freelancer, there is no guarantee of continuous work. Your workload depends on the tasks needed by clients and how fast you can apply versus the other freelancers that are also waiting for the next available task.
Should you join? That really depends on what skills you can offer and if you pass the application test.
But most importantly it depends on your expectations and online income goal.
If you are looking for some extra cash as a freelancer, then you can give it a go.
However, you need to do it with the right expectations. OneSpace is not the best freelance platform, in my opinion, so if you decide to join, I would definitely suggest you also use other platforms at the same time to get more opportunities.
Final Verdict
OneSpace is definitely a legit platform for freelancers. It has existed for more than 10 years so it definitely has clients who are looking for freelancers for their projects.
But that does not necessarily mean it will be a good use of your time.
So let's finish this review by summing up the pros and cons so you can get a better overview of what OneSpace has to offer to freelancers before deciding if you should join or not.
Pros:
Open to anyone around the world
Fast payments via PayPal (24-48hrs)
Variety of job categories
Compensation based on your level
Client fee not deducted from freelance pay
Cons:

Limited jobs available
Difficult proficiency/skills tests
A lot of competition on the platform
Overall, if you get tasks through OneSpace then you can definitely earn some extra cash depending on your skills. The fact that OneSpace does not take a cut from the client's payment before transferring to you as a freelancer is a big plus, in my opinion.
Another win is that you can get your payment into your PayPal account within 24-48 hours.
So it comes down to actually getting tasks once you become part of OneSpace. There will be a lot of competition and there is no guarantee you will always be able to earn and you need to be aware of this so you join with the right expectations.
If you find it difficult getting new jobs on this site, then there are luckily other freelance platforms you can explore to earn online.
How I make money online
If you're looking for other options on how you can earn online with the skills you currently have, then there are definitely many possibilities regardless of your background.
I personally did my research and tried a lot of different opportunities to find the one that works for me.
Today, I have been able to create a full-time online income myself that allows me to work anywhere in the world and completely on my own terms.
It takes effort, but it is totally worth it.
If you want to follow my footsteps and create your own online income, then check out my FREE guide where I explain how this is possible step-by-step.
If you have any questions, comments, or have any feedback with OneSpace yourself, I would love to hear from you in a comment below.