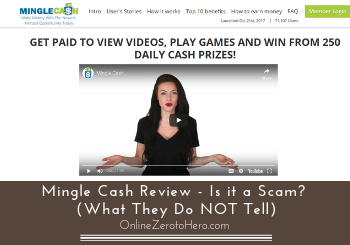 Mingle Cash claims to be an easy way to make money online by watching videos, play games, and more.
In their sales video, they even claim a 17-year old is making more than $100,000 per year from being a member.
All this sounds good but is Mingle Cash a scam or is it really a great and legit way to earn online?
I have joined to have a thorough look myself and see what it really offers.
In this Mingle Cash review, you will get all the details – also the details they do NOT tell you on the sales page.
Honestly, there are some important things you need to know before deciding to join or not.
Mingle Cash in a Glimpse
Tools

Training

Income potential
Summary
Mingle Cash has some ways to earn BUT they make it look like it is a fast way to become rich online and this is NOT the case in reality.
The main way to earn is by inviting others to join the platform. But the overall poor usability makes it unlikely they will stick around if you manage to invite anyone.
In addition to this, the training they have about how to promote your referral link is very superficial in most cases and contains some advice that can cost you a lot of wasted time, in my opinion.
It is, therefore, in my opinion, not a way to build a sustainable online income and it teaches you no real skills – therefore, I cannot recommend it.
What is Mingle Cash and what does it offer?
Mingle Cash is a platform that opened in 2017 so it is a fairly new site.
The creator of Mingle Cash is an Andrew Gitt. I must say that I at first was very skeptical about this because there is only a cartoon character on the website where they mention he is the owner.
But I did a lot of research and ended up finding a Mingle Cash video with an actual image of Andrew. From this, I was able to do some more research and it does look like he is an actual person with several online businesses.
So that is a good sign. However, this does not necessarily mean it will be a good option.
In fact, there are some things you really need to consider before joining. But let's first go over the earning methods you can find inside Mingle Cash.
Option 1 – Watch & Earn
Mingle Cash gives you the option to watch videos and earn.
You have two different options depending on the country you live in. Video network 1 is for all countries and video network 2 is only for 11 countries.
Watching videos like this can actually be a way to earn as you have to watch ads before and after the videos, and you will thereby get a cut of the fee the advertisers pay to Mingle Cash.
However, the rewards for this option are extremely low. In fact, you have to watch 10 hours+ to just be able to earn $1.
So really not a fast way to earn. But this is also not the main purpose of Mingle Cash. Some of the other methods is how they encourage you to really earn.
Option 2 – Offer walls
You can find a few offer walls on Mingle Cash. Many Get-Paid-To sites actually use offer walls like this as a real way to earn.
You can earn by taking different offers, downloading apps, signing up for free trials, and more.
However, the options on Mingle Cash are really poor compared to other sites that have offer walls and are specialized in this.
In addition to this, in the offer wall section, you also start to see one of the disadvantages of Mingle Cash – that is the extreme amount of ads you get everywhere in there.
Below the small section with offer walls, you get a long list of promotional ads – and most of them are with these sensational headlines about how you can magically lose weight, make money, and more.
Option 3 – Lotteries
The lotteries on Mingle Cash is a way to try to motivate you to keep staying active within the platform.
There is both an hourly lottery and a daily lottery. If you have watched at least 5 ads within 1 hour from the video section, you will participate in the hourly lottery for that hour.
10 winners will be selected every hour and will get $0.01 each. So not really a great incentive to stay active, in my opinion.
Because even if you are lucky and win all 24 hours in one day, you would only potentially win $0.24. And that means you would have to watch videos every hour for that day which is not really possible.
The daily lottery gives $0.10 to 10 winners. For every 20 ads you have seen, you will earn one entry into this lottery.
Again, not really a great way to earn and there are no guarantees and the rewards are so low that it is really not impressive, in my opinion.
Option 4 – Invite others to join
This is the way Mingle Cash claims you can really earn. The idea is that you can earn commissions by inviting others to join Mingle Cash.
Every time someone you have invited earns, you also earn a small commission. And this is up to 10 levels, so you will not only earn from the people you invite but also from the people they invite up to 10 levels.
However, the conditions are a bit confusing. You can earn up to 5% bonus but notice it says up to 5% on the website.
This means you in many cases will not get 5%. You have to be active on the platform to get higher commissions and each day is treated separately.
So if you are not active and not watching any ads yourself on the platform for one day, you will only earn 1% that day. When you are active you will earn between 2-5%.
I managed to find info in their FAQ section about how this exactly is calculated. And the percentage will be affected by how many ads you watch yourself on the day and gives the following numbers.
0-5 ads watched gives 1%
6-10 ads watched gives 2%
11-15 ads watched gives 3%
16-19 ads watched gives 4%
20+ ads watched gives 5%
This clearly shows that you have to be quite active on the platform itself. You cannot even take one day of without it dramatically affecting your earnings and this is important to know.
So the conditions are a bit confusing and as you can see not really as great as they might seem at first.
Can you make money like this online?
It is clear that Mingle Cash explains its big opportunity as making money by inviting others. If you are not inviting others, you will have a very hard time earning on the platform.
And in general, it is possible to earn good money online by inviting others to use services and products you like yourself. This is often known as affiliate marketing.
And if you learn proper affiliate marketing, you can earn really good money.
However, in my opinion, even when learning to do it properly, Mingle Cash will NOT be a good option to build a full-time income for several reasons.
Below I will go over the most important of these reasons so you can take this into consideration before you start investing time on the platform.
Recommended: See How I Make $6K+ Online Every Month
Mingle Cash red flags revealed
I want to make it clear that it does look like Mingle Cash has some ways to earn, but it just also has some serious issues compared to many other online opportunities, in my opinion.
And you need to be aware of these so you know exactly what to expect and what you are getting into if you decide to join.
So let me go over the main issues I think Mingle Cash has so you can see and judge for yourself.
Issue #1 – The income claims
When you go through the sales page of Mingle Cash, you might get the impression it is a great way to become rich online.
They have an income example that shows you could potentially make $24,000 per day.
That is a lot of money and even for an experienced online marketer, this would be an extremely high pay per day.
If you expect to easily be able to make this, you will honestly likely be very disappointed.
For this to work, every person you invite would have to invite 5 people and they would have to invite 5 people, etc. This could, in theory, work but it just never does.
Even for amazing services it never works out like that. And for it to really work, every person would have to stay active and watch a minimum of around 20 ads per day and spend a few hours doing that.
This is in itself very unlikely and when you then add the overall user-experience on Mingle Cash, it becomes even more unrealistic that people will stay around for long. But I will go more into some of the details about why that is below.
Honestly, you might be able to make a few bucks here and there but you should not expect more from a system like this, in my opinion.
Issues #2 – Claims Mingle Cash is featured on famous networks
At the bottom of the sales page of Mingle Cash, you can see they claim they are featured on famous networks like Forbes, Business Insider, and more.
I did a lot of searching and I could not find any mentioning of Mingle Cash on any of these sites.
Therefore, it seems like a marketing trick to get credibility and convince you to sign up. If they really had been featured on site like this, they should clearly prove it on their site and not just put some nice logos.
In my opinion, this is a big issue because it shows you cannot trust their claims. If they use tricks like this, what else are they not truthful about?
Issue #3 – You do not learn how to promote properly
Let's say you can accept the above and that you believe Mingle Cash is a great platform to promote to earn through your referrals.
Then you need to be able to promote the platform to get people to join. If you have no previous experience, it is not as easy as it might sound to invite people that end up becoming active.
Mingle Cash does have a section where they supposedly show you some ways to promote your link and get referrals.
There are 23 methods mentioned on the list. Many of them definitely can be ways to promote online.
The problem is just that it might sound simple when you just read a few sentences about as they have written. But in reality, it takes a lot more.
The suggestions and "training" is very superficial and will not teach you any real skills. You might even end up wasting a lot of time and money by using some of the methods.
I am not saying the methods themselves are not good, but the training is just too superficial to really help you get started if you have no previous experience.
In addition to this, some of the advice is just really poor advice, in my opinion.
The top recommended way Mingle Cash gives you is to share your link in Facebook groups. Contrary to most of the other methods, they actually have quite a lot of info about this.
But the methods are just really poor, in my opinion. First of all, it is just not effective to join Facebook groups just to promote your invite link.
Most groups will ban you immediately if you do this. The ones that will not ban you will have hundreds of other people just there to promote so it will mostly just be a group of people promoting to each other.
You might get a referral here and there, but you have to put in a lot of time and it will never really give you a flow.
They also recommend ways about starting to message strangers that might be interested – this will likely very quickly be seen as spam.
Just think about it – if you get a message from someone you do not know saying "check this money making option out", what would you then do?
Properly delete it or even mark it as spam, right? This actually means you can end up getting banned from Facebook if you do this a lot and people mark it as spam.
So I honestly think the training they have is very poor and it does not teach you proper skills to build a sustainable online income which is a big issue, in my opinion.
Issue #4 – Forced sign-up for Telegram
When you navigate around after logging in to Mingle Cash, you will very quickly see a pop-up that tries to get you to sign up for a communication app called Telegram
You can close it but every time you go to a new site, it will pop up again. You cannot stop it from popping up.
It is a product Mingle Cash gets paid to promote and ads are a natural part of have many sites make an income. But this just becomes really annoying.
It really disturbs you and makes the site look very spammy, in my opinion. But that is not the only ad you will get on Mingle Cash.
Issues #5 – Intrusive ads
Mingle Cash earn by having ads. That is fine, but it does so in a very intrusive way.
You get ads popping up all the time whenever you move around the site.
In fact, they also have pop-under ads, which means you will sometimes not even notice a new ad opening in a new screen behind the one you are using.
Suddenly you will then have 10 different screens open with ads for all kinds of strange products.
Mingle Cash just exaggerates the use of ads and it completely destroys the usability and makes it look very spammy and makes it extremely annoying to use.
And you end up wasting a lot of time trying to navigate around all these pop-ups.
Final verdict – legit or scam?
Mingle Cash does have some ways that can earn you a bit of money so I would not call it a scam.
But it does have some serious issues, you really need to consider before investing any time on the platform.
To give you a better overview before deciding whether you want to join or not, let's finish this review by summing up the pros and cons.

Pros:

Free to join
Has some actual ways of earning

Cons:

Makes it look like you can easily become rich by joining
Poor training material
Extremely poor usability
Claims to be featured on famous networks but there is no proof
Honestly, I think Mingle Cash is a big waste of time. Yes, it does offer some ways to earn but it is clear that the whole system is built to make you refer others and they make it look like this can easily make you rich.
That is just not how it works in reality. Making good money online is definitely possible, but you need to learn proper skills to do this. And the training inside Mingle Cash will not help you with this, in my opinion.
In addition to this, the spammy pop-up ads everywhere make it a very poor user experience. So overall, I honestly do not have many positive things to say about Mingle Cash after having tested it.
It is, therefore, NOT a platform I can recommend. If you want to earn real money online, you should, in my opinion, look elsewhere instead.
How I make a living online
I have personally been able to create on full-time online income that now allows me to work when and where I want to completely on my own terms.
It honestly takes some effort and time but it is totally worth it.
If you want to follow my footsteps and create your own online income, then check out my FREE guide where I explain how this is possible step-by-step.
You can even get started with these steps as a complete beginner.
If you have any questions, comments, or have any experience with Mingle Cash yourself, I would love to hear from you in a comment below.