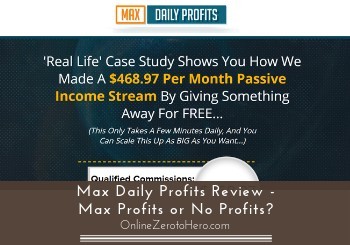 Max Daily Profits claims to be able to help you create an online passive income with just 30 minutes work per day.
But is Max Daily Profits a scam, or will it give you the golden ticket to financial freedom?
Let me reveal right away that there are some things you are not told before you join. This does not mean it is a scam, but that you should definitely keep reading, so you know all the details before investing any money.
This Max Daily Profits review will give you the details, so you will know whether it is the right option for you or not.
Max Daily Profits at a Glance
Training

Tools

Value for money

Income potential
Summary
Max Daily Profits makes it look like you can easily make a full-time passive income online. There are however many things you are not told, and the system will likely not make you money as easily as you are told. This review reveals all the details you need to consider before investing any money in it.
Click to read about my top recommended way to make money online instead
What is Max Daily Profits and what does it offer?
Max Daily Profits was created by Mark Barrett and Paul Prissick. These two guys have created a lot of other online systems you can buy.
I always become a little worried, when I see self-acclaimed online marketing gurus launching one program after the other. If they really create a system that can help people make passive income, why is there then a need to constantly rebrand it and invent a new name?
This was something I right away wondered when I heard about Max Daily Profits. Let me give you an example of what I mean. Mark Barret has for example created another program called 5 Day Fix. Below you can see the description of what this program offers in comparison to Max Daily Profits.
The descriptions are more or less the same. But of them are even described as brand new methods that you have never seen before.
What in general rings an alarm bell for me when reviewing products is when it is mostly focused on what it does not offer, and tells very little about what it actually does offer.
That is exactly what Max Daily Profits does. You can see above that you are told all the things the program is not, but not really told anything about what you will then learn. All you are told is that you can create a passive income online by working just 30 minutes per day.
You are told that you will do this by giving away something for free. I have been doing some more research, and what you will learn is to give free trials away, and then if people end up buying, you will earn a commission.
This in theory sounds very easy, and it is also true that you can potentially make money this way. However, it is not as easy as it sounds.
To make any real money like this, you need a lot of traffic, and not just something you can get for free overnight.
Max Daily Profits will however give you access to several small training videos, where you can learn the basic principals og online marketing, so in that sense it is not a scam, as you will actually get access to some training.
I do however question many of the methods, and there are many things you are not told before you join. Below, I will go into some of these important things you need to know.
Can Max daily Profits help you make passive income?
First of all there are a lot of myths about making passive money online.
One of them is that it is so easy to make money online that you can just spend a few minutes to set up a system, and then you will make money for the rest of your life on autopilot.
This is not how it works online. You can make really good money online, but it takes time, work, and effort like it does to create any other kind of business and income.
The guys selling you quick-fix systems and get-rich-quick programs do however want you to believe you can make money online without any effort, as they make really good money selling you this dream.
This is not just something to be aware of, when it comes to Max Daily Profits, but about any program that claims to teach you to make money online.
In theory, you can learn to make money online by the methods Max Daily Profits teaches. And it is also true that once you have an online business set up, you will make passive money on it, as you will make money even when you are sleeping, on holiday etc.
This does however not mean that you never have to work on it. Like any other business, you need to keep working on it to keep it going. And it is not realistic to think you can learn and set all this up in 30 minutes, as they claim you can.
Recommended: See the Steps to Make a Realistic income online
What does Max Daily Profits cost?
One thing is to know what you might learn and not learn, if you decide to join Max Daily Profits. It is also important to know the price for joining, and it can end up being higher than you think.
At first, it looks like the normal price for the program is $97, but you can get it for $17. You are told that the price goes up with every sale, so if you do not buy now, the price will be higher next time you come.
When the program was first released it had a lower introduction price, so in that sense it is true that the price can change. However, do not worry too much about it suddenly changing from one day to the next.
They will keep the initial fee for joining low, as this is a part of the sales strategy to get people in. Saying that the price will soon go up is just way to push you into buying right away, before you start thinking about it.
You do however need to know that this might not be the final price. If you look at the sales funnel from Max Daily Profits' affiliate program, where they give info about what commissions they pay people to promote the program, you can see there will be several upsells.
This means that after you join, you will have to invest further, if you want full access to the system.
I personally hate programs that use upsells like this and are not transparent about the cost of joining. For me this is a big warning sign, and something you need to take into consideration before joining.
There is a 30 money back guarantee for the initial investment, but what does that help you, when it can potentially end up costing you hundreds of dollars buying upsells to a system you were told was cheap.
Warning before joining
I have already mentioned several important things you need to consider before joining Max Daily Profits.
The fact that they are not transparent about the costs is a big warning sign, and the claims that you can just work 30 minutes once in a while and then easily make a full-time income online is another big warning sign to consider.
There are however a few more things I want to point out as important to consider.
Not truthful about affiliate marketing:
Max Daily Profits talks bad about affiliate marketing on the website and sales page.
They mentioned these problems with affiliate marketing, because they know many people have tried to make money with affiliate marketing and failed, and it seems they want to convince these people they have a better and easier method.
There are however some problems about these claims themselves. It is true that many people fail with affiliate marketing – this does however not mean it does not work.
There are many reasons people fail with affiliate marketing – one of the important reasons are they are too impatient, because they believe they can become rich overnight online and therefore give up, when they find out it is not as easy.
They also claim most affiliate programs only pay out very little. This really depends on the program. There are many programs or products you can sell through affiliate marketing that can make you hundreds of dollars per sale. And overall you can make really good money online with affiliate marketing.
It is also not a problem that some affiliate programs only pay a few bucks per sale even if you go for these programs. I know from personal experience it is possible to make thousands of dollars per month from small commissions.
Overall, the info they give about affiliate marketing is simply not truthful. It is a sales trick to get you to go for the quick fix they sell instead.
Recommended: Learn the Proper Steps to Make Money with Affiliate Marketing
Cultures lazy get-rich-quick mentality:
I have already mentioned that you should not expect to be able to make a living online by just working 30 minutes once in a while.
This is not only misleading. It also cultures a lazy attitude that will make you fail with making money online. The majority of people that fail with making money online (and there are a lot that fail), fail because they do not want to make an effort.
The have been led to believe that it is so easy to become rich online that you can just click a few buttons, and then never lift a finger again.
This attitude will not only make you fail with online marketing but in many areas of life.
Creating an online income can give an enormous freedom, and it is definitely worth the effort. So do not fall for the programs that promise you can become rich overnight and without any effort. You will likely then instead end up wasting a lot of time and money chasing these shiny objects.
Final thoughts
Let's finish this review with a quick sum up of the pros and cons of Max Daily Profits, so you can get a good overview and decide whether it is a program for you or not.

Pros:
Offers money back guarantee (for initial investment)
Does have some training

Cons:
Not transparent pricing
Short training
Promises too much
In general not entirely truthful info in their sales material
Max Daily Profits does give you access to some training, so in that sense it is not a scam. Personally, I think a few short videos are too superficial to call it real training, and I think they in general oversell the program and promise too much.
Max Daily Profits is in general culturing a lazy attitude that will make you fail with online marketing, and there are too much untruthful info on the sales page.
If you are serious about wanting to make money online, you will in my opinion be better off accepting that there is no quick fix system that will make it happen for you without any effort. If you instead are willing to make an effort and do the work it takes, it is definitely possible to learn real skills that will make it possible to make money online and take it into any direction you want to.
If you are interested in learning the process, I am using to make money online and learn the skills that is making me a full-time income, then click the button below to read more.
If you have any comments, questions, or have any experiences with Max Daily Profits yourself, I would love to hear from you in a comment below.