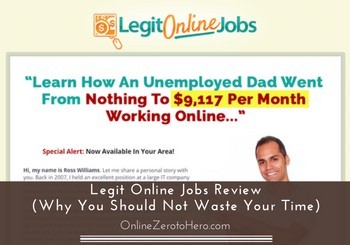 Many have a dream about being able to work online, as it can give us the freedom to work on our own terms and work when and where we want to.
Legit Online Jobs claims to teach you how to make this dream a reality.
But is Legit Online Jobs a scam, or is it a great platform for learning how to make money online?
In this Legit Online Jobs review you will learn what it is all about, if you can actually make money on the platform, and why you should be very careful about joining.
Legit Online Jobs at a Glance
Training

Tools

Value for money

Income potential
Summary
Legit Online Jobs claims to teach you how easy it is to make money online by posting small text ads. There is however a lot of things that does not add up in their claims, and they are not transparent about the true costs of using the platform.
What is Legit Online Jobs and what does it offer?
Let me just start by clarifying that Legit Online Jobs is referring to a specific website called legitonlinejobs.com. It is not talking about legit online jobs in general, but is a review of this specific platform, and what it has to offer.
The platform is supposedly developed by Ross Williams. There is however no real info about who he is or any pictures of him. There is just a bit of background info about how he was struggling to find a legit way to make money online, until he found the secret.
It can be a bit confusing to find out what this secret actually is and what the platform is offering, but there are a few different things:
Post ads for famous companies:
The main thing Legit Online Jobs claims to give you access to, is to be able to post ads for famous companies. You will be posting short text ads online and will get paid for this.
It is supposedly very easy to do. Once you join the platform, you just choose the companies you want to post ads for and then start posting.
You can supposedly decide for yourself when and how much you want to work, and once it is set up, it will run more or less on autopilot. Once I hear any online system saying that it makes money on autopilot, I become a little suspicious. But it of course depends how you define making money on autopilot.
It is true that you definitely can make a passive income online, if you define it as also making money when you are taking a break or a night. But if you define it as never having to do anything, it is not realistic. But I will get more to the earning potential of Legit Online Jobs later.
Access to other online jobs opportunities:
What is a bit confusing about Legit Online Jobs in my opinion is that they try to sell you a system, where you will learn to make money by posting ads using their platform – they claim this is a great and easy way to make money online and enough to make a full-time income.
At the same time they then offer some so-called free bonuses with other opportunities, if you join.
For me it does not make much sense that they claim to have this amazing system that can help you easily make money online, and then at the same time promote other offers.
They for example say you will get access to a huge database of online jobs. Why would that be necessary, if their system actually works? Unless it is because they actually make money for getting you to join these other programs, once you are a member!
They will also give you access to a list of survey sites. You can definitely make money by taking online surveys, but Legit Online Jobs claims, you can make up to $50 per hour doing this. There might occasionally be a survey that pays this much, but in general you will earn a lot less. Furthermore, you should NEVER pay to get access to a list of survey sites, as they are freely available, but on Legit Online Jobs you have to pay to get the list.
I have made a short video walk-through of Legit Online Jobs and what it offers you can also check out. Below the video you can read further details:

Why you can NOT make money just by posting ad texts!
As mentioned, the main system on Legit Online Jobs will help you to make money by posting short text ads online.
The website even has an earnings calculator that makes it look like you can more or less yourself decide how much you want to make.
The thing is that it is just not a realistic way to make money – or at least it is not as simple and easy. Legit Online Jobs says on the website that:
"Companies worldwide are desperately searching for people just like you to type up their ads and post them online,
and they'll pay you nicely in return."
Think about this – do you think companies like Nike, Burger King, BMW, Coca Cola and the like are desperate to find people to write up their ads? These companies are spending A LOT of money on advertising, and they are not ready to pay just anybody to write up a few random lines of text and post online.
Another thing this that if you are only supposed to write a few lines of text and post them, it would very likely be in forums. I have actually done something similar in the past. Back in 2008 I worked at an online marketing agency that did actually charge companies to post small posts about them in online forums.
It was a way to try to create buzz around certain companies and brands, BUT already back then people where very skeptical whenever they saw something that looked like a promotion in most forums.
Today people see right through this kind of fake advertising in forums, and most forums have strict rules against spam and will see this as spam. You will very likely end up getting kicked out of the forums instead of being able to make money by posting ads there.
If you are using any forums yourself, just think about how annoying it is when someone comes and spams it with ads or self-promotion. Do you want to be this annoying person? Even if you do not mind, you will not be a member of the forums for long before you will get kicked out for spamming.
So overall I would say that in my experience the main way Legit Online Jobs claims you can make money is not a realistic and long-term solution for making money online – not in the way they claim anyway.
But if you look deeper at what they are offering, they shortly mention that there is a large demand for new affiliates, which touches something that can potentially make you money.
Can you make money as an affiliate?
It is just mentioned in one short sentence that the way you are likely going to make money on the text ads is through affiliate marketing.
This means that you can become a member of an affiliate program for a certain company, and you can then earn commissions by recommending/promoting the product or service to other people.
You will get a link, and if you share this (for example in a forum or on a website), you will get a commission, if people end up clicking this link and buy the product.
This is definitely a legit way to make money online, and it is one of the reasons it is even possible for people to spend a lot of time creating a great blog or website. If you do not have a chance to make some money, you can of course not afford to spend a lot of time creating content for a website.
Unfortunately there are of course then people taking advantage of this and just promote whatever gives the highest commission and do not care about quality. But luckily many bloggers and website owners only recommend products and services they truly recommend – the commissions are a way to get paid for the hard work, the hard work makes it possible for people to find good info online, and it does not cost the person clicking the link any extra, so it is a win-win situation.
However, no matter what, just writing small text ads and starting to post affiliate links in for example forums WILL get you banned. On most forums affiliate links are not allowed and on some social media they are also not allowed, as they want to avoid people just starting to spam links to get commissions without caring about the quality of what they are posting.
Affiliate marketing is actually my preferred way to make money online, but to become successful, you need to learn affiliate marketing properly, and focus on quality and how you can help people with the content you create – that is a long term strategy that can make you very successful online.
What does it cost to join Legit Online Jobs?
If you want to check out what Legit Online Jobs has to offer for yourself, you have to pay a joining fee. So let's look at what you have to pay to join.
It will cost you $34.95 to join – as you can see on the image above, this is supposedly half price, and a special offer. But do not worry about this "special" offer disappearing. It is the same offer they have had for a looong time. It is just made it look like a special offer to get you to sign up right away without thinking.
However, even though $34.95 might not seem like a lot, be aware that this will very likely not be the final price. There will be upsells, which means you will be pushed to upgrade and spend more money after you join.
The reason I know this is the info for Legit Online Jobs affiliates (people who want to earn a commission for promoting Legit Online Jobs). You can find this info, if you scroll all the way to the bottom of the page. In the footer there is a text link for affiliates.
Here you can see that Legit Online Jobs clearly reveals that as an affiliate, you will make money on upsells, which means there will be upsells after you join. So do not expect the joining price to be the past you pay.
In my opinion it is a big red flag, when programs are not transparent about the real price of their services until after you join. But if you still want to give it a go, now at least you know you should be prepared for the upsells.
Is Legit Online Jobs a scam?
As you can see from what I have written in this review so far, I think it is pretty clear that I do not think the system Legit Online Jobs claims to give you access to is worth spending time and money on.
But Is it actually a scam or not?
Contrary to many scam programs I have reviewed, Legit Online Jobs actually has an address and even a phone number on the website. This is a good sign, as it seems like it is actually a company that exist and is not trying to hide where it is located. There is however not much info about the creator Ross Williams, and you cannot find any pictures of him on the website.
The methods of earning online you will get access to are also ways you can actually make money.
However, the method of getting paid just to post small text ads without much work, is not a realistic and long term way to make a sustainable income online. Furthermore, the program is not transparent about the cost before you join, which is a big issue in my opinion.
Whether you then want to classify Legit Online Jobs as a scam or not, I will leave up to you to decide.
No matter what, it is in my opinion not a platform worth spending money on joining.
Final thoughts
Let's sum up the pros and the cons of Legit Online Jobs to get a better overview.

Pros:
You can actually make money with affiliate marketing
Does not hide where the company is located

Cons:
Is not transparent about the price of using the platform
Claims you can make money online on autopilot
Not sustainable to make money using the methods they use
Makes it look like you can decide yourself how much you want to earn
I think Legit Online Jobs has way more cons than pros. The pros has not really anything to do with what the company or platform offers.
The cons are however big and important issues. To me it is a big issue that the platform is not transparent about the costs for using it, the method of earning online is not sustainable, and I think it makes it look too easy to make money online.
You can definitely learn to make money online no matter your background, but to become successful, it takes some effort and it will not happen overnight.
If you want to create an online income, I would instead suggest learning how to do affiliate marketing properly. If you do, it can be a way, where you can earn online by working with something you are passionate about, you can make really good money in the long run, and you can provide helpful info to people.
==>Click to learn more about proper affiliate marketing<==
If you have any comments, any questions, or have any experiences with Legit Online Jobs yourself, feel free to leave a comment below.