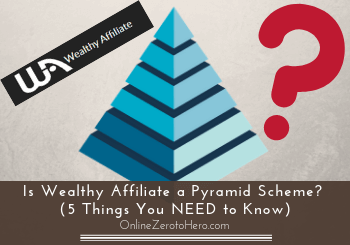 There are many programs that promise to make it possible for you to become financially independent – but there also are a lot of scams.
One of the most common scams people lose money on is pyramid schemes.
If you have been looking for ways to make money from home you have maybe heard about Wealthy Affiliate and might be wondering if this is the real deal or is Wealthy Affiliate a pyramid scheme.
This article will give you the answer for this – it will show you why some people might think it is and show you how you can figure out yourself what it really is by giving you 5 tips to look for before deciding if it is for you or not.
Disclosure: Some articles on this website contain affiliate links. This means at no cost to you, I may receive an affiliate commission if you purchase something through one of these links.
What is a pyramid scheme?
Before getting involved in any kind of business opportunity you need to make sure it is not a pyramid scheme.
It can, however, be hard to spot and there is a fine line that can sometimes be difficult to tell. Often people trying to recruit you into a pyramid scheme might not even be aware of this themselves.
So let's start by going over a few basic ways to spot a pyramid scheme.
Very often pyramid schemes are about making money by selling overpriced products to the distributors (potentially you) of the program. Most of the time, these products are very difficult to sell to anyone not involved in the scheme itself as they are rarely worth what they charge.
To become a distributor you have to buy the products yourself and it can sometimes cost thousands of dollars. After that, you will find out the products are difficult to sell and it is not as easy to make money as you were told.
The only way to then earn is by recruiting other distributors. You will be pushed by your recruiter to recruit others as he/she usually will also get a cut of this.
Therefore, there will often be a constant focus on recruiting new distributors as that is the only real way to make money. And that also often includes that you need to invest in further training, seminars, and coaching which can become VERY expensive.
And the focus of this "training" will usually mostly be about how you can sell the "business" model to others to get them to join as a distributor below you.
The reality of pyramid schemes is just that the top is making all the money while the rest are rarely making any.
Below you can see a short video that describes a bit more about what a pyramid scheme is:

Why some think Wealthy Affiliate is a pyramid scheme
Now we have gone over the basics of what a pyramid scheme is.
I have seen some people claim Wealthy Affiliate is a pyramid scheme and I want to make it clear here why that might be.
Wealthy Affiliate is an affiliate marketing platform. Like most other products today, they have an affiliate program which means you can make money by referring others to the platform.
If you are successful, you can also make very good money that way. And there is some training inside Wealthy Affiliate that teaches people to recruit others to the platform.
Just based on this, it might be easy to conclude that Wealthy Affiliate is a pyramid scheme for people that do not have in-depth knowledge about pyramid schemes or Wealthy Affiliate.
But it is important to understand the difference between affiliate marketing and a pyramid scheme.
Just because a product or platform offer commissions for promoting it does not mean it is a pyramid scheme.
There are millions of legit affiliate programs today where you can earn a commission by promoting them. So it is necessary to look deeper than this to see if a program really is a pyramid scheme or a legit opportunity.
5 ways to identify if WA is a pyramid scheme
When it comes to Wealthy Affiliate, I want to make it clear that I am a member of the platform and that is why I know what it offers in details.
I also know that this might make you skeptical because how can you then know that are I am not just trying to recruit you into a pyramid scheme?
Well, we will get to that part later.
First, I want to say that before I joined Wealthy Affiliate I did a lot of research and continued to be critical and look into what it really offers after joining as I have been scammed before.
If you are considering whether you want to join Wealthy Affiliate or not and want to make sure if it is a pyramid scheme or not before joining, there are some important aspects that can help you answer these questions.
These are some of the questions that helped me decide if it was for me or not. It might not be the same for you but it can, at least, be a start for you to find out.
Question 1 – What kind of products and training does the platform offer?
One of the most important things to look at to find out if a program is a pyramid scheme is what it really offers.
If the emphasis is mostly on recruiting others and there is no real products or only products that are overpriced and hard to sell to people outside the program, then there is a big chance it is a pyramid scheme.
When it comes to Wealthy Affiliate it offers a lot of different aspects. It is, first of all, a training platform where you learn online marketing with a focus on affiliate marketing.
In addition to this, it offers several tools you can use to build up an online business and is, therefore, known as an all-in-one platform.
You can read my full Wealthy Affiliate review to learn all the details about what it offers but in short what it gives access to is 120 step-by-step lessons, weekly webinar, 100s of hours of webinar replays, 24/7 support, hosting for websites, keyword research tool, content platform, affiliate program research tool, live chat, member trainings, and more.
So Wealthy Affiliate does offer a lot of real products and I know from personal experience that the training can teach you a lot about internet marketing and many of the tools are great.
But there are other important aspects to know as well – especially when it comes to the pricing of it.
Question 2 – What does it cost to join?
One of the things that characterize a pyramid scheme is that it is often very expensive to join because you have to invest in quite a lot of expensive products yourself to be able to join.
Also not here, Wealthy Affiliate looks like a pyramid scheme. In fact, it is one of the cheapest platforms you can join for affiliate marketing training when you look at all the tools you get included in the membership.
You can actually even join for free. The free membership, of course, has its limitations, but it gives access to test the first 10 lessons completely for free without even taking out your credit card.
And you can also check out some of the tools for free and ask questions to the community for your first 7 days.
This is actually unheard-of in this industry – I have tested a lot of training and there are some good options but I have not found any that offer this way of testing before buying.
If you then decide you want access to all the training and tools, you get your first month for only $19. After this, you can pay monthly for $49 per month or pay yearly for $359.
So it is definitely not expensive compared to most other online business opportunities.
Question 3 – Are you forced to promote the product itself?
Some people that have not tested Wealthy Affiliate properly themselves claim that you can only make money on Wealthy Affiliate by promoting the platform itself.
This is NOT true and I know this from personal experience. By following the training and using the tools there, I have been able to create a full-time online income without promoting Wealthy Affiliate.
They do have an affiliate program so you can earn by promoting the platform – after I saw it worked, I also started making others aware and I am a part of the affiliate program now as I know it is worth recommending.
However, you are in NO way forced to promote Wealthy Affiliate to make money.
You learn about affiliate marketing and learn about the millions of affiliate programs you can join so you can earn by promoting something you feel passionate about.
But there is a training program inside Wealthy Affiliate that teaches you specifically about promoting the platform itself. But there is A LOT of other training as well.
Sometimes people overlook this or do not really try before making conclusions and think the only way to make money is by promoting the platform itself.
But I can tell you from personal experience that it teaches you MANY ways you can earn online which a pyramid scheme would not do.
Question 4 – Does it have a pyramid structure?
As the name suggests, a pyramid scheme usually has a pyramid structure with several levels. That is why it can give really good money if you are at the top as you will often earn in many levels below you.
According to Wikipedia, the pyramid structure is, however, in most cases not sustainable.
The majority ends up losing money simply because there are not enough people to recruit. And since the only real way to earn is by recruiting, it is not sustainable.
When you look at Wealthy Affiliate, it does not have a pyramid structure.
First of all, you do not even have to promote the program itself. If you promote the program itself, it is a regular affiliate program, where you earn commissions in just one level.
Question 5 – Are there additional fees/upsells after joining?
Often pyramid schemes have expensive seminars and coaching you are strongly encouraged to buy.
Usually, they will be very expensive and not really teach you much and only focus on hyping you and focus on how important it is to recruit others and how much money you can make by doing this.
Wealthy Affiliate, it is actually one of the most transparent platforms when it comes to pricing.
Once you have paid the monthly membership fee, there is no additional hidden cost or upsells. And inside the platform, they do not allow people to promote and do also not themselves promote other products through their affiliate links.
You get access to all the training and all the tools for the membership fee for as long as you are a member.
So from this perspective, it is also clear that Wealthy Affiliate is not a pyramid scheme.
Should you join Wealthy Affiliate?
From the above, it is clear to see that Wealthy Affiliate is NOT a pyramid scheme. It just simply does not have any of the characteristics a pyramid scheme has.
However, this does not mean it necessarily is the right option for you. Because even though I am a member myself and have learned to make a full-time business online that way, I must say that it is not for everyone.
It has definitely been the right option for me and I am grateful for what I have learned there and how I have been able to create an income that makes it possible for me to work on my own terms by following the training there.
But before finding out of it is for you or not, you need to know that it takes hard work.
It is a training platform that teaches you how to create an online business and gives you some important tools. But just joining will not automatically make you money.
First, you have to take the time to learn the skills and most importantly you then have to take action and keep taking action. Making money online will not happen overnight.
But if you are willing to make an effort and want to learn how to make money through affiliate marketing it is, in my experience, the platform that gives the best value for money – especially if you are a beginner.
As already mentioned, you can also join for free to test out everything before deciding, so if you have any doubts but are curious, you can just join for free through the button below without even using your credit card.
I hope this article has made it clear for you why Wealthy Affiliate is not a pyramid scheme and what it really offers to help you decide if it is for you or not.
I have taken the training and created an online full-time income that way myself (without even promoting WA) so I know it works. But I also know it is not for everyone.
If you are looking for fast money and are not patient to take continuous effort to see results, it is definitely not for you.
But if you want to learn all the steps to make money through affiliate marketing, you can join with the free membership through the button above and test it out for yourself before deciding if you want to get the paid membership or not.
If you have any comments or questions, I would love to hear from you in a comment below.