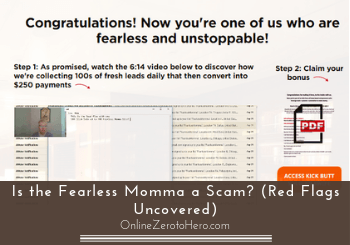 When I first visited the site of the Fearless Momma and saw their claim that it is a beginner-friendly program, it really got my attention.
If you happen to come across this program and saw their claim that their system is a proven blueprint to predictable cash flow, then it might have piqued your interest.
So, is the Fearless Momma a scam or a legit opportunity online?
In this review, I will share all the information I have gathered when I did my own research about this program.
Hopefully, it will help you make a better decision, so you can answer for yourself if this program is for you or not.
Let's start.
The Fearless Momma at a Glance
Training

Tools

Value for Money

Income Potential
Summary
The Fearless Momma is a program that claims it can provide people the opportunity to earn $250 in 72 hours and it's beginner-friendly because it is supposedly easy to set up. Anyone can easily earn money using this system even if you don't have any prior experience in affiliate marketing.
In my opinion, their claim is unrealistic since there are no shortcuts or secret system that can generate easy money for you. In my own experience as an affiliate marketer for several years now, it is possible to have a decent income in affiliate marketing, but you need to invest time, effort and a positive mindset to succeed.
Honestly, I don't recommend this program because it uses the 'pay-to-play' business model where your commissions are based on the package level you bought in the program. So, if you only bought the initial $250 package level then your commissions will only be up to that amount.
I would suggest that you find other legit online opportunities that can provide you with the results that you are looking for.
Click to Read About My #1 Recommended Way to Earn Online Instead
What is the Fearless Momma and what does it offer?
On their sales pages, they are claiming that this program can help newbies earn an easy $250 commission in the next 72 hours.
It sounds exciting, doesn't it? Especially when they are targeting people with no internet marketing skills yet or those who never made a dime online before.
Once you visit their sales page, the very first requirement you need to do is to give them your email because you cannot watch their sales video without inputting your details on their opt-in form.
The first sales video is from Tammy Montgomery and the last video on their sales page is from Timothy Berger, who supposedly have a simple blueprint to creating a decent income online.
The sales videos in this program are well-made and present an attractive offer to people who want to make money online in the fastest way possible.
However, the main product of this program is training videos on how to effectively sell this program to other people.
Basically, once you join this program, you're already an affiliate and your main role is to refer people to this system, and hopefully, they will buy it, so you can get your easy $250 commission.
Anyway, this isn't a new concept and this type of business model have been used before and it's commonly known as 'pay to play,' or you'll need to buy a package level that is being offered in the program before you can earn commissions. I have reviewed another program called Earn Easy Commissions before that uses the same business model.
Therefore, the higher the package you bought, the higher the commissions you can get. That is why they always encourage their prospects to go for the highest package level, so they can also qualify for higher commissions.
This type of business model has been around for years, but I'm not a fan of it, because there are some considerable drawbacks especially if you are still a newbie.
At the time of updating this review, The Fearless Momma has, however, closed its doors for new members. But fi you at some point get an invitation for it because it has opened again, this review will help you be prepared so you know what you can really expect.
The Fearless Momma Red flags
A lot of people are aiming to create a decent income online and a lot of them want to make money in the shortest time possible.
However, this is not how things are in the real world especially in affiliate marketing, because you'll need to invest your time, effort and a bit of your patience to succeed.
This is the reason why I did in-depth research about this program and I have found several red flags that I think you should know about.
So, you can decide for yourself is this program is really for you or not.
Red flag #1 – Is this program really for beginners?
If you plan to join this program, your first step is to pay $250 for the basic package and also to access their member's area where you will find the training videos that contain the tutorial on how to effectively promote the same program.
They will also provide your affiliate link after you purchase the program, which you will use to refer people to their sales page.
If you're not familiar yet with affiliate marketing, it is a business model where you promote other people's product and you make money when the person you refer buys their product.
An affiliate link is an important element in this type of online business because each link is uniquely coded to you and the company who you are promoting can easily track your performance via your affiliate link.
The main issue I have with the Fearless Momma is the fact that they are encouraging their members including newbie members to use their affiliate link in social media sites, self-hosted landing pages, and paid ads.
If it's truly a beginner-friendly program, then why would they encourage their members to engage in paid ads. These types of activities require technical know-how and experience.
In my opinion, their claim that this program is beginner-friendly and easy to set up is unrealistic especially when it comes to promoting the product on various platforms and social media channels without further experience or skills in social media marketing.
They will also show you some pre-made ad swipes for Facebook but using these duplicated ads on FB group pages will only clutter these pages, and you may also get banned for posting spammy ads.
I think you should consider this red flag seriously because there are no shortcuts or easy way to make money online. It requires hard work and proper training to succeed in this endeavor.
Recommended: Click to See the Best Way to Make Money Online
Red flag #2 – Is spending $250 not enough?
After joining this program, you can expect to see various upsells in the form of high ticket upsells. In fact, there are 3 packages you can choose from after your initial payment of $250.
The following upsells will include the $1,000, $3,000 and $5,000 packages. These are called high ticket upsells and it's a big part of their system.
The main reason why they are encouraging their newbie members to buy these high tickets upsells is to open up the opportunity for higher earnings potential.
The way their system work is each member can earn 100% commissions since everyone is paid directly. So, when you pay $250 for the program you are literally giving $250 to the person who referred you.
When you recruit another lead to the program, they will also give you $250 once they pay for the program. The more people you recruit on the program, the more $250 will be credited to you.
This cycle is commonly known as cash gifting because you are getting 100% commission for each referral.
So, you can only imagine how many members are promoting those high ticket upsells. It's all due to the commissions they can earn each time a lead buy those upsells.
But there's a catch since you can only qualify for the $1,000 – $5,000 commissions if you also bought those high ticket upsells.
If you decide to stay on the basic package, then you can only earn up to $250 per referral.
Therefore, people who are joining this program is not really interested in the training modules, although I'm not saying that there is no value in them, they are more focused on the earning potential – especially on those high ticket upsells.
This is a significant red flag simply because of the amount of money you need to shell out in this program.
Not to mention the money that you will be spending on those paid ads just to move ahead from the rest of the Fearless Momma affiliates.
Red flag #3 – There are no refunds
The other thing I want to point out in this program is there are no refunds offered as stated in their refund disclaimer.
According to them, this is because of the 100% commission structure of the program, which means a member to member payment scheme.
Another reason why they don't offer refunds is that they are selling digital products, but this, in my opinion, is not true because there are other companies who are selling popular digital products, but they are offering full refunds.
I think the real reason why they don't have any refunds, is because you are paying your referrer directly and not the company itself.
Honestly, if a company is not offering any refunds then you should be wary and more critical about their policy.
Always remember, as a consumer we all have the right to ask for a refund if we think their system or program is not delivering the results we are expecting. Especially if you have already followed the steps they have outlined in their training.
Red flag #4 – They cannot guarantee your success
Another red flag that I think you should know about is written on their income disclaimer.
They have stated there that they cannot guarantee that you will achieve the same or similar results as those income testimonials on their sales page.
This means that even if they say that their program is beginner-friendly, you can easily set it up even if you don't have any internet marketing experience, and it's a breeze to refer people to their sales page by using their pre-made ads is all just sales pitch.
In reality, your earnings will depend on your own efforts, which includes work ethic, willingness to learn, and patience because there are no shortcuts in affiliate marketing everything takes time.
It's clear that they know the real price for success and no matter how good the copy on their sales page is, it all boils down to your own efforts.
Take this red flag into consideration when you're making your final decision since it's clear that there is a discrepancy in what they say in their sales page as opposed to what their statement is in their income disclaimer.
Final verdict – legit or scam?
I think the Fearless Momma is legit because they have a digital product in the form of the training modules on their membership page.
However, they are not exactly transparent when it comes to the real requirements of the program.
To help you decide if this program is really for you or not, here are the pros and cons.
Pros:
You get access to their pre-made ads
There is some form of training in their membership page
Cons:
The program is NOT beginner-friendly
You can expect to spend more than $250 to qualify for higher earnings
They cannot guarantee your success
There are no refunds offered
Pre-made ads will be seen as spam messages on social media sites
Quite expensive to join
Honestly, I don't recommend this program because it contains several red flags that make it a risky investment.
In fact, they have stated in their sales page that their program is beginner-friendly, and you can be successful even if you don't have prior experience in internet marketing is. This is, in my opinion, just a way to hype their product.
I would suggest that you find other legit affiliate marketing opportunities that could truly provide you the results that you are looking for.
My recommended alternative
If you're really interested in earning a decent income online, then I urge you to learn affiliate marketing the right way.
I have a FREE step-by-step guide where I laid out all the necessary steps you need to take to succeed in this field.
I promise that the steps discussed in my in-depth guide are all ethical ways of doing affiliate marketing and it is the exact steps I have used myself to create a full-time online income.
If you have any comments, questions, or have any experiences with the Fearless Momma, I would love to hear from you in a comment below.