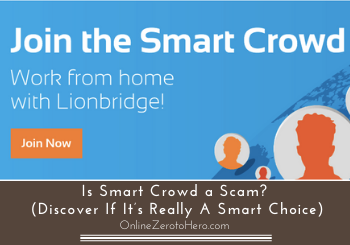 Today, the internet has opened doors for opportunities to people around the world. You no longer have to be physically present in an office just to do a task and get paid. There are many companies today who employ people from a different state or a different country.
So while it's pretty exciting you get to work at the comfort of your home or during your travels, it's also important that you do your research to identify legit opportunities. With all the online job platforms, you have to be careful where you put your time.
One such platform is the Smart Crowd by Lionbridge that supposedly offers home opportunities to you if you want to earn from anywhere.
They claim to be the World's largest provider of At Home Work although with all the websites today, that's hard to really say.
So is Smart Crowd a scam or really a great way to earn?
This Smart Crowd review will show you all the details and show if becoming a part of their crowd of freelancers will really be worth it.
The Smart Crowd at a Glance
Training

Tools

Income Potential
Summary
The Smart Crowd is a platform that connects you to companies looking for freelancers. Before you can actually take any jobs, you have to take an assessment test.
You can choose between tasks like data services, global testing, and language services. the language tasks, especially those involving foreign languages, pay better than basic data tasks. Languages include Spanish, French, Chinese, Polish, Korean, Italian and German.
Even with various job categories, there still appears to be fewer tasks compared to the number of freelancers on the platform. The pay rate isn't really great either.
If you're still just starting on your online journey, Smart Crowd may be an option to build up your skills. But even if you can get some jobs once in a while, it is still smarter to look for other options that can give you a long-term sustainable income, in my opinion.
What is The Smart Crowd?
The Smart Crowd is owned by Lion Bridge, which is a multinational software and professional services company that has existed since 1996.
Smart Crowd was actually formerly called Virtual Bee and Key for Cash before Lion Bridge acquired it in 2012.
According to their website, they have been working with global market leaders. These include Adobe, Canon, CBS Interactive, Cisco, Dell, Eli Lilly, EMC, Expedia, Golden Living, Google, HP, LRN, Microsoft, Motorola, Nokia, Pearson, Pfizer, Philips, Samsung, and the US Department of Justice.
So what do Smart Crowd do for these big companies?
Basically it's a platform that connects freelancers to the companies that need people to do their micro-jobs or small tasks done.
Smart Crowd jobs you can potentially get can be categorized into three:
Data Services
Global Testing
Language Services
Lionbridge is known to specialize in language translation so it's no surprise that Smart Crowd would offer language services such as translation. You can also work with several languages like Spanish, French, Chinese, Polish, Korean, Italian and German.
Data Entry jobs include categorization, metadata tagging, and data cleansing. You would also do some basic internet research or make phone calls to gather the required information.
It can also involve going through scanned images to input into an electronic document. For global testing, some include testing websites.
The specific tasks will vary based on what the companies require and post on the platform.
But overall, you can find quite a lot of different tasks on Smart Crowd and, as you can see, you can potentially get to work for some big companies.
This does, however, not mean it will necessarily be worth it. So let's go more into details about what you can expect and what it takes to even be able to join.
How do you become part of The Smart Crowd?
Joining The Smart Crowd is free as long as you're at least 18 years old. To apply, you simply have to create an account on the website.
It only requires you to provide your name, email, chosen password, and location so it does not take long to sign up.
Since The Smart Crowd is available to different countries, you have to make sure you have high-speed internet in your location and can be uninterrupted when working. This is a common requirement if you're planning to work online or build your business online.
Once you've signed-up, The Smart Crowd will send an email confirmation before you can log in to your account. Upon logging in, you will have to take an evaluation test to qualify for any job.
For data research, a reading comprehension skills test is required. Be careful when taking these assessment tests as you can only take them once and you have to have a high grade to receive job offers via email.
I prefer it if you could take the assessment test more than once to increase our grade because it might take an extra attempt to understand exactly how it works.
This would especially be great since your whole career on the platform depends on passing the assessment test on your first take.
You have a higher chance of getting a job if you're multilingual since you can take the assessment tests in different languages.
Once you receive job offers, make sure you click fast! It is usually the first one to respond who gets to work on the job offer.
How much can you earn?
As a freelancer at The Smart Crowd, you will get paid per project or job you work on. Payments are done via bank transfer.
You have to create an account at Dwolla to receive your payment. You can only withdraw once your payment reaches $30.
Payments are done monthly compared to some other platforms that pay weekly.
Your earnings at a job platform such as The Smart Crowd depends on the projects and the skills you can offer. It can also vary based on how many hours you actually put in per month. Remember that you are like a contractor here.
Therefore, it is difficult to say exactly how much you can earn.
But based on some reviews, the average pay-per-piece for the majority of the job offers is around $5 to $ 6 per hour.
That's not bad for those looking for extra cash or those starting out in the online work. It's also a good rate if you're living in countries that have a lower cost of living.
If you're living in the US, other big English-speaking countries, or in European countries, that's, however, probably not enough as a full-time income and it would require a lot of hours to be able to make a living here.
So you need to take your location and cost of living into consideration before deciding if this is the right option for you or not.
Is it a smart choice?
The option of working from home seems like the smart choice today. We have to work hard and work smart today and luckily there are now many options for you to do so.
But there are two things I consider why The Smart Crowd is not exactly your smartest choice for online opportunities.
Reason 1 – Lack of Jobs
Since you will become a freelancer or a contractor once you start working at The Smart Crowd, do not expect that you will be getting jobs weekly.
And even if you do get job offers, there is no guarantee you will get the job since there are many other freelancers like you looking for work on the platform.
In fact, on their website, it is stated that demand varies by location so you have to be patient if you are not offered work immediately.
There's not really any ways to show your skills on the platform aside from the assessment tests so I'm not sure how you can put yourself ahead of the other freelancers as it is possible to do on some other freelance platforms.
If you have expertise in certain skills, then I suggest you look for other online work where you can maximize those skills and get paid at a higher rate.
Reason 2 – Low Income Potential
Generally, data entry and testing jobs are good for fast cash but not for a solid stream of income.
They're mostly pay-per-project basis and you don't know when the next task will come. And the pay often isn't really great depending on the company providing the job.
Some reviews mention the rate of pay for the data entry jobs is approximately 35 cents to 60 cents per 1,000 keystrokes. Data entry jobs measure the typing speed of the worker based on keystrokes. The average is 8,000 keystrokes per hour so it gives you around $2 to $5. You may get jobs at a higher rate if you're not just doing entry jobs.
If you like typing and working online, there definitely are jobs with higher pay and more potential, in my experience.
Also, there are jobs that are not as repetitive as the jobs you usually can find on Smart Crowd.
Smart Crowd does pay higher for translation jobs but obviously not everybody can apply for this. You might not have the language skill it requires. But if you're a native that speaks the language, then you can definitely take advantage of this and get paid more than the usual data jobs listed on the platform.
Final Verdict
Today, we really have to work smart aside from working hard. We need to know where to put our limited hours per day to earn an income that gives us the lifestyle and options we want.
Therefore, researching and checking out your options like The Smart Crowd is a good step towards making a living online.
The Smart Crowd has been providing jobs for freelancers for years now and it is handled by one of the biggest software and professional services.
Therefore, there is no doubt that it is a legitimate platform for freelancers – this does, however, not mean it is necessarily a good way for you to spend your time.
So let's finish this review by summing up the pros and cons so you can get a better overview before deciding if you should join or not.
Pros:

Available for freelancers from different countries
Variety of data, languages and testing jobs available
Multilingual jobs available
Cons:

Tasks are not available daily
Low income potential
No of tasks is lesser than the number of freelancers competing for the tasks
Overall, you can get a job or two here and there through The Smart Crowd and earn some extra dollars.
However, since the jobs can be quite seasonal, you should not take this as your way towards earning a full-time income online.
It can be good to brush up your skills as you look for other opportunities that can reward better. If you also know other languages, then you can maximize this platform for language opportunities.
But if you are looking for a way to build a good long-term business, it will likely not be possible to do that on Smart Crowd and you need to be aware of this so you join it with the right expectations if you decide to go for it.
If you are looking for a way to make a long-term sustainable income online, you should probably go for other options instead, in my experience.
How do I make money online
With all the online opportunities, I wanted to make sure I was making the smart move on where to put my time and effort. So I did my research and tested many options.
Now, I have been able to create a full-time online income that allows me to work completely on my own terms.
It takes some effort but it is totally worth it.
If you want to follow my footsteps and create your own online income, then check out my FREE guide where I explain how this is possible step-by-step. Don't worry, you can start as a complete beginner!
If you have any comments, questions, or have any experiences with The Smart Crowd as a freelancer yourself, I would love to hear from you in a comment below.