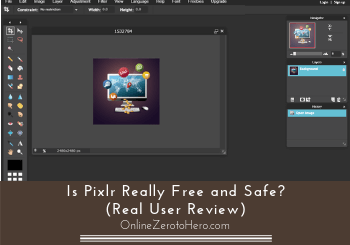 If you do any kind of marketing, you need graphics, and chances are you also need to edit images once in a while.
There are many tools for this – one of these is Pixlr.
But is Pixlr really free and safe to use, or is there a better alternative?
I have used Pixlr myself for quite a while now, and in this review, I will share my experiences with you, so you can easily find out if it is what you are looking for or not.
Features

Usability

Value for money
Summary
Pixrl is a legit and great free way to edit images. It also has a paid version but you can do a lot with the free version.
It has many features and can fulfill many different needs. If you want to edit images without access to the internet, it might however not be the best solution.
What is Pixlr and what does it offer?
Let's first go over some of the things you potentially can use Pixlr for.
It is a photo editor and you can use it both to edit images you have, or you can use it to create graphics.
If you are used to working with other photo editors you will recognize many of the features. But if you are not used to using photo editors, it is still fairly easy to start using.
But as it gives a lot of options, it can at first seem a bit overwhelming depending on your experience.
You can for example work in layers, replace colors, transform objects, sharpen images, reduces red eyes, use gradients, and much more.
But what I like about Pixlr is that if you just need to do some simple tasks like for example crop or resize images to optimize your photos for websites, you can also just use it for this.
So it does not have to be complicated to use it, but if you need more advanced features that can help you make a lot of editing and adjustments for your photos, this is also possible. This makes Pixlr very flexible and a tool that is useful for many different needs.
Pixlr offers 2 different versions called Pixlr X (it has replaced what used to be called Pixlr Express) and Pixlr E.
Pixlr used to require flash but both versions above does not require this as Flash is being blocked on more and more browsers. This means it is available to more people and on more devices and it also shows the tool is continuously being developed.
If you would like to still use the old Flash version, it is still available on the website for a limited time but, in my opinion, you might as well just get used to the new versions since it is just a matter of time before Flash will not be available in any browsers.
The X version is a tool to use if you just need some quick fixes for your images, and it can be a great way to create some cool images fast.
You can for example easily add text, add pre-made effects, adjust colors and light, rotate or crop images, and more.
Pixlr E gives more opportunities but if you are a beginner this might also be a bit overwhelming. But if you have some experience and want more choice and tools, then this is the version you should go for.
So no matter your needs, Pixlr offers quite good options.
Is Pixlr safe?
It is, of course, important what you can use a photo editing tool for.
But honestly, many of the editors offer many of the same features. Therefore, it is not only the features you need to look at, but it is also very important to make sure the one you choose is safe.
I have used Pixlr for a few years by now – I mostly use it for small adjustments of images to prepare them for the web, but I have had no problems at all.
It is a reliable company and in my experience, it definitely is a safe tool to use. And the tool has continuously been updated since I first started using it which is a great sign.
Of course, it is always good to read through the terms and conditions of any tool or service you use. So this is of course also good to do when it comes to Pixlr if you want to know exactly what the terms are.
How to get it?
Pixlr is a bit different from many other photo editing tools in the way you get access to it.
You actually do not have to download it if you want to use it on your computer. You just open it directly in your web browser.
This has both advantages on disadvantages.
The advantage is that you do not have to download Pixlr to start using it. You can just access it from any computer which is very handy.
And you do not have to create an account, give your email, or anything like this to start using it.
The disadvantage can then be if you want to edit images when you are not online – you need internet access to be able to use Pixlr for desktop.
A great thing about Pixlr is, however, that is also easy to use on mobile if you need to be able to edit images on the go.
You can download the Pixlr app for free from both the Google Play Store and the App Store.
So it is very easy to get. You just need to find out when you mostly need to edit images and then use the solution that works best for you.
If you need to edit images on a desktop without internet access, Pixlr might however not be the best solution for you.
Is Pixlr really free?
Pixlr is known as a free photo editor – but is it really free?
Yes, you can use Pixlr completely for free – both the app and the web browser version.
The reason it is free is that you will see ads in the editor. They are non-intrusive ads, so they do not really disturb the experience.
So, in my opinion, it is a win-win that they show a few ads that make it possible for them to pay their bills, and then we get to use the tool for free.
If you do not wish to have ads, you can, however, upgrade to a pro version of Pixlr.
The pro version gives you access to use the tool without any ads, but it also gives you several other features, for example, gives you access to more templates, premium fonts, and access to royalty-free images.
There are three different pricing options as you can see in the image above. The prices you can see in big is if you pay yearly. If you choose to pay monthly it will be twice more expensive.
For a premium photo editor, this is definitely cheap.
But the free version can also do a lot, and depending on your needs it definitely might be enough to just have access to the free version.
Final verdict
To answer two questions clearly that many people have about Pixlr – Yes, Pixlr is free, and in my experience, it is definitely also safe.
This does not mean it will necessarily be the right tool for you. So let's finish this review by summing up the pros and cons so you can get a better overview.

Pros:
Free to use
Available on mobile through its own app
Has many features

Cons:
Can be confusing to use at first
You need internet access to use it on desktop
I am myself using Pixlr for simple tasks to optimize images for websites. But it has the potential to do much more than this.
It is in my opinion quite impressive what you get access to with a free tool like this. If it will be the right tool for you or not, depends on your needs.
If you need access to edit images on your desktop without internet access, it is not the right tool. But if you want to have a free way to edit images and have internet access most of the time, it definitely can be a good option.
I personally prefer using other tools as well for creating graphic elements like headers, banners, etc for my websites, as some of these, in my experience, are more user-friendly for some parts of the process. You can read about the FREE tools I use to create graphic elements here.
But overall, Pixlr is definitely a great tool, and there is no risk in testing it out, as it does not cost you anything.
If you have any comments, questions, or have any experiences with Pixlr yourself, I would love to hear from you in a comment below.