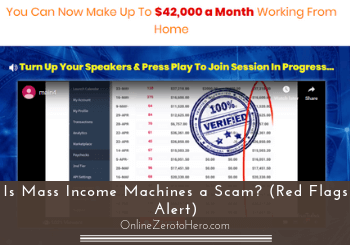 Is it possible to earn $42,000 a month on autopilot from the comfort of your very own home? One system that I came across claimed it is.
This program is called Mass Income Machines and it's a new system that promises people the opportunity to earn huge amounts of money the easy way.
First of all, I would like to welcome you to my review and I'm sure that you would also like to know if this program is the real deal.
Before you make your final decision, let me first share with you some of the important info I got when I did my own investigation about this program.
This review will provide you the info that you need, so you can answer the question – is Mass Income Machines a scam or it is an opportunity that you can rely on?
Mass Income Machines at a Glance
Training

Tools

Value for Money

Income Potential
Summary
Mass Income Machines is a program that claims it can provide people an opportunity to earn $42,000 per month on autopilot. Jacob Allen, its creator and owner, also claims it's easy to make money using this system.
In my opinion, there's no shortcuts or loopholes to making money online and you can't get rich overnight using a secret system. Honestly, the claims on their sales page are too good to be true, although I'm not saying that earning $42k a month is impossible but it can't be done using an automated system.
I don't recommend this program because it contains several significant red flags that. In my opinion, this makes it a risky investment. There are several legit opportunities on the web that you can take advantage of, but keep in my that you will need to invest time, effort and some patience to succeed in this field.
Click to See My Top Recommended Way to Make Money Online Instead
What is Mass Income Machines and what does it offer?
The first time I watched their sales video, I was a bit skeptical when I saw the claims being presented by their spokesman.
According to Jacob, this system is a way to make money online, but you don't need any special skills or previous experience to succeed.
He said that this system is so powerful that it could provide a win-win situation for everyone involved. This means that when someone makes money, everyone in the group will also profit.
Jacob will also claim that this system is the perfect solution for anyone who is looking for a better way to earn income online.
He will also show you several proofs like opening a brand new ClickBank account and how it earned profits after just a few days and some visual representation of money that is flowing to his bank accounts.
Mass Income Machines Warning signs
The moment I saw their sales page and the amount of money that they claim I can make through their system, it truly got my attention.  I never expected that they can promise people that it's easy to make $42,000 a month.
Some people do make this kind of money online, but it can't be done overnight and there is no automatic system that can provide you with this kind of money without doing anything at all.
However, I'm not here to make assumptions without conducting my own investigation, so I did a thorough investigation of their sales page and I have uncovered several red flags from their site.
Here are some of the warning signs that you should know about.
Warning Sign #1 – Is it really easy to make money online?
The very first thing you will notice on their video is the sales pitch of Jacob that their system is so easy to set up and profit from.
Also, the way he explains the whole process sounds like it's simple to make money online. In fact, it would only take you 4 minutes to set up and you're already integrated with their system and that is where the money flow's in.
I know it's exciting to see the income proofs on their sales page, but in reality, we can't verify that he really made that money using their system.
In my opinion and experience, having a decent income online can be achieved, but it can't be done overnight. You'll need to invest your time, effort and a bit of your money to succeed.
So, when Jacob creates the ClickBank account and shows the money he earned from it but failed to show how he has achieved this using the system he is selling, it doesn't really prove anything at all in my opinion.
I consider this as a significant red flag because he is claiming that it's easy even for a complete beginner to earn $42k a month, but he is NOT interested in showing how someone without any experience in online marketing can achieve this.
Warning Sign #2 – Is Jacob Allen a real person?
The supposed owner of Mass Income Machines is Jacob Allen, but when you visit their site you can't find any info of who he really is.
In my opinion, it seems like they forgot to put the details of the owner from their sales page or they don't want us to know who the real owner is.
However, when you scroll down to the bottom of their page, you'll soon find out that they have written a notice that they have used pen names Jacob Allen and John Forbes on their website.
The reason why they did this is due to the purpose of privacy and delivery, which means they want the real names of the owners of this program to be private or hidden.
So, is Jacob Allen a real person? Based on their disclaimer, it's clear that he is NOT and you're not allowed to know who the real owners of this program are.
This for me is another big red flag because there's no way for you to contact them or at least know about their background before you decide to purchase their product.
How can you trust a program when you don't even know who the real owners are? I think you should take this into consideration when making your decision.
Recommended: Click to See the Best Way to Make Money Online
Warning Sign #3 – Is Mass Income Machines and Profit 24/7 affiliated?
In one part of their sales video, you will notice that they reference Profit 24/7.
I'm not sure if this was a mistake on their part, but when I did my research about this particular program, I found out that Profit 24/7 was also owned and sold by a so-called Jacob Allen.
I also saw several reviews about it on the web and it got a lot of negative publicity, which I think is the reason why Profit 24/7 is no longer available or was shut down by its owner.
Also, these two programs also used the same domain name – makemoneyonline.network, which is another factor to think about.
I'm not saying that Mass Income Machines is just a rehashed version of Profit 24/7, but in my opinion, this is a big red flag and it's clear that there are some inconsistencies in this program making it a risky investment.
Warning Sign #4 – Is $37 enough for this program or can you expect some upsells?
Another thing you need to know about this program are the upsells after the initial purchase, because it was not mentioned in the sales video.
So, I checked their program on the ClickBank marketplace and I found out that they are offering 3 upsells that their affiliates can get commissions from.
In my opinion, this is a clear indication that you will spend more than $37 if you decide to purchase this program.
I haven't been able to confirm the costs of these upsells, but the fact that they are not transparent enough to mention it on their sales video is, for me, another warning sign that you should think about.
Warning Sign #5 – Where are the legal pages?
Another red flag that I found on their sales page is the lack of legal pages from their site. These pages will consist of the privacy policy, terms & conditions and the income disclosure.
Why are these legal pages important?
It's essential because it gives you an overview of the guidelines they follow in their program. One good example is the guidelines in their income disclosure, where you can read if they can guarantee your success or not.
Most of the time, these programs cannot guarantee your success, since they know that there is no shortcuts or loopholes in making money online.
In fact, it requires dedication and time to learn the proper steps in creating a decent income online and there's no way around it.
You should also be wary that there's no privacy policy, especially that they are requiring you to enter your email address on the form on their sales page.
It's important that you know how they will use the data you give them before joining any program.
However,  if you cannot see this information, it is, therefore, in my opinion, something you definitely need to consider before joining
Final verdict – legit or scam?
I have given you all the information you need based on the investigation I did on their sales page, and my experience with internet marketing in general. So I'm sure that you can now choose the right one decision for you.
Many people will think that Mass Income Machine is a scam, but it will really depend a lot on your expectations, your budget, your previous skills, etc.
But I do however think that the red flags I have shown in this review are things you definitely need to take into consideration when deciding.
To help you get a better overview before deciding if it is the right program for you or not, let's sum up the pros and cons.
Pros
60-day money back guarantee
Cons
The system is not clearly explained by its creator
There's no reference of who the real owner of this program is
There's  a possibility that Mass Income Machines is rehashed version of Profit 24/7, which was branded as a scam program by several reviews on the web
You can expect 3 upsells after your initial purchase of $37
There are no legal pages on their sales page
Honestly, I don't recommend this program because it has several significant red flags that make it a risky investment in my opinion.
I suggest that you look for other legit opportunities on the web that can provide you with the best chances of making money online.
Is there a better alternative?
A lot of people are looking for a better way to make money online, but you'll need to understand that there's no shortcut or easy method to do it.
You will need to invest time and effort in training yourself and learn the best and most ethical ways to do it.
I have a FREE guide about making money online where I share all the methods and steps I use. I highly recommend that you check it out, so you can know how to create a decent income online.
The guide will even show you how you can get started completely for FREE.
If you have any comments, questions, or have any experiences with Mass Income Machines, I would love to hear from you in a comment below.