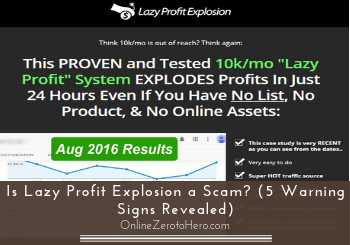 Do you want to make 10K per month even if you're lazy? According to the creators of Lazy Profit Explosion, it's possible through their system.
If you're one of those people who is searching for a better way to make money online, then chances are you have found their sales page on the web.
I would like to welcome you to my review, and it's good that you're conducting a bit of a research about this system. I know there's a lot of systems out there that are claiming they can provide you the opportunity to earn huge sums of money online.
In reality, there are some programs that are not so good because they provide unrealistic claims, and they fall short in delivering the results that they have promised in their sales videos.
However, there are some good training platforms that can give invaluable information about making money online.
That's why I'm going to show you all the information about this program, so you'll be in a better position to make your own decision if this system is really for you or not.
Is Lazy Profit Explosion a Scam? You'll soon find out from this review.
Lazy Profit Explosion at a Glance
Training

Tools

Value for Money

Income Potential
Summary
Lazy Profit Explosion is a training program about video marketing on YouTube that promises people the opportunity to earn 10k per month. It may seem too good to be true, but it's actually possible for seasoned online marketers, who already have built their list and who knows how to run an effective video marketing campaign.
However, I still don't recommend this program for beginners especially if you don't have the technical know-how on how to create your own video ads, because you will be forced to invest a lot money in hiring a freelancer to create the video for you.
Click to See My Top Recommended Way to Make Money Online Instead
What is Lazy Profit Explosion and what does it offer?
Lazy Profit Explosion had already been launched in 2016, but the owners relaunched this program last November of 2018. This is not a new system and has been around for several years now.
Based on their sales video, it is a system that uses paid ads on YouTube and claims that it can provide you with an opportunity to make $10k per month.
The narrator also claims that it's designed for beginners because it's easy to set up using a simple step-by-step method.
You're not required to create a website, nor do you need the skills to run the campaign. However, you'll need to have an offer and what they mean by this is that you will have the option to promote a product on ClickBank, which is an affiliate platform.
So, you won't make any money if you don't have something to promote or sell. Once you have decided which one of your product/service to promote, you'll need to create a simple video around it.
Basically, you'll be creating video ads within regular YouTube videos, set up a bid using relevant keywords, then let Google do its thing.
The key thing here is to place a bid in Google Adwords, so your video ads will show up on YouTube. This means that you'll need to place a higher bid, so your ads will be prioritized over other video ads.
Recommended: Click to See the Best Way to Learn Proper Affiliate Marketing
Lazy Profit Explosion warning signs
The idea that you can easily earn 10K per month using their system without a website or any other online assets, in my opinion, is just an overhyped projection.
In any online endeavor including affiliate marketing, it's important to understand that you'll need to invest your time and effort as well as have a positive mindset to succeed.
Affiliate marketing is a legitimate opportunity online where you can promote a product or service of a company through your website, blog or social media account.
You eventually become an affiliate of that particular business, and your income will come from commissions whenever a lead that you redirected to your company's sales page bought their product or service.
However, there's no such thing as easy money because there will be NO shortcuts or loopholes in making money online. No matter how many claims they show on their sales page, affiliate marketing doesn't work that way.
Proper training and execution are still required in affiliate marketing, and you won't earn money in 24 hours after you launch your campaign.
But how did they earn money right away? They clearly showed it on their sales video.
In my opinion, these guys pulled it off because they already have an established list and they've used that in their campaign.
In general, it is possible to make money when you just start a campaign. But if people are just starting out and have no experience it is however not likely.
So, the claims they make about it being possible to make the kind of money they say is very likely true – it is just not possible for a newbie to replicate it.
There were other warning signs that I've also found on their site that I will enumerate in this review.
Warning sign #1 – Misleading introduction that leads you to believe this is a done-for-you system
When you check their sales page, you'll be prompted with a big title text saying that their system is a proven method of earning 10k per month even if you don't have a website, list, product, or any other online assets.
You'll also see several earning claims of Raj, which is one of the owners of this program and they will show a lot of these incredible earning claims all throughout the sales video.
The narrator will highlight all the big earnings without properly explaining what this system is all about, so you will be clueless about what they are really selling.
If you just rely on the information on the sales video, you will think that this is a done-for-you system, while in fact, they are selling training videos about video marketing on YouTube.
In my opinion, it is essential that they show what their product really is from the very start of their sales video, rather than showing those huge earnings and hiding the true nature of their product.
This will give prospects an idea that this is actually a course and not an automated system.
Warning sign #2 – Is this system really for beginners?
When you sign up to this program, the very first piece of content you will receive is a PDF that contains the overview of the training they have set up for you.
This will include some instructions on how to create a video of your offer. If you don't have a product or service, you can browse ClickBank and find a suitable product that you will promote using their system.
If you're not familiar with ClickBank, it is actually an affiliate marketing platform where you can promote various digital products. It's one of the most popular platforms in affiliate marketing.
However, you'll need to be an affiliate first of that product and acquire your own affiliate link before creating a video ad about it, or else you won't earn anything from your campaign.
Within the PDF, they will also suggest that you hire a freelance video editing expert on Fiverr.com, so your video and will look professionally made once you upload it on YouTube.
The problem with this method is the fact that most newbies will lack the experience in creating content for their ads. Of course, it's essential that you already have content before you contact the freelance artist on that platform.
Not to mention that most newbies will not be familiar with Fiverr and that adds to the complexity of this method. Also, hiring a freelancer cost money and you should be will