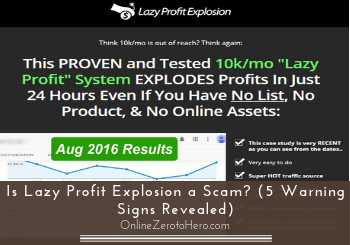 Do you want to make 10K per month even if you're lazy? According to the creators of Lazy Profit Explosion, it's possible through their system.
If you're one of those people who is searching for a better way to make money online, then chances are you have found their sales page on the web.
I would like to welcome you to my review, and it's good that you're conducting a bit of a research about this system. I know there's a lot of systems out there that are claiming they can provide you the opportunity to earn huge sums of money online.
In reality, there are some programs that are not so good because they provide unrealistic claims, and they fall short in delivering the results that they have promised in their sales videos.
However, there are some good training platforms that can give invaluable information about making money online.
That's why I'm going to show you all the information about this program, so you'll be in a better position to make your own decision if this system is really for you or not.
Is Lazy Profit Explosion a Scam? You'll soon find out from this review.
Lazy Profit Explosion at a Glance
Training

Tools

Value for Money

Income Potential
Summary
Lazy Profit Explosion is a training program about video marketing on YouTube that promises people the opportunity to earn 10k per month. It may seem too good to be true, but it's actually possible for seasoned online marketers, who already have built their list and who knows how to run an effective video marketing campaign.
However, I still don't recommend this program for beginners especially if you don't have the technical know-how on how to create your own video ads, because you will be forced to invest a lot money in hiring a freelancer to create the video for you.
Click to See My Top Recommended Way to Make Money Online Instead
What is Lazy Profit Explosion and what does it offer?
Lazy Profit Explosion had already been launched in 2016, but the owners relaunched this program last November of 2018. This is not a new system and has been around for several years now.
Based on their sales video, it is a system that uses paid ads on YouTube and claims that it can provide you with an opportunity to make $10k per month.
The narrator also claims that it's designed for beginners because it's easy to set up using a simple step-by-step method.
You're not required to create a website, nor do you need the skills to run the campaign. However, you'll need to have an offer and what they mean by this is that you will have the option to promote a product on ClickBank, which is an affiliate platform.
So, you won't make any money if you don't have something to promote or sell. Once you have decided which one of your product/service to promote, you'll need to create a simple video around it.
Basically, you'll be creating video ads within regular YouTube videos, set up a bid using relevant keywords, then let Google do its thing.
The key thing here is to place a bid in Google Adwords, so your video ads will show up on YouTube. This means that you'll need to place a higher bid, so your ads will be prioritized over other video ads.
Recommended: Click to See the Best Way to Learn Proper Affiliate Marketing
Lazy Profit Explosion warning signs
The idea that you can easily earn 10K per month using their system without a website or any other online assets, in my opinion, is just an overhyped projection.
In any online endeavor including affiliate marketing, it's important to understand that you'll need to invest your time and effort as well as have a positive mindset to succeed.
Affiliate marketing is a legitimate opportunity online where you can promote a product or service of a company through your website, blog or social media account.
You eventually become an affiliate of that particular business, and your income will come from commissions whenever a lead that you redirected to your company's sales page bought their product or service.
However, there's no such thing as easy money because there will be NO shortcuts or loopholes in making money online. No matter how many claims they show on their sales page, affiliate marketing doesn't work that way.
Proper training and execution are still required in affiliate marketing, and you won't earn money in 24 hours after you launch your campaign.
But how did they earn money right away? They clearly showed it on their sales video.
In my opinion, these guys pulled it off because they already have an established list and they've used that in their campaign.
In general, it is possible to make money when you just start a campaign. But if people are just starting out and have no experience it is however not likely.
So, the claims they make about it being possible to make the kind of money they say is very likely true – it is just not possible for a newbie to replicate it.
There were other warning signs that I've also found on their site that I will enumerate in this review.
Warning sign #1 – Misleading introduction that leads you to believe this is a done-for-you system
When you check their sales page, you'll be prompted with a big title text saying that their system is a proven method of earning 10k per month even if you don't have a website, list, product, or any other online assets.
You'll also see several earning claims of Raj, which is one of the owners of this program and they will show a lot of these incredible earning claims all throughout the sales video.
The narrator will highlight all the big earnings without properly explaining what this system is all about, so you will be clueless about what they are really selling.
If you just rely on the information on the sales video, you will think that this is a done-for-you system, while in fact, they are selling training videos about video marketing on YouTube.
In my opinion, it is essential that they show what their product really is from the very start of their sales video, rather than showing those huge earnings and hiding the true nature of their product.
This will give prospects an idea that this is actually a course and not an automated system.
Warning sign #2 – Is this system really for beginners?
When you sign up to this program, the very first piece of content you will receive is a PDF that contains the overview of the training they have set up for you.
This will include some instructions on how to create a video of your offer. If you don't have a product or service, you can browse ClickBank and find a suitable product that you will promote using their system.
If you're not familiar with ClickBank, it is actually an affiliate marketing platform where you can promote various digital products. It's one of the most popular platforms in affiliate marketing.
However, you'll need to be an affiliate first of that product and acquire your own affiliate link before creating a video ad about it, or else you won't earn anything from your campaign.
Within the PDF, they will also suggest that you hire a freelance video editing expert on Fiverr.com, so your video and will look professionally made once you upload it on YouTube.
The problem with this method is the fact that most newbies will lack the experience in creating content for their ads. Of course, it's essential that you already have content before you contact the freelance artist on that platform.
Not to mention that most newbies will not be familiar with Fiverr and that adds to the complexity of this method. Also, hiring a freelancer cost money and you should be willing to invest in this as well.
Overall, their system is in my opinion NOT beginner-friendly and will require some form of training in content creation – without it you are left out in the wild.
If you're a complete newbie and you decide to purchase this program, then expect to invest a lot of money in just creating your video ad, since you will really need the help of a video editor from a freelance platform.
Warning sign #3 – You don't need a product, website or experience to earn money online?
Another significant warning sign from their sales page is the claim that you don't need a website, product, or experience to use their system.
This is another confusing claim that I find misleading since the narrator did not discuss it well on the sales video.
If you're going to accept this claim in face value, it only means that their system is laid out for you that you don't need to do anything else except follow the simple steps in their course.
However, this is not the case when you are in their program. The reason why a website is no longer necessary in their system is that you're going to use your video ad to funnel the leads into the product or service you are promoting.
In short, you will engage in affiliate marketing and that entails a lot of activities like choosing the niche, the best product/service to promote, and the relevant content you will use in your video ad. This is no easy work and you will need experience and proper training to accomplish these tasks.
In my opinion, if you're a total beginner with no experience in affiliate marketing, then you will spend a lot more since you will need to hire an expert to do all the tasks that I mentioned above, or you can spend a lot of time learning it yourself.
Warning sign #4 – How good is the course?
As I looked closer into their course, I found out that it will contain 4 modules that will tackle the following topics:
Module 1 – Basic introduction to the course and how to set up your video ad. There are other videos that will tackle about niches, but it won't tell you the most profitable niches to use in your campaign.
Module 2 – How to link your YouTube channel to your AdWords account. The video will also have a brief explanation of how YouTube ads work including the display and inline ads.
Module 3 – How to track and monitor campaigns through Google AdWords.
Module 4 – How "remarking" works and what you need to do to show your video ad to certain groups of audience.
Based in my experience, the topic on the training videos is a bit basic and if you're resourceful enough and search for it on the web, you may even find several free resources that teach the same topic.
Although this is just my opinion and some people may find value in their training, so it could be useful to those who are still new to video marketing.
However, if you're going to promise people 10k per month then at least provide them with an innovative or insider way of creating video ads that they can only learn from your program. Not the common stuff that is already found on the web.
Warning sign #5 – $16.95 is not enough, there will be upsells inside
After you purchased the basic course, you will be prompted to two more upsells. The first one will be the pro version of the course which costs $27 but will drop to $17 after the discount is activated and will include a WordPress plugin that will help you with your campaign.
This is again another confusing upgrade from the basic course since they are giving away a WordPress plugin that is commonly used in websites.
I thought websites are no longer necessary in their system?
The second upgrade is the master template which will cost you $47 and will drop to $27 after the discount is activated. This is the exact template the Raj used to make the whole system work, and you can just copy paste this template to your own campaign.
The problem in cloning templates is the fact that each campaign is unique and the template that Raj used may be well suited to his niche including the product that he promoted on his video ads.
However, it might not be tailored to your own campaign, so it will not be as successful as you expect it to be.
Although sometimes adapting someone else's campaigns can be a good way to create success if you know what you are doing.
But this can be a deal breaker, especially if you have already spent a lot in buying these upgrades only to find out that they will not yield that results that you're looking for.
Warning sign #6 – They cannot guarantee your success based on their disclaimer
When you read their disclaimer, you will find out that even they don't believe in getting rich quick. They even stated that you're required to invest money, time and effort before you can become successful.
They will even say that the information presented on their site is just for motivational and entertainment purposes.
In my opinion, in any type of endeavor, whether that be online or in real life, there's no such thing as easy money through automated means.
No matter how good they presented their training on their sales video, it's essential to point out that hard work will still be a requirement.
As you can see in their disclaimer, even the creators themselves know about it and not just me.
Final verdict – legit or scam?
After I presented the information on their sales video and the overview of their training, it's time for you to decide if this course is legit or scam.
Here is the overview of my entire review:
Pros
It is a training program about video marketing using the YouTube
30-day money-back guarantee
Cons
The program is a basic course about video marketing on YouTube
You will not learn any new revolutionary methods in video marketing
The income claims leave the impression that it's a done-for-you system
The campaigns rely on paid traffic via AdWords which can become costly in time
They will claim that you don't need experience, while in fact, it's essential in online marketing
Overhyped sales video making you believe that it's easy to earn 10k per month
Overall, I'm NOT recommending this system or course due to the many warning signs that I have already enumerated in this review.
The most significant red flag is the way they introduce their product on their sales page, which gives you the impression that it's easy to earn 10k per month, which is unrealistic in the real world.
I think it's best for you to look for other ways to make money online rather than invest on something that is not proven and will not guarantee you success.
But wait before you leave, there's a better alternative!
Many are looking for a way to earn a decent income online, but you'll need to understand that there's no shortcut or easy method to do it.
Like any other endeavor in life, you will need to undergo proper training and you must develop a positive mindset to reach your goal.
If you're interested in having an online income, I highly recommend that you start with affiliate marketing. It is how I make money online and it's a viable opportunity that you should take advantage of.
I have a FREE guide about making money online where I share the steps and methods I use, I highly recommend that you check it out.
If you have any comments, questions, or have any experiences with Lazy Profit Explosion, I would love to hear from you in a comment below.