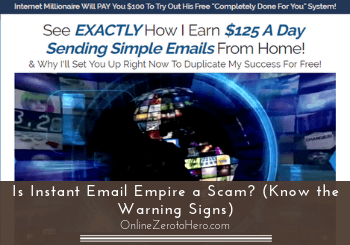 I came across a program called Instant Email Empire that claims it is easy to make tons of money using a simple new system.
The system also claims it will run on autopilot, which means you can earn an income even when you're sleeping.
If you have visited their site then chances are, their claims might have got your attention. This could also be the reason why you found my review because you want to know if this program is the real deal.
So, is Instant Email Empire a scam or a legit online opportunity you can rely on?
This Instant Email Empire review, will give you all the details as there are some important things you are not told before you join. That way you know exactly what to expect and can then decide if it really is for you.
Instant Email Empire at a Glance
Training

Tools

Value for Money

Income Potential
Summary
Instant Email Empire is a program that claims you can easily earn $125 per day using a done-for-you system. Their business model revolves around email marketing and sending mass commercial email messages to a subscribers' list that they will also provide once you pay the initial fee.
The main concern I have with this program is how they market their program as a done-for-you system that can provide you with an opportunity to easily earn a decent income online.
But in reality, you're just paying them for low-quality subscribers and you, in turn, become their affiliate in the process, since you will promote the same system to other people.
As for me, I don't recommend this program due to the many red flags and risks involved when joining it. I would suggest that you find other legit and worthwhile online opportunities that could truly provide the results that you're looking for.
What is Instant Email Empire and what does it offer?
The first time I saw the sales video of Instant Email Empire, I was a bit skeptical because it starts off with various news reports about working home using the Internet and the many benefits it can provide people.
Honestly, it was a bit over the top because it's just a compilation of old news clips that have nothing to do with their program, which I think is just being used to get your attention and to keep you interested to what the real offer is.
Anyway, this program is all about replicating a supposedly proven method of making money online through email marketing.
According to the narrator, he will share a system that can help you easily make $125 per day just by sending simple emails.
After some time in the video, he will introduce himself as "Bobby," a self-proclaimed internet guru who made over $1.4 million just by using this so-called proven system.
Bobby will also tell you about his background and that he was once an ordinary guy who was struggling in life, but suddenly became super successful because he found a secret system that has provided him the money he now has.
And because he is very thankful for his success, he wants to share it with other people and he wants to partner with you, so you can also earn that kind of income.
Honestly, his life story is pretty much standard, and it is another run of the mill tale I have seen many times before.
I have already done several reviews in the past on programs that use the same automated or done-for-you scheme, and they are using more or less the same back story that the creator was once struggling but was saved by the system they discovered, which they are now selling to you.
Instant Email Empire Red Flags
The prospect of earning an easy $125 per day is very attractive – especially when the process will run on autopilot.
However, that is not really how it works in real life – especially if you're still a newbie in the field of online marketing.
I'm not saying that it's impossible to earn that kind of money per day, because this is definitely possible to make per day and it is also possible to make with email marketing. But as a beginner, it will take you some time to achieve that.
There are no shortcuts or secret systems that can speed up the whole process – you'll need to invest some of your time, effort and patience before you succeed.
This is the main reason why I conducted an in-depth investigation of this program, and I found several red flags that I think you should know about so you know what you can really expect before investing any time and money.
Red Flag #1 – Buying 5,000 hungry subscribers for $34
Creating an account in this program is free but their system will revolve around email marketing, so it's essential that you have subscribers.
If you're still new and haven't heard about email marketing before, it's actually a digital marketing strategy where you send commercial messages to a group of people or relevant leads that might be interested in the product or service that you are promoting.
One of the important elements of email marketing is the number of contacts you have on your list, because the more people you send your email to, the better your chances of selling your product or service.
Based on what Instant Email Empire claims on their sales page, you will be provided with 5,000 subscribers or contacts that will fill your list and you can already send them your email ads.
Actually, for the price of $34, it 's cheap but what I don't like about this method is the quality of the subscribers they will send you.
In my opinion, if you build your own list using a contact form in your site then you know you got high-quality subscribers who are really interested and relevant to what you offer.
However, this is not the case with this program since you don't know the true origin of these subscribers and if these subscribers really gave them the permission to sell their contact details.
Always take into consideration that there are privacy laws that are now being enforced by authorities. If you are charged with spamming, then it might cost you thousands of dollars in fines and a civil case that comes with it.
That's why this is a clear red flag and something you should think about when you make your final decision.
Red Flag #2 – Bobby is a Fiverr Actor?
The spokesman on their sales video is NOT actually Bobby but a Fiverr actor, so he is not who he says he is.
Therefore, it is also safe to say that he is NOT a millionaire internet guru and he's not the owner and creator of this system.
I also want to point out that there's no reference to Bobby in their sales page, and who the real owners of this program really are.
It's also clear that you won't know who you are dealing with since the creators of this program are not transparent enough to share their contact details.
It's really ironic, isn't it?
Since the business model of the program revolves around email marketing, but the creators of this system are not interested in sharing their contact details.
I think you should take this red flag seriously, because if they are deliberately hiding the true owners of their program, then you can't be sure if their claims and promises are real.
Recommended: Click to See the Best Way to Make Money Online
Red Flag #3 – You pay them to become their affiliate?
After you sign up for a free account, you'll then need to pay $34 for the possibly low-quality email leads amounting to 5,000 subscribers.
However, that's not the end of it since you will need to subscribe to "Builderall," which will cost you for another $29 per month. Builderall is a digital marketing platform that offers several tools to help online marketers in their marketing campaigns.
Once you subscribed to Builderall, you will then be able to send out mass emails to those subscribers that they have provided.
This means you can send out multiple emails in a day to those subscribers, which I think is not a good way of doing email marketing because sending a lot of emails in a short timeframe could lead to spam. Especially if you are not sending emails with high quality that really give your subscribers value.
Another red flag I found here is the email swipes or pre-written emails that you will use in your email marketing campaigns.
These pre-written emails are all geared to promote Instant Email Empire, so in short, you paid them to become their affiliate.
If you're not yet familiar with affiliate marketing, it is a legit business model where you promote the products and services of other people or company online.
You get paid every time your referral or leads that you funneled to their sales page buys their product. You'll need to be an official affiliate of that company before you can receive commissions from them.
The main concern I have with this program is how they market their program as a done-for-you system that can provide you with an opportunity to easily earn a decent income online.
But in reality, you're just paying them for low-quality subscribers and you, in turn, become their affiliate in the process, since you will promote the same system to other people.
This is another red flag that you need to consider when making your decision about this program.
Red Flag #4 – They cannot guarantee your success
Another significant red flag that I found on their site can be found at the very bottom of that same page. If you look closely at their earnings disclaimer, you will see that they cannot guarantee that you will make money using their system.
They even stated there that you "assume all risk related to investment and money based on your own discretion and at your own potential expense."
This means that if you don't make money even if you follow all the steps on their training, you can't blame them, because you know all the risks involved even before you join their program.
This statement is very different from what they are saying in their sales video. In fact, they didn't even tell you that their system contains risks that could put you in a precarious situation.
One of the risks I'm referring to is sending pre-written emails to a list that they have provided when you paid for the initial fee, which, in my opinion, could lead to spamming and you might receive several complaints due to this unethical activity.
There's also a strong probability that you will pay unnecessary fines, which could potentially be a lot more expensive than $34.
That's why you need to take this red flag into consideration before you decide to join this program.
Final verdict – legit or scam?
I have shared all the info and red flags I have uncovered when I did my own research about Instant Email Empire.
It's up to you to decide if this program is legit or another scam that you need to stay away from.
Honestly, your answer will all depend on your own perspective, because if you find value in what they offer in this program, then it might, after all, provide you the results that you are looking for. Although you just need to be aware of the risk so you know what you are getting into.
To better help you make the right decision and get a better overview, let's finish this review by summing up the pros and cons below.
Pros:
None
Cons:
You don't know the origin of the subscriber's list that they will provide
You will send pre-written emails promoting the same system which is a bit spammy
You don't know the real creators or owners of this program
There's a strong possibility that you will receive spam complaints
They cannot guarantee your success
As for me, I don't recommend this program, simply because of the many risks involved when joining it.
I would suggest that you find other legit and ethical ways of making money online.
How I make money online
If you're looking for a better and more transparent way of creating a decent income online, I urge you to check out my step-by-step guide, where I laid out all the essential steps I took when I started out in affiliate marketing.
These are the exact steps I have used to create a full-time income online, and I still use it now because it's the most ideal way of making money online.
You can follow the steps I took and prove to yourself that with the right method, training, and mindset you can create a decent income online.
If you have any comments, questions, or have any experiences with Instant Email Empire, I would love to hear from you in a comment below.