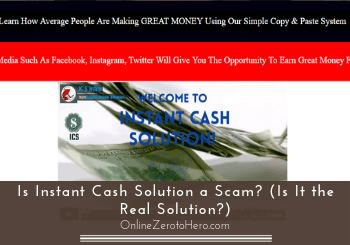 I recently saw a website that claims it can help you earn $100-$500 a day just by copying and pasting ads online.
This program is called Instant Cash Solution and it's being run by Rich Meyer, who says he's a professional online marketer.
If you came across this program, then you might want to know if it's the real deal or not since it almost sounds too good to be true. You'll apparently only need to copy-paste pre-written ads and wait until the money flows in.
So, is Instant Cash Solution a scam or a really legit opportunity online?
I must admit I became skeptical as soon as I saw the name as I have been working online for several years and know instant cash is not really how it works.
When doing further research, I spotted some important information you need to know and at least consider before joining.
In this Instant Cash Solution review, I will share the details I found with you, so you will be able to see if it will really be for you or not before joining.

Instant Cash Solution at a Glance
Training

Tools

Value for Money

Income Potential
Summary
Instant Cash Solution is a program that claims it can provide you an opportunity to earn $100-$500 per day just by copying and pasting pre-written ads on various social media sites like Facebook, Twitter, Instagram, Craigslist, etc.
It employs a done-for-you business model because you are not required to do anything else except posting pre-written ads on social media sites until the money flows into your account, which I think is unrealistic.
In my opinion, making a decent income online requires more than that since you'll need to invest your time, effort and a bit of patience to succeed.
Honestly, I don't recommend this program since I have uncovered several red flags when I did my research that makes it a risky investment. I would suggest that you find other opportunities that could truly provide you the outcome that you are looking for.
Click to Read About My #1 Recommended Way to Earn Online Instead
What is Instant Cash Solution and what does it offer?
According to Rich Meyer, this is a done for you system that can provide you an opportunity to earn $1000-$3000 per month just by copy-pasting online ads.
As I delved deeper into this system, the more it reminded me of other programs with the same business model like Copy Paste Paydays, which also claims that you only need to copy paste their system to earn money online.
I'm not saying that it's not possible to earn $100-$500 per day, because this is definitely possible to do online.
However, there are no shortcuts or secret methods that can help you succeed in this field and making real money takes effort, time and persistence.
Anyway, in short this program is all about promoting it to other people, so once you purchase this program, all you need to do is encourage other people to promote it as well, and you'll earn commissions through your affiliate link.
You do get training, pre-written ads, and more included in your membership but let me just tell you right away that I am NOT a fan of systems where the main way to earn is by recruiting new members.
Creating a business based on this model carries too many risks, in my opinion. So let's go over some of these and some additional important things you need to consider before joining.
Instant Cash Solution Red flags?
It's just natural for you to be skeptical of any program that is claiming to provide you with a push button system to success.
Although their sales page is not as over the top as other make money online programs, we still need to scrutinize their sales video since we need to know if there are some discrepancies in their offer.
However, when I did a thorough investigation on their site, I found several red flags I think you should know about, so you can better make your own decision about this program.
Red flag #1 – The more you spend, the more you will earn
If you're planning to join this program then prepare to spend some money upfront, since there are 3 membership types they offer namely: bronze level ($100), silver level ($200), and gold level ($300).
All the packages will come with some training and resources that according to them will help you in promoting the same system.
The dilemma I have with this system is that they are encouraging you to buy the highest package, simply because of the commissions you can earn with that particular package and not the tools and training that comes with it.
They created a rule that each member will only earn commissions based on the package they buy in the program, so if you only spend $100 then you are only allowed to earn up to that amount in commissions.
In my opinion, this is a red flag because you are being pressured to spend more to gain the full benefit of the program, so the training per package is no longer valuable since they are more interested in highlighting the commissions.
Red flag #2 – Does copying and pasting pre-written ads work?
The most significant feature of this program is that it's super simple to use and set up. In fact, you're only required to copy and paste ads on social media sites like Instagram, Facebook, Craigslist and make money right away.
So, your main role is to post as many of these ads as possible on various social media sites.
Honestly, it is NEVER that easy because in any online business you'll need to spend some time to learn and gain skills that will help you in your endeavor.
If your only job is just posting pre-written ads, then you won't know how affiliate marketing really works and the requirements that you need to fulfill in order to succeed in this field.
You also need to understand that sharing duplicated ads on several social media sites will only make your posts look spammy.
In fact, if you are posting on free places it is not easy. Many Facebook groups will for example not allow that kind of self-promotion and the ones that do, will be overflown with other promotional offers and nobody will, therefore, pay attention to them anyway.
So, there's a high probability that your ads will be ignored and you'll have a hard time getting traffic into your affiliate link, which means you won't earn that much.
Also, these pre-written ads will often use hype and over the top sales pitches and social media sites might, therefore, tag them as spam and there is a strong probability that your social account might also get banned for posting them.
Another option is then to pay to get traffic. This can give you really great traffic if you know what you are doing. But if you have never done it before and just start making ads like this, you can end up wasting a lot of money before learning the skills.
And even if you get pre-written ads, targeting, etc. for the ads, it will not work just simply by posting them. Espeically not since all other members of Instant Cash Solution will do the same.
This is not how the algorithms of social media works – it is NOT as simple as just getting premade ads and text and then posting them. There are A LOT of policies, adjustments, optimizations, etc. you need to know how to do to have a chance of success.
Also, many networks will not allow you to promote affiliate links in their ads, so this makes it very difficult to use paid traffic to an offer like this.
You'll need to take this red flag into consideration before you make your final decision and join this program.
Recommended: Click to See the Best Way to Make Money Online
Red flag #3 – Recruiting people into the program to earn more money
Another option they advertise on their sales page is directly referring or recruiting people into the program and you'll earn $100 to $500 depending on the package they bought.
So, instead of earning the regular commissions via postings ads on social media sites, you can directly recruit people.
Now, why is this a red flag?
In my opinion, this is no longer a simple task to do like what they have promised on their sales video.
Another drawback to this business model is the fact that you're recruiting for the purpose of gaining money between $100 to $500  and not to help people gain knowledge or skills that can help them create their own income online.
It falls down to a vicious cycle of recruiting more people into the program, which in turn will also produce more recruits like a kind of MLM system so the value of the product is no longer important because it's now transformed into a numbers game.
If they are really confident that you can earn money by just following their system, then why do they need to resort to a recruiting method like this?
I think this is a significant red flag you should think since this is clearly a chain recruiting system that they are employing in this program.
In addition to this, a business built on a system like this is very risky, in my opinion. You will only earn by recruiting new members. But you will not learn any real marketing skills – even if it did work, what would you do if the program suddenly one day closed down?
You would be left with nothing and this way the business is not really in your hands and this is definitely a big minus, in my opinion.
Red flag #4 – They cannot guarantee your success and no refunds
Another red flag that I would like to point out can be found on their earnings disclaimer. It is clearly stated there that their program will have NO refunds.
This means that this program is NOT risk-free since you cannot get any refunds if you change your mind or if you realize that this is no longer a program for you.
Also, they cannot guarantee that you will make money even if you follow their system, which means if you join this program there's a high probability that you won't earn any income at all.
In my opinion, any product sold online must have a money back guarantee because every consumer has the right to get a refund if they are not satisfied with the product.
If there's no money back guarantee, then this program carries a lot more risks than other programs out there on the web.
Final verdict – legit or scam?
I have shared with you all the information and red flags that I found in this program.  It's now up to you to decide if it is something that can provide value to you or not.
To help you make a decision, let's finish this review by summing up the pros and cons of this program.
Pros
The program is based on affiliate marketing which is a legit business model
Cons
There is no refund
You'll need to spend more than $100 to earn more commissions
Copy pasting pre-written ads will only produce spam on social media sites
This program carries more risks than many other make money online programs on the web
Overall, I cannot recommend this system simply because they are claiming it's so easy to earn $100 to $500 commissions just by copy-pasting pre-written ads.
In reality, it takes more than that to make money online and you will need to invest your time, effort and a bit of patience to succeed in this field.
Also, if you follow a system that will only show you how to copy and paste ads on various social media sites, then you are not learning internet marketing skills that you can use to promote what you want to promote and take it in the direction you want to.
You are just copying and pasting and you cannot decide what you want to promote. This also makes it risky as you are dependent on that particular program to make money.
Even if you make it work, you do not really own your own business. If the program at some point decides to close down, you will be left with no income and also no skills to promote other programs online.
That's why I suggest that you look for other legit opportunities online that can really provide you with the outcome that you are looking for.
How I make money online
If you really want to learn the proper way of doing affiliate marketing, then I urge you to check out my step-by-step guide, where I laid out the best approach to take if you're still a beginner in this field.
It is the exact steps I have used to create a full-time income online, and I still use them as it is a very effective way to make money online.  You can follow the steps I took, so you can also have a great start at creating a decent income online.
My in-depth guide will even show you how you can get started completely for FREE.
If you have any comments, questions, or have any experiences with Instant Cash Solutions, I would love to hear from you in a comment below.