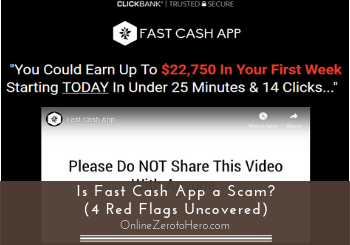 When you come across a program that promises to help you make $22,750 a week, it will surely get your attention.
This happened to me when I visited the site of a program called Fast Cash App. It's a new program being marketed on ClickBank that claims you can easily earn this kind of income.
I'm a bit skeptical about their claims and I want to know the truth about this program.
So, is Fast Cash App a scam or is it a legit opportunity online?
This is the 1-million-dollar question that we will answer in this Fast Cash App review where I will share with you all the information I have gathered about this program.
Hopefully, it can help you make an informed decision about this product and give you the opportunity to know exactly if this program is for you or not.
So, let's start.
Fast Cash App in a Glance
Training

Tools

Value for Money

Income Potential
Summary
Fast Cash App is a program that promises to help you make $22,750 a week using a done-for-you system and it is created by Robert Fisher.
In my opinion, the claim that you can easily earn $22,750 a week with just minimal effort is unrealistic, because making money online requires time, effort, and a bit of patience to succeed.
Also, another significant red flag is the lack of information regarding the true identity of the creators or owners of this program, since there's no reference of Robert Fisher anywhere on the landing page.
Honestly, I don't recommend this program because of the red flags I've uncovered from the site, so I would suggest that you find other legit opportunities online that can really provide you the outcome you are looking for.
Click to read about my #1 recommended way to earn online instead
What is Fast Cash App and what does it offer?
The first time I watched the sales video of this program, I found a remarkable resemblance to other done-for-you programs I have reviewed in the past.
Almost all of them will have a flashy headline that will really get your attention. Fast Cash App is no different because it claims it has a system that can easily generate over $22k per week within the first week.
Imagine how much you can earn with their system in a month? It could round up to about $88,000 per month, which is a bit outrageous.
According to their sales video, you can take advantage of this system if you pay a meager amount of $37 and you're not required to do a ton of work to make that kind of money.
Based on their video, the so-called creator of this system is Robert Fisher and he claims that he is a writer, researcher, and online business expert.
He also says that there's Multi-billion-dollar digital boom and you need to get a piece of it, which means you'll need to use their system to get that piece.
After the initial introduction, Robert goes on to talk about how much money others are making with his system, but it's all text and no photos of the so-called successful members of their program.
He is just literally enumerating the names of people without giving further proof of their income claims.
Overall, he doesn't reveal how the system really works, but he clearly points out it will run on autopilot.
Fast Cash App Red flags
When it comes to making money online, some people would like to use the easiest and most attractive method on the web.
But in reality, there are no shortcuts or hidden systems that can make you a lot of money overnight and without any effort.
Creating a decent income online takes time, effort and a bit of patience before you see some good results.
That's why when I saw the income claims in this program, I became skeptical and a bit more motivated to do an in-depth investigation of their sales page.
Fortunately, it's not that hard to see the red flags in their site, so I'm sharing this info with you and I hope it can help you make the right decision.
Here are some of the red flags I found on their sales page you need to be aware of.
Red flag #1 – Robert Fisher doesn't explain how his system works
When you watch their sales video, you will be bombarded with income claims and promises that you will earn a huge income when you use their system.
They will even target your emotions, so you will be encouraged to buy their program on impulse. But there is no proper and definitive explanation of how this system really works.
Based on Robert's own words, this is a system like no other and you haven't seen a program like this on the Internet.
In my opinion, if this is really a ground-breaking system then why won't he explain everything, so you'll know the whole process. Or at least give you an overview so you have an idea about what you are getting into.
If he is transparent about his system, then this will elevate his credibility and it will also erase the doubts of his prospects because it's clear that the system can really provide the results that he claims on the sales page.
However, this is not the case with Fast Cash App since it's not clear how the system generates the income that it claims it can provide.
This red flag should be taken into consideration before you decide to join this program.
Red flag #2 – Is Robert Fisher a real person?
Robert Fisher will only introduce himself once on the sales video, but you can't find any info about him on the sales page.
In fact, he didn't even share his photo or any contact details that will prove he is a real person. In my opinion, this is a significant red flag, because you don't really know who the creator or owner of this program really is.
You can't even verify if what Robert says about himself is true or not, because there's no reference of him anywhere on their sales video.
How can you believe the income claims and promises on their site when they can't even show you who you're dealing with?
The fact that you can't contact the owner or creator of this program in case you encountered an issue with their system will already give you a hint that there might be risks involved when joining this program.
I urge you to take this red flag seriously before making your final decision.
Recommended: Click to See the Best Way to Make Money Online
Red flag #3 – Expect the Upsells
After you paid for the initial fee of $37, you can expect to see 3 more upsells on their membership site.
These upsells are way more expensive than the initial fee you paid for the program and they are designed by the creators to entice you to upgrade your basic membership level.
The 3 upsells will include the following:
Fast Cash 2.0 ($197.00)
Fast Cash Pro ($177.00)
Fast Cash Social ($97.00)
We can't really determine the value of these upsells since they don't really enumerate the content for each one of them except that they are supplemental materials to the basic training you will get once you purchased the program.
Honestly, these hidden costs are NOT explained on their sales video and for someone who is still a beginner in the field of online marketing, these costs can really break your wallet.
Therefore, if you're going to pay for the whole package including the upsells, you can expect to spend a total of $508 which is way too expensive for someone who is still starting out in this field.
This is another big red flag to think about when you're planning to join this program.
Red flag #4 – They don't have an income disclaimer
For most programs who follow the same business model as Fast Cash App, it is essential to have an income disclaimer on the sales page.
Why is it important?
It is on this page you will see their official statement regarding the guarantees they give on their program.
However, if they don't have an income disclaimer then you won't know if they can really guarantee your success.
How can you be sure if your efforts in this program will yield the results that you are aiming for?
Honestly, you can't because there is no such thing as an automated system that can help you make $22k per week.
Although I'm not saying that it's impossible to achieve that level of income since there are successful online marketers out there who can make that kind of money.
But for absolute beginners, it will require hard work, proper training, and a positive mindset to reach that level.
That is why you should consider this as a major red flag before making the final decision.
Final verdict – legit or scam?
I have laid out all the essential information and red flags about this program. It's now time for you to decide if this program is something you can rely on or another scam that you need to stay away from.
In my opinion, Fast Cash app is not a scam because at least it will provide you with some form of basic training on their membership page that may give you some insights on making money online.
Also, there's a 60-day refund policy which you can take advantage of since this product is after all marketed on ClickBank.
So, your answer will depend on your perspective and if you see some value in this program, because if you do then this program might give you what you're looking for.
To help you further in your decision making, here is the overview of my review and of the pros and cons of Fast Cash App:
Pros
60-day money back guarantee
Cons
There is no proper explanation of how the system works
You don't know who the real owner and creator of this program is
There are upsells and hidden costs after the initial payment
There is no income disclaimer
Overall, I don't recommend this program because it has several major red flags that make it a risky investment in my opinion.
I would suggest that you find other legit opportunities that can truly help you make money online.
My Recommended Alternative
If you really want to know the best way of making money online, then I urge to check out my in-depth guide, where I laid out the essential steps I took when I was just starting out in affiliate marketing.
These are the same steps I used to create a decent income online, and I still use it now because it's still an effective method of making money online.
If you have any comments, questions, or have any experiences with Fast Cash App, I would love to hear from you in a comment below.