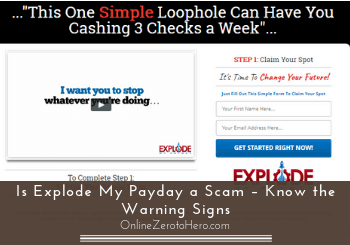 If you're like me and you happen to see a website who is offering a system that can help people make thousands of dollars day, then you may find it amusing and sometimes hilarious.
Explode My Payday is no exception especially when you've watched their sales video and saw the many incredible claims by their so-called successful clients.
Some of the people in the testimonials will claim they have earned at least $1,000 a day.
But is it really possible to earn $1,000+ per day, or is Explode My Payday a scam?
Let's find out from this in-depth review.
Explode My Payday at a Glance
Tools

Training

Value for Money

Income Potential
Summary
Explode My Payday is a system that promises people to earn  $1,000 a day with minimal effort. In fact, you only need 15 minutes to setup everything and their system will do the rest for you.
In my opinion, these claims are unrealistic because it takes a lot more to earn an income online, you'll need some effort and dedication to succeed.
Click to See My Top Recommended Way to Make Money Online Instead
What Is Explode My Payday?
Explode My Payday is another system or loophole that promises people to make thousands of dollars online.
Some of the testimonials in their sales video claim that they are making $4000+ per week, but the minimum amount that you can make per day according to their landing page is $1,000.
This means that you'll have the opportunity to earn $30,000 a month, some people do make this kind of money online, so not impossible but just highly unlikely with this system.
The creator of this system, Meaghan Harper will explain to you the reason why she is sharing this great opportunity and why she needs 45 people to expand her online business.
However, this seems too good to be true, and in my opinion, another attempt to lure you to an unproven system.
You'll need to be vigilant and wary about these make money online schemes, so I would urge you to read on and know some detailed facts about this program.
Explode My Payday Warning signs
I'll be honest with you, people will often look for shortcuts especially when it comes to making money online. They want easy money that can help them supplement their finances.
This is the soft spot that Explode My Payday is aiming for. They want to encourage you to make rushed decisions without making any research or at least a simple investigation by reading reviews about them on the web.
This is the reason why I wrote this review in the first place. I would like to Inform you or any other guy or girl out there who is looking for good information about this system.
In fact, I found several warning signs that this system has, and it's important that you know about them before you make your decision.
Warning sign #1 – Using the same website format like other make money online sites
When I first arrived at their website, I thought I've been there before, because it looks pretty much familiar with other make money online sites that I have reviewed in the past.
It has the same large catchy header saying their simple loophole can provide you the opportunity to cash-in 3 checks per week.
Their website will also have a video without player control, which means you can only pause the video, but you can't skip or replay the video. You'll need to watch it from the beginning till it ends.
They have also used the same opt-in form with an attention-grabbing header about your future. It's a clever tactic to fuel your emotion and encourage you to act, so that means you'll be shelling out some money to get in on their program.
Some of the questionable sites that I have seen in the past and are now taken out on the Internet by proper authorities have the same layout as this website.
Although this alone of course does not prove anything about Explode My Payday, but it was something that made me cautious right away.
Recommended: See the Best Way to Make Money Online
Warning sign #2 – Not enough information about their product
When you first visit a sales landing page that claims to help you make a lot of money online, you'll definitely want to know the whole process or some detailed overview of their system.
But with Explode My Payday, it's a lot different because they will just show you the results and it's more on the positive side. They won't explain how it all fits together and what's your role in their system.
You won't even know what you need to do and who you will be working for.
It's also not clear if there are training videos or some tutorials that will guide you through their system.
Honestly, there are a lot of questions that need to be answered, but you can't find the information from their site. It seems the answers are hidden in mystery.
In my opinion, if you're offering something revolutionary then you'll need to provide a detailed info about it.
A good example of a legit website that teaches people the proper way of making money online is Wealthy Affiliate. They have several in-depth tutorials about affiliate marketing and you can sign-up for FREE.
Warning sign #3 – Unrealistic claims from their members
According to their so-called successful members, you can earn a minimum of $1,000 in just 24 hours. They will even claim that it seems they have achieved the impossible and they have gained the financial freedom they wanted.
I know it feels exhilarating when you think that you can earn $1,000 a day without doing much effort.
However, that is not how it works and earning money online requires hard work and some legit strategies. But when you watch their sales video, it feels like money is just flowing out of a magical well.
Don't get me wrong, it's possible to make a living online, but it takes time especially if you're just starting out.
Warning sign #4 – Fake testimonials from their sales video
Now, let's talk about the testimonials from their sales video because I think this is one of the most glaring red flags I found from their site.
I've been writing reviews for several years now, so I've been visiting sites like these for quite some time. I'm sure that most of the people on the sales video are looking familiar.
In fact, when I did some research, I found out that some of them are freelancers from Fiverr.
Explode My Payday is not the first site who used fake actors on their sales video. Other similar sites who offer the same system or loopholes before had use some of these actors.
Here are some of the evidence, I found on the web:
The girl on the video who claimed to make $4,000 per week is a freelancer from Fiverr, which we all know are being paid to do this testimonial. Usually, they get paid around $5 to $10 and they appeared in numerous websites before.
The next woman in the video named Megan is also an actress and appeared in several sales videos. In fact, she is also in a sales video of a program called Millionaire Biz Pro, which I have reviewed before.
Clearly, these women are doing the testimonials for a fee and I find that unethical.
Warning sign #5 – Upsells after your first payment
If you think that after paying $47 for the program, you'll have everything you need to make money online then you are gravely mistaken.
There will be numerous upsells that they will immediately offer to you, and these upsells according to them will help you make more money.
This is the kind of tactics that you should be aware of because you could end up spending a lot more that you've expected. You could even spend more than $100 after your first purchase.
Although upsells isn't a bad practice for most legit businesses on the internet since it's clear on their website that there will be other additional options after you buy their product.
It's different when it comes to Explode My Payday because they will make you believe that with a small investment you can earn 1000% more. But the truth is they want more of your money into their pockets.
I also checked their affiliate program video in a separate page on their site and I found out that they are offering people $237 per sale or conversion. This is quite an offer for affiliate marketers to promote their product.
This means that people will need to pay more, so they can supplement the commissions of their affiliates. This clearly shows how expensive Explode My Payday can become.
Additionally, if you found some VERY positive reviews about this product on the web, you 'll need to be wary and more meticulous, because these might just be people who are aiming to get the most of their commissions.
Although I'm not saying those positive reviews are not true, but if they are superficial and just a way to repeat the sales page, then we have all the good reasons to be skeptical.
Warning sign #6 – Their system is so easy to

set up

even a child can do it?

Another incredible claim from Meaghan on their video is about their system and how easy it is to set up, you only need 15 minutes to get started and even a child can do it.

If that's how easy it is to get on their system, then you might think that it's all plug and play and you don't need proper training to do it.

However, if you look closely on their disclaimer, you'll soon find out that this is NOT the case because it clearly states the results will depend on your effort, skills, and dedication.

So, it's not that easy after all, don't you think?

You should also be aware of a notice that always pops up on their video saying that the results they show are not average.

What do they mean by that?

It only means that their system will NOT automatically generate money online, you'll need to exert some effort to succeed.
Warning sign #7 – Is the owner, Meaghan Harper a real person?
At the beginning of their sales video, you'll see the so-called photo of Meaghan Harper in a canoe, but it's the only reference we know about her. You can't find another photo of her anywhere on the video.
So, I did a bit of research to find out who she really is, and I found out that the image they used on the video is actually a stock image from Shutterstock.
In my opinion, when an owner or creator of a program uses a stock image to represent him or her on their website is a big red flag. You don't even know if the name they used there is real or just an alias.
Warning sign #8 – They can sell the data you provided on their form
One of the biggest red flags I found on their website is the notice placed under the sales video and sign-up form, which is written in small letters, and it says that you are giving them the right to rent or sell the data you provided on their form.
I find this very unsettling since most people nowadays are very particular when it comes to their privacy.
The fact that they might be selling your data to another business or organization that you may not know about, is unethical and a breach of the privacy act.
So, I urge you to always check the notice written in any sign-up form before you input your data.
Explode My Payday Verdict – Legit or Scam?
Explode My Payday system is not something new on the web. I've seen similar websites with the same claims and upsell tactics in the past.
They will have all the typical warning signs like the founder have uncovered a mysterious loophole that will generate thousands of dollars, unproven income claims, and wild testimonials coming from freelance actors and actresses instead of real customers.
Here is an overview of my review:

Pros

Cons
Not enough information on their product
You don't know the whole process, it's hidden in mystery
Unrealistic income claims
Fake testimonials coming from freelancers and not customers
Several hidden upsells after your first payment
I have laid out all the info about this product, it's up to you to make your decision.
Is Explode My Payday a scam or not?
I think you can clearly answer that question without any second thoughts. After reading my review, it's clear what they are and what you can expect from them.
Honestly, I don't recommend their system because it's too risky, and the claim that you can earn $1,000 per day is unrealistic.
Based on my experience as an affiliate marketer, I can safely say that there's no shortcuts for making money online.
Whether you like it or not, you'll need to invest time, effort, money and patience. There's no loophole or magical system that can generate money on the internet, it's all just myth.
But wait, before you leave!
If you're looking for a legit and ethical way for making money online, I highly recommend that you check out my FREE guide that enumerates the steps I used when I was just starting out in online marketing.
Using these proven steps, I have earned a steady income online and I promise that all the methods in my guide are legit and ethical.
I will NOT waste your time in an automated system – you will need to learn a lot of things but it's a requirement that you need to do this before you can be a success in internet marketing.
If you have any questions, feedback or comments about Explode My Payday, I would love to hear from you in a comment below.