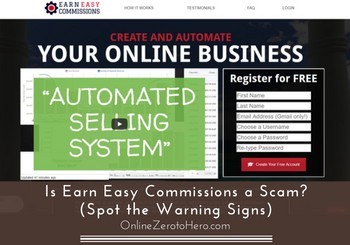 Earn Easy Commissions is an automated selling system that can supposedly help complete beginners earn their first $100,000 online.
But is it really a great system that works, or is Earn Easy Commissions a scam?
Let me reveal right away that you might be able to make some money on this system, but it can also be a very risky way to build an online income, and there are a lot of things you need to consider before joining.
This Earn Easy Commissions review will show you all the details about how the system works, how you potential can earn, and what the big risks of the system are, so you know what you are getting into before joining.
Earn Easy Commissions at a Glance
Training

Tools

Value for money

Income potential
Summary
Earn Easy Commissions is a system that can potentially make you money. It is however not a complete done-for-you system as it promises, and it is quite risky to rely on it to make a long-term income. Some might call it a pyramid system, and you need to make sure how the structure is before getting involved, as there is a great risk it will not work out for you in the long run.
Click to read about my #1 recommended way to make money online instead
What is Earn Easy Commissions and what does it offer?
Earn Easy Commissions is a system developed by Chuck Nguyen. He has previously had a platform called The Digital Elites, but this platform is not working anymore, and he now instead has Earn Easy Commissions.
The system is supposedly 100% free and is an automated selling system that does all the work for you. Chuck says he has spent hundred thousands of dollars to test and develop this system and now made it all automatic, so you can get started as a complete beginner.
To me it is one of the big warning signs about online opportunities, when somebody claims they have a system, where you can earn money automatically without any effort. There will always be a catch – that is also the case for Earn Easy Commissions.
After you join, you will find out what the system really offers. It is not so much a system to teach you how to make money online. In fact, Chuck mentions that learning this is an old-fashioned way to make money online, and done-for-you systems like this are the future.
I think this statement in itself is kind of ridiculous, as learning the skills is the best way to build a sustainable income online, where you are not dependent on anyone else. But more about this later.
What the Earn Easy Commission system is about is that you will have to recruit other members. As they join and upgrade, you will earn commissions. The higher level you upgrade to yourself, the higher commissions you will earn. And the more members you recruit, the more you will earn.
According to Wikipedia's definition of Pyramid Schemes, this could in my opinion be classified as one. Many members of Earn Easy Commissions will probably argue that it is not, but you can see the definition below, and then decide for yourself.
After you get people to join, the automatic process will take care of selling people the upgrades within the system. There are several membership levels, and the system is built cleverly to take people through the levels and steps. So what you need to do is to get people to the platform, and then the platform will take care of the rest and of all the selling.
The part about getting them to the platform (which is actually the hardest part) is however something you have to do yourself. So I would not really call it a done-for-you system.
Also, before joining you need to understand how the membership and commission levels work, as this is a bit complicated, and it is important to understand this to understand what you will really get, if you join Earn Easy Commissions.
Recommended: Read about the 4-step process I use to make money online legitimately
How do you make money on Earn Easy Commissions?
When joining a system like Earn Easy Commissions, it is very important to understand the commission structure, as this is how you will make money.
You will basically make money by getting other people to join. Then when they upgrade or buy products through the platform, you will earn commissions.
The first thing you need to know is that there are 4 different types of membership:
With each level you get more earning opportunities. The earning options for each level are:
Free membership earning opportunities:
As a free member of Earn Easy Commissions, you can actually still make a bit of money. When a person you have referred joins, you will get a commission of $1, once the person has been verified.
To get paid this commission, the person you refer needs to verify his/her account, login, and the person has to be from US, UK, CA, AU, or NZ.
This is the only earning option you have as a free member, and once you join Chuck also makes it clear that your goal should be to upgrade to the higher levels, as this is what will really make you money (and make him money).
Pro membership earning opportunities:
If you decide to upgrade to the pro membership, you will get the same commissions as the free members, and in addition to this, you will also get $50 commission for each person you have referred that upgrades to the Pro membership.
Elite membership earning opportunities:
As an elite member you will further get $250 commission per person you referred that upgrades to Elite level.
In addition to this, you will also get commissions for email tool, tracking tools, and traffic the people you have invited will buy through Earn Easy Commissions.
VIP membership earning opportunities:
According to Chuck your goal should be to eventually upgrade to this level. This is where you can make the most commissions.
You will get all the same commissions as the other membership types, and in addition to this you will earn $1000 commission for every person you have invited that upgrades to the VIP level.
Below, I have made a small video walk-through of Earn Easy Commissions, so you can get an inside look of the platform and see for yourself what it offers:

How is the training you get on the platform?
As you can see, you can end up earning quite a bit of money, if you get people to join Earn Easy Commissions. Once they join, the platform will do all the selling to them. So to this extent it is an automated selling system.
However, the most difficult part is to get people to the site, and this is something you have to take care of yourself. There is some training within Earn Easy Commissions about how you can do this.
I find it a little funny that one of Chuck's arguments in his sales pitch is that you should not have to learn to build an online business, but join his system, as it will take care of everything for you.
And at the same time he then provides training helping you with the most important part, which is to get traffic to the site through your invitation link, as his system does not take care of this.
If the training was then amazing, it would be great, but I am not impressed. The topics it covers like Facebook marketing, solo ads, forum, etc., are all relevant and interesting topics.
But in my opinion the training is superficial, and it also uses some outdated methods like for example posting in Facebook groups. This is often claimed to be effective, but just spamming FB groups with your invitation will quickly get you banned. Or if you manage to find groups that allow this, they will be overcrowded with similar links, so more or less nobody will click them, and you can end up wasting a lot of time like this, and it is not a long-term strategy to get a continuous flow of traffic.
So Earn Easy Commissions is not really a done-for-you system, as it does not take care of the most important aspect for you. And the training helping with this is in my opinion not very useful, and many of the methods have extra costs as well.
Recommended: Read about my #1 recommended learning platform for making money online
Price to join Earn Easy Commissions
At the sales page of Earn Easy Commissions, you are told it is 100% free to use.
This is however not entirely true. As you have probably figured out, there are some costs involved in upgrading to the different membership levels. If not, it would not be possible to pay out commissions to the members that are recruiting new members.
It is true that you can join as a free member and get access to the platform and even start earning a small commsíssion as a free member. But if you want any chance to earn real money, you have to upgrade. So let's look at what the cost would be to upgrade to the different levels.
Price of the Pro membership:
The pro membership costs $100 one-time fee, or you can pay $25 each month for 6 months (total of $150).
In addition to this price you are told that you need to start building an email list. So to be able to become a pro member, you need to sign up for the GetResponse email tool. This is a paid tool, and it will cost you a minimum of $15 per month to have. Chuck gets a commission when you join this program, which is probably also why he recommends you not to pick the cheapest option, but go for the plan that costs $49 per month.
He recommends this because you will then be able to get an email marketing certification and learn about email marketing, and he thinks this is a good idea – this is completely contrary to what he has said previously to sell you his own system.
Earlier he says that it is outdated to learn about online marketing, and you just need a system that takes care of everything for you. But now when he can earn commissions, he suddenly advice you to sign up for a more expensive plan to earn more commissions himself. Seems like he is more interested in making commissions than he is in giving consistent and good advice.
In addition to this, you have to sign up for a tracking tool (that also earn Chuck commission) for a minimum of around $12 per month.
Price of the Elite membership:
The Elite membership has a one-time fee of $500 or $125 each month for 6 months (total $750).
Price of the VIP membership:
VIP is the last level, and the level that according to Chuck should be your goal to get to.
This membership will cost you a one-time fee of $2000.
Understand the total costs:
One thing that is very important to understand is that you can NOT skip levels. So you have to go through all the levels and pay for each upgrade to get to VIP level. You cannot upgrade directly to VIP and save money this way.
So it can be quite expensive to become a member. The total cost of just the membership will end up being $2600, when you reach the VIP level.
In addition to this you have to pay for email and tracking tool every month. Also, you will have to pay for traffic, and there will also be other things you are offered to buy.
You are for example told that as an Elite member, you will earn commissions on everything somebody you invited buy on Earn Easy Commissions whether it is traffic, tools, software, books, products, programs, etc.
From this you can figure out that you will also be offered all these things to buy, so the total price can end up being very high.
The BIG risk of this business model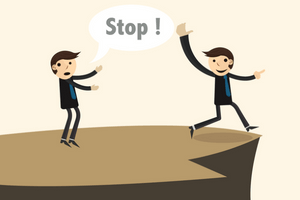 It is actually possible to make money on Earn Easy Commissions. It can however be a very risky way to build your online income. The reasons for this are:
Risk #1 – You do not have anything real to sell:
A big warning sign when it comes to Earn Easy Commissions is that you do not really have anything to promote. You have to earn money by recruiting other members to the platform.
As I showed earlier, this can potentially be classified as a pyramid scheme. This is not only risky but also something you have to consider very carefully, if you find worth recruiting people for.
Do you really want to constantly try to recruit people for a platform that does not really have a product or service but that only offers upgrades as the product?
This can be very difficult to recruit people for, and you can also end up being seen as a spammer/scammer by trying to promote programs like this, which can ruin your trust and your chances of building a sustainable income online.
Risk #2 – You do not learn any skills:
You do not actually learn how to create an online income by joining Earn Easy Commissions. You will just be told some superficial ways and paid methods to get people to click your link.
This is very risky as this will not be skills you can use other places. If you want to promote something else instead, you have no skills to do this.
You will only be able to promote Earn Easy Commissions. This is very limiting, and this is putting your online income at risk, as you are dependent on this platform.
Risk #3 – Risk of the platform closing:
If Earn Easy Commissions suddenly closes, you will be left with no income. You are completely dependent on the platform and the pyramid to make money.
It is not unheard-of that programs that are build on this model close down. Do you really want to take that risk and risk from one day to the next not having an income online anymore, if it should happen?
Also, consider that Chuck has had another program before, as I mentioned earlier. He closed this down, and there is no guarantee that Earn Easy Commissions will keep existing.
Final thoughts
Overall, I think Earn Easy Commissions is too risky to join and not a platform I find worth promoting. But let's sum up the pros and cons, so you can get an overview, before deciding for yourself.

Pros:
Offers a free membership option
You can potentially earn money on the platform

Cons:
There is no real product you promote
You have to recruit others to earn
There are a lot of extra costs involved by joining
It is not really a done-for-you system, as it claims
You learn no real skills
If you do not mind relying you online income on a pyramid like structure, where you only earn by recruiting others, then Earn Easy Commissions can earn you money.
Personally, I think it is risky to rely on this, and it will make your online income very vulnerable.
Why not instead learn to build a long-term income online, where you can earn money by guiding and helping people and only promote high quality services and products? This is definitely possible, and you do not have to rely on recruiting others and being the annoying person that is always doing this, to be able to make money online.
If you want to get started with building a sustainable online income, where you are in charge, and where you can decide which direction to take it into, then you can check out my FREE guide to start making money online.
If you have any comments, questions, or have any experiences with Earn Easy Commissions yourself, I would love to hear from you in a comment below.