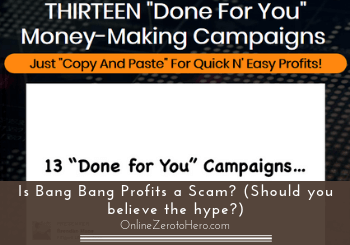 If you happen to come across Bang Bang Profits and you watched their sales video, then you might be one of those who got curious about this program.
In fact, they claim that it will be easy for you to earn $300 a day on autopilot using their system.
Is it really possible to earn at least $300 per day without you doing anything? Is Bang Bang Profits a scam or a system that could actually work?
In this unbiased review, I will tackle several in-depth details about Bang Bang Profits that you should know about.
I hope this review could provide you all the information you need about this system, so you are in a better position to decide if it's really for you or not.
Bang Bang Profits at a Glance
Training

Tools

Value for Money

Income Potential
Summary
Bang Bang Profits is a done-for-you system that claims to provide its members with huge earning potential using 13 premade campaigns. Brendan, the owner, also claims that you can set up everything in 10 minutes.
This sounds too good to be true because making money online requires more than what Brendan claimed on their sales video. If you really want to be successful in any online endeavor like affiliate marketing, you'll need to devote your time, effort and a bit of patience before you can achieve your goal of earning a decent income online.
Click to See My Top Recommended Way to Make Money Online Instead
What is Bang Bang Profits and what does it offer?
Bang Bang Profits is another done-for-you system created by Brendan Mace and Jono Armstrong. In their sales video, Brendan Mace claimed to have released several online products before and all of it is centered towards making money online.
I also reviewed some of their programs before, which includes "Urgency Suites Pro" and "Copy Paste Paydays."
He also said that these programs deliver instant results and all of them are well accepted by people who are looking for opportunities to earn money online.
So, if you join their program, you will have instant access to 13 of Brendan's best-performing campaigns along with all the right offers and right pages.
Another unique thing about this program is you don't need any experience in online marketing or a website to run the campaigns. You only need to clone these campaigns inside their platform and wait till the money flows into your account.
In short, you're not required to do any techy stuff, because everything is laid out for you by Brendan and his team.
Also, according to their sales video, the whole process will only take you 10 minutes and you're all set up.
Therefore, their main selling point is ease of use and anybody can do it. Heck, even Brendan's grandma who is already 80 years old can do it, so the whole system is pretty much simple and easy to set up.
Bang Bang Profits Warning Signs
Bang Bang Profits is meant to be quick and easy, so even beginners can start the campaigns without any issues.
This is a dream come true for most people who want to start earning an income online, but in reality, it's a lot different than you think.
Making money online require some training, effort, time and most importantly – the right mindset to succeed. There's NO shortcuts and secret loopholes that can point you to the gold mine.
In my opinion, Bang Bang Profits are for people who are looking for instant rewards without making the necessary effort.
I know you are different, that's why you're reading this review and doing your part by conducting a bit of research.
Now, let's discuss several of the warning signs that I have uncovered when I watched their sales video including some of the essential information I got from the web about their program.
Warning sign #1 – There's no detailed information about the campaigns
According to Brendan, a single campaign on his list can make $2k+, so imagine how much you can make with 13 campaigns.
However, he won't tell you what the campaigns are about and how they will be promoted. All you are told is that you will make a lot of money through these campaigns.
In my opinion, this is confusing especially for those who are still starting out with affiliate marketing, since he failed to show an overview of how his system works.
When the owner is not transparent about their product, it could only mean that they MIGHT be hiding something.
Although I'm not saying that Brendan is a fraud, because I know he got a lot of followers in various online marketing sites including the 45K followers he got from his YouTube channel.
What I want to reiterate in this review is total transparency is important in any type of business including those that are created online.
Every consumer has the right to know exactly how a system works before they can make the decision to join a program or buy a product online.
Warning sign #2 – You can set up everything in 10 minutes or less?
In Bang Bang Profits, you're only required to do 3 simple steps to start making money online. The first step is to log in to their membership site, so you can access your own dashboard.
In step 2, you will deploy their campaigns, use their bonus page and activate the premade email swipes to generate the income for you.
You will also need to insert your own unique affiliate link on several of the pages that they will assign to you after you paid for their program.
Honestly, it's highly unlikely for you to do this everything in 10 minutes because before you can deploy a campaign, it's essential that you sign up first as an affiliate to each of their campaign.
Basically, you will be promoting a service or product, and most often it will be a service that they already have in the Warrior Plus Platform.
Also, if the products and services that you're about to promote are not created by Brendan or Jono, you will most likely send a request to each owner to show that you are interested in promoting their service/product.
This takes a lot of time to do, so their claim that it can be done in 10 minutes is NOT possible, and there's no way you'll be ready in just a matter of minutes.
Warning sign #3 – They won't tell you how to generate traffic in their basic package
One of the most important factors in any online business is the number of traffic you're going to drive to your website because without traffic you're not going to sell or earn anything.
This is the most obvious element missing in the sales video, and Brendan is not interested in showing you how you can get the needed traffic for those campaigns in the basic package.
His claim that you can make huge profits using his premade campaigns, is not justified by the lack of proper training in traffic generation.
You will, however, need to buy an upgrade before you can access their traffic generation training. Therefore, the $12.95 payment is just an entrance fee to your membership dashboard.
Usually, this kind of systems does give you access to some training in the membership dashboard. It will just be basic training that will not help you much in your campaign, and then you have to buy the upgrades to get more in-depth training.
Based on my experience as an affiliate marketer, the best and most effective way of generating traffic online is by targeting relevant keywords that I integrate into my content.
The search engines like Google will tag these keywords and depending on other factors they have set in their guidelines, they will rank each site according to their authority on the web.
This process is called SEO or Search Engine Optimization, which is commonly used by online marketers today.
This is my preferred way of generating traffic. There are other ways, but no matter what way you use it takes time or skills/a big budget if you, for example, use ads.
There is no magic free traffic source that you can just start with the push of a button.
Without the element of proper training about traffic, your affiliate business will suffer, and that there is an extra upgrade you have to buy to get traffic implies that you will not learn this from the basic package.
Recommended: Click to See the Best Way to Learn Proper Affiliate Marketing
Warning sign #4 – There's no terms and earnings disclaimer
Another red flag that I found on their sales page is the lack of the terms and earnings disclaimer. Unlike other make money online sites that I have reviewed in the past, there's always a link to their earnings disclaimer.
Now, why is it important?
It's in their terms and earnings disclaimer that you will find out if they have set any guarantees about their program.
Most of the time, other programs will NOT guarantee your success, since it will all depend on your own effort and dedication, which is very different from what they are saying in their sales video.
However, with Bang Bang Profits, this option is not available, and we'll never know if they do guarantee your success in their program.
Maybe they are very confident that their program can really help you earn at least $300 dollars a day.
But why wouldn't they put an earnings disclaimer in the first place if they are that confident?
As for me, it's one of the warning signs that you should consider before you make the final decision and buy the basic package in their program.
Warning sign #5 – Beware of the upsells
After you purchased their basic package which cost $12.95, you'll soon find out that there will be several upgrades awaiting you.
In fact, when I checked Bang Bang Profits' affiliate program in the Warrior Plus platform, I found out that they are offering several substantial commissions based on the product or upgrade they sell there.
Here is a screenshot of their product's pricing including the commissions they offer their affiliate per product.
You might be wondering why this program is getting a lot of hype these days, or the number of positive reviews it got from their so-called customers are becoming more significant?
This could be one of the reasons why this program is getting these positive reviews. Although I'm not saying that all those positive reviews are not real, but it's something that you need to be aware of.
If you see a one-sided positive review that does not give any real proof, but more or less just repeats the sales claims, then be more critical because you'll never know if it's really genuine.
You may also ask yourself, how can this affect you as the consumer? Well, if you check how they structure their pricing, it's plain and simple – you'll need to shell out more than $12.95.
This means that you'll need to invest more before you can move forward from their program. Although I'm not saying that you won't earn a thing from their system, it should be clear right from the very start.
Brendan should have shown these upgrades in the sales video to bring about transparency and to clear the confusion or doubts of his prospects.
If you are really confident about your product online, then why do you need to hide some of the important details about it?
Final Verdict: Legit or Scam?
Would you consider Bang Bang Profits a scam or a legitimate opportunity?
Honestly, it's up to you to decide if they really can deliver their promises and claims. After all the details I have shared with you in this review, I think you're now in the best position to make your final decision.
Here's an overview of my review.
Pros:
30-day money back guarantee
Cons:
It's a done-for-you system, you don't have full control of your campaigns
Income claims are not verified by any platform
Traffic generation training is not available in the basic package
The $12.95 initial fee is just a membership fee to access your dashboard
You'll need to buy upsells to fully utilize their campaigns
The whole system is not fully explained by Brendan
There's no income disclaimer on their site
In my opinion, there's no such thing as an autopilot system that can automatically generate money online.
Like what I've said in the first part of this review, you'll need to dedicate time and effort in affiliate marketing. There are NO shortcuts in this type of endeavor.
So, I don't recommend this program because it gives people the wrong impression about what affiliate marketing is supposed to be.
The truth is, affiliate marketing is a legitimate business model, but it's not something magical where you can do everything in just a matter of minutes.
But wait, there's a better alternative that I can recommend!
We all want to earn money online in the most ethical way possible, but it's hard to find the perfect system that can provide instant rewards without investing time and effort.
In reality, that system is non-existent and no matter how many claims they make, it will always fall short in delivering the results.
If you really want to succeed in affiliate marketing, you'll need to learn the steps that will put you in the right direction.
I highly recommend that you check out my FREE guide where I share the steps and methods I used when I was just starting out with affiliate marketing and I'm still using these methods today.
This will help you jumpstart your career as an affiliate marketer and help you learn the proper way of making money online.
If you have any questions, feedback or comments about Bang Bang Profits, I would love to hear from you in a comment below.