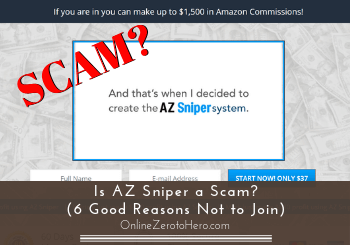 AZ Sniper claims you can learn to easily make $1,500 per day through Amazon with this system.
But is AZ Sniper a scam, or is it really a great way to learn to make money on Amazon?
Having been in the world of internet marketing for years, I can right away reveal that there are several things that worries me about the claims the sales page makes, and you NEED to know some red flags before joining.
This AZ Sniper review will reveal all these red flags, so you know what you are getting into, if you decide to join.
AZ Sniper at a Glance
Training

Tools

Value for money

Income potential
Summary
AZ Sniper (also called Amazon Sniper) makes a lot of big claims about how easy it is to make money online. It shows a real way to make money online, BUT it has a lot of red flags.
You for example do not know who the owner is, the video testimonials are false, the true price is not revealed before you join, and more. It is therefore NOT a system I recommend.
Click to See My Top Recommended Way to Make Money Online Instead
What is AZ Sniper and what does it offer?
The idea of the AZ Sniper system (also called Amazon Sniper), is that you will learn to make money on a well-known website that you have probably used before yourself.
This website is Amazon, and by using this system, you are supposedly able to earn really good money without much effort.
You are not told much about how you will make this money on Amazon.
But I can tell you that the way you will be making money is through what is called affiliate marketing.
It means that you will be promoting products that are sold on Amazon, and when people buy, you will earn a commission.
The AZ Sniper is then supposed to make this process very easy, so it is possible for anyone to get started very easily.
I have however spotted several big red flags, which are the reason it is not a system I would personally join, and I will show these to you below.
But let's first just go over, if it is even realistic to make money on Amazon like this.
Recommended: Click to See the Best Way to Learn Proper Affiliate Marketing
Can you make money with Amazon?
As you can already see, I have some big concerns about AZ Sniper. However, one thing I like is that it talks about a real way to make money online.
Making money as an Amazon affiliate is 100% legit, and it is a real way to make money.
It is possible to join the Amazon Associates program for free, and you will then be able to promote any of the products sold on Amazon.
If people buy through your promotion link, you will earn a commission. You do not have to own any of the products, and there are products within any niche you can promote.
So it definitely is a real way to make money online.
BUT even though it may sound very appealing, you need to know that it might not happen as easily as you might think after watching the AZ Sniper sales video.
There are many things you are not told, and you need to know these before investing any money.
AZ Sniper red flags revealed!
Based on my years of experience with internet marketing and affiliate marketing, there are several big red flags when it comes to AZ Sniper.
Let me go over the biggest ones below, so you can take this into consideration before you decide to invest or not.
These are also the 6 reasons I mention in the headline of this article.
Red flag #1 – No info about the owner
Who the owner is, tells a lot about the credibility of a system. When you cannot find any information about the owner, it is, in my opinion, a big red flag.
When it comes AZ Sniper there is not much info about the owner.
You are just told his name is Stephen Ford – despite being the named founder and creator of AZ Sniper, he is however not seen anywhere on the website.
He doesn't even show his face in the video, and you can read no other information about him. He is just introduced as the voice in the video.
The only sign I found about who might be behind this program was in the disclaimer. Here it seems that the disclaimer has been reused from another similar product.
In the disclaimer, as you can see on the image above, the AZ Code is mentioned instead of AZ Sniper.
It is a sloppy error, but it gives us an indication that the owner of these two very similar systems might be the same.
However, on the sales page of the AZ Code, the owner is presented as Andrew Petersson. This seems very strange right?
Why is the owner not revealing his true identity?
This is definitely a big red flag in my opinion.
Red flag #2 – Fake testimonials
Testimonials and reviews from users are a great way to get an idea about how well a product works. However, when the testimonials are fake, it becomes a red flag instead.
And the testimonials in the AZ Sniper video are false. They are testimonial bought on a freelance platform or similar.
The reason I know this is that I first of all have seen some of the people giving testimonials in the video in several other sales videos for similar programs.
And I have also found them selling this kind of testimonials on Fiverr.
Let me show you a couple of examples.
Tguyguys has been in A LOT of other testimonials videos of products I have reviewed. A few examples of products you can also hear him talk about are:
In testimonials for all of these programs he explains how amazing that particular system has been, and how it has helped him to make easy money online after not having much money.
In the testimonial for AZ Sniper, he says he has been unemployed for 8 months and is now making $1,500 per day online with this system.
My guess is that he would not be selling video testimonials for $5 if he really was making this kind of money with all these systems, right?
Let me give you another example:
This woman is also selling testimonials on Fiverr, and I have also seen her in a video testimonial when I was doing a review of 12 Day Millionaire.
In my opinion, you should not take the statements in these testimonials as an example of what you can achieve with AZ Sniper when they are bought.
Also, if the system really was as great as it claims, would it then not be possible to find real users to give testimonials instead of hiring actors and actresses for $5?
Red flag #3 – Fake earning ticker
At the bottom of the AZ Sniper website, you can see a ticker that shows the names of people and the profits they've earned when using AZ Sniper moving from right to left.
It might look enticing, but it is not a real live update of earnings.
I took a quick look at the code of the website, and here it was possible to see it was a marquee HTML element, which means it is not connected to a live database.
If that does not mean anything to you, you can also just refresh the screen, and you will see the same names coming again.
The same names will even be there again if you look several hours or days later – that has been the case for me anyways.
So do not let this sales trick convince you as a proof people are making money with the system right now.
Red flag #4 – Claims you can earn on autopilot
I have to address this red flag as well, as it is one of the big myths in internet marketing.
The whole idea behind AZ Sniper is that you can make money with very little effort and start earning very quickly.
You are told examples of people starting to make thousands of dollars right away with just 10 minutes of work – you do not even need any experience, as the system takes care of everything for you.
Claims like this are always a big warning sign.
It is definitely possible to learn to make money online with the right training and attitude.
But you will not find a system that will take care of everything for you, and where you can just work 10 minutes per day, and start making thousands of dollars right away without having any experience.
That is just not how you, in general, can make money, and it is the same with internet marketing.
It takes some time and effort. Any system that promises you can make money on autopilot without any skills or any effort, is a system to be VERY careful about – you can end up wasting a lot of money trying systems that claim this.
AZ Sniper itself is even saying that it takes hard work itself in the disclaimer.
The disclaimer you can see on the image above says that any results in any money-making opportunity is the result of hard work, time, and other factors.
It does not exactly sound like a bulletproof automatic way to make money online does it?
Red flag #5 – Your data might be shared
Before getting AZ Sniper, make sure to read the purchase agreement.
It says that your name, email, and phone number might be shared with a small number of partners AZ Sniper works with.
You can however not see how many and which partners.
So you basically have no idea who your data will be shared with and what it will be used for.
Red flag #6 – The true price
When you look at the initial price, it might seem strange why AZ Sniper would use all these sales tricks only to make $37, as you are told it will cost you.
You are even told that the $37 will give you full access. This sounds very cheap, BUT it will not be the only time you have to pay if you want access to the full system.
AZ Sniper has several upsells/upgrades after you join. I found out about this by looking in the promotional material of the system, where they explain how much the will pay people that promote AZ Sniper if they make a sale.
Here you can see that they are willing to pay people that promote the system up to $287 per sale. This clearly shows that there will be upsells they will try to get you to buy after you join.
This is just the amount of the commissions, so the price you could potentially end up buying will be even more.
Here you see the catch of the program. According to Stephen Ford, he has made this program to help people, and therefore made it very cheap.
But if he really wanted to just help people, why then make such an effort trying to convince you to buy?
Maybe the true intention is different, and from looking at this, it seems that the true intention is to really make a lot of money by selling this program.
Also, by looking at the commissions they pay, you will realize that there are good reasons to be critical, if you see some very positive AZ Sniper reviews – they will earn a lot by convincing you to buy.
I am not saying there cannot be legit positive reviews. I am just saying that if a review is just repeating more or less what the sales page is and are not mentioning any of these red flags, then there are good reasons to be skeptical in my opinion.
Final verdict – legit or scam?
Clearly, I am not convinced about the efficiency of AZ Sniper.
But let's finish with summing up the pros and cons, so you can get a better overview before making up your own mind.

Pros:
Talks about a real way to make money online
Offers money-back guarantee

Cons:
Not transparent about the price
No info about the owner
Uses fake testimonials
Fake earning ticker
Makes it looks like you can earn A LOT of money fast and without effort
Before joining any online money-making program, I always look for warning signs, as there, unfortunately, are a lot of poor offers out there.
I put this together with my internet marketing experience and then make up my mind. Based on this, I have spotted the red flags and warning signs about AZ Sniper.
Clearly, I decided not to join, as I do not want to support a program with this amount of red flags, and think it is too risky.
This does not mean it is a scam – it just means that in my opinion, you need to take these things mentioned in this review into consideration before joining, so you know what to expect, and so you do not fall for the sales tricks.
It is however NOT a system I will recommend based on my findings and experience.
Before you go!
If you want to learn to make money through affiliate marketing, it is possible.
I have tried many online training programs and tested a lot myself (and I have also failed several times), but I have now learned skills that earn my a full-time income.
I have done this through a 4-step process and a lot of hard work. It is a process everyone can learn to follow, and I have created a free guide to show you the exact steps I am using myself.
Be aware that this will NOT be a quick way to get rich, and it will NOT happen on autopilot. It will take time and work, but it will then teach you real skills you can use to make online income in numerous ways.
Click the button below to read my free guide right away – it will even show you how to get started 100% for free without even taking out your credit card.
If you have any comments, questions, or have any experiences with AZ Sniper yourself, I would love to hear from you in a comment below.