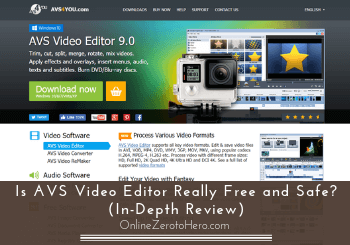 AVS Video Editor is said to be a free easy-to-use video software.
But is AVS Video Editor really free and is it even safe to use?
I decided to test it out to see what it really offers if it is even worth using.
In this AVS Video Editor review, I will give you all the details so you know exactly what to expect if you decide to download it so you can easily find out if it is the right option for you or not.
Disclosure: Some of the links on this page are affiliate links. This means at no cost to you, I may receive an affiliate commission if you purchase something through one of these links.

AVS Video Editor at a Glance
Features

Usability

Value for money
Summary
AVS Video Editor is a legit software and it is safe to use. As a beginner or intermediate video editor, it has all the features you need to create great videos and it is fairly easy to use. If you are an advanced video editor, it will likely be too basic.
The free version gives you access to all the features which is great, but if you want to export your videos without watermark, you need a premium license which is also the case for most other video editors.
If you decide to get the premium version of AVS Video Editor, it gives good value for money. In fact, you get access to several tools with the same license.
Is AVS Video Editor safe?
Before downloading any software to your computer, it is, of course, important to know if it is a safe tool to use. So let's start by looking at this aspect of AVS Video Editor.
The company behind this tool is Online Media Technologies Ltd and it was founded in 2004. So it is a company that has been around for a while and I did not find any suspicious info about the company or its software.
Also, I have personally downloaded AVS Video Editor and used it on my computer and have not had any problems with it.
So you do not have to worry about it being a safe tool or not. That does, of course, not mean it will necessarily be the right tool for you. But it is an important thing to know before even looking at what it offers.
Now that we have cleared that up, let's then look at what the tool can do, so you can see if it is for you or not.
What can you do with AVS Video Editor?
Obviously AVS Video Editor can be used to edit videos. But there are many tools that can do this and they all offer some slightly different options.
Let me, however, start by saying that if you have ever done a bit of video editing before, the interface of the AVS Video Editor will not be difficult for you to navigate.
It has kind of the same basic setup as many other video editors which makes it easy to use and easy to get started with even if you are new to video editing.
So let's look at some of the main features it offers so you can see if it has what you are looking for.
Feature 1 – Import and record videos to edit
For a video editor, it is, of course, important you can import your own videos to edit. And this is also possible with AVS Video Editor.
But this is not the only way you can import videos. It actually offers you three ways to import videos.
You can import your own videos, you can record with your webcam and import it directly into AVS Video Editor, or you can do a screen recording.
I think it is pretty cool to have these options and it gives you quite a lot of tools in one.
And they are all easy to use.
In fact, I think the screen recorder is really good and easy to use. It makes it easy to do screen recordings without having to do a lot of complicated moves first, and you can select the exact part of want to record, choose to highlight the mouse or not, and more.
So actually a really good screen recorder for one built into a video editor.
The limitation the screen recorder, in my opinion, has is that you cannot do a screen recording while using the webcam at the same time so you, for example, can show your face in the corner of the recording.
Personally, I like doing this when making videos but that is not possible with AVS Video Editor. So if you want to do screen recordings like that, I would suggest you to use Icecream Screen Recorder for this and then import it into AVS Video Editor.
But overall, AVS Video Editor gives you some great options to import video and it is a nice feature that it allows you several ways and not only to import pre-recorded videos from another program.
Feature 2 – Add transitions between parts of your video
If you do video editing, you will more or less always have to cut parts out – or that is the case for me anyway:-)
When you do this, it is important to be able to have some smooth transitions between the parts of the videos. And AVS Video Editor has several hundreds of transitions you can choose from.
In comparison to many other video editors I have tested, it has A LOT of transitions to choose from.
This can, of course, be a bit overwhelming at first, but it also means that you will very likely be able to find the transitions you need no matter what you are looking for.
Feature 3 – Use video effects
A way to make your videos more engaging is by adding video effects.
It is personally not something I use a lot, but it can really make your videos more interesting if you use the right effects for the right kinds of videos.
AVS Video Editor has around 75 video effects you can choose from.
You can, for example, add a timer, a countdown, make your video grayscale, add ripples, borders, waves, use a blur effect, and more.
There are some pretty great features and again quite a lot to choose from
Feature 4 – Add text or titles
You can add different kinds of text and titles to your videos with AVS Video Editor.
This is a must for a video editor as it is important to be able to add text and titles, so good to see AVS Video Editor also has this option.
It has quite a few options and templates.
In my opinion, many of the templates are a bit too much or too colorful, but luckily you can then adjust the different types in color, effect, animation, and more to create one that fits your needs.
It is a feature that is fairly easy to use. But it is not as easy to adjust them and add them at the right spot as it is in certain other video editors, in my opinion.
So it might just take a little time to find out how to use the texts the best possible way, but it should not take too long and on the AVS Video Editor website, you can find several tutorials that will help you figure out the details about how to use it.
Feature 5 – Save and export your projects
A video editor is not worth much without being able to save and export your projects so, of course, AVS Video Editor can do this.
What is important about this is then the options you have to export your projects.
And you actually have quite a lot of options.
You can save as several file types, for several devices, and for different purposes.
The formats it can write for are:
HD Video (inc. Blu-ray video, AVCHD, MPEG-2 HD and WMV HD), AVI (DivX, Xvid, etc.), MP4 (inc., Apple iPhone, iPad, iPod, Samsung Galaxy and Sony PSP), WMV, 3GP, 3G2, QuickTime (MOV, QT), SWF, FLV, DVD, MPEG-1, 2, 4, MPG, MJPEG, H.263, H.264, Real Video (RM, RMVB).
So it has some pretty good options for exporting your projects.
==>Click to Check Out AVS Video Editor for Yourself<==
Who can use it?
If you think the AVS Video Editor has features that are relevant for you, there are a few things you need to know to find out if it is then possible for you to use it.
The first thing you need to know is which devices it is available for. And you can download AVS Video Editor for: Windows 10, 8.1, 8, 7, XP, 2003, Vista – it does NOT have Mac OS/Linux support.
Also, you need to know that the interface of AVS Video Editor can be set to different languages. You can set the language to:
English
French
German
Spanish
Italian
Japanese
Dutch
Polish
Danish
Russian
This is great since you can then use it in the language you feel the most comfortable with. You can even get support in English, French, German, Spanish, Italian, and Japanese.
Overall, I would say that these are the main things to consider to see if it is the right tool for you.
The AVS Video Editor has everything a basic video editor needs and you can do a lot with it and it is quite easy to use. So if you are new to video editing or an intermediate user, it can definitely be a great tool.
Personally, I find the Movavi Video Editor a bit easier to use and it has a few more features, but that mostly just comes down to personal preferences.
And if you are very experienced and need a super professional video editor to make movies, etc. then the AVS Video Editor might be too basic for you. But then any tool for this budget will probably be too basic.
Is AVS Video Editor really free or what does it cost?
One thing that is important to know before using any software is the true price. And you can download AVS Video Editor for free, but does this mean it really is free?
Well, in one sense it does. You can get access to all the features with the free download which is great.
However, as with almost all video editors, there are some restrictions. The only restriction for the free AVS Video Editor is when you export your video.
When you do this, a watermark will be added to your video that says "created with a non-registered version of avs4you.com".
This basically means that you cannot really use the created videos for much with the free version as it looks very unprofessional to have a watermark like that in the middle of the screen.
However, if you want to create videos in general, you will have a hard time finding a video editor that does not add a watermark for their free version.
So it is definitely worth considering investing a bit in a premium version of a video editor whether it is AVS or another tool. And the investment is luckily not big.
One thing I like about AVS Video Editor is that you can actually really get to test the tool and all its features before deciding if you want to upgrade. So you will be completely aware of what you are getting if you decide to upgrade.
If you should decide to upgrade, there are two pricing options. You can buy a yearly subscription or a lifetime subscription.
Be aware that the prices showed above might change. You can check the current exact prices here.
One thing you need to be aware of is that the price includes several other software as well.
In addition to the video editor, you also get a video converter, video remaker, audio converter, and an audio editor software.
Overall, I think getting the license for the video editor alone gives good value for money for the benefits you get, and with these extra tools included it makes it even better value for money.
But you, of course, need to consider your budget and your needs to see if it is the right tool for you or not.
Final thoughts
Overall, I think AVS Video Editor is a nice and easy-to-use software.
If it is then the right for you or not, depends on your specific needs. So let's finish this review by summing up the pros and cons so you can get a better overview before deciding if it is for you or not.

Pros:
Free version lets you test all features
Easy to use
Premium version gives good value for money
Gives all features you need to make good basic video editing

Cons:
More advanced video editing is not possible
Some features take a bit of learning to use
I would say that if you are a beginner or even an intermediate video editor, then AVS Video Editor has everything you need for a very good price.
Some features take a bit of time to figure out how to use the best possible way but there will be a learning curve for all new tools. And luckily AVS has quite a lot of tutorials on its website.
So overall a good tool depending on your needs and a great thing is that you can just download the free version and test all the features before deciding to get the premium version or not so you really know what you are getting before taking out your credit card.
I hope this review has given you a good overview of what to expect from AVS Video Editor and if it is for you or not.
If you have any doubts, then remember that you can just test the free version without any obligations to test it out for yourself.
If you have any comments, questions, or have any experiences with AVS Video Editor yourself, I would love to hear from you in a comment below.