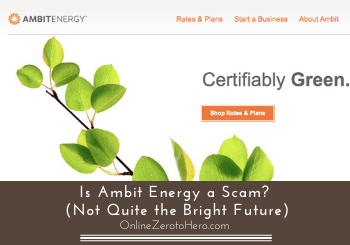 Almost all of us are looking for ways to minimize our household costs and to earn a better income, right?
Every month you have to pay rent, utilities such as electricity, and other necessary expenses.
According to research, the average electricity bill of a U.S. household is, for example, around $110 per month but this varies depending on which state you currently reside in.
So what if someone told you, you can lessen your electricity bill and earn some extra income at the same time? Sounds promising, right?
Energy providers used to be monopolized by large corporations but now there are independent energy providers that offer alternatives to consumers. One of these providers is Ambit Energy.
What makes Ambit Energy different is it actually allows its customers to earn while paying less for their energy consumption.
But is Ambit Energy a scam? Or is Ambit Energy a legitimate opportunity you can take advantage of?
In this Ambit Energy review, I will give you all the details about what exactly you can expect from this company, so you can decide if you should be switching to this energy provider to save and earn.
Tools

Value for Money

Income Potential
Summary
Ambit Energy is the world's largest direct seller of energy according to Direct Selling News Global for 7 consecutive years. It is an MLM company that provides its customers energy services through fixed plans.
Members can get free energy if they are able to refer at least 15 friends to switch to Ambit Energy plans. They can also be independent consultants who build teams who market their services.
While Ambit Energy is a legitimate company that has around 500,000 independent consultants, it's not a business for everyone. Your income primarily relies on recruiting new people into your team and helping them recruit other people.
If you want to lessen your energy costs or get it for free, Ambit Energy can be a good option for you with their green and fixed plans.
However, based on their income disclosure statement you cannot expect a profit in your first two years. I personally would suggest you check other online opportunities that can build your income without relying on recruiting new members all the time.
What is Ambit Energy and what does it offer?
Ambit Energy is an MLM company that provides electricity and natural gas services to different states in the U.S.
It was founded in Texas by Jere Thompson Jr. and Chris Chambless back in 2006. Since then, the company has grown exponentially.
In fact, Ambit Energy was named 2010's Fastest Growing Privately Held Company by Inc. Magazine.
It has continued to be featured in 2011, 2013, and 2014. In 2019, Ambit Energy has been named the world's largest direct seller of energy by Direct Selling News Global 100 for its 7th year.
So with all the recognition and growth of the company, Ambit is definitely legit and has established its name since it was founded.
The next question is what does it offer?
According to their website, they offer electric, gas, solar services, and Green e-plans, offered with a Renewable Energy Certificate. People today are becoming more conscious of the environment and going green so it's no surprise a company like Ambit Energy is offering these services.
Ambit Energy does not own any electricity or natural gas manufacturing. What it does is it buys these energy services at a wholesale price and then resells them to customers.
For example, upon signing up you will have to choose your utility provider based on your state such as PG&E or Oncor Electric Delivery for electricity and Sunrun as their solar provider.
Their services are offered through their independent consultants. This is where you can come in to enjoy reduced energy costs while earning at the same time. They actually call it putting power in your hands.
But take note Ambit Energy is not available everywhere.
Currently, they are only catering to 16 states namely California, Connecticut, Delaware, District of Columbia, Illinois, Maine, Massachusetts, Maryland, New Hampshire, New Jersey, New York, Ohio, Pennsylvania, Rhode Island, Texas, and Virginia.
If you live in any of the 16 states mentioned or in Japan or Canada, then you can join Ambit Energy.
You can also simply avail of their services as a customer but this review will focus on becoming an independent consultant and show you if it is really a good way to start a business.
How much do you have to invest?
If you are interested in being part of Ambit Energy's business opportunity you can join at a one-time fee of $75, plus $24.95 per month for website access. There is no annual renewal fee.
As an independent consultant, you will receive a business builder kit, a personal website, access to Ambit Energy's back office management tool, and consultant support group access.
For an MLM start-up cost, that's quite affordable especially since there is no annual renewal fee later on. But this is also because there is no need for any product inventory in this kind of service.
Normally, like those in the health and wellness, you will have to purchase an initial set of products you can offer to your potential customers to get your business going.
So here you're basically just paying for your starter kit and a website for the $75.
Once you're part of Ambit Energy, you can sign-up customers and consultants to start earning.
For customers, the company requires one or two-year fixed contracts for its energy services.
When the contract expires, the service is then automatically switched to a variable plan unless the customer personally renews their fixed-rate plan.
The rate varies per area so you can check out their website to check your actual rate
You get a lower rate if you commit for 24 months. If you wish to terminate your contract, you have to pay between $100 to $199 as a termination fee.
A one-year contract may be too much for some but in my opinion, that kind of length is normal for utility services. A 6-month contract can also be good so that new customers can decide afterward if the service is worth it.
The 24-month contract may be a bit too long if you're starting as a new customer.
So aside from your one-time fee of $75 and monthly website fee, you will be paying the monthly cost of your service based on your chosen plan.
If you want to get free energy or earn some bonuses while using Ambit Energy's service, then you can maximize the business opportunity it offers to its independent consultants.
Can you really earn with Ambit Energy?
Ambit Energy has a basic selling point. Since everybody uses electricity or natural gas on a daily basis, you have a strong advantage as an Independent Consultant.
But is this true? Can you really make money with Ambit Energy?
According to its website, Ambit Energy has around 500,000 independent consultants from the U.S., Canada, and Japan. There are other independent energy providers in the U.S., but they are considered the largest in direct selling.
For customers and consultants, the major benefit that Ambit Energy advertises is getting free energy through your subscription.
You will get free energy credit when you refer 15 or more friends to become Ambit customers. Your Free Energy credit is calculated monthly so if you have referred more friends, you get higher credit that can be enough to cover your monthly cost.
Sound great right? You just refer and then you get credit. But if you want your service to be free monthly, then you have to refer at least 15 friends monthly. It can then turn out to be a recruitment model.
While electricity is being used by everyone you know, there is only a finite number of people in your neighborhood or in the states where Ambit Energy is available.
And there is no guarantee all these people will become your referred customers. So you have to be good at referring and selling to people to maximize this program.
Now, if you're thinking of earning beyond just getting free energy, you can do that through two ways:
Bring in people to become independent consultants and gain a percentage of their profit
Help the people in your organization bring in more people
If you want to view their complete compensation, you can watch this video:

As you can see, the two ways of earning require you to recruit people into the business.
Ambit Energy works on a point system where you earn points whenever you sign up customers to an energy plan or as an independent consultant.
There are different leadership levels you can achieve as an independent consultant.
You become a Regional Consultant if you are able to personally enroll five new customers and recruit two new consultants.
Once you're a Regional Consultant, you can move up to becoming a Senior Consultant if you have personally enrolled 10 new customers, sponsored two new consultants, and have 18 consultants under your organization.
The highest level you can achieve is the National Consultant where you have more than 20 personally enrolled customers and more consultants under your organizations than your previous levels.
So even if you're promoting energy services, you are still in the business of recruiting people to your organization.
Now, based on their income disclosure agreement, how much do Ambit Energy consultants make?
In 2018, the average income of independent consultants at the marketing level is $110 per year. This makes up 90% of their members. That means only 10% are earning more than $110 per year.
They mention in their statement that the average annual earnings of their consultants on the 1st year are $216 and $974 in the 2nd year. Therefore, don't expect you will be making money on your first two years which covers your initial contract with them.
While they mention that the average annual earnings of an actively engaged independent consultant in 2018 is $2,134, there is no number of how many really are their active consultants.
I find their income disclosure statement quite general in numbers compared to other MLM I have reviewed in the past.
I prefer that there is a number of consultants per rank to give you a better picture of your real income potential.
But from the numbers they reveal, it is clear to see that it will require a lot of work to potentially make this into your main income source.
Recommended: Click to Learn My #1 Recommended Way to Make Money Online
Is it worth it?
If you're looking for a good energy provider, then you can consider Ambit Energy with the potential of getting your energy for free if you refer. It is quite possible you refer enough people to get enough credits to pay for your energy.
However, as an income source, I personally don't think this can build into a full-time income. You can get the bonuses if you really know enough people who are willing to change their service providers. But your income will mainly still rely on recruiting people.
As for the service they provide, I find that there a lot of complaints on billings for Ambit Energy at Better Business Bureau. The company has an A+ rating and out of the 207 complaints listed, 103 are on billings and collections.
The most common complaint is when they get upgraded to a higher rate after their contract is automatically renewed. This can get frustrating especially if you sign up to save money on your electricity.
Apparently not everyone is informed that you will be automatically switched to a higher plan if you don't choose a new plan when you renew your contract. Normally when you renew a contract it's still the same plan with just a new duration.
So most people are complaining about how their rate or their plan changed resulting in them having to pay a much higher cost than their regular billing. This is, of course, not good if you are trying to sell their services as people usually take complaints like this into consideration before deciding.
But Ambit Energy is quite active in responding to these complaints and settling them which is a good sign since they mention on their website they have great customer service.
Now, another thing you should consider is their $9.3 million settlement on a lawsuit. Ambit Energy paid their fine when they were filed with a class action lawsuit stating their use of bait-and-switch advertising to trick customers into buying their services.
I get that anybody would be attracted to getting their utilities for free but using this kind of advertising can turn people off.
Another lawsuit settled is on an alleged overcharging of New York customers for gas and electricity by rolling them off a Guaranteed Savings Plan onto New York Select Variable Plan without proper authorization.
While they claim they did no such thing, they still paid $26.5 million to avoid the burden and expense of the lawsuit. So on January 28, 2019, those who were involved received a check for more than $2,000 in their mail.
With all the lawsuits, it appears Ambit Energy is really profitable in the business since they are able to pay for these lawsuits and pay the parties involved.
Even if these lawsuits are already settled, I suggest you carefully read the contract if you are planning to get their services. Make sure you don't miss any fine print or clauses that can cost you more than save you money.
So if you do decide to become an independent consultant, you have to manage your expectations on your income and be transparent to your customers to avoid having complaints on the plans and billings.
Final Verdict
Ambit Energy has been a direct selling energy provider for years and has received recognition for it. It's not a scam and there are people who are benefiting from its services.
As for its income potential, I have summarized the pros and cons I have discussed throughout this review to help you decide if you should join their team of independent consultants.
Pros:
Features renewable energy
Low startup cost
Recognized as a fast-growing company and largest direct-selling energy provider
Member of Direct Selling Association of America
Cons:
Limited states and country available
Rates become higher upon contract renewal
Lots of billing complaints
Relies on recruitment
Limited details on their income disclosure agreement
Overall, Ambit Energy might be a good service provider if you're looking for energy alternatives for your home. You can avail of their free energy program just by referring your friends and family to switch.
However, do not expect this can be your ticket to earning a full-time income online easily. This is the kind of opportunity where you have to reach out to many people in your network since income relies mostly on the recruitment of other independent consultants for your team.
Since there are only 16 states and two other countries available for you to tap, you have to work hard to reach a good income and be very good at recruiting others.
You also shouldn't expect a profit in your first two years according to their own income disclosure. The good news is the start-up cost is low.
But if you're looking for an opportunity where you can really build your income without relying on recruiting others all the time, I would suggest to check out other online opportunities that can help you build a brighter future instead.
How I make a living online
I was also finding ways to earn online years ago. I spend time and tried different opportunities just to find the one that worked for me.
Now, I have been able to create a full-time online income that now allows me to work completely on my own terms.
It takes some effort but it is totally worth it.
If you want to follow my footsteps and create your own online income, then check out my FREE guide where I explain how this is possible step-by-step.
You can even get started with these steps as a complete beginner.
If you have any questions, comments, or have any experience with Ambit Energy yourself, I would love to hear from you in a comment below.