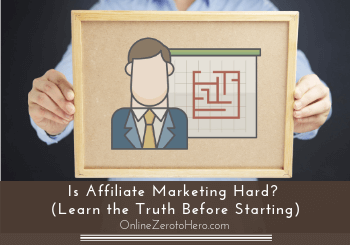 Since you are reading this article you probably already know affiliate marketing has a huge potential and it can be a great way to make money online.
But is affiliate marketing hard or is it something you can make money with no matter your background?
This is something you need to know before starting so you know what you are getting into.
I have myself started from scratch and I am now making a living from affiliate marketing so I know what it takes to get there.
And let me just reveal right away that success is definitely possible – but you need to know exactly how easy or hard it is, so you can see if it is the right way for you to start earning online.
This short article will explain all about this so you can quickly find out if affiliate marketing is for you or not.
The sad facts (and why you shouldn't let them stop you)
If you look at the facts about affiliate marketing alone, you might think it is very difficult and more or less impossible to succeed.
Because more than 90% of people that try to make money with affiliate marketing end up failing.
However, you need to learn the background for these facts so you know there is no reason to let the stats stop you.
There can be many reasons to fail with affiliate marketing. But most of these reasons have one thing in common – that people that fail have started affiliate marketing with the wrong approach.
One of the most common mistakes is to go into it thinking you will become rich within a few weeks without really having to work for it.
There are even many so-called systems that promise you it is this easy to do affiliate marketing and if you just invest $50 in their system, you will be rich in no time.
This is just NOT the reality when it comes to affiliate marketing. You need to be aware that there, in general, is no magical way to make a lot of money online.
Affiliate marketing is a skill that needs to be learned – and like any other skills, it takes time to master it.
But I can tell you that it is absolutely worth it to learn the skills.
When you succeed, you will get the freedom to work completely on your own terms, work when and where you want to, and you will also eventually be able to make really good money.
Can anyone learn affiliate marketing?
If you are aware that affiliate marketing is not a magical way to automatically become rich online, but are willing to learn it, then the next natural question to ask is then – is affiliate marketing hard to learn?
The basics of affiliate marketing are quite simple – you find a product/service you want to promote, you become a part of that affiliate program, you then start promoting that offer, and when people buy through your affiliate link you earn a commission.
In fact, this is one of the reasons I think affiliate marketing is a perfect way to make money online – even for beginners.
You do not need to create your own product or come up with any new crazy inventions. You can earn by promoting products that already exist you are interested in yourself.
There are, of course, many details to get this all to work. The ones that think it is enough to just spam their links everywhere will never create a sustainable income.
But one thing I can say after having worked with hundreds of affiliate marketing beginners (and from having started from zero myself) – it definitely is possible to learn affiliate marketing no matter your background and technical skills.
How long it will take to learn depends a lot on the time you put in – just like with any other skill.
But if you do it with the right approach, it definitely is possible to learn.
The key to success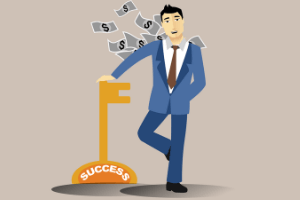 I know from experience that there are some things that will make you succeed with affiliate marketing – I wish I had known these when I first started as that would have saved me a lot of time.
So to save you from going through the same I want to share some of the most important things so you will go into affiliate marketing with the right approach and save yourself some time.
One thing you really need to know is that affiliate marketing isn't hard but it is hard work!
It is like any other type of business – it requires effort and time to create a successful business. Luckily, the cost of starting an online business is VERY low compared to starting any other type of business.
But if you are completely new, it requires that you first take the time to learn the necessary skills and take the time to build a sustainable business.
Some people make really good money in 3-6 months or faster, and for some people, it takes 2 years or more. It depends on so many different things that it is impossible to give an exact answer for how long it will take to succeed.
But you need to approach it as you are building a business – then it definitely is possible to succeed.
This also includes that you should not be desperate for fast money.
I have often seen people starting affiliate marketing and saying they want to make a few thousand dollars in their first month and if not they will give up because they need that money.
Honestly, if you need fast money, the best is to just get a regular job. That will likely not give you the same financially and personal freedom but it will give you money fast.
It is great being motivated to get results online but desperation is not a good foundation for building a sustainable business in my experience.
So be willing to put in effort and time – if you are willing to do this, you definitely can succeed with affiliate marketing.
The best way to get started
If you have no previous experience with affiliate marketing or have tried it without succeeding, it is very likely you need a little guidance to build the right foundation.
Even though affiliate marketing isn't hard, it will be hard to take the right and necessary steps if you have never done it before.
Personally, I had worked with online communication for several years before starting with affiliate marketing, so I thought it would be easy to just start and figure out everything myself.
I ended up failing and wasted quite a lot of time the first 6 months I tried.
However, I was not willing to give up and eventually found the platform Wealthy Affiliate that gave me step-by-step guidance and filled out all the blanks.
Now I am making a living from affiliate marketing and work completely on my own terms.
So if you are new, I strongly encourage you to get some step-by-step training by a proven system – NOT one of the systems that promise you will become rich in no time and with no effort.
You will just end up wasting money and become more confused from these so-called systems.
Getting proper training and help is the best way to build the right foundation and make sure you will see results, in my experience.
Final thoughts
Honestly, affiliate marketing is not that difficult, BUT the reason so many still fail with it is because it does require hard work and most people are not willing to do this.
But if you are willing to put in the effort, it can give you an enormous financial and personal freedom.
And it is something anyone can learn – the problem is just that good affiliate marketing training is honestly hard to find. I have tried a lot myself and 90% of the affiliate training and systems are more or less useless, in my experience.
But luckily there are also some great options. I have personally had great success with Wealthy Affiliate and in addition to the great training, tools, and support that platform offers, it also gives the best value for money I have seen.
So if you are interested in learning affiliate marketing the right way and for the best possible price, I suggest you check out my Wealthy Affiliate review and learn more about why this is my top recommended way to get started.
If you have any comments, questions, or need any help, I would love to hear from you in a comment below.