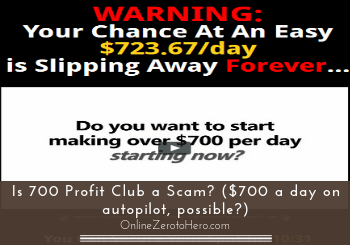 I recently visited another make money online site that claims you can easily make $700 per day. This program is called 700 Profit Club, which seems like another one of those sites that promise unrealistic earnings.
I got curious about this program, so I delved deeper on what they exactly offer and if there is something special in their system.
You may have stumbled upon this program too and the reason why you found this review if you want to know if they are legit or another scam site.
I would like to congratulate you because no matter how juicy their claims are, you're still conducting your own investigation.
In this review, I will enumerate some of the things I found out about this program.
Is 700 Profit Club a Scam? You'll soon find out.
700 Profit Club at a Glance
Training

Tools

Value for Money

Income Potential
Summary
700 Profit Club is a done-for-you system that promises people to provide $700 per day in less than 24 hours. In fact, you are only required 10 minutes to set up everything and you're good to go.
However, if you look closely to their sales video along with other elements on their site, you will soon discover that there are lots of red flags present in this program.
Some of the most significant red flags I discovered from their sales pages are:
The owner of this system is not mentioned in the sales video
There were several fake testimonials with fake photos of so-called users
There are no income disclaimer
I'm not recommending this system and you're only putting yourself at risk if you decide to create a hosted site using their method.
Click to See My Top Recommended Way to Make Money Online Instead
What is 700 Profit Club and what does it offer?
On their sales video, the very first thing you will see is the claim that you can make $700 per day in less than 24 hours.
They will also claim that all will be done for you, so you don't need to do anything but just wait until the earnings come in.
Another incredible claim you will hear in their sales video is you will only need 10 minutes to set up everything and their system will now work for you on autopilot.
This means that the whole process is so easy to do that even if you don't have any experience or skill at all, it doesn't matter.
The best part of their offer is that this program is FREE! Yes, you don't need to buy anything from them, so there are NO risks, right?
However, in the middle part of their sales video, I found out that they have tied up with CoolHandle, a hosting company like Godaddy and SiteGround.
Therefore, they are an affiliate of this hosting company and they will earn something if they can produce paying customers for that company.
This is a common process in affiliate marketing where you can promote products and services owned by various companies online.
You can use your website, blog or even your social media accounts to redirect people into their website. If they convert into paying customers, they will pay based on the guidelines on their affiliate program.
Affiliate marketing is a good and legit opportunity to make money online, but you'll need to do more to be successful in this field. There's no such thing as an automated system that generates money for you on the web.
700 Profit Club Warning signs
When someone tells you that you can easily earn $700 per day, you will surely get excited and you want to learn more about this system.
However, you won't easily believe that claim without a solid proof, which I think is a valid requirement before you make your final decision.
I'm also a bit skeptical about this program even if they claim to be free because they won't create a system that they won't profit from.
As I focused my research on how their system works, I found out several red flags that I think you should know about before you decide to join this program.
Warning sign #1 – Are you really getting a FREE hosted website?
The spokeswoman in the sales video will require you to get their free website which is hosted by CoolHandle.
With this new website, her team will monetize it for you and all you need to do is just sit back and wait till the money rolls in.
I'm truly skeptical about this claim because it doesn't make sense at all. Why are they giving away a free hosted website?
Where does the money come from? Why is the narrator saying that this offer will end today because tomorrow it will cost $2,500?
 To answer all these questions, I decided to sign-up to the form on their promo video and I was taken to a new page with another sales video.
Now it's clear on their second sales video that you will need set up your hosted site on CoolHandle, and according to the narrator, you'll be able to earn $1.2 million a year.
This is again another outrageous claim that I consider to be unrealistic. I haven't heard any hosting site on the web that is willing to pay $700 a day to someone who will create a free site under their hosting service.
However, the spokeswoman will again require you to secure your website by doing the following steps:
–    Choose a domain so you'll be able to get your CoolHandle hosting account
–    Choose a hosting plan for your free hosted website
–    Activate the $700 per day system
One of the big red flags I found from this second sales video is when the narrator suggests that you get the 3 years hosting plan because it has more benefits.
In reality, they are an affiliate of CoolHandle and if you get the 3-year plan they will earn more commissions from that transaction because it will cost you almost $250 as you can see on their hosting package listing below.
So, is the hosted site free at all? No, in the end, you'll end up paying a lot more when you are lured to purchase the 3-year hosting plan for a website that doesn't have any content.
This only means that it won't get any traffic, so you won't earn any money from it. This is one of the important details about their system that they did not explain it on their sales videos.
Recommended: Click to See the Best Way to Learn Proper Affiliate Marketing
Warning sign #2 – Who really is the owner of this program?
Another significant warning sign from their sales video is the lack of information regarding who the owner of this program really is.
The spokeswoman on their sales video doesn't really tell who she really is, nor do we find any reference from their site who the founder or creator of this program.
This is an important detail every legitimate business should include in their website. It's like they are NOT interested in sharing their true identity, which is a big red flag for me.
How can you trust a program whose owner is unknown?
Warning sign #3 – Are those testimonials real?
If you've watched their sales video, you may have noticed several people who claimed to have earned thousands of dollars.
When you look closely to these pictures, you'll notice that some of them look like stock photos, while other images seem out of place.
To verify these images, I tried to search them on Google and I found out that they are really stock photos, but the most unacceptable thing they did was to steal an image from Wikipedia.
Based on Wikipedia the real name of the person on the image is Sunil Shanbag, but they renamed it to "John" who they claimed have earned $1,454.
Using fake photos on fake testimonials is not something new on the web especially when you're dealing with make money online sites.
That's why you should always verify the testimonial on these sites to make sure you're dealing with the real thing.
In my opinion, if this is really a great system then why wouldn't they use images of real users with their real names? This is a big red flag that you should consider before making the decision to purchase this system.
Warning sign #4 – Scarcity tactics being used on the site
When first watched their sales video, it's clear from the very start that their claims are leading you to a sense of urgency.
In fact, they want you to believe that you should act fast because your chances of earning better profits will depend on your swift action.
In my opinion, they really want you to hurry up and join their program, so you will be able to purchase a hosting package from their partner, CoolHandle.
Don't give in too fast when someone is offering something for free while limiting your time to think or at least do your own research regarding their product.
Keep in mind, those scarcity tactics are commonly used by online marketers with legit products and services, but most of them won't shut down their offer in 24 hours.
The problem I have with 700 Profit Club is that they will warn you that their offer will no longer be available after 24 hours, but when you come back the next day – the warning sign will still be there along with their offer.
It's clear that they just want you to act fast, so you will be forced to purchase a CoolHandle hosting package.
Final verdict – legit or scam?
There are lots of legit opportunities on the web and you can really make money online, but it requires hard work, patience, consistency, and the right mindset to succeed.
However, there's no such thing as shortcuts or a system that will automatically generate an income for you from the internet.
I would suggest that you stay away from a program that promises easy money or a done-for-you system, as it in my experience will mostly fail in the long run.
So, is 700 Profit Club a scam? After all the warning signs that I have shared with you in this review, I think you're more than capable of answering this particular question.
Although I'm not saying that this system is a scam, it's clear that there a lot of warning signs that you should consider before making your final decision.
Here's an overview of my review:
Pros
None
Cons
The owner of this program is unknown and NOT referenced from their site
This is a done-for-you system, you don't have control over your free site
 The free site hosting is actually a lure, so you'll buy a hosting package
There are lots of fake testimonial and fake photos used on their sales page
They employ scarcity tactics to force you to act fast
There is no terms and income disclaimer
Overall, I don't recommend this system, because there are lots of red flags that I found when I did my own investigation. It is better that you find another alternative that could provide you with a better and more ethical way of making money online.
Is there a legitimate alternative on the web?
If you really want to earn money online, then you should understand that it takes time, effort, proper mindset and a bit of money to succeed.
It's like any other endeavor or business opportunity in this world, you'll need to hustle and learn the steps and ways to properly move ahead until you reach your goal of earning money online.
I would recommend that you check out my FREE and in-depth guide about affiliate marketing. This is the same steps I used when I was just a newbie and I still use it now because it's still effective.
If you have any questions, feedback or comments about 700 Profit Club, I would love to hear from you in a comment below.