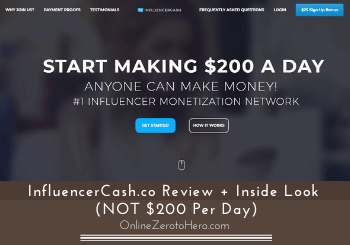 InfluencerCash.co claims it is the #1 influencer monetization network and that you can easily start making $200 per day if you join.
But is InfluencerCash.co a scam or really a legit way to earn?
As someone making a living online myself, I am always interested in testing new methods so I decided to join and check it out for myself.
Let me just reveal right away that I found some BIG red flags you really need to consider before joining.
In this InfluencerCash.co review, I will give you an inside look and show you all the hidden details so you know exactly what you are getting into if you decide to join.
InfluencerCash.co at a Glance
Training

Tools

Value for time spent

Income potential
Summary
At first, InfluencerCash.co might seem like an easy way to make money online. But after digging deeper I found some serious red flags.
In general, the earning claims are exaggerated and their terms make it very easy for them to never pay you which means you can end up wasting a lot of time on the platform.
These are just a couple of reasons to think twice before joining InfluencerCash.co and it is definitely NOT a platform I can recommend as it is just simply too risky, in my opinion.
Click to See My Top Recommended Way to Make Money Online Instead
What is InfluencerCash.co and what does it offer?
InfluencerCash.co claims to be the #1 influencer monetization platform – but what does this even mean?
Well, according to the site itself, it means it is working with big brands and if you join and help generate traffic to these brands, you can earn really good money.
In fact, the main claim on the site is that you can start making $200 per day online and you can start doing this today – they even claim that anyone can make this kind of money by joining.
But what do you have to do to earn this kind of money?
Let's look into the earning methods InfluencerCash.co supposedly offers.
Option 1 – Invite people to join InfluencerCash.co
As soon as you join InfluencerCash.co you will get a pop-up telling you about how you can earn by inviting other people to join the platform.
This clearly shows this is the main way to earn on the platform.
It is built on the affiliate business model, which means you will get paid a commission by inviting other people to join the platform.
As you can see in the image above, you will be given a link you have to share. If people then click this link and join, you will earn a commission.
InfluencerCash.co takes it a step further and will even pay you $2 just for people clicking on your link. And if they then end up joining, you will get $10.
This sounds like really great and easy money, right?
Well, I can tell you that based on my experiences as a full-time affiliate marketer that something is, unfortunately, off with these numbers.
They simply do not make sense. But I will go more into detail about this later and explain exactly what I mean about this.
Let's, for now, focus on a couple of other methods you can use to supposedly earn as a member of InfluencerCash.co.
Option 2 – Use the TaskWall
Inside InfluencerCash.co you can find what they call a TaskWall.
It is a list of small online micro-tasks.
You can supposedly earn $30 for each of these.
The tasks are usually to sign up for different contests. Just be aware that for most of these contests, you will allow the advertiser to contact you if you sign up.
So make sure to read the small print before signing up for any of the offers on the task wall. In some cases, you even agree to be contacted by A LOT of advertisers both via email and phone.
In addition to this, you need to know how offer walls really work as I also here spotted something that does not add up.
I have a section later in this review where I explain all these red flags in detail so you can see and judge for yourself.
Option 3 – More promotional methods
InfluencerCash.co also has several other ways where you can supposedly earn by promoting them. This is closely related to the first point.
You can earn by posting about InfluencerCash on social media like YouTube, Instagram, Facebook, and Twitter.
If you create a video about InfluencerCash.co, you will, for example, earn $50. And by posting about the platform on Facebook, Twitter, or Instagram you can earn $10 per post.
You can even get paid to post more than once.
This is where the whole idea about it being an influencer platform comes from. If you are an influencer and can tell a lot of people about the platform, you can supposedly earn a lot of money.
BUT even though this sounds great in theory this is NOT the whole truth.
So let's first go over if this is even a real way to earn online before getting to some red flags you need to be aware of before joining.
Recommended: See How I Make $6K+ Online Every Month
Can you really earn like this?
Let me just start by saying that the methods used on InfluencerCash.co can, in theory, be a way to make money online.
If you work with affiliate marketing, you can definitely make money by inviting people to platforms and services you recommend.
And the tasks on the task wall are also very common to see on, for example, Get-Paid-To sites where you can earn by doing small tasks like this.
And when you do these tasks on InfluencerCash, you can also see the earnings going into your InfluencerCash.co account. You can see that right away as you even get a $25 joining bonus.
So if you do not have much experience with making money online, it seems like a great way to make money – and even to potentially make a really good living.
However, just because you get money into your InfluencerCash.co account does not mean you can get the money out.
In fact, even though the earning methods are a way you can earn online in general, I strongly doubt you will ever get anything from InfluencerCash.
I am not just saying this without reasons – below I will show you why I am saying this and why you, in my opinion, should be very suspicious before joining.
InfluencerCash.co red flags
As already mentioned, I think there are good reasons to be suspicious about InfluencerCash.co and your chances to actually earn on the platform.
With my background in online marketing and as someone making a full-time income online, I spotted some quite serious warning signs after I joined.
Let's go over these below so you can see and judge for yourself.
Red flag #1 – Fake testimonials
To show you it is a credible platform, InfluencerCash.co has several testimonials on their website.
However, the problem is just that these testimonials seem fake if you dig a bit deeper.
I did a Google search for the image of the testimonial above.
The exact same image showed up on hundreds of other sites in all kinds of connections. This means it is clearly a stock photo.
When a company uses stock photos as testimonials, it is always a big red flag, in my opinion. If it really was a great platform, there should be no need to uses fake images.
They should be able to get real testimonials, right?
Red flag #2 – Suspicious payment proofs
In addition to the testimonials, I also spotted something else that seems to be faked on InfluencerCash.co.
That is the many so-called payment proofs they display on the website.
First of all, all the payment proofs have blocked out who the payment is coming from as you might be able to spot on the image above.
If it does not display where the money is coming from, it is not really a payment proof, in my opinion.
In addition to that, the payment proof you can see above is from February 2019. The problem is just that when you check when InfluencerCash.co was created on Whois Domain Lookup, it shows the platform did not even exist until April 2019.
Therefore, you should not take the payment proof seriously, in my opinion as they do not prove anything.
Instead, they actually prove why you have to be extra careful before joining, in my opinion.
Red flag #3 – Exaggerated earning claims
For anyone that has worked with traffic generation and affiliate marketing, the earning claims on InfluencerCash.co will immediately seem suspicious.
It is just NOT realistic to get $2 just for getting someone clicks your referral link.
Also, it is NOT realistic that a free platform like this would actually give you a $25 joining bonus just for signing up. There are free platforms that give joining bonuses but never this high.
It is also NOT realistic that you will get $10 for each post you create on social media no matter who you are. Big influencers can negotiate great deals with big brands and earn a lot more per post.
But InfluencerCash.co claims you can get it just by posting without any further demands – that is very suspicious.
Finally, it is NOT realistic to give you $30 for the tasks on the TaskWall. As mentioned earlier, there are platforms where you can actually earn by doing tasks like this.
But they will never pay you that much just for these types of tasks.
InfluencerCash.co will get paid to refer you to these offers and I know from experience that offers like this do not even pay $30 to the platforms that promote them.
So it is a very unrealistic earning claim meant to just get you to take as many tasks as possible so they can earn commissions by sending people to the offers.
But as I will explain below, you will likely never see this money.
Red flag #4 – Your account can be closed at any time
When you sign up as a member of InfluencerCash.co, you also agree to their terms. Here you, in particular, need to be aware of one part.
It clearly states that your account can be closed at any time for any reason.
This basically means that whenever you reach the payout threshold and have spent a lot of time promoting the platform and taking tasks there, they can just close your account.
These terms are quite unusual, in my opinion. Usually, you have to break the terms of a platform to have an account suspended.
But here they can just close your account without any reason – this makes it a very risky platform to spend any time on, in my opinion.
In addition to this, it also says in the payout section that once you get to the payout threshold, they will check if any clicks are fraud – and if they are, your account will be closed and you will not get paid.
When you share links online, they will at some point get what can be considered bot traffic or fake traffic whether you like it or not. With the amount of fake traffic there is online, this will just happen.
So it will be very easy for them to argue that you got a fake click and thereby they will not pay you. And the suspicious part here is also that they will not check this until they are going to pay you.
They will let you keep sending traffic and then you will not find out until it is time to get paid whether you will actually get your money or not.
In general, their terms have made it extremely easy for them never to pay you, and this is something you seriously have to take into consideration before spending any time on InfluencerCash.co.
Red flag #5 – Suspiciously high payout threshold
As mentioned earlier, you will see earning go into your InfluencerCash.co account whenever you invite people or do tasks.
However, you cannot get your earnings out before you have earned $200. This is a very high payout threshold and I have not seen any legit earning platforms online with this high a threshold.
It means you have to put quite a lot of time and effort into promoting the platform and taking tasks before you can confirm if you actually will get your earnings.
And as mentioned earlier, the payment proof seems fake and they can close your account without any reasons, so there is a big risk you will never see your money, in my opinion.
Final verdict
At first, InfluencerCash.co might seem like an easy way to make really good money online.
But there are A LOT of suspicious things about the platform, in my opinion.
So before you decide to join or not, let's sum up the pros and cons so you can get a better overview.

Pros:


Cons:

Unrealistic earning claims
High payout threshold
Uses fake testimonials
The payout proofs are suspicious
They can terminate your account without any reason
Honestly, I cannot find any positive aspects about InfluencerCash.co based on my experience. Yes, it is free to join so you will not lose money.
But you can potentially end up wasting a lot of time and also the time of other people you might invite to join.
When you put everything together, it is just simply a platform that is too risky to invest any time on, in my opinion.
Be aware that when it comes to making money online, it definitely is possible but there is no quick fix and when a platform has too many red flags, it is just better to find another method instead.
How I make a living online
I have personally been able to create on full-time online income that now allows me to work when and where I want to completely on my own terms so I know it is possible.
It takes some effort but it is totally worth it to get the freedom that comes with it.
If you want to follow my footsteps and create your own online income, then check out my FREE guide where I explain how this is possible step-by-step.
You can even get started with these steps as a complete beginner.
If you have any questions, comments, or have any experience with IncluencerCash.co yourself, I would love to hear from you in a comment below.