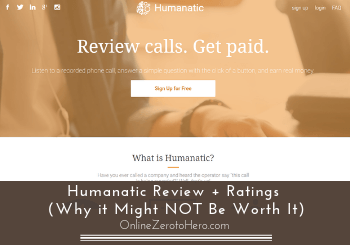 I recently heard about Humanatic being a website where you can earn money from anywhere and decided to look into it.
So is Humanatic a scam or a legit way to make money from home?
Well, let me just reveal right away that there are many opinions about this so it can be a bit confusing to find out exactly what to believe.
Therefore, I decided to do my own investigation.
In this Humanatic review, I will share all the details with you so you will know exactly what to expect and if it is really the right way for you to make an income online or not.
Tools

Support

Income potential
Summary
Humanatic is a way to earn a bit of extra money and work where and when you want to. You will be working as a call reviewer and can work as much or as little as you want to.
The pay is, however, extremely low and will not give you much freedom. Especially not because many people complain about not having their work approved and then not getting paid at all. In addition to this, there are many complaints about poor support as well.
Therefore, it is not a method I recommend if you are looking to create a good sustainable income online. If this is what you are looking for, there are ways with a lot more potential.
Click to Get the FREE Guide to Start Making Realistic Money Online
What is Humanatic and what does it offer?
I first heard about Humanatic because someone on my website asked me about this and if this really is a way to earn an online income. I decided to look into this.
The first thing I always look for when I look into online income opportunities is who is behind a certain program or company as this can tell you a lot about the credibility.
In the case of Humanatic, I could not find much background info. On the website, there is no about section that tells about when the company started or who started it.
I found this a bit strange but decided to dig deeper and see what they then offer you of job opportunities.
Humanatic is actually a software. It is used by companies to do an in-depth analysis of their phone calls.
You have probably tried calling a company and heard a voice say "this call is being recorded". This is a software like Humanatic.
Calls are often being recorded like this to help the company improve its services and get insights into how they perform and how their employees interact with customers.
As a member, you can then work as a Humanatic call reviewer, which means you will work with listening to these calls and answer questions they need to provide analysis to the companies using Humanatic.
You will not be required to work at a specific time during the day or week, and you can work as much or as little as you want.
So in that sense, it can give you a lot of freedom to work on your own terms.
So far it sounds great, right?
Well, from my investigation I found out there is more to it than just these positive aspects. So you need to know the full picture before deciding if it is for you or not.
The first thing you need to know is how Humanatic pays you.
Recommended: Get the Ultimate FREE Guide to Create a Full-time Online Income
How do you get paid?
To see if it will really be worth working as a Humanatic call reviewer you need to know the payment conditions.
You will get paid through PayPal, which is a legit and safe payment method, so that is great. So in that sense Humanatic is safe and you can earn as a worker for them.
You are required to earn a minimum of $10 before you can request a payout, so the threshold to get your money out is also reasonable.
What concerns me about Humanatic is, however, the pay per hour.
According to the site itself, the pay will depend on your skills. The more experienced and accurate you are, the higher the pay you will get.
That is fair enough, but the maximum pay is what concerns me.
As you can see in the image above, they say that you can earn from $1-$4.50 per hour.
So that means when you are super accurate and very experienced you can maybe get to $4.50 per hour. But especially in the beginning, you should expect to maybe only earn $1 per hour.
And according to some complaints (more about this later), you sometimes might not even get that.
So it seems like you can earn some extra money from anywhere with Humanatic. But even as a very skilled worker, it will really not make you a lot of money and it requires a lot of hard work because your work also needs to be approved.
If you are not accurate enough, your work might not get approved and then you will not get paid. So the pay is not even a guarantee from what I have been able to find out.
Recommended: Learn the Best Way to Start Your Own Online Business
Who can join and get Humanatic jobs?
A great thing about Humanatic is that it is available worldwide.
This means you can join no matter where you live and you can also work where you want to and when it suits your schedule.
This is great freedom to have and it is also the main reason I have an online income myself.
However, with the pay Humanatic offers, it will not offer much real freedom, in my opinion.
If you still want to join Humanatic and be accepted as a worker, you have to have a verified PayPal account so they know you are a real person. In addition to this, you have to apply on the site.
It can take 3-5 days from applying until you get an answer to your application, so it is not a way to start earning immediately.
Humanatic complaints
So far I have shown you the opportunities you have to earn on Humanatic and also some of the limitations it, in my opinion, has.
During my research, I also encountered quite a few complaints about Humanatic.
Let me just start by saying that there will always be complaints no matter how good a company is. That is just how it is. So complaints alone do not say everything.
But it can be great info to put together with the rest of the info in this review to help you decide if it will be worth it for you or not.
Therefore, I will now go over some of the most common complaints I found during my research.
Complaint 1 – Rejected work without reason
As mentioned earlier, you need to have your work approved by a Humanatic moderator before you will get paid.
I have seen many complaints online about people feeling their work is rejected without reason.
In my opinion, it is, of course, fair they have to approve the work so it lives up to a certain standard. I was, however, concerned about the number of people saying they had their work rejected without proper reason.
In the image above, you can, for example, see a person who never got a transparent reason for the rejection.
Rejection is fair, but as a company working in this line of business, you should, in my opinion, be interested in helping your workers improve.
So not to give proper explanations for rejections is not fair, in my opinion. And I have seen quite a lot of people complaining about this.
This is definitely something you need to take into consideration and you need to be aware there is a risk your work will be rejected without an in-depth explanation.
Complaint 2 – Poor support
Personally, I can accept a lot of mistakes from a company if their support is fast and helpful when they find out about it.
When it comes to Humanatic, there are, however, many complaints about very poor support.
The example above shows a person who was not able to get in contact with support.
In my opinion, this is unacceptable for this kind of company. It could, of course, just be this person was unlucky. But I have seen many other complaints online about this issue.
Also, there are many poor Humanatic reviews on their Facebook page and I have not seen one single answer from their support.
This says a lot, in my opinion. A company that is service-minded would make sure to reply to every single complaint on the Facebook page and try to resolve it asap.
But there are no answers to any of them from what I have seen. And I have kept an eye on this after I first wrote this review to see if it changed but so far I have still not seen any responses from their support to all the negative reviews on their FB page.
This indicates that the support is not very responsive as many people also report.
Complaint 3 – Very low pay (if any)
I have seen quite a few complaints about the very low pay Humanatic offers. Here is an example.
In one sense, I do not think it is fair to complain about the low pay. I personally think it is way too low and not something I would do. But they do make it clear on the website what kind of salary you can expect so you know this before joining.
What, however, concerns me is that many people report that they do not even get this low salary because their work is rejected.
So even if you decide you can accept the low hourly rate, you have to be aware that I have seen several people report that in many cases you do not even get this.
That honestly concerns me.
To be fair, I also want to mention that I have seen some positive Humanatic reviews on their Facebook page. Not very many and the negative reviews clearly outnumber the positive ones on all the review platforms I have found complaints on.
What concerns me most of all is the silence from their support and that I have not seen them answer to one single of these complaints.
But if you decide to join to do Humanatic call reviewing, you definitely need to make sure to be very accurate and follow all instructions very carefully to get the best chances of getting your work approved. So if accuracy is not your strong side, then this is probably not a good job for you.
Final verdict – legit or scam?
From my investigation and test, I would say it looks like Humanatic is legit in the sense that it seems some people are able to earn a bit of extra money working for them.
However, there are also some negative aspects and complaints you need to take into consideration before deciding if this is the way you want to make money online.
To help you decide, let's finish by summing up the pros and cons so you can get a better overview.

Pros:
Free to join
You can work from anywhere
You can work as much or as little as you want

Cons:
Very low pay
Seems like support is not very responsive
Many complaints about having work rejected
I like that Humanatic offers you a chance to earn from anywhere and work on their own schedule.
However, I think the pay is ridiculously low – especially because there is no guarantee you will ever get to the highest hourly rate and many people report having work rejected without proper reason and then not getting paid at all.
In addition to this, it seems like the Humanatic support is very quiet and this concerns me a lot as you need to know you can get quick support if you need it.
For these reasons, it is NOT an online earning method I recommend.
There are many great ways to earn online, but, in my opinion, this does not seem like one of them as the potential is just too low.
How I make a full-time income online!
Working online gives a lot of freedom, and I know from personal experience it definitely is possible to learn to make a really good online income – even as a complete beginner.
The way I do it is through what is called affiliate marketing. It requires some work and dedication, but if you are willing to do this, the potential is huge and it is a way to create real financial freedom.
I know this is possible, as I have done it myself from scratch. It is really possible for anyone to learn as long as you are willing to make an effort.
If you want to start creating your own online income with unlimited potential, then sign-up for my FREE guide to start making money online.
In the guide, I will show you the exact steps I have used to create a real full-time online income and you will even be able to ask me all the questions you want completely for free.
If you have any comments, questions, or have any experiences with Humanatic yourself, I would love to hear from you in a comment below.