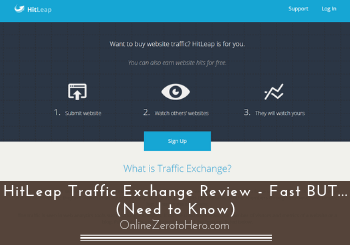 Getting traffic is one of the most important aspects if you have a website or an online business – but it is also one of the most difficult aspects.
Therefore, you can find many platforms that try to make it easy for you to get fast traffic. One of these is HitLeap.
But is HitLeap a scam or is it really legit and worth it?
Let me just reveal right away that it definitely can be a way to get fast traffic BUT it is not necessarily the best way for you to get traffic depending on your needs.
There definitely are some important things you need to know and consider before joining. This HitLeap review will give you all the details so you can find out if it is the right option for you or not.
Quality of traffic

Value for money

Long-term potential
Summary
HitLeap can definitely be a fast and cheap (or even free) way to get visits to your website.
But you need to to be aware that with the free traffic, you get the lowest quality traffic they have. In general, there is, in my opinion, a lack of information about where some of the traffic comes from and the quality of it.
If you decide to use this option, I would encourage you to start small and test with a small budget and make sure to really measure the results carefully before scaling.
Remember that when it comes to traffic the most important thing is not the amount but the quality.
What is HitLeap and what does it offer?
HitLeap is shortly explained a traffic exchange service that can supposedly help you get more traffic to your website easily.
It was launched back in 2008 so it has been around for a while. The company behind is located in Hong Kong but you can join and use the platform from anywhere in the world.
To find out if it truly is a good way for you to get traffic we, however, need to go into more details about exactly what it offers.
So let's go over the different options you can find inside HitLeap after you log in.
Option 1 – HitLeap traffic exchange
The main feature of HitLeap is the traffic exchange and this is what the website is mostly known for.
This means you can visit other people's website and earn credits. These credits will then be used to get visits to your website.
This is completely free.
You can also add more websites if you have more than one website you want to get traffic to.
But it works a bit differently than on many other traffic exchange platforms. Because you cannot just visit other websites after you log in to HitLeap.
You first need to download and install their software for this. This is called the HitLeap Viewer.
I honestly think this is inconvenient for several reasons.
First of all, because it just takes longer to get started and I do not really understand why you have to download software for this when all other sites can do it without.
Secondly, this also means you cannot just log in from any computer or device and earn credits – you have to be at the computer you have downloaded the software for.
Lastly, it is only available for Windows and Ubuntu. So if you have a Mac, you cannot use HitLeap – or you cannot use the traffic exchange. You can use other aspects of it as I will explain later.
Also, you have to be aware that there are different types of traffic quality on HitLeap.
They do not mention much about this, but you can see on the traffic overview inside the platform that the free traffic you earn by visiting other websites is what they call regular traffic.
In my opinion, they should be more clear about what this means but you definitely need to be aware that you do not earn the highest quality traffic through the HitLeap traffic exchange.
You need to buy upgrades to get access to this – but more about the prices a little later.
Option 2 – Use multiple HitLeap Viewers
As already explained above, you need to install the HitLeap software to be able to visit other websites and earn visits back to your website like this.
You are able to use multiple HitLeap Viewers at the same time to earn credits more efficiently according to HitLeap's FAQ section.
You do, however, need different computers with different IP addresses to be able to do this.
As someone wanting to earn credits fast, this can be a great opportunity. However, it also has its disadvantages, in my opinion.
Because this shows that most people that are visiting your site are mostly just interested in earning credits to get visits back to their own website.
If they are using more computers they will obviously not pay attention to the sites they visit but just try to earn as many credits as possible.
So this explains the potentially low-quality traffic from the traffic exchange and this is definitely something you need to consider.
But we will also go more into whether it will be worth it or not later. Let's, for now, focus on the other options you also get after signing up for HitLeap.
Option 3 – Buy traffic
If you do not want to spend time visiting other websites to get traffic back, you can also buy traffic on HitLeap.
This is definitely the fastest way to get traffic there. But it, of course, cost money so you need to have the budget for it.
You can use this option no matter your device so it is not like the traffic exchange that is limited to certain devices and systems.
You have several traffic packages you can buy. The price is cheaper per visit the more you buy at once.
Compared to getting paid traffic from many other sources this is very cheap per visit.
However, do not just judge whether it is a good or bad idea based on the price. There are more things you need to know about the prices which we will get to in the pricing section.
But one thing that concerns me about this traffic is that they do not explain where the traffic comes from.
There is nothing in the FAQ section and I could also not find any info anywhere else on the website about how they are able to generate this traffic.
This worries me. It is very cheap – but if it is not real traffic or good quality traffic, it does not help you anyway and then it will be a waste of money.
Therefore, HitLeap should, in my opinion, explain a lot more about how this traffic is generated as this is actually way more important to know than the prices.
Option 4 – Earn by referring people
You can also earn money by inviting other people to join HitLeap with their referral program.
Once you are a member, you automatically get access to it and can find a link you can share with other people. If they join through your link, you will earn a commission based on the type of membership they get.
If they just use the free traffic exchange, you will get 10% credits.
So this means that if you invite someone that visits 100 websites, you will get credits to get 10 visits to your website.
The person you invited will earn the same as if they did not join through your link. This is a commission given to you by HitLeap to thank you for inviting someone else to the platform.
If a person instead ends up buying traffic or upgrading their membership, you will earn real cash. You will earn 25% of every buy.
You will get this cash into your HitLeap account and can withdraw them through PayPal when you have at least $5 in your account.
It is a pretty decent referral commission. However, be aware that they pay you a maximum of $30 commission per purchase.
So that means even if you refer someone that ends up buying the most expensive traffic package for €490 you will only get $30 even though 25% actually is €122.5 (the equivalent of around $135).
This is quite cheap of HitLeap in my opinion and makes the referral program quite bad compared to other options.
However, when it comes to referring people it should not only be the commission you are looking at but if it actually is a service you can truly recommend.
If you think HitLeap is great, you can earn real cash by inviting others. But just be aware of the limitations mentioned above as well.
HitLeap pricing
I have already shown the prices for the HitLeap traffic packages earlier. But there are more pricing options on HitLeap.
Because one thing is the amount of traffic you get. Another thing is the quality.
Here they have three options: regular, high, and ultra.
As mentioned earlier, they do not explain more about what the difference in the quality is and where the traffic comes from which is a big issue, in my opinion.
But in addition to the quality, you also get other advantages with the different levels.
As you can see, the prices are per month. The more expensive membership you get, the more options you get.
You can, for example, choose to only get traffic from certain countries with the most expensive membership and the visits will last longer.
Each of these memberships comes with some monthly hits as well (meaning a number of visits you will get to your website).
But if you want more than this, you then have to buy the traffic packages.
And if you buy the traffic packages but do not have one of the paid monthly memberships, the quality will be lower and you will have fewer options to target the audience and more.
Overall, I think this pricing structure is quite confusing.
But it is clear that to get a chance of getting the best quality traffic from HitLeap, they want you to buy a paid monthly membership and you need to be aware of this before joining.
But will it then be worth it? Let's go over that next.
Is it worth it?
No doubt you can get pretty fast and cheap traffic by joining HitLeap.
But when it comes to traffic what is most important is the quality of the traffic.
That is why I personally mostly work with organic traffic from the search engines as this is traffic from people that are actively looking for information.
There are many other great ways to get quality traffic but one thing is sure – and that is that the cheapest option when it comes to traffic is not always the best solution.
If you get traffic that does not convert or that is not from real people, it does not matter how many visits you will get. You will still not make any money or get any leads from your website.
When it comes to HitLeap there are a few things that concern me and that is the reason it is a platform I have decided not to get traffic from myself.
Firstly, the free traffic exchange is clearly traffic from people that are just visiting your site to earn credits to get traffic back to their website.
This makes it very unlikely the traffic will actually convert unless you have an extremely good offer on an extremely good sales page where people are convinced after less than 10 seconds.
They even allow people to use several HitLeap Viewers which means they would likely not even actually see your site.
When it comes to the paid traffic, I am worried they do not explain more about where it comes from.
In my opinion, they should have explained a lot more about the quality. For me, it is not enough to just see the traffic quality is called ultra and the visits will last 40-60 seconds.
This is not really ultra good quality, in my opinion. I have some articles where the average time for the traffic sources I am using are more than 5 minutes.
Visits of less than 1 minute are very unlikely to convert in my experience. Again, unless you are extremely good at making sales pages – then maybe you have a chance.
But overall, I am not convinced it is a good use of time and money.
Final verdict
If you are looking for fast and cheap/free traffic, HitLeap can definitely deliver this.
But this does not mean it is necessarily a good idea to use.
To give you a better overview before making your final decision, let's finish this review by summing up the pros and cons.

Pros:
You can join for free
Traffic is cheap
You can earn cash by inviting others

Cons:
Not any info on the site about the origin of the traffic you buy
Confusing pricing structure
The visits you get are short
Let me just make it clear that I have not bought any traffic from HitLeap myself as I am very critical with the traffic I buy. This does not mean it cannot be worth it.
I am just sharing my observations based on my experiences as a full-time online marketer and then you can use this to make your own informed decision.
When it comes to HitLeap, I would personally stay away from the free traffic exchange. It is clear that people will just visit your site to get credits and this makes it very unlikely you will get anything out of these short visits.
My main concern about the paid traffic is that HitLeap does not explain anything on their website about where the traffic comes from.
They just label the quality regular, high, or ultra. But even the ultra quality visits are a maximum of 60 seconds which is not really that great in my opinion.
Personally, I think time and money are better used to learn proper SEO so you can get traffic from the search engines. Or learn Facebook ads so you can run profitable campaigns there.
But if you want fast traffic without having to learn anything first, HitLeap definitely is an option and then you can test cheaply.
I would just encourage you to start small and test with a small budget and make sure to really measure the results carefully before scaling and spending more money.
Remember that when it comes to traffic the most important thing is not the amount but the quality.
If you have any comments, questions, or have any experiences with HitLeap yourself, I would love to hear from you in a comment below.