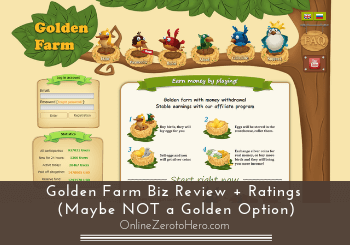 If you are looking to make money online, it sounds good being able to earn by playing a simple online game, right?
This is what golden-farm.biz supposedly offers.
But is Golden Farm Biz a scam or is it a legit and golden opportunity to make good money online?
I have joined and tested the site myself and in this Golden Farm Biz review, I will show you all the details so you know exactly what to expect if you decide to join.
It does have some potential but there are also some things you seriously need to consider before joining not to end up losing money instead of making any.
Golden Farm Biz at a Glance
Training

Tools

Value for money

Income potential
Summary
Golden Farm Biz might at first look like a fun and easy way to make money online.
But when you dig deeper it might not be such a golden opportunity after all. You can earn on the platform, but the only real way to earn is by getting other people to join and investing in the platform.
You can also invest yourself to speed up your earnings. But it quickly becomes expensive and the effort and investment in relation to the potential outcome make it too risky, in my opinion. Especially, since you even have to pay a fee to get your earnings out and there have been some complaints from people saying they were not able to get their money out.
So overall, it is not really a good opportunity. If you invest your time and money into building a proper online income instead, you will, in my opinion, get a lot better long-term results.
What is Golden Farm Biz and what does it offer?
golden-farm.biz is a platform that has existed since 2013 and is supposedly a way to make money online by playing a game and by inviting other people to join.
Let me just reveal right away that it is a bit confusing to figure out exactly how it works and what you can get out of it.
So, in my opinion, it is not the most user-friendly money-making option I have seen online, but that does not mean it cannot have potential.
Let's, therefore, go over what you get as a member and how good each of the opportunities is to see if it might be a real way for you to earn.
Option 1 – Buy birds
As the name implies, the game is about having a kind of farm. So one of the main things is to buy birds.
Overall, the concept of Golden Farm Biz can be explained in 4 steps – you buy birds, they lay eggs, you sell the eggs for silver coins, and you exchange the silver coins for real cash.
Sounds pretty simple and as a nice way to make money so far, right?
Well, there is a bit more to it. So let's go a bit more into details about all the steps so you can see the true potential before deciding if it is for you or not.
So the first step is that you need to buy birds. There are different ways you can do this.
You can earn coins on the platform without investing as I will explain more about below. Or you can load money into your account and use these to buy birds (they call it to replenish your account).
$1 equals 6578 silver coins in Golden Farm Biz at the moment of writing this review. You can get birds for different prices.
The more you pay for a bird, the more eggs it lays.
The cheapest bird you can get will cost you 150 silver coins and the most expensive 375000 silver coins.
Already here you might see one of the things I do not think is very user-friendly. The coins to dollar ratio make it extremely difficult to figure out exactly what you will end up spending or earning.
To make it easier for you I have made some calculations – the cheapest bird will then have a cost of around $0.02 and the most expensive will cost around $57.
Once you have bought the birds, they will automatically start laying eggs. As mentioned, the more expensive birds will lay more eggs.
Option 2 – Sell eggs
To be able to use your Golden Farm Biz eggs for real money or for buying more birds, you need to collect the eggs and then sell them.
To do this you go to the eggs warehouse.
Here you just collect the "collect all" button and you will have the eggs in your warehouse.
From here you can then go to sell the eggs.
Here the whole conversion rate again becomes confusing. But you will NOT get a lot per egg.
As you can see in the image above, 100 eggs equal 1 silver coin. This means the 9 eggs I had collected will be worth 0.09 silver coin.
And remember you need 6578 silver coins to get $1.
So you need to sell a lot of eggs and it is difficult to get an exact overview of how many you need to sell to get real money.
But one good thing is that the birds keep laying eggs every minute – also when you are not actively using the platform, so you do not have to spend a lot of time to get the eggs.
Option 3 – Get a daily bonus
If you do not feel like investing in buying birds on Golden Farm Biz, you can earn a bit through the daily bonus.
It is very simple and fast to get this bonus. You just simply click a button.
Right away you will then get a bonus into your account. The bonus will be between 10-100 silver coins and it will be random how many you get.
You can get this bonus once every 24 hours. It is very fast so if you are actively using Golden Farm Biz, it might be worth using this option for a few free silver coins every day.
Option 4 – Refer other people
You can earn by inviting other people to join Golden Farm Biz.
This is where the platform starts to show what it really is about. Because you will earn commissions on everything people you invite end up spending on the platform.
You will not earn commissions on what they earn by they have to end up spending money for you to earn. But you will then also get commissions for 4 levels, as you can see in the image above.
Actually earning commissions by referring people to services you like is, in general, a great way to make money online if you do it through affiliate marketing and only recommend services that are truly useful for people.
What I do not like so much about Golden Farm Biz's system is that it will be very hard for you to earn without referring others.
You can, in theory, earn, but you have to invest a lot to be able to earn anything just by buying birds and selling eggs. It will honestly be very hard to make your investment back.
Unless you invite other people. But then it is suddenly not anymore a way to earn by playing a game but the only real way to get a chance is by getting other people to join and getting them to spend money, etc.
This really limits the potential, in my opinion, and it is not personally a platform I will invite people to join, because they will only be able to really earn by getting other people to join and invest.
Option 5 – Get a joining bonus
In addition to the methods I have mentioned above, you get a small joining bonus when you first sign up for Golden Farm Biz.
You get 1 green bird, 300 silver coins, and then you get another 20 free coins if you take the short guided tour right after joining.
This will not get you a lot but at least you can get started and get a few birds without having to invest.
But if you are hoping to build up a real online income just by the help of the joining bonus and the few birds you can get for that, it will just not happen to be honest.
Option 6 – Make a YouTube video about Golden Farm Biz
Golden Farm Biz offers to pay you 10,000 silver coins to make a YouTube video about the platform.
But before getting too excited about this, make sure to read the exact conditions.
Your video has to be at least 2 minutes long which is not really difficult. But it needs to have at least 800 views before you can get paid for it.
This might not seem like a lot but if you are new to YouTube and do not have an audience yet, this will NOT be easy to reach.
In addition to this, the 10,000 silver coins will only be worth less than $2. So if you want to make the video just to earn the bonus for it, it is not really worth it, in my opinion.
Recommended: See How I Make a Full-time Income Online
How do you get paid?
Let's say you are patient enough to slowly build up some earnings on Golden Farm Biz and that you will invite a lot of people or invest a lot yourself.
Then you need to know exactly how you can eventually get your earnings out.
On the platform, they call this to get a payoff and it actually offers quite a lot of ways.
There is not as such any payout threshold.
But just be aware that most payoff methods have a processing fee. If you want to get your money out through PayPal, you, for example, have to pay a 7% processing fee. If you use Visa, there is a 7% fee + a $10 fee.
I actually find this almost insulting. You have to be very patient, invite a lot of people, or invest a lot to be able to earn enough to get a good payout. And then you have to pay quite high fees for it.
That is a big minus, in my opinion.
How much money can you really make?
From what I have seen and tested on Golden Farm Biz, it is possible to earn some money there.
But it is quite clear that the real money is in getting other people to join and investing in the platform.
This is not really a method I like, as I do not think it makes much sense to invite people to a platform where they cannot really earn unless they get other people to invest.
If you do not mind doing this and think you know a lot of people that are interested in joining and investing in Golden Farm Biz, then it might be possible to make decent money.
But personally, I would recommend you to take the time to learn proper affiliate marketing and this way be able to build a long-term sustainable income online by only recommending things that really benefit people.
I honestly do not think the potential on Golden Farm Biz is very big and the effort and investment in relation to the potential outcome is just not worth it, in my opinion.
Golden Farm Biz complaints
Before you make your final decision about whether to give Golden Farm Biz a go or not, let's first look at possible complaints about it.
There was not really a lot of info about the platform I could find. But they do have a Trustpilot page and I had a look at this to check if there are any complaints.
There are not many reviews there but there were a few people calling it a scam.
But you will always see this – no matter the platform, there will always be someone calling it a scam so I always take this with a pinch of salt.
However, I found one complaint that brought up some interesting points and that had more details than just accusations without proof.
This guy has apparently managed to earn what equals around $470 (which is quite impressive considering the site). However, according to him, none of the payout methods he wanted were available.
And he talked to support and was told to use Payeer which he says is not available in his country and could not get further help even after trying for 6 months.
This brings up an important risk, and if you decide to join, it shows you should try to cash out as soon as you can to check it is possible in your country. If not, you might end up in the same situation as the guy leaving the review above.
However, no matter what, I think it is a bad sign that Golden Farm Biz's support has not replied to that complaint on Trustpilot. Companies that have good customer service always make sure to give replies here and do their best to find solutions.
So this is not a good sign, in my opinion.
Final verdict – legit or scam?
You now have all the details about what to expect from Golden Farm Biz and it should be able for you to now decide if you find it a legit option you can rely on to make money online or if it is better to find other options.
To help you get a better overview before deciding, let's finish this review by summing up the pros and cons.

Pros:
Has a free membership option
Many payout methods

Cons:
You have to invite others to be able to really earn
It can quickly end up becoming expensive to invest in the platform
Confusing coins system
Some complaints about poor customer service
There is a fee for getting payouts
It does seem like you can potentially earn some extra money on Golden Farm Biz. BUT I really do not like that it is only really possible if you invest a lot or first of all if you invite a lot of other people to join and get them to invest.
In addition to this, the platform is just too confusing.
Especially the silver coins to dollar exchange ratio makes it difficult to get a good overview of how much you earn. The numbers are so big you might think you are earning a lot but in reality, the coins are not worth much.
Overall, I just do not like the system and the options the site offers.
It can take a lot of effort and investment and if you invest this time and money in, for example, building your own online business instead, this will give you a lot better long-term results and be a lot more sustainable, in my opinion.
So I honestly think you should think twice before investing in Golden Farm Biz.
How I make a living online
I have personally been able to create on full-time online income that now allows me to work when and where I want to completely on my own terms.
It takes effort but it is totally worth it.
If you want to follow my footsteps and create your own online income, then check out my FREE guide where I explain how this is possible step-by-step. You can even get started with these steps as a complete beginner.
If you have any questions, comments, or have any experiences with Golden Farm Biz yourself, I would love to hear from you in a comment below.