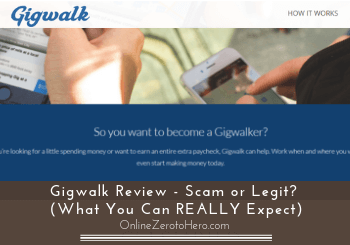 Gigwalk is supposedly an app that makes it possible for you to make money where and when you want to.
But is Gigwalk a scam or really a great opportunity?
Well, let me just reveal right away that it is legit and you can earn through the app. BUT whether it is then a great opportunity or not depends a lot of your goals and expectations.
So you need to know exactly how you can earn, who it is for, and how much you can make before joining so you know what you are getting into.
This Gigwalk review will give you all these details so you can easily find out if it is the right opportunity for you or if you should look for alternatives.
Gigwalk in a Glimpse
Tools

Support

Income potential
Summary
Gigwalk is a legit app where you can find gigs in your local area.
It can fun and some gigs pay well. However, you need to go into it with the right expectations.
There is no guarantee there will be gigs in your area and it is difficult to plan on it for stable income as you never know when and where there will be available tasks.
If you want access to some extra cash and can accept there is no guarantee how much you can make it can be good to join. If you are planning to create a great full-time income working on your own terms, it is NOT the best option.
What is the Gigwalk app and what does it offer?
Gigwalk is an app you can download for your phone and then find gigs in your local area that are posted through the app.
By signing up you become what they call a Gigwalker and can start taking these jobs.
Once you have signed up you can see the gigs in your area as they are marked by pins on a map.
One of the big selling points of Gigwalk is that you can just choose the tasks that interest you and work your own schedule (later we will look into how true this is).
You can find gigs that take only 5 minutes and some gigs take a few hours. The pay will, of course, depend on the length of the task.
You can earn between $3-$100 or in some cases even more per gig.
Once you have finished a gig, you need to report back to Gigwalk to prove you have done the task. This is done through the app and is usually by uploading images you are asked to take as a part of the gig.
Gigs on Gigwalk are primarily posted by consumer brands and retailers that want to check up on their visibility and the conditions of their products or events across multiple locations.
They are looking to verify products are available on the shelf and displayed/priced correctly or that marketing events are done accurately and on-time.
So they will hire Gigwalkers like you to go to certain locations and check up on this.
Recommended: Learn How to Make a Full-time Income Online
How to get started with Gigwalk?
If you want to become a Gigwalker and be able to start earning through the Gigwalk app, there a few easy steps you need to take:
Download the app
Register you Gigwalk account
Link your PayPal account
Find gigs in your area
Since it is an app, the first step is naturally to download the app.
You can download it through the Apple Store or Google Play.
Once you have downloaded the app, you need to register your account. This does not take long but you have to answer a few basic questions about yourself and provide an email address.
All payments for the gigs you complete will be paid through PayPal so you need a PayPal account to be able to join.
You need to connect this PayPal with your Gigwalk account.
The final step is then to start looking for available gigs in your local area.
How much money can you make?
As you can see, the process of getting started with Gigwalk is pretty simple and it can seem like a great way to make money,
But it is also important to know how much you can earn so you go into it with the right expectations.
According to Gigwalk, it can help whether you are looking to just make some extra money on the side or if you are looking for a full-time income.
A full-time income is, in theory, possible, BUT it is NOT the case for everyone.
It, first of all, depends a lot on the city you live in. There is no guarantee there will be available gigs in your city.
And if there is, there is no guarantee there will be gigs when you want to take them or that they will not be taken by other people before you get to complete them.
This also means it can be difficult to plan on a certain income from Gigwalk. There might be times of the year where you will get no gig opportunities at all.
Or there might in general just not be many in your local area.
So Gigwalk can definitely be a way to make money, but you should not plan on it as a way to make a stable income as there are no guarantees.
This makes it quite risky to rely on as an income source, in my opinion.
It can be a good way to earn a bit extra, but you should just go into it knowing that there are no guarantees and being able to make a full-time income will be difficult – even if you live in a big city with many gigs.
Also, be aware that the tasks have to be completed on location so you have to calculate the time and potential money you need to spend to get to these locations to see if it will be worth your time.
Earning $5 for a short gig might at first sound very appealing, but if you have to spend 1 hour on transportation and more than $5 for gas, it suddenly does not make sense.
So make sure to calculate these things before taking the gigs if you decide to join and focus on the gigs as close to you as possible.
Also, make sure to do your best with the gigs. You get a performance score based on the quality of your work and your activity level.
This score allows Gigwalk to match you with more complex and higher-paying gigs. So if you a thorough, you can potentially get better value for your time.
Who can join?
There is no information about the minimum age of joining Gigwalk on their website. But I am assuming you probably have to be 18 years old to join.
The countries it is available in is also a bit confusing. On the website, it says Gigwalk has gigs in the US and Canada.
But when you look at the description of the app in Google Play, it says it is available in the US, UK, and Canada.
So you need to live in one of these countries to join.
However, even if you live in one of these countries, there is no guarantee there will be available gigs in your local area as mentioned earlier.
Gigwalk complaints
Before joining any income opportunity, it is good to also look at potential complaints about it.
I never solely rely on complaints to make a decision because I know there will also be unhappy people no matter how good the service is.
But it can be a good way to get an idea about potential issues if you look at the complaints critically.
When it comes to Gigwalk there are both good and bad experiences.
I here just want to mention a few of the most common Gigwalk complaints – this is not to say it cannot be worth it but just to make it clear exactly what you can expect so you join with the right expectations.
Below you can see an example of a 1-star review someone left on Google Play.
This is not an uncommon complaint and it is something you have to be aware of. He describes how he did the gig but it ended up not being approved and he, therefore, did not get paid.
There are several stories like this from people saying they completed a task but at the end, the company ended up not approving it and they, therefore, did not get paid and wasted a lot of time doing the gig.
It, of course, makes sense that a company can reject the work and I have no idea what happened in this situation and the other situations where people say they did not have their gig approved.
But it shows an important factor you need to consider if you want to join – the gig needs to be approved before you get paid. So you need to do it thoroughly.
But at the end of the day, you cannot know for sure if it is good enough until the company lets you know if it has been approved or not.
You can see another review on Google Play that shows a common potential issue.
This guy says that it is definitely a legit company and that you can potentially make a $100 in a day if you live in a big city.
But he also says that there can go weeks without a gig.
For me, this shows the most important thing you have to consider before joining – and that is that there is no guarantee how much you can make.
Maybe you will be lucky to make $100 in one day at times if you live in a big city. But this will likely NOT happen very often.
Therefore, you should not go into it planning to make a consistent stable income, in my opinion.
Final verdict
Gigwalk is definitely a legit app and you can make money by taking gigs through the app.
But it also has its limitations. Whether it is then worth it for you or not depends on your specific goals.
To help you get a better overview before making your final decision about joining or not, let's sum up the pros and cons.

Pros:
Free to join
Some tasks can be fun
You get paid in cash

Cons:
No guarantee your gigs will be approved
At times there are limited gigs
Not possible to count on a stable income
Whether Gigwalk is worth it for you or not depends mostly on your goals and expectations.
If your goal is to just get access to some extra money once in a while by doing tasks in your local area, then it can be a great option.
But if you think it is possible to work completely on your own terms and work when and where you want to, you might be disappointed as there is no guarantee there will be available gigs in your area.
And even if there are gigs in your area, there is no guarantee it will bring in a stable and consistent income.
So in my opinion, it can be great if you are ok with just some extra money on the side but not necessarily expecting a consistent income. And if you are flexible and willing to go around your local area to do the gigs.
Hopefully, this review has helped you get a full understanding of how Gigwalk works and exactly what to expect so you know if it will be the right option for you or not.
How I make a living online
I have personally been able to create on full-time online income that now allows me to work when and where I want to completely on my own terms.
It takes some effort and time but it is totally worth it.
If you want to follow my footsteps and create your own online income, then check out my FREE guide where I explain how this is possible step-by-step.
You can even get started with these steps as a complete beginner.
If you have any questions, comments, or have any experience with Gigwalk yourself, I would love to hear from you in a comment below.