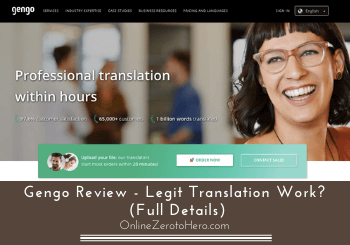 There are many global opportunities today powered by the internet. And for people who know more than one language, there are more jobs available.
Translators have been around for years now. The translation industry online continuously grows and this allows people to work at the comforts of their home.
Gengo is one of those translation companies that are looking for bilingual and multilingual individuals to work for them online.
But is Gengo a legit company? And can you really earn by translating for them? This Gengo review gives you all the details to help you decide if this is the right opportunity for you.
Of course, you will need to know a language besides English. So if you want to take advantage of your language skills, check out the details in this review.
Tools

Usability

Income Potential
Summary
Gengo is a crowdsource transcription company headquartered in Tokyo, Japan with an office in California. They have been translating for clients for more than 10 years now. They are now part of one of the largest language services company, Lionbridge.
It's a legit company that can help you earn some extra income if you know different languages such as Spanish, English, Japanese, French, German, or Chinese. Your work is rated by reviewers where you must maintain a score of 7 to be considered a top performer. Your pay depends on your level – standard, pro, and proofread.
It can be a way to earn some extra income with your language skills. But just remember that work is not always available and there can be a lot of competition on the website.
What is Gengo and what does it offer?
Gengo was founded by Matthew Romaine and Robert Laing back in December 2008 in Tokyo, Japan.
It is a crowdsourced translation service company with a vision to help everyone read and publish across languages in just one click.
It's not every day you come across a company that started and still headquartered in Japan with an office in California.
But the founders were both in Tokyo when they came up with the idea. Laing was learning Japanese. Romaine was fluent in Japanese.
They were both running their own web agency business when these two gaijin (foreigners) decided to build an online crowdsourced translation startup. So in 2009, they launched Gengo. The name "gengo" literally means "language" in Japanese.
Today, Gengo offers more than 70 language pairs for its clients. Some of the popular language pair requests are English and Spanish, German, French, Japanese, and Chinese.
Since it started more than 10 years ago, the company has served a lot of top companies looking for translation services.
These clients include some familiar names such as Airbnb, Alibaba, Rakuten, Amazon, YouTube, Zendesk, The New York Times, Tripadvisor, Bloomberg, Sony, Bitcoin, Microsoft, Oracle, Buzzfeed, Expedia, Matel, and Coach.
In January 2019 global industry leader Lionbridge acquired Gengo. Lionbridge has been globally offering translation and transcription services since 1996. It is considered as the world's second-largest language service provider.
Another company you might be familiar with owned by Lionbridge is Smart Crowd, a transcription company formerly known as Virtual Bee.
So as you can see, Gengo is definitely a legit company. But even if it's a legit company, we still have to look at the opportunities it offers.
You can apply as a translation client or a translator on their website. In this review, we will focus on becoming a translator for Gengo and how good your opportunities are there if you decide to join.
Gengo also offers transcription services but you have to contact them for more information about this if this is what you prefer.
How do you join?
Gengo is a global company and it offers opportunities for anyone around the world.
However, due to U.S. Federal Tax Law, if you're not a U.S. citizen you still need to submit tax information.
Because of the tax law, citizens from Cuba, Crimea, Iran, North Korea and Syria are also not allowed to apply for work.
You also have to be at least 18 years old to apply as a translator. No prior experience as a translator is required during application.
Gengo's application process is straightforward. You simply click "Apply as Translator" on their website, select your preferred language pair, then take the translation test.
There is also a multiple-choice test during your application.
Gengo mentions on their website that their translators go through a multi-phased testing process reviewed by their expert team of professional Language Specialists.
Before taking the Gengo test, you can read the Test Instructions, Text Expectations, and Style Guide to give you the overview on their system and approach.
Each translation company has a different document format/style and requirement and it is definitely a good idea to take the time to go through this before applying to have the best chances of being accepted.
When you're ready to take the test, you go to your Work Dashboard and select the language pair you want to start testing. Your test will be reviewed within 7-14 days by one of their Language Specialist so take into consideration this timeline when applying.
The good thing about Gengo is that you can take the test up to three times within six months. So if you fail your first one, go ahead and try again!
Once you become a translator, you will have access to a series of short training sessions to walk you through what you'll be doing as a translator in Gengo.
This is a good feature since not all companies have detailed training for their new hires and this can help you get a better start.
How does it work and how much do you earn?
Once you're familiar with Gengo's style guide and work platform, you can start translating. You can check the available jobs via your work dashboard, email updates, and RSS feed.
Since there are 70+ language pairs, it will be your advantage if you know more languages – especially the ones in demand.
You will need to claim a translation job fast since it's a first-come, first-served basis. Just take note of the deadline to make sure you are able to complete it on time.
Most of the text to be translated is short blog posts and emails.
Once you've submitted your work, it will take around 120 hours (or five days) for the customer to approve, reject, or request corrections. You are also rated by a reviewer based on your work's quality on a scale of 0 to 5.
Reviewers can also comment on your work and bookmark you as their preferred translator. This gives you priority access to upcoming projects.
This can both help you improve your skills and is also a way to get more work if you do great.
As a translator, a scorecard will be featured on your profile.
This shows your overall rating, the number of jobs completed, the reward earned (income), the number of units translated, and the hours you've spent translating. The score ranges from 0 (lowest) to 10 (highest).
Your job score is based on error count, error severity, and word count. Now, you must maintain a score of 7 to be considered a top performer.
Once you score below 5 in a language pair, you will be demoted by the system. To gain access again to jobs, you have to retake the translation test after a 30-day rest period.
So you must submit quality translations if you want to keep working at Gengo.
Regarding the pay, there are different pay rates for every language pair. Some pairs have higher rate such as English to Japanese since this is one of their most common jobs.
The pay rate is indicated when viewing a job so you get to know how much you'll be getting.
There are three levels of translation on the site – standard, pro, and proofread. Each has a different rate.
For the standard, you are paid an average of $0.3 per word to $0.18 per character. Pro pays $0.8 per word and $0.48 per character. Proofread level pays $0.4 per word and $0.24 per character.
The level you will work on depends on the score you get during the translation test.
You can receive your payment in US dollars via PayPal or Payoneer. You need at minimum of $2 to withdraw your earnings to PayPal and at least $20 for Payoneer. Each payment request has a flat fee of $1.50 to cover the transaction fees.
You must request your payout at least 7 days in advance and it will be processed every 10th and 25th of the month.
Is it worth it?
Translation jobs such as Gengo is definitely for language-lovers and bilingual professionals.
It can be an advantage for you if you know more languages since you can apply for more language pairs and earn more.
Most complaints I found about Gengo are about the lack of jobs and the inconsistent feedbacks from reviewers. Apparently, reviewers can also take translator jobs which can give a certain bias.
Some translators mentioned that reviewers intentionally lower their scores so they can get more jobs than other translators.
In my opinion, it might be better if the reviewers are not allowed to accept translation jobs so they can focus on helping translators improve their scores and quality of work.
The pay can be quite low especially if it takes you hours to do a translation. Since you will be paid per character or word, it doesn't take into consideration the number of hours you actually work.
Personally, I think this kind of work is best if you are a professional translator looking for some extra cash flow.
It cannot replace your full-time income since jobs will not be always available and the competition within the community can be stiff.
If you are new to translation work and it will take you long to do the work, it can become very hard to make it worth your time.
But if you are new and want some experience, then this is possible and then you can use that experience to find higher-paying translation jobs later.
Overall, you just have to do it with the right expectations, and it will definitely not be easy money. But if you are fast and very good at languages, it can be a way to make some extra money in a flexible way.
Recommended: Learn My Top Recommended Way to Earn Online
Final Verdict
Gengo has been in the translation industry for more than ten years. It has a solid client base and is currently owned by one of the largest language services providers. So you know it's a legit company looking for professional translators.
However, there are still cons when applying to work as a translator.
I have summarized both the pros and cons discussed in the review below to help you decide if you should join the Gengo translators community or find other options instead.
Pros:
Free to join
You can take the translation test thrice
More than 70+ language pairs available
Cons:


Low pay
Inconsistent reviewers
More translators than jobs on the site
Overall, Gengo can be a possible source of extra income if you are good at languages and have some time to spare. You can brush up on your language skills while earning some extra dollars.
And it definitely is a legit company so it can be a way to earn some extra cash in a flexible way.
Just be aware that there is no guarantee of how much work you will get and there is a lot of competition on the platform so it will be hard to count on a certain income.
But if you don't have the language skills or feel you want a better income online where you are not dependent on getting work from new clients all the time, then you should look for other online opportunities instead.
How I make money online
If you really want to create a full-time income working online, this is definitely possible – I know this from personal experience.
I have been able to create a full-time online income myself that allows me to work anywhere in the world and completely on my own terms through affiliate marketing.
It takes effort, but it is totally worth it.
If you want to follow my footsteps and create your own online income, then check out my FREE guide where I explain how this is possible step-by-step.
If you have any questions, comments, or have any feedback with Gengo yourself, I would love to hear from you in a comment below.