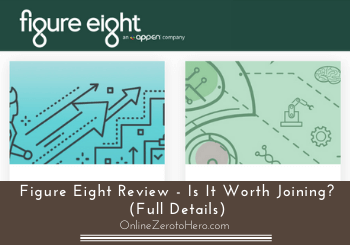 What if I would tell you you can be the human element in an artificial intelligence program? What if you can contribute to new technology while earning even if you don't have the technical knowledge?
Sounds great, right? Well, that's what Figure Eight supposedly offers.
There are many similar crowdsourcing and data service platforms online today. So it can be quite confusing where you should invest your time and effort.
It's therefore really important you take the time to study each opportunity to see if it's a good fit for you.
This Figure Eight review will help you find out what you can really do on this platform and if it will give you the income you are looking for or if you should go for other opportunities instead.
Tools

Usability

Income Potential
Summary
Figure Eight deals with AI and machine learning. They connect you to companies who want a "human element" for their tasks. You get to choose between setting tones or moods for graphics, categorizing products, moderating social media content, collecting data, or transcribing images. There are tasks offered by the platform that you wouldn't usually find on other job platforms.
You can join Figure Eight anywhere you are in the world and it's quite easy to sign-up. However, while the industry and the tasks sound interesting, the pay definitely is not overwhelming. You only get to earn cents to a couple of dollars until you manage to qualify for higher-paying jobs.
If you're looking for some extra cash, then Figure Eight can be one of your options. But if you have a certain income goal in mind then don't expect you can get it with Figure Eight.
What is Figure Eight?
Before there was Figure Eight, it was known as Crowdflower. Crowdflower was a platform for micro-jobs.
It helped different companies crowdsource their tasks to interested freelancers. The founders, Lukas Biewald and Chris Van Pelt launched the company in December 2007. So as you can see the company have been existing for more than ten years.
However, in February 2018, Crowdflower became Figure Eight and now focuses on what they call "human-in-the-loop AI platform".
They now use individuals like you and me to contribute human intelligence to help in machine learning and artificial intelligence programs.
They basically narrowed down their scope of work from being a general crowdsourcing platform to a niche AI training and testing platform (more about what this means later).
The office is found in San Francisco, California. But take note that Figure Eight is owned by Appen, a publicly-traded company from Australia, as of March 2019.
Appen is in the industry of developing machine learning and artificial intelligence products.
This makes sense since Figure Eight focuses on tasks related to AI. I would believe this strengthens the credibility of the platform in its chosen field.
The company also prides itself on having worked with large companies including SAP, Oracle, Autodesk, Google, Cisco Systems, Twitter, Mozilla, and Ebay. These are definitely companies that require a lot of data and AI tasks.
Data science and artificial intelligence are emerging markets today with all the platforms and projects being done.
If we just look at what Figure Eight wants to do, then it looks promising.
But let's dive more into what you can do and how you can earn on this platform to see if it will really be worth your time or not.
What jobs will you do on Figure Eight?
When you first come to Figure Eight's website, you will probably ask this question: what does "human-in-the-loop AI" really mean?
Well, at first I thought it was a really big and complicated system but then I discovered it simple means outsourcing tasks that cannot be fully automated.
According to their website, they "help the most innovative companies in the world with their most ambitious projects." How do you help?
You can sign up as a contributor and then contribute to the tasks needed to make artificial intelligence and machine learning work.
Signing up as a contributor only has four steps. First, you create an account with your name and email.
A verification email will be sent before you can continue in your registration. Once verified, you will be asked to provide your basic information for your profile.
The last step would be setting up your Paypal account as payments are made through it. Once you're logged in, you can start browsing the tasks on their job board.
Now there are many tasks you can choose from. Below are some of the most common tasks you will encounter:
Sentiment Analysis is identifying the meaning, mood, intention, or tone from graphics, video clips, or writing. Obviously this is something no computer can do as it requires context cluing and knowing human emotions and mood such as humor, irony, or sarcasm
Categorization involves grouping various companies or products into criteria provided by the client.
Content moderation is checking social media content such as captions, photos, or videos for guideline violations, inappropriate content, or even spam. This is crucial since there are so many social media content today and no clear AI to help flag inappropriate ones.
Business listing verification goes through company websites to verify the information such as addresses and phone numbers for a company's CRM system.
Data Collection is improving a company's database by collecting the information needed.
Image transcription is going through photos to transcribe information into data that can be used for research by a company.
I like the variety of tasks that are offered in Figure Eight. Not all websites offer those specific tasks.
I know some that only offer data collection or audio transcriptions. So this can be an edge to you if you enjoy these kinds of tasks.
One great thing about Figure Eight is also that you can join no matter where in the world you live.
There can be differences in how many available tasks you will find, but it is still great you can join for free from all countries.
How much can you earn on Figure Eight?
While it appears to have a lot of tasks for contributors, the next question in mind is how much can you really earn from Figure Eight?
This is, of course, important to know so you do it with the right expectations before starting to invest your time and effort.
However, your income is peanuts compared to how big the tasks might sound.
Upon logging in to your job board, you will see the list of jobs and how much you will be paid. Most of the jobs listed only pay cents to a few dollars.
While it will not really take you long to complete a task, I still don't feel that paying a few cents for the effort is worth it at first.
But with some patience and hard work you can start earning more.
Each task gives a certain amount of points which will earn you badges. There are three levels for the badges and each level will give you exclusive access to more and better-paying jobs.
You will also see that there are certain jobs that can only be done by those with level badges.
To earn a badge, Figure Eight keeps track of your accuracy and number of tasks completed across the different job types.
So if you want to access more jobs, you have to first complete a lot of tasks and make sure you get a high accuracy rate.
So if you want to earn more on the platform, you have to first complete a lot of tasks. This makes sense for me since it rewards hard work and also lessens the competition for higher-paying tasks.
Based on some reviews and the rate posted, you would probably earn around $100 extra per month if you earn a level badge.
An extra $100 doesn't sound too bad if you would just be spending a few hours every week doing tasks.
But that's definitely not enough to consider as a full-time job.
So you should not do it if it is your goal to do it for a living but with hard work and effort, you can earn some nice extra cash on the side.
One small extra tip is that you can actually take these tasks on many different platforms and not only through the main platform itself.
It has many partner platforms where you as a member of those platforms can get access to the exact same tasks.
The best sites to take Figure Eight tasks through can actually in some cases be better to do them on than on the platform itself because they often give extra bonuses.
So this is definitely something to look into to get the most of out your time if you decide you want to make money this way.
Final Verdict
Figure Eight definitely is in an interesting industry as it deals with AI and machine learning.
It has its various tasks and you can find tasks no matter where in the world you are from.
While there are some really good things about working for Figure Eight, this does not mean it is for everyone and you definitely need to do it with the right expectations.
So let's finish by summing up the pros and cons so you can get a better overview before deciding if it is for you or not.
Pros:

Tasks are different from typical data entry or micro job websites
Easy to sign-up
Badge system allows you to exclusive access to certain jobs
You can join from anywhere
Cons:

You earn just cents to a few dollars for each task
It is a bit confusing to find out how to get the most out of the platform at first
Overall, Figure Eight is a legit company that connects big companies to contributors around the world. So it definitely is a way to earn a bit extra if this is what you are looking for.
If you're interested in AI and data science then Figure Eight would definitely appeal to you.
You can get the fulfillment of having contributed to a certain AI or machine learning project and earn at the same time.
The most important thing to consider before joining is, however, what your income goals are and be aware that it will not be a way to make anything near a full-time income.
If you are interested in just some extra side cash and are patient enough to work hard to get access to the higher-paying jobs, then it might be the right option for you.
But if you want to create a long-term sustainable full-time income online, you need to look elsewhere.
How I make money online
If you want to build your own online income where you over time can get the freedom to work on your own terms, then this is definitely possible.
After testing a lot of different online opportunities, I have been able to create a full-time online income myself that now allows me to work completely on my own terms.
It takes some effort but it is totally worth it.
If you want to follow my footsteps and create your own online income, then check out my FREE guide where I explain how this is possible step-by-step. Don't worry, you can start as a complete beginner!
If you have any comments, questions, or have any experiences with Figure Eight as a contributor yourself, I would love to hear from you in a comment below.