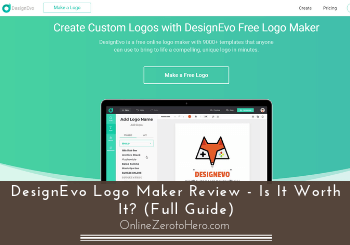 If you have any kind of business or website, a logo can be a great way to brand yourself.
But it can be expensive to hire someone to create it if you do not have the skills yourself.
DesignEvo claims to be a tool that can help you with this, so you can easily create beautiful logos even if you do not have any design skills.
But is it really a great tool worth using? And is it really free, as they say on the website?
This DesignEvo review will give you all the details about this logo maker tool, so you can see exactly what you can use it for, how to use it, what it costs, and more, so you can find out if it will be worth it for you or not.
Disclosure: Some of the links on this website are affiliate links. This means at no cost to you, I may receive an affiliate commission if you purchase something through one of these links.
DesignEvo in a Glimpse
Features

Usability

Value for money
Summary
If you want a logo, DesignEvo is a tool that can help you create this easily yourself.
It has many features so you can create the exact logo you want and it is quite easy to use.
You just have to be aware that the free license for the logo you create has some limitations but if you decide to get a paid license, you can do whatever you want with the logo and get good value for money.
Overall, a great and easy-to-use logo maker if you want to be able to easily create a logo yourself.
What is DesignEvo and what can it do?
DesignEvo is a logo maker developed by the company PearlMountain Limited that has existed since 2006.
The idea of the tool is to make it easy for anyone to create beautiful logos fast – even if you do not have any design skills.
To try to make this possible, DesignEvo includes quite a few features you can use to create your logo.
Let's just quickly go over each of these features below, so you can see more about what you can do with DesignEvo before we then get to how you can practically use it if the features are what you are looking for.
Feature 1 – Logo colors
You can adjust any part of your logo in the colors you want so it fits your brand which is a quite important aspect.
If you do not yet know what colors your logo should have or do not yet have a brand, the logo color section on the website also includes some basic learning about colors.
Here you can find information about the meaning of different colors and what to think about to find the best color combinations.
You can also use gradient logo colors.
Feature 2 – Logo fonts
You can also choose the font you want as a part of your logo. DesignEvo has more than 100 fonts you can choose from so that is a pretty good selection.
It has both modern fonts, handwriting fonts, and more, so it should be possible to find a font that fits your needs.
Feature 3 – Background selection for your logo
You have three background options for a logo you make with DesignEvo.
You can choose to have a transparent background, which means you can place your logo on any background and it will look good.
You can also choose to have a solid color as a background and you can choose from any color. Finally, you can choose to have a gradient background color.
Feature 4 – Premade icons
When creating a logo, it can be very difficult to find the right icon. DesignEvo gives you access to millions of icons you can search for and use as a part of your logo.
You can search in the database and choose any icon you want to. You can also adjust the color, size, and transparency of the icons very easily. In my opinion, this can be a great time saver when creating a logo.
Just be aware that you cannot upload your own icon. But if you already have an icon you want to use, it is likely that you would not need a logo maker anyway.
Feature 5 – Logo editor and templates
When making a logo with DesignEvo, you can start either from scratch or you can use one of the templates.
No matter what option you choose, you can edit the logo and adjust it as you want to.
If you do not have many ideas about how your logo should look like, then the templates can be a great place to start and there are many (9000+) of them for many different purposes.
You can browse through the template categories or use the search function. You can then use this to get inspiration and ideas for your own logo and then combine the best elements and adjust it as you want to.
Feature 6 – Save and download
When you create a logo, you, of course, also need to be able to save and download it.
You can save it directly in your DesignEvo account very easily and then come back and edit it later.
You can also download it and choose between many different formats. Exactly which formats you can download it in and how you can download it depends on the license type you want, but more about this is in the pricing section.
==Click to Check Out DesignEvo for Yourself<==
How to create a logo with DesignEvo?
As you can see above, DesignEvo has all the necessary features to get started with creating a logo even if you do not have any experience with logo making.
It is actually quite easy to use. But I still just want to go over a few points to help you get started easily if you decide you want to use DesignEvo.
Step 1 – Sign up
You have to sign up for DesignEvo to be able to use it. It is completely free to sign up. You just simply click the "Make a free logo" button on the website.
You will then be asked to create an account which takes 30 seconds. After you have confirmed your email, you can start designing your logo.
Step 2 – Choose your logo template
You now just simply have to choose a template you want to use as a starting point. As mentioned earlier in this review, there are 9000+ you can choose from.
You can either search, if you have a specific topic you would like templates for, or you can browse through the categories.
The categories on the image above are just examples and there are many more than these.
You can also choose to start from scratch by clicking "start from scratch" at the top of the screen.
After this, you are ready to adjust your logo.
Step 3 – Create your logo
Now you are ready to actually create your logo based on the template you have found or from a blank canvas.
I have already explained the features you can use for this previously.
You can here choose to search for icons to use, adjust the text, add shapes, and choose the background.
All the tools are quite intuitive so it will be easy to get started with even if you have not used similar tools before.
Also, there are tutorials on DesignEvo's website about the different parts in details if you need more help, so no need to go into all of it here.
But overall it is quite easy and fast to use, and it is very flexible.
Step 4 – Save or download
After you have worked on your logo, you can download it or you can save it, if you do not finish it or if you need to think about it for a bit before downloading it.
Even if you download it right away, you can still go back and edit it again if you need to make further changes.
But how much you can do this depends on the license you get, which we will look at a bit later.
What devices can you use it on?
There are 3 ways you can use DesignEvo, which makes it quite flexible to use no matter your preferred device.
You can use it in the web version, which means you just log in to your DesignEvo account and start designing while you are online.
You can also download DesignEvo for your desktop computer and use it there. At the moment of writing this review, it is only available for Mac but Windows is coming soon, so it might be available by the time you read this.
But no matter your computer, you can still use the web version.
Finally, you can download the DesignEvo app and use it on your mobile.
It is available both in the App Store and in Google Play.
No matter the device or platform you choose, the options and features will be the same so it all depends on your preferences.
DesignEvo pricing
When you first come to DesignEvo's website, you can see they say it is a free logo maker. But like all others, they, of course, also have to make a living, so they cannot give everything away for free.
So let's go over the license and pricing options below, so you know what you can use the free version for and how much you would have to pay if the free version does not fulfill your needs.
You can join completely for free and start designing and get access to all the features, templates, etc. without having to pay anything.
But when you want to download, you have to decide which license you want for your logo. You have three options.
Above you can see a comparison of the three license methods and the current prices as of writing this review.
You can download your logo for free. You just have to be aware that this means you will have to give credit to DesignEvo whenever you use the logo. This might not be convenient depending on your needs.
With the other licenses, you do not have to give credit and can use the logo for anything.
You can see above that there also are some other differences. For example, not all licenses give you the option to download with transparent background, and if you want to get support or be able to use your logo for print, you have to get one of the paid licenses.
The price you see above is per logo. But with the paid packages, you can make unlimited edits for your purchased logo anytime.
DesignEvo Coupon code:
If you decide you want to use DesignEvo, I have been able to get a coupon code you can use so you can get a discount if you join through the link/button at the end of this review.
It will then give you 10% off if you use the code: DESIGNEVO10OFF.
Is it worth it?
So is it worth paying for DesignEvo or is the free license good enough?
Honestly, that entirely depends on your needs. But if you are planning to use your logo professionally, it is really not convenient to have to give credit whenever you use your logo.
Also, if you have any kind of income from the business the logo is for, or if you are planning to make it into an income, it is definitely worth considering investing in a logo.
The price for getting one of the paid licenses is still very cheap compared to what you usually have to pay if you hire someone to make a logo for you. So in my opinion, DesignEvo gives good value for money.
But it, of course, depends on your budget and needs. But the great thing is that you can join and design your logo for free. Then after having seen what you have created, you can decide whether it is worth paying for or not.
Final verdict
Getting a logo can be great whether you have a blog, a website, or any kind of business for that matter.
DesignEvo is a tool that can help you create a logo easily yourself. But if it is right for you or not, depends a lot on your needs.
So let's finish this review by summing up the pros and cons so you can get a better overview before deciding to use DesignEvo or not.

Pros:
Easy to use
Available on several platforms
You can join for free
Many templates and features
Good value for money

Cons:
Maybe not completely clear what it costs before you join
You cannot upload icons yourself
Overall, DesignEvo can be a real time-saver and an easy and fast way to create a beautiful logo.
The only thing you have to consider is that even though it says it is a free logo maker, they can, of course, not give everything away for free.
This means that the free logo you can get has quite a lot of limitations. But the paid version gives very good value for money compared to having to hire someone to create a logo for you.
And DesignEvo makes it possible for you to create a beautiful logo even if you do not have any design skills because it has all the templates, icons, color options, and more included.
So definitely a great tool, in my opinion, but if it is right for you or not depends on your exact needs and I hope this review has helped you find out if it is right for you or not.
If you have any comments, questions, or have any experiences with DesignEvo yourself, I would love to hear from you in a comment below.