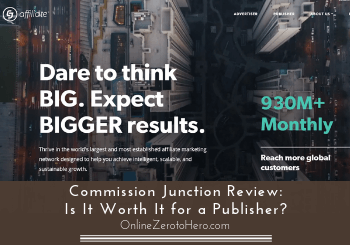 If you want to earn money with affiliate marketing, joining good and reliable networks is important.
Commission Junction is one of the big networks, and since you are reading this article, you have probably heard about it before.
But how is it to use this network as a publisher?
I have used it for a few years myself, and in this Commission Junction review, I will show you some important lessons I have learned and how to use it, so you can easily see if it will be the right platform for you to join or not.
Commission Junction at a Glance
Number of programs

Application process

Payment process

Usability
Summary
Commission Junction (aka CJ) is a reliable and experienced affiliate network. It gives good opportunities as you will get access to a lot of affiliate programs within many niches. You just need to know how to deal with a few things that can be frustrating – if you know this, it can definitely be worth joining it as a publisher.
What is Commission Junction and what does it offer?
Commission Junction is actually now just called CJ Affiliate. But whether you hear the name CJ or Commission Junction, it is the same platform.
It is an affiliate network with more than 20 years of experience.
This means that if you have a website and want to earn money by promoting products and by being what is called a publisher, you can join the network and get access to promoting the products from its advertising partners.
If you work with affiliate marketing, you know that to make money online like this, it is important to find the right products to promote, and it is therefore important to get access to reliable and legit platforms.
Commission Junction is definitely legit – I know from personal experience, as I have been paid by it several times myself.
But there are many legit affiliate networks, and not all of them will be relevant to you. If CJ is the right platform for you, depends on several things.
So let's take a deeper look at what CJ offers and some things you need to consider before joining, so you can see if it has what you are looking for.
What kind of products can you promote after joining CJ Affiliate?
The great thing about joining an affiliate network, in general, is that it usually gives you access to a big number of products you can promote.
Some networks are mostly for specific niches. That is not really the case for CJ Affiliate. As a publisher here, you will get access to thousands of products within many niches.
On the image above you can see the categories from A-C Commission Junction has. Each category then has further subcategories.
And there are categories from A-Z, and at the moment of writing this review there are more than 30 main categories and each of these have subcategories.
So almost no matter what kind of niche you are in, you will be able to find products to promote on CJ.
You can however not see the exact advertisers and products you can get access to until after you have joined.
Who can join?
You can be a publisher in more or less any country, and there are no requirements about the country you live in to join CJ.
There are programs that can be promoted in many countries, but there are by far the most products that can be promoted towards English-speaking markets.
This does however not mean you have to live in an English-speaking country yourself, and there are also many opportunities to promote to other countries.
There is, however, one demand you need to live up to before you will be able to apply to become a member of Commission Junction – you need to have an active website.
So if you are just starting out and have not yet started your website, it is better to wait to apply. You will not be accepted yet if you do not have your website ready and active.
How to use CJ?
Once you have been accepted as a member of CJ, it is not too hard to use. It just takes a little time to figure out how to navigate the platform but not too long.
The most important thing you need to know as an advertiser is how to find affiliate programs you can join and products you can promote.
I will, therefore, show you how to do this step-by-step below, so you can get started very easily if you decide to join CJ.
Step 1 – Search for programs
You need to first go to the "Advertisers" tab in the main menu. Even though you are a publisher you have to click here, as it will show you all the advertisers.
You now have three ways to find relevant products to promote.
Scroll through all the available products
Search by specific keywords or advertiser name
Use the search filters
Scrolling through all the available programs is not really the best way to find relevant programs unless you have a lot of patience and time.
Commission Junction has thousands of available products you can promote, so it can take a looong time to look through them all.
Therefore, I would recommend using one of the other two methods.
If you have a specific topic you want to search for or a specific advertiser, option 2 above is the one to use.
The search function with keyword gives you broad results, so it can be a good way to start. But it can also limit the options you see, so I would combine it with also using the search filters.
There are quite a lot of filters you can set to find the most relevant programs for you.
The one I use the most if I am looking for inspiration and opportunities is the "category" filter.
Because I have OnlineZeroToHero.com where I write about online marketing, I would, for example, choose the "online services" category and tick the relevant subcategories.
Then I would click "search" and a list of relevant programs would show up, and you can then go through them.
There are many other filters you can use than just the one I showed above. If you, for example, want to look for programs for certain countries, languages, etc. this is also possible, so just adapt it to your needs.
Step 2 – Choose the right programs
Once you do a search, as shown above, you get a list you can go through.
Each program has a short summary. One of the products that came up in my search was, for example, the freelance platform Fiverr.
You can then click the relevant programs to get even more info about for example which countries it can be promoted in, commission structure, cookie time, which platforms you can promote the product on, etc.
Step 3 – Apply for the program
Once you have found a product you would like to promote, you have to apply for it.
In the overview of products, you can click a "join program" button to apply.
Sometimes you will automatically be approved and other times it takes a few days to process the application.
This can be a bit frustrating when you just want to get started, and it can, therefore, be nice with the networks where you can just start promoting right away.
It also happens that you will get rejected – sometimes even automatically rejected at the moment you apply – this can be VERY frustrating. I have tried this myself.
But more about how to deal with that in the next section.
For now, let's assume that you get approved. Then all you have to do is to go to the advertiser's info again on Commission Junction and grab your affiliate link, and then you are ready to start promoting.
However, there are a few things that are good to know before joining, so here are a few tips I wish I would have known before joining.
Important things to be aware of before joining?
Commission Junction is quite easy to use. There are however a few things you should definitely know before joining.
Is there a cost?
If you have joined affiliate networks before, this probably is obvious to you, but CJ Affiliate is, of course, free to join.
I just wanted to mention that here in case you were not aware – so if you want to check what programs it offers access to, there is no risk in joining.
What if you are rejected for an affiliate program?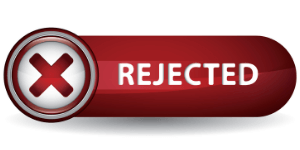 I already mentioned this before, and you need to know that it regularly happens on CJ Affiliate that you will get rejected for an affiliate program.
What is the most frustrating is if you get an automatic rejection at the moment of applying. I have tried this myself, and it is very frustrating and one of the things I do not like about Commission Junction.
If you are rejected, you can send a message with the internal mail system to the advertiser. I have tried this, and I must say that it does not seem like all advertisers keep an eye on this message system, as I have tried not to hear back at all.
So here is a small tip I have used myself if it is a program you would really like to join.
Find contact information to the support of the advertiser on the advertiser's own website. Write to them and explain why you would like to be a part of the program and what you can do for them.
Of course, also include a link to your website and explain you have tried to apply on CJ but was rejected and therefore wanted to reach out directly.
I have done this myself, and have had great success with it, and had some very positive outcomes and was, for example, able to start promoting a product I was at first rejected for automatically.
Now it gives a good income every month.
So do not give up right away if you get rejected. Try to reach out.
If it is a professional and service-minded company, they will in most cases be happy to build a cooperation with you if you show you are serious and can promote their brand positively.
What if your account is deactivated?
According to the terms, you agree to when you sign up for Commission Junction, your account will be deactivated if you have not made a commission in 6 months.
This is to ensure the quality of the publishers and to make sure only active publishers are on the network.
If you already have a successful website this will not be a problem. But if you are just starting out and learning how affiliate marketing works, there is no guarantee you will make a sale in 6 months.
Especially not if you at first join to have a look around and then do not start to promote until several months later.
But do not panic, if your account is deactivated. It is very easy to get it reactivated.
First of all, you will receive an email notification around 30 days before it will be deactivated. That means you have time to make a sale.
If that is not possible, you will get a message when the account is deactivated. You can then simply follow the instructions in the email to reactivate – it is very fast to do.
I have tried this myself when I first started out. It does not take long to reactivate your account, and if you do it fairly quickly all your relationships, account settings, etc. will be the same, and you do not have to spend time setting it up again.
One thing you need to know is that if you have a balance in your account after 6 months of no sales, your account will go dormant instead.
This means $10 will be deducted from the account every month until it reaches $0, and then your account will be deactivated.
At any time in this period, you make a sale, the account will become active again.
This is not something to worry about, because once you have a successful online business, it will not at all be a problem. But it is just nice to be aware of, so you do not panic if it should happen to you.
When and how will you get paid?
It is nice to know that an affiliate network has many products you can promote, but it is also very important to know how and when you will get paid.
CJ Affiliate offers some great payout options in my opinion.
You will get paid every month around the 20th of the month for sales from the previous month. I have always received my payments on time and the payment process works very well on CJ.
The exact payout methods depend on the country you live in.
You can get paid in check, by direct deposit, or use Payoneer to get the money transferred electronically.
All these methods are good ways to get your cash, so no matter where you live, you will have an easy way to get your money.
Final thoughts – worth it or not?
Overall, Commission Junction is a great affiliate network with good opportunities.
But let's finish this review by summing up the pros and cons, so you can get a better overview before deciding if it is for you or not.

Pros:
Products in many niches
Free to join
Easy to use
Stable and reliable payout process

Cons:
You have to join to see which advertisers you get access to
Rejection process can be frustrating
No doubt that CJ Affiliate is a legit network – as already mentioned I know this from personal experience, as I have been paid by it many times myself.
You just have to be aware that your account can be deactivated if you do not have any sales for 6 months, but it is easy to reactivate it.
Also, be aware that it is very likely you will be rejected for some of the affiliate programs you apply for. This is the most frustrating part about CJ in my opinion. But as I showed above, there is a way to deal with this.
If you are aware of these things, Commission Junction definitely can be a great affiliate network to join, and it can give you access to a lot of products to promote.
If you have any comments, questions, or have any experiences with CJ Affiliate yourself, I would love to hear from you in a comment below.