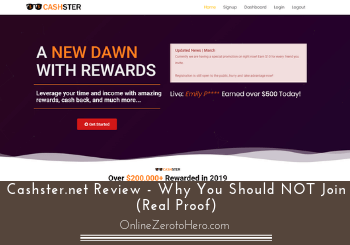 Cashster.net does not reveal much about how you can make money with it other than you can make $500 today.
I, therefore, decided to join and check out what it really offers.
So is Cashster.net a scam or is it really a great way to earn online?
Well, let me reveal right away that I was skeptical before joining and I am even more skeptical after having seen what is on the inside.
But do not just take my word for it. In this Cashster.net review, I will give you an inside look and explain exactly what you get so you can see and judge for yourself.
Cashster.net in a Glimpse
Training

Tools

Income potential
Summary
Cashster.net claims you can start making $500 today. This is a bold claim – especially one I am VERY skeptical about after having seen what is on the inside.
There are ways where you can get money into your Cashster.net account by the methods can be risky if you do not know what you are doing.
In addition to this, the platform has several significant red flags – especially the lack of info about the payout conditions and the fact that when trying to cash out, I was just redirected to a website with offers.
For these reasons, I doubt you will actually be able to get your earnings out and it is, therefore, better for you to look for other ways to make money online, in my opinion.
What is Cashster.net and what does it offer?
Before I joined Cashster.net, I saw several other reviews saying it was a scam. But I did not see much proof, to be honest.
So I decided to take a deeper look myself and see what it was all about and if I could find proof it is either a good site or one to stay away from.
The first thing to look for is what it actually offers.
This is difficult to find out when it comes to Cashster because there is not much info you can find before joining. You can mostly just see several earning claims coming up and showing names of members that supposedly made $500 today.
This does, however, not say much about what you really get.
So before joining you can only see that it will supposedly be able to make you $500 today and you can also see you can get paid to share an invitation link to the platform.
That you cannot find more info before joining is in itself suspicious, in my opinion.
But since it is free to join, I decided to give it a try and see what is on the inside.
What happens after you join?
Right after you join Cashster.net, you will likely be happy because you can see a $25 joining bonus in your account right away.
This is a nice joining bonus, BUT before getting too excited about this, then just please make sure to read the rest of this review as you might not be able to get that money out, as I will explain later.
So the joining bonus is one way to earn on Cashster. But on your dashboard, you also find a few other ways to supposedly earn money.
I am honestly a bit skeptical about these methods. But let me explain each of them to you and explain the details about them so you can see and judge for yourself.
Earning option 1 – Share your invitation link
It seems the main way you can earn on Cashster.net is by sharing your invitation link and get other people to join.
You will supposedly earn $10 per person you invite.
So, at first, this might sound very appealing. And inviting other people to join services you like online can be a way to earn money if you do it through affiliate marketing and do it right.
But I am very skeptical about the method on Cashster. First of all, they do not show you anything about how to promote your link in a proper and ethical way.
They just tell you to share it. But without knowing more about the platform and just by starting to share it, you might end up being seen as a spammer and get blocked from both social media platforms and from friends.
Secondly, it seems very strange that you can get $10 just for getting a person to sign up. There are programs where you can earn this (and a lot more) if you invite people to join.
But it will usually not happen just by getting them to click a link and join.
I am sure you will be able to see $10 in your Cashster.net account when you invite someone. But as I will show you later, I am not so sure it will be possible to actually do something with this money.
Earning option 2 – Do "tasks"
You can supposedly also earn by doing some tasks on Cashster.
There are quite a few to choose from and you will supposedly earn $50 for each of them.
There are several problems with these tasks.
First, you need to know that the "tasks" they give you are mostly to sign up for free contests.
Some of these contests are real and you can win real prizes. BUT you have to be aware that the type of contests they offer are very spammy, in my opinion.
It is the type of contests where you often have to give your phone number to participate and by agreeing to the terms, you agree to be contacted by a bunch of telemarketers (I know as I have tried a similar contest in the past myself and it took weeks before the phone calls stopped).
So if you decide to do one of these tasks, make sure to read the terms and conditions carefully for the offer you are taken to.
Let me, however, say that there are sites where you can earn by taking small online tasks. But they will NOT give you $50 per small task – that is just not realistic.
This adds to my suspicion that it will be hard for you to get the money out because it is very unlike they would pay you $50 for signing up for a contest like this.
But Cashster.net is getting paid to get you to sign up, so by showing a high reward, it is more likely you will sign up for more and they will earn more commissions.
Just remember that even though you might then see $50 in your Cashster account after doing a "task", it is not sure you can get them out but I will go into much more details about this later.
Earning option 3 – Make a YouTube video
You can supposedly earn another $50 by creating and uploading a video about Cashster.
To do that you have to use the headline and the description they provide that promotes them. But before you use this option, I spotted something strange.
You are supposed to make a video about Cashster to promote them and will get paid for that. But in the description of this task, they have a different name as you can see on the image above.
I have previously made a review of Kids Earn Cash they mention, and it is definitely not a site I recommend.
And here it seems like they are mixing together Kids Earn Cash and Cashster. So it could seem it might be the same people behind and they are reusing some aspects but have not been aware enough to change the name all the places.
Very strange and overall the so-called earning methods on Cashster.net is something I am very skeptical about. Especially when you also consider several other red flags I found and will go over below.
Recommended: See My Top Recommended Way to Make Money Online
Cashster red flags revealed
I think the earning methods and what they claim about them are red flags in themselves.
But if you do not have a lot of experience with making money online it might not be clear why.
So let me show you some other red flags I found when I tested Cashster, so you truly know what you are getting into if you decide to join.
Red flag #1 – The payout claims are exaggerated
The first big thing you see when you come to Cashster.net is the earning claims about several people having made $500 today.
And you can see a claim that they have paid out more than $200,000 in 2019.
I must say that I have doubts about this.
First of all, because I did some research about when the website was created, and it was created on the 26th of February 2019.
At the time of writing this review, that is only just around two months ago it was created and they claim that with the earning methods they have, they have now already paid out this much.
That alone makes me very skeptical.
Especially when you look at the next red flag.
Red flag #2 – You might NOT get paid
So you can get money into your Cashster.net account. But can you really get them out?
I honestly have my doubts for several reasons.
First of all, you cannot find any information about the payout conditions. You can see you can get paid through PayPal, but you cannot see the threshold and you cannot find any information about how long the payment processing, etc. will take.
That there is no information about this is very strange.
In addition to this, I actually tried to cash out myself. When I clicked to withdraw, I did not get to a page confirming that I would receive my money in my PayPal account soon or a message saying I did not have enough to cash out.
Instead, I was taken to a whole new screen saying I had to complete at least two offers to get my payment.
It is important to mention that this was not on the website address of Cashster.net but I was taken to a whole new webpage.
So it seems they are forcing you to sign up for some offers to supposedly get your earnings out. And remember as I explained earlier most of the offers they have will open you up to receive a lot of emails and phone calls.
I obviously did not want that and stopped right there.
So I cannot say for sure what happens if you take a couple of offers. But since it was suddenly on a completely different website address, I strongly doubt I would actually get my earnings out.
No matter what, this kind of payout conditions and methods are a big red flag, in my opinion.
Red flag #3 – No info about owners
Who is behind a platform tells a lot about the credibility of it.
That is why it is always good to look into this if you have doubt about whether to join a certain platform or not.
When it comes to Cashster.net, there is NO information to be found.
There is no info about who owns it, and you cannot find any contact information at all.
Most sites at least have a support email you can write (even though some of them never reply to it). But you cannot even find this on Cashster.
There is no information at all and it seems like the owners want to stay anonymous. That is a big red flag to me and is something you seriously need to consider before deciding to join.
Red flag #4 – The terms you agree to are confusing
When you sign up, you have to agree to the terms of Cashster.
I had a look at these terms to see if I could find anything unusual – and I did.
Here suddenly you get to terms where the name "Kids Get Money" is used.
Earlier I mentioned how they use the name of a different program called Kids Earn Cash. Now they use the name of a program called Kids Get Money.
It seems like they are all over the place and are creating many very similar sites and they do not even adjust them properly.
In addition to this, the terms are 8456 words – I am pretty sure you are not going to read all that in details.
This means that not alone do they use the wrong program name in the terms, the terms are also so extremely long that you will likely not go through them and know what you really agree to.
All together this just adds to the red flags and my suspicion of Cashster.net.
Final verdict – scam or legit?
I have now presented all my findings about Cashster.net to you and it is now up to you to decide whether it is a program worth your time or not.
As you can see from this review, I am not impressed with what it has to offer, but you might be of a different opinion. But now at least you know what you are getting into.
To help you further make a decision, let's finish by summing up the pros and cons so you can get a better overview.

Pros:


Cons:

No info about who is behind
The "tasks" will open you up to a lot of phone calls and emails
No payout conditions are described
When you try to withdraw you are redirected to offers
The confusing use of different program names throughout the site
Overall, Cashster.net is NOT a platform I can recommend as it just simply has too many red flags, in my opinion.
The only good thing I can say is that it, at least, does not cost money to join, so you will not risk any money. But if you think it will be an easy and fast way to earn online, it is very possible you will end up being disappointed, in my opinion.
The truth is that it definitely is possible to learn to make good money online, but it will require some effort.
And platforms that have too many red flags are just not a good way to learn to make a good sustainable income and that is why you, in my opinion, should look for other ways to earn online.
A better way to make money online?
The good news is that it definitely is possible to learn to make money online – also as a complete beginner. As long as you are willing to put in some effort and know it will not happen overnight.
I started from scratch myself, and I am now making a full-time online income by working completely on my own terms.
So I know it is possible but I also know there are many scams out there and detours that will just end up taking your time and money.
I have therefore created a guide to help you get started the best possible way. So check out my FREE guide to start making money online, where I will show you my top recommended way and how to get started step-by-step.
If you have any comments, questions, or have any experiences with Cashster yourself, I would love to hear from you in a comment below.