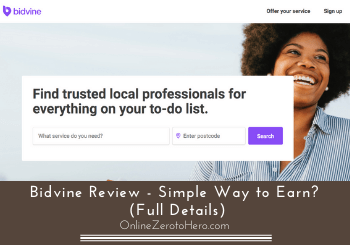 The internet has opened a lot of opportunities if you want to earn in a flexible way. Before, it could be difficult to find work and you were limited to using your network or spending a lot of time branding yourself.
Today, the internet has made it a lot easier to find ways to earn.
But how can you differentiate yourself from the hundreds of similar professionals in your field?
Is there a way you can focus on your services rather than spending too much time trying to expand your customer base?
Bidvine is a company that promises to send you customers that are a match for you and this way make it easier for you to earn.
Sound great, right? But is Bidvine a legit platform?
In this Bidvine review, I will give you all the details about how Bidvine works to help you decide if it will be worth it for you.
Tools

Usability

Income Potential
Summary
Bidvine is a UK-based company that connects local customers to their desired service professionals. As a professional, you can list services you want to offer and get matched with interested customers. The company doesn't charge anything for the leads but you do pay a fee whenever you want to bid or engage with a potential customer.
This is a good website if you want to expand your current customer base. Just manage your expectations since joining and bidding for jobs won't guarantee new customers. Think of it as an added feature to your current business strategy. Set a budget for how many bids you will do to avoid losing money and not getting any new customers.
If you're looking to create a solid stream of income online without having to rely on getting new clients all the time, then you can also check out other online opportunities.
What is Bidvine?
Bidvine was started by Sohrab Jahanbani back in 2014 with the goal of providing a secure and simple channel to hire local service professionals.
Its headquarter is in London and it connects customers and local services providers around the United Kingdom. So if you're not in the UK, there are other similar platforms you can check out such as EasyShift.
Why is there a need for a service platform such as Bidvine?
Well, you can be good at your craft but it doesn't necessarily mean you're good at marketing your services or generating new customers.
There are also a lot of customers wanting a certain service and do not know how they can find the right service provider to help them do the job.
Usually, service providers and customers go on the internet and do a quick search or ask a friend for recommendations.
You can be part of Bidvine as either a professional offering service or a customer looking for a local professional for your to-do list.
This review focuses on becoming a professional offering their services on Bidvine and how good your opportunities of earning like this are.
How does it work?
As mentioned, most service professionals would rather focus on their craft than doing sales and marketing. So how does Bidvine help you with this?
Bidvine serves as your lead generator and marketing platform at a small cost compared to traditional marketing.
Their goal is to help seasoned professionals expand their customer base or new professionals find their first customers.
You can create your Bidvine profile for free. As a service provider, your profile consists of your basic information, business description, business location and hours, and business registration information.
You can include the years you've been in the industry to increase your credibility when interested customers look at your profile.
Make sure you also use a good headshot in your profile. There is a profile builder in the website to help you build your profile to get new customers in.
So what kind of services can you offer on Bidvine?
Well, practically any service depending on what the customers you are looking for.
There are more than 800 types of services listed ranging from home & garden, event & wedding, learning, health & wellness, and business.
You can create a profile whether you're a logo designer, a swimming instructor, a plumber, a nutritionist, a dance teacher, a van owner, or a massage therapist.
As long as you feel people will be wanting your service in your area or nearby towns, then you can create a Bidvine profile.
Once you've created your profile, there are four things that can happen:
1. You meet new customers
Bidvine has an app that customers can download to search for local professionals. Your Bidvine profile can appear in their search if it's a match.
As for you, Bidvine will send you leads based on the services and location you placed in your profile.
Before a customer lead is sent to you, each customer is asked 4-12 service-specific questions to determine what they need and when they need it.
So you know the leads sent to you are indeed a possible match. This saves you time from trying to find customers that are really looking for your particular service and have the budget that matches your rate.
2. You bid on jobs you want to do
Signing up as a Bidvine service provider is free and viewing the leads sent by Bidvine is also free.
When you see a lead that seems like a good fit you can send a custom bid and message to the customer.
This is when Bidvine will charge you a fee. The fee will depend on several factors such as the service and size of the project.
So on your bid page, you can send to the customer your hourly cost, fixed-rate, and include other information you require. You can also customize your message so you can do your quick sales pitch.
If the customer does not view your bid within 4 days, the fee will be refunded to you.
There are services where your bids are automatically sent if you set up BidMatch in your account.
In this case, you will be charged when the customer contacts you. The fee for this is determined when you set up your services.
You can find out more about BidMatch in the video below:

So you have to remember that you get charged as long you placed a bid and the customer views your bid even if you don't get hired.
I would suggest that you set a personal budget for your bids to avoid spending too much money reaching out to customers and not getting hired.
Bidding to the leads sent to you does not guarantee you get the customer. So make sure you write a winning bid to get your money's worth.
Also, carefully look at all the leads sent to you and only choose those that really interest you since viewing leads are free.
Recommended: Learn My Top Recommended Way to Earn Online
3. You connect with customers and get paid.
Now if you do get chosen by the customer, you can start contacting them online or via phone. You can then decide on how you will proceed with your project.
Take note that Bidvine simply connects you with your new customer. Payments for your services are done directly by your customer.
For example, if you're hired to do wedding photography or some garden landscaping then your customer can personally give you payment right after you've done your work.
So Bidvine is not responsible if you encounter any problems regarding payment with your customer.
4. You receive customer reviews
Many depend on other people's reviews when choosing a restaurant to eat or a movie to watch, etc.
It's also quite normal to ask a friend if they can recommend someone for a particular service. This adds to the credibility of the professional.
If you look at the profiles of the professionals at Bidvine, you will see that there are customer reviews.
Your customers, whether they're acquired through Bidvine or not, can go to your profile and give you a review from one to five stars.
Since you can see how many times a professional has been hired, I find that those with more hires are naturally those with more reviews on them.
Getting reviews is important as having these on the other side can help you get more customers.
This makes sense since I would prefer to work with someone that has been reviewed by another customer to make sure I'm getting legit work.
So if you have former customers outside of Bidvine, you can request them to put in a good word for you in the app to increase your credibility especially if your profile is just new.
On the other hand, you can also review the customers you get through Bidvine. This helps other service providers know more about their potential customers before they place a bid.
Is Bidvine worth it?
Basically, Bidvine is similar to using a cost-per-lead marketing model for your company.
You get new customers and only pay the fee if you send a quote. Think of it as similar to your cost of transportation or food when you go out to a client for an initial meeting.
There are 2,707 reviews of Bidvine in Trustpilot and it carries a 4-star great rating.
Most positive reviews are from customers and the poor or bad ratings are mostly from service providers who spent much money on bids and proposals but did not get any new customers.
This is a valid complaint because you come into the platform expecting to increase your customer base rather than lose money on all the bids and not get any new customers.
So you have to manage your expectations if you're going to offer your services through Bidvine.
Again, you should set a budget for the bids you will be doing just as a company sets a marketing budget for their business.
Final verdict
Bidvine can be a platform where you market your services and find customers in your local area.
It's been in the business for more than five years and has a high rating on Trustpilot so you know it's a legit company.
This does, however, not mean it is a good option for everyone.
So let's finish this review by summing up the pros and cons so you can get a batter overview before deciding if it is for you or not.
Pros:
You can offer almost any service you provide
Free to join
Client pays directly to you
Cons:
For UK residents only
No guarantee of customers after bid (and you pay for this)
Opportunities depend on your location
Personally, I think Bidvine can be complementary to your current business strategy. It can lead you to new local contacts for your services.
If there are many customers signed up in the app along your area, then you can easily reach them without spending too much on promoting online.
This can work for you if you do get a solid pool of customers.
However, you just need to be aware that there is no guarantee you will get customers and if you do not plan carefully, you can end up losing a lot of money giving bids without getting more work.
So make sure to plan your budget and make sure to get your customers to leave positive reviews, if you decide to use Bidvinve – that will give you the best chances of success.
If you're looking to create a solid stream of income online without having to rely on getting new clients all the time, then you can also check out other online opportunities.
How I make a living online
If you really want to create a full-time income working online, this is definitely possible – I know this from personal experience.
I have been able to create a full-time online income myself that allows me to work anywhere in the world and completely on my own terms through affiliate marketing.
It takes effort, but it is totally worth it.
If you want to follow my footsteps and create your own online income, then check out my FREE guide where I explain how this is possible step-by-step.
If you have any questions, comments, or have any feedback with Bidvine yourself, I would love to hear from you in a comment below.