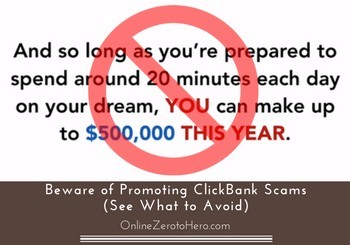 ClickBank is one of the big affiliate networks, and it has thousands of products you can promote through affiliate marketing.
But not all the products are worth promoting, and you have to beware of promoting ClickBank scams.
If you end up promoting these scams, it can not only hurt other people and waste their time and money, but it can also hurt your own income and business.
This article will show you how to spot the scam products to avoid promoting, how promoting these products can hurt your business, and how you then choose the right products to promote instead.
Are all ClickBank products scams?
Let me start by making it clear that ClickBank is in itself a legit platform.
It has been around since 1998 and has thousands of products you can promote. It is a very popular affiliate network, and it especially offers some great digital products, which gives high commissions.
So it is definitely possible to find some great legit products there to promote and make a lot of commissions this way.
But I am doing a lot of reviews of different programs that offer ways to make money online, and when testing new programs, I have realized that there are many programs I would classify as a scam that is promoted through ClickBank.
In this aspect, I mean products that are NOT living up to what they promise and where people can waste a lot of money. Some affiliate marketers do not care about other people making money as long as they make commissions, but this is NOT an approach I would recommend.
Doing honest affiliate marketing will give you better long term results and at the same time, you can feel good about what you are doing at the same time.
So even though ClickBank has a lot of great products, you can not necessarily assume that all the products you can find there are of great value – so do not just start promoting the products that give the highest commission.
First make sure that it is a product that is actually worth recommending – if not, it can hurt both other people and yourself, as I will explain more about later.
How to spot the scams to avoid?
As an affiliate marketer, it is, of course, important to find products that give great commissions to promote. But it is also important only to promote products that give great value to your visitors.
That is why you need to make sure you do not end up promoting scams. There are some easy ways to spot the ClickBank scams, so you can avoid them.
Method 1 – Use your experiences:
The easiest way to know if a product is a scam or not is, of course, to test it yourself. Sharing your own experiences is one of the best ways to give people good recommendations.
But it might not always be possible to test a certain product – if you have the sense it is a scam, you probably do not want to pay to test it, but maybe still want to warn others about the risks of joining it.
So in addition to potentially testing a product/program, you can also use common sense and use your experience to look at what the program offers, and how realistic it is, and then share these observations and your experience.
Making people aware of the reality and what they should really expect, can be of great help to them as beginners do not have the same experience as you and therefore will likely not be able to spot these things.
Method 2 – Look at the claims they make:
A very important way to spot potential scams on ClickBank is to look at what the programs/products promise.
It is in general possible to make a lot of income online, but realistically it will not happen overnight, and it will not happen without making an effort. If you have been working with affiliate marketing for a while, you will know this.
On ClickBank, you will see many programs that promise you can become rich in no time and with no effort.
If a program promises this, it is my experience that it is usually not worth promoting, as it will most often just end up pushing members to spend a lot of money, by promising them they will become rich without any effort.
Mostly these members will end up without any income, and they will have lost money instead.
So, in my opinion, you should be very skeptical before you start promoting programs that give what you think is unrealistic claims.
Method 3 – Are there upsells:
There are a lot of products on ClickBank that use upsells, which means it has a low starting price, and then once a person joins, there will be more and more sales to advance to the next level, and the promise will all the time be that at the next level the money will start coming – usually, this does however never happen.
In my opinion, the use of upsells and hidden costs is not the most honest way to do business – but it depends a lot on how it is done. So before promoting any product, look at what they claim the joining fee is, and look at what the potential commission for you will be if you promote them.
Upsells (or OTOs as they are also called) is used a lot online and there can definitely be upsells worth getting. My problem with it is that some people are not honest about what you can really expect.
They say that there is only a one-time fee, and once you have paid this there are suddenly a lot more you need to buy to get the full details.
Promoting products with upsells can definitely be fine, but in my opinion, you should just be completely transparent about what the upsells are, what they cost, and if they in your opinion will be worth it.
Method 4 – Do not be seduced by the high commission:
As affiliate marketers, we live from commissions. And some of these programs on ClickBank can give you really high commissions.
As I mentioned above, some products can give you hundreds of dollars in commission just from one sale. This is of course appealing.
But do not let yourself be seduced by this. It might be able to make you some great commissions here and now, but in the long run, it can really hurt your business to promote products like this.
How it can hurt your business to promote scams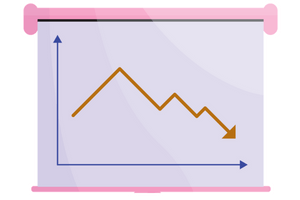 For me, there are several reasons why it is important only to promote legit and valuable products as an affiliate marketer.
When having an affiliate marketing website, it is, of course, important to make money on it, as it would otherwise not be possible to keep websites like this going.
However, I also have my websites to help people make good decisions and help them learn. So I would not be able to recommend a product that I know will just end up costing people money by selling them fake hopes.
I have fallen for scams myself before, and I am not willing to promote these to others just to earn a commission myself. But even if this is not important to you, then be aware that it will not only hurt other people, if you promote scams or poor products – it can also hurt your business in the long run.
I have seen websites with great information that are recommending some great online programs. But in the search for more commissions, they find a product (not necessarily on ClickBank) that gives high commissions and start promoting it, without being critical about what they are promoting.
It might give some sales and some great commissions, but after people find out what they have joined through a website like this, they will completely stop trusting the website and the person behind.
After a while, more and more people will stay away, as soon as they see any recommendation from that person or website – even when it recommends really great products.
On the other side, if you only recommend products that give great value, people will trust you more and more. They will happily come back to your site and follow other recommendations, and they might even sign up for your newsletter to get news and promotional offers from you. This way one visit can turn into many sales over time.
So for long term success with your online business, it pays to be honest and build trust, and it will not only help other people make good decisions but also help you keep growing your business.
Choosing the right products to promote
So now you know how to spot the scams and why it is important not to promote these. But how do you then choose the right products to promote on your website?
It is actually quite simple – you just simply promote products you know from experience that are worth using. So the more experience you have within a niche, the easier it is to find out which products to promote and which ones to stay away from promoting.
I, for example, have a list of recommended tools for online marketing. These are all tools I am using myself, and tools I know give great value, so I am happy to recommend them to others.
Having personal experience is, of course, the best. But it is also great to listen to other people's experiences and take this into consideration in your research as well.
So by using your own positive experiences, and by listening to the experience of others, you will have plenty of great products to promote that gives your visitors great value, and that will give you a great income in the long run.
Final thoughts
ClickBank is definitely a legit affiliate network, and you can find some great products with high commissions there.
However, not all the products you find there are worth promoting. Some of them are very poor and will not give your visitors any value, and in some cases, it will even just end up costing them money, even though they promise something else.
By promoting poor products on your website, you will not only hurt your visitors, but it will also hurt the trust people have in you and your website, and in the long run, this will be really bad for your business.
So to get the most out of your affiliate websites, make sure to stay away from promoting scams and focus on how you can help people, and only promote products you know are really worth it.
If you have any comments, questions, or have any experiences with ClickBank products yourself you would like to share, I would love to hear from you in a comment below.