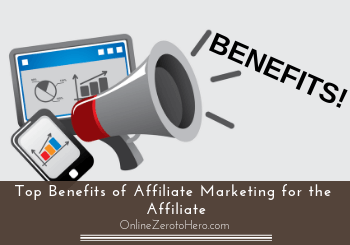 If you are interested in making money online, then you have maybe heard about affiliate marketing being a great opportunity.
But why is it a great opportunity, and is it the right option for you?
This article will help you answer this and show you the top 9 benefits of affiliate marketing for the affiliate (you).
It will help you see just what you can get out of it and decide if it is the route you want to take to create an online income or increase the income you already have.
I will also show you the best way to get started if you decide affiliate marketing is for you.
Basics of affiliate marketing
Since you are reading this article, there is a great chance you already know what affiliate marketing is.
However, even though I have a whole article about the basics of affiliate marketing, I still just want to quickly explain the basics of how it works as this is closely related to the benefits of it.
If you already know this, you can just scroll on to the next section.
Many companies today offer affiliate programs. This means you can join these programs and then get a link for the product or service the company is selling and that you want to promote.
By sharing this link on, for example, a website, in emails, etc. you can earn a commission. If somebody clicks your affiliate link and ends up buying (or taking a certain action), you will get a commission.
This means you are getting paid by the company to let other people know about their product. This will be at NO extra cost for the person buying but is a commission paid solely by the company for your effort.
This can be a very effective and great way of building an online income if it is done correctly and ethically (more about this later).
So in short, that is how affiliate marketing works.
Difference between publishers and advertisers
Before getting to the benefits of starting an affiliate marketing business, I just want to make it clear that there is a difference between being an advertiser and a publisher.
This is something that is often confused so just want to make it clear here as the benefits I am talking about in this article is for the affiliate (also called the publisher).
A publisher, when it comes to affiliate marketing, is someone that has a channel where they communicate with an audience.
In my case, I am a publisher because I have OnlineZeroToHero.com where I share tips and tricks about internet marketing and making money online.
It does not have to be a website you have to be seen as a publisher. It can also be social media channels, email lists, a YouTube channel, and more.
If you as a publisher then join affiliate programs, you are an affiliate of that program.
The advertiser is the company that offers the affiliate program. Sometimes people think they are an advertiser because they advertise products on their website.
But in the world of affiliate marketing, this is not how it is. As the website owner, you are a publisher and after joining an affiliate program, you are an affiliate.
The benefits I am going over below are for you as a publisher, and this is NOT the same as the benefits affiliate marketing has for the advertisers/the companies that offer affiliate programs.
What are the top benefits of being an affiliate?
Personally, I love affiliate marketing and think it is one of the best ways to make money online.
There are, of course, other ways, but this is my preferred way and how I have been able to create a full-time online income myself.
Being an affiliate and having an affiliate marketing business has many benefits, in my opinion.
Below, I will list the top benefits so you can see exactly what you can get of becoming an affiliate and see if it is for you or not.
Benefit #1 – Work when and where you want to
The first benefit does not only apply to affiliate marketing but to any kind of online income.
This is properly one of the biggest reasons I hear people wish to create an online income – they can work when and where they want to.
This means you can work even when you are traveling. My wife and I were, for example, recently just traveling for a month.
While doing this, I was still able to have a full-time income because I have my business with me anywhere and I can work whenever I have the time to do it.
This, of course, requires you are able to motivate yourself, but the freedom that comes with being able to work when and where you want to is priceless, in my opinion.
Benefit #2 -You are your own boss
This benefit is closely related to the bullet above.
When you are an affiliate, you have your own business and income and you are in control of it yourself.
This means you work on your own terms and can focus on building an income by working with what makes you happy and with what you are interested in.
That is amazing to me.
Benefit #3 – It works in more or less any niche
As already mentioned, as an affiliate you can focus on a topic you are interested in. That makes it even more fun to work.
I often hear people asking about their favorite topic and if it is really possible to make money through affiliate marketing in their niche.
The fact is, that there are millions of companies in more or less any niche that offer affiliate programs. Once you start looking, you will see just how many companies offer it.
This means that you will in most cases be able to find plenty of relevant affiliate programs no matter your niche.
The most important thing is to get started, and then you will start seeing more and more opportunities.
When I first started, I had no idea about the amount of affiliate programs in my niche. But slowly it unfolds, and now I am even often contacted by companies that want to tell me about their programs and want me to become an affiliate.
This means you can earn money online while working with something you are passionate about – that is awesome, right?
Benefit #4 – You do not need any storage space or product
I have often heard people telling me that they would like to work online but do not know what products to sell and how to start a webshop.
That is definitely a way to make money online, but because many people think it is one of the only ways, it stops them because it is too confusing.
If you start a webshop you need to decide which products to buy and sell, you need storage space for the products, a distribution systems, etc.
With affiliate marketing, all this is not necessary. Since you do not own the products yourself, you do not need storage space and you do not need to handle shipping or anything else.
You are just a middleman that helps people with in-depth info that can help them make a purchase decision. For this, you will then get a commission.
But you do not need to deal with having storage etc. That makes it a lot easier to get started with.
Benefit #5 – No customer service needed
Again, as you are not the actual owner of the products and services you recommend on your website (or other channels), you do not need to deal with customer support if there are any issues with the products.
This does not mean you will not have to deal with people if you want to do affiliate marketing properly.
I often get questions about products and services from visitors to my websites, and I, of course, happily help if I can.
So to build a good relationship with visitors to your site and to truly help them, you still need to answer them and communicate with them.
Personally, I enjoy this and it is very satisfactory to be able to help people this way.
But at the same time, it is also nice not having to deal with the actual customer service, shipping, handling, etc.
Benefit #6 – Possible to build a sustainable income
Affiliate marketing can be a very sustainable way to build an income – if done properly.
If you do what I call honest affiliate marketing, you focus on helping people and giving honest and in-depth information.
This will build trust with your website visitors and they know you only recommend valuable products and services. This means they will also listen to you in the future.
Over time, one visitor might end up following your recommendations many times and help you earn hundreds or even thousands of dollars.
This is a win-win situation. You have helped with in-depth information and in return, the person uses your affiliate link. Both of you benefit from it, and both of you can feel good.
Over time, you can build relationships with many people like this and this is what makes it into a sustainable and continuous income.
But only if you do it with integrity and focus on quality. Unfortunately, there are many affiliate marketers that promote whatever pay commissions without caring about what they recommend.
In the long run, this will not make you feel good about yourself and it will not create a sustainable income. So just make sure to focus on quality. Then the long term benefits of being an affiliate are huge.
Benefit #7 – Very cost effective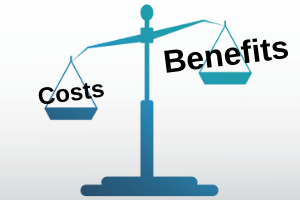 Usually, it has a high cost to start any kind of business.
One of the big benefits of affiliate marketing is that you can start more or less for free.
The general costs of running an online affiliate marketing business compared to a regular brick and mortar store are extremely low.
Most regular businesses do not expect any profits but just a lot of expenses for the first couple of years. That is luckily not the case with affiliate marketing.
You can very quickly start getting a profit – especially because you can keep the costs to a minimum.
Once you start earning you can then reinvest to scale. That it is possible to do it like this makes it more or less risk-free to start an affiliate marketing business.
That makes it a perfect way to start making money online – even for a complete beginner.
Benefit #8 – Anyone can learn it
It might sound like a bold claim, but I honestly believe anyone can learn to create a decent online income with affiliate marketing if they get the right training and support.
I have seen people with no previous online experience and no technical skills build very successful affiliate incomes.
One thing all successful people, however, have in common – they are willing to make an effort.
The myth about passive income where you never have to lift a finger is something you should not fall for. Any program that promises big income with no effort is lying.
But if you are willing to make an effort and not give up, then it is just a matter of time before you will create a successful affiliate income.
Benefit #9 – You can keep growing
Compared to a regular job, a big benefit of affiliate marketing is that the sky is the limit.
It is not that you reach a certain level of income and then it just stays there for a long time like it often does with a regular job where you have to work extremely hard to get just a small raise.
If you keep working with your affiliate marketing business, it can keep growing. The growth compared to a regular salary can be huge if done correctly.
Again, this will not happen overnight and without effort, but the growth potential of affiliate marketing is huge and a big benefit of building an income like this.
Where can you learn proper affiliate marketing?
As you can see, I think affiliate marketing is a great way to make money online.
There are, however, many traps out there and many scams where you will just end up wasting a lot of money and time by following their empty promises.
When I first started with affiliate marketing, I thought I could figure it all out myself – I was wrong and failed. Then I started to look for proper training.
Let me just reveal that it is NOT easy to find proper training in affiliate marketing that covers all the necessary steps.
However, eventually, I came across the learning platform Wealthy Affiliate that has step-by-step training and all the tools needed to build an affiliate income.
After all the testing I have done of affiliate marketing training, this is by far the best and most comprehensive I have found.
And at the same time, it has the best support and the best value for money. You can even get your first 10 lessons 100% for free.
By following the steps there, I have been able to create a full-time online income myself.
So if you are serious about wanting to learn proper affiliate marketing to build a sustainable online income, this is a platform I highly recommend. You can read more about it by clicking the button below.
Final thoughts
Being an affiliate and making money this way has A LOT of benefits. In my opinion, it is one of the absolute best ways to start making money online.
It has very low risks and costs to get started compared to other methods, you can work with what you are passionate about, you can work when and where you want to, the potential is huge, and it is something anyone can learn.
What it takes for you to become successful and get all these benefits is, first of all, that you are willing to make an effort and take action.
If you are, then you can learn it no matter your background. In my experience, the absolute best place to learn all the necessary steps to succeed with affiliate marketing is the platform Wealthy Affiliate.
It is a platform I highly recommend, and it is the platform that has helped me create an online full-time income through affiliate marketing myself.
So if you want to learn proper affiliate marketing, click the button above to read my full review about Wealthy Affiliate and see what it has to offer.
In the review, I will even show you how to get started completely for free and how you can get personal coaching from me for free as well.
If you have any comments, questions, or think some benefits of affiliate marketing are missing on the list, I would love to hear from you in a comment below.